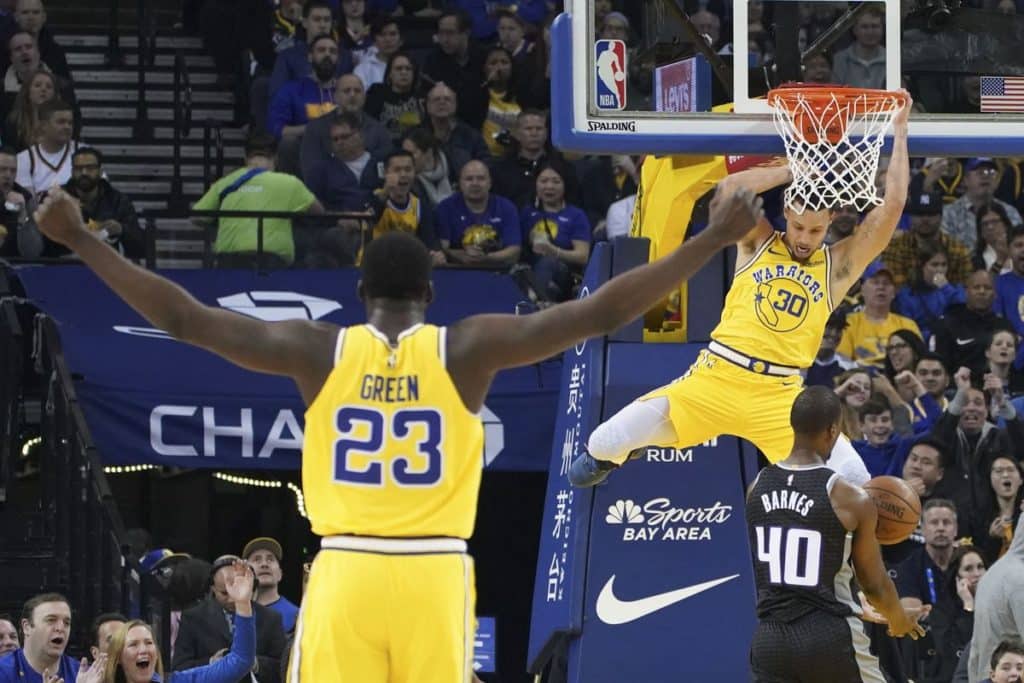 There is always a little drive in all of us that urges to take a walk on the wilder side of risk-taking, where the possibility of impossibility is coaxing most often from behind the likes of something representing hefty sums of monetary value. And when such amounts of money are advertised as attainable to any and all (alliteration!), the novice one-shot-in-the-dark-that-could ends up being a typical means to the approach: a hopeful David for every unseen Goliath in life, and particularly as gumption-struck when being your own audience, talking yourself into picks behind a keyboard or smartphone.
In Daily Fantasy Sports, this is the epitome of the majority navigation to GPPs (aka: Guaranteed Prize Pools). And this, by all probability matter of figure alone, is not the suggested direction to take in participating with purpose in such, especially if you're anybody who has a bankroll to be considerate of beyond a stipend unaccounted for. I'd like to address for you why you should play GPPs, what exactly GPPs are constituted by and how to adjust your focus with their variety of contest types, along with some cornerstones to affix to your game plan upon tackling this channel of dramatically dynamic profitability in DFS.
Why Should I Play GPPs?
Following the ambiguous depiction featured in my introduction, allow me to provide a little more insight onto attraction to the product known as GPPs. While I feel based on the marketing structure involved that the reason to play these should be relatively understandable when absorbed on a surface level (ie: "TOP PRIZE $100,000! ENTRY ONLY $10!"), most of those who have made any sort of attempt has likely taken a few spills here or there with any résumé of contest entries in this field of play.
But I'm telling you that there is without a doubt a feasibly profitable approach to be had when pursuing GPPs on a regular basis, and that even goes for if you choose to walk a little further down the fortuitous road and decide that maybe you strictly want to play GPPs. Due to the volatile risk and losses involved with GPP play, many players opt to distribute their bankroll with certain manners to afford their risk taken in GPP participation by portioning a majority into Cash Game play.
While bankroll distribution in this regard is for a different discussion at a later time, the ultimate point to be had here is that it's a very real possibility to play a majority stake of your action in GPPs and be profitable, but it's all about which tournaments you can intelligently afford to play and how to go about playing them.
What Are GPPs?
By definition, GPPs are simply any contest where the payout structure is guaranteed regardless of reaching capacity. Some might also add to the definition that they're any contest where the percentage of entrants paid is 25% or less. Playing into the topic of my previous article discussing Tournament Selection Strategy, gauging this payout percentage per contest is rather important when trying to be most profitable while protecting your wagers. But that comes down to how much you value your risk in bankroll.
All  things considered, these tournaments are a broad assortment of Classic Style games, Showdown games (tournaments based around a single-game format featuring only two teams), and everything in between that is offered in the realm of Cash Games in terms of actual product rules and scoring. But they incorporate a variety of top-down payout structures, where everything in the top three places paid is the marketable fascination, and everything past the top five becomes marginally less invigorating by comparison. The enamoration with these glamorous top tier prizes is what keeps the newcomers flocking in droves, and it's up to you to take full advantage of that glaring opportunity to be multiplying your investments regularly with. As I've mentioned before, it's all about knowing your pond, and when it comes to GPPs there are several sizes of them with different boundaries to be cognizant of.
Roster Construction And Risks
An entry to a Single-Entry tournament will take on a different means of lineup construction than that of a 3-Entry Max tournament, versus a 20-Max, and especially to a 150-Max Entry. My first and foremost advisory when choosing between these entry-size differences is to be fully aware of how much you're able to invest and to keep number of entries in mind. The closer you can be to reaching maximum opportunity in a tournament means the greater the edge you have over much of the field.
This is where I strongly suggest to begin weighing your per-player exposure percentages after getting an idea of who you determine to be in play, whether you use tools to aid in managing multiple entries or build by hand. Because this will be a very crucial analysis of where and how you can establish your pivot points and how you'll delegate opportunity cost among your player exposures. Or otherwise stated, getting all of your desirable players into rosters where you're not cannibalizing other better positioned value and still finding ways to be different than chalk.
Speaking of chalk, while Cash Games require a much more linear stance with a lot less volatility to be considering with your lineups, GPPs follow a different set of guidelines in order to peak beyond the depths of min cash and below. At the same time that all of the concrete value aspects (Minutes, Usage, Opportunity, and Pace) need to be taken into full consideration when determining your player pool, your outlier possibilities and reaches are now encouraged to be weighed when footing this format. Pivots and Punts suddenly become more of a sexy play while game flow and game-stacking also becomes a reality. The reason behind this is because variability in your lineups is what's going to potentially give you an advantage over much of the chalk-footed field and it's up to you to balance your roster construction values between these lesser likely gambles you'll be more apt to elect to your player pools.
At the same time that these pivots and punts in player selections will be necessary to some extent in achieving success with your GPP play, it's just as easy to stray a bit too far down that rabbit hole and that you can suddenly be looking at a lineup that's fully loaded with much more flare and prayer than any hope to stand on. Try to be savvy at the same time as sassy, and you may actually become a bit surprised with how green your outcomes from GPP play can transpire to be.