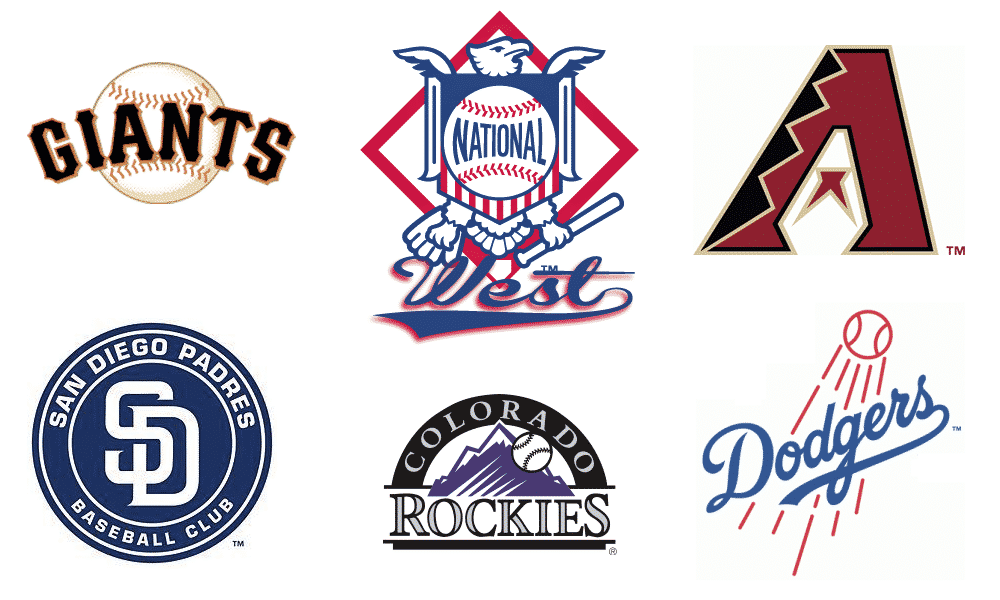 The National League West is certainly on its way up at the top as The Dodgers look for their third straight World Series run, The Rockies look to continue to build a winning team, San Diego posts the best farm system in baseball. Without question, there is a clear divide after those three teams, as The Diamondbacks and Giants have begun phase one of the rebuild, although The Giants really need to fully commit. The Dodgers have a tendency to coast in the regular season, and if they think Colorado was a one year wonder, they're going to again be fighting on day 163.
SEE ALSO:
NL Central Win Totals & Division Odds
NL East Win Totals & Division Odds


Odds To Win Division
LA Dodgers (-450)
Colorado Rockies (+450)
Arizona Diamondbacks (+2500)
San Diego Padres (+1500)
SF Giants (+5000)
LA Dodgers: 93.5
The Dodgers spend like The Yankees, yet grow talent like The Rays which is always going to make them dangerous. They cleared out a ton of players for what looked like a run at Bryce Harper, but don't sleep on A.J. Pollock, who was a top five outfielder just a few years ago and could do well with a change of scenery †he Dodgers seemingly under performed last year during the regular season, but just like good teams do, they turned it on when it mattered in the playoffs before ultimately losing in The World Series. They will try to avoid three straight World Series losses here. This is a version of regular season Golden State, and while Colorado is improved, they have a habit of coasting, which is makes it hard to go over.
Arrivals: RHP Joe Kelly
Departures: Brian Dozier, C Yasmani Grandal, OF Matt Kemp, SS Manny Machado, OF Yasiel Puig, LHP Alex Wood
Lineup:
1) Joc Pederson, LF
2) Corey Seager, SS
3) Justin Turner, 3B
4) Cody Bellinger, RF
5) A.J. Pollock, CF
6) Max Muncy, 1B
7) Chris Taylor, 2B
8) Austin Barnes, C
Rotation and Closer:
Rich Hill,  Hyun-Jin Ryu,  Kenta Maeda, Ross Stripling, Walker Buehler
Closer: Kenley Jansen, RHP
Prediction: Under 93.5 Wins
Colorado Rockies: 84 Wins
The Rockies have finally fixed their pitching issues at the top of the rotation and have three great pitchers who do well at Coors. Marquez was a legit ace for parts of the season while no one has ever pitched better at Coors Field than Kyle Freeland. The rest of the rotation needs to step up, specifically Gray, but they have the talent to do so. Arenado finally got paid, which may make you pause for a regression, but he's finished above his previous seasons standing in The MVP voting every single year the last four. If they repeat the strides of last year, they'll go over the win total.
Arrivals: 2B Daniel Murphy
Departures: OF Carlos Gonzalez, OF Matt Holliday, 2B DJ LeMahieu, RHP Adam Ottavino
Lineup:
1) Charlie Blackmon, RF
2) Nolan Arenado, 3B
3) Daniel Murphy, 1B
4) Trevor Story, SS
5) David Dahl, LF
6) Ian Desmond, CF
7) Ryan McMahon/Garrett Hampson, 2B
8) Chris Iannetta, C
Rotation and Closer:
Kyle Freeland, German Marquez, Tyler Anderson, Jon Gray, Chad Bettis
Closer: Wade Davis, RHP
Prediction: Over 84 Wins
Arizona Diamondbacks: 73.5 Wins
The Diamondbacks are starting the rebuild and this is year one, which usually doesn't bold well. Patrick Corbin is gone post career year, yet Zack Greinke has been one of the most consistent pitchers in baseball and Robbie Ray is always a breakout candidate. The lineup is much worse than it was a year ago. I really don't have a great feel for this team because they have certain pieces, I just don't know how committed they are to winning at the moment and selling at the deadline is not a good thing. The roster may still be good enough to get over this hump.
Arrivals: RHP Luke Weaver
Departures: SP Patrick Corbin, OF A.J. Pollock, SP Clay Bucholz, 1B Jake Goldschmidt, OF Jon Jay, RHP Shelby Miller
Lineup:
1) Ketel Marte, CF
2) Eduardo Escobar, 3B
3) David Peralta, LF
4) Steven Souza Jr., RF
5) Jake Lamb, 1B
6) Wilmer Flores, 2B
7) Nick Ahmed, SS
8) Carson Kelly, C
Rotation and closer: 
Zack Greinke, Robbie Ray,  Zack Godley,Luke Weaver, Merrill Kelly
Closer: Archie Bradley, RHP
Prediction: Under 73.5 Wins
San Diego Padres: 76.5 Wins
This team has the best farm system in baseball, and the win total didn't move half as much as Harper's effect on Philadelphias, which makes me prefer this one to Philly's. They' are raw and young, but there's a very real chance that the same thing we saw from The Braves last year can happen to this team if the can arrive a year ahead of schedule. Tatis and Machado may be the best left side of an infield in baseball eventually, but the pitching is very concerning. They'll have to score a ton of runs to keep up with the struggles of their starters, but they'll get better as the season goes on as the farm makes its presence known. Machado has shown time and time again he's not enough on a bad team with Baltimore, so be careful to buy just based on him.
Arrivals: SS Manny Machado, 2B Ian Kinsler
Departures: SS Freddy Galvis, RHP Phil Hughes, LHP Clayton Richard, 3B Christian Villanueva
Lineup:
1) Ian Kinsler, 2B
2) Manny Machado, 3B
3) Eric Hosmer, 1B
4) Wil Myers, LF
5) Franmil Reyes, RF
6) Manuel Margot, CF
7) Luis Urias, SS
8) Austin Hedges, C
Rotation and Closer: 
Joey Lucchesi, Eric Lauer, Robbie Erlin, Chris Paddack, Matt Strahm
Closer: Kirby Yates, RHP
Prediction: Over 76.5 Wins
SF Giants: 73.5 Wins
The Giants window has closed, but they're still clinging on to passed title hopes. They really need to commit to a rebuild, but when you've had success with less talent in the past, it can make it harder to pull the trigger. Bumgarner is no longer an elite pitcher, while the prospect of Pomeranz and Samardzija bringing up the rear of a rotation is terrifying. They have name value with guys like Panik, Posey, Longoria, and Bumgarner, but the talent isn't close anymore.
Arrivals: None
Departures: LHP Derek Holland, OF Hunter Pence, C Nick Hundley
Lineup:
1) Steven Duggar, CF
2) Joe Panik, 2B
3) Buster Posey, C
4) Brandon Belt, 1B
5) Evan Longoria, 3B
6) Brandon Crawford, SS
7) Gerardo Parra, LF
8) Mac Williamson, RF
Rotation and Closer: 
Madison Bumgarner, Derek Holland, Dereck Rodriguez, Drew Pomeranz, Jeff Samardzija
Closer: Will Smith, LHP
Prediction: Under 73.5 Wins
SEE ALSO:
NL Central Win Totals & Division Odds
NL East Win Totals & Division Odds