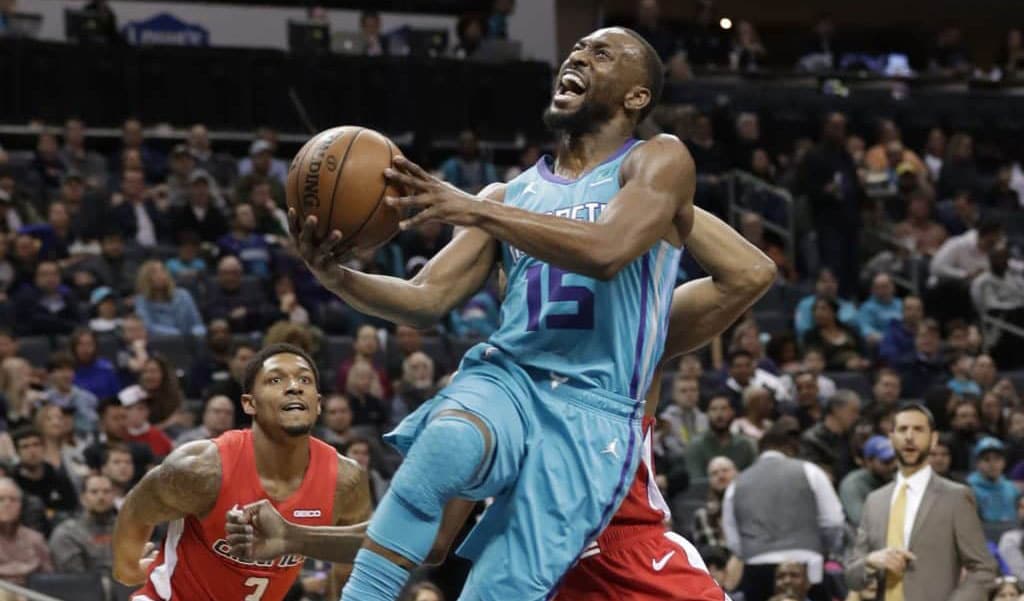 Daily Fantasy Basketball Cores, Pivots, and Strategy will offer to serve as a mutually proportioned grasp for an everyday NBA DFS main slate, touching on core and pivot plays at each position, as well as strategies you may find useful as roster outlines or interesting contrarian plays.
SEE ALSO: NBA Basketball ATS Trends: Betting Cheat Sheet (Friday, March 8)
After surviving Thursday's snooze fest where rostering Enes Kanter was actually a thing again (no offense to Enes; I hear he's a super nice guy), I'm elated to arrive at the doorstep of our weekend with a well-rounded nine-game NBA slate in front of us to delve into beforehand. There are a lot of fun ways you can go about handling your roster today so let's hit a few of the stand-outs per position first…
Point Guard
Core:
Kemba Walker ($8,100 DK/$9,000 FD)
This play comes as a perfectly wrapped package with everything you could really ask for in a core play. Entering a fantastic matchup at home against the Washington Wizards who are among the worst against the Point Guard position and third highest pace in the league over the past ten games, the ex-UConn Husky stud is priced too cheap all things considered. His high ceiling of being able to surpass 50 DKFP is by all means in reach here and his floor shouldn't entirely bury you given the notoriety of the Wizards versus other Point Guards.
Averaging close to 40 minutes a game and a 31.44% usage rate over the past seven games, Kemba Walker offers stable value and a light risk given the matchup.
Pivots:  Russell Westbrook, Stephen Curry, Kyle Lowry, Chris Paul, Kris Dunn, Tomas Satoransky
Punts:  Reggie Jackson, Ish Smith, DJ Augustin
Shooting Guard
Core:
Zach LaVine ($7,500 DK/$8,500 FD)
Apparently nobody is paying any attention to what this guy has been doing over the last, oh, I don't know, MONTH STRAIGHT. Because at literally just past the one month mark, Zach LaVine has only not met value for his price tag on three occasions out of thirteen in a row. And of three of those solid performances, he put up 53.25, 55.50, and 74.75 DKFP, all whilst hovering within the same exact price vicinity as you're looking at for him today (he's only passed the $8K mark twice in 2019).
Averaging over 36 minutes in his past ten games and with a usage rate over 30% in his last five games, LaVine is in a great spot at home against a Detroit Pistons team ranking dead last defensively over the past six games. "Safe" is the term that comes to mind, despite the fact that I hate using words of that sort of hair-triggered, blanketing sentiment (see: "lock").
Pivots:  Lou Williams, Bradley Beal, James Harden, Donovan Mitchell, Jimmy Butler, Evan Forunier
Punts:  Luke Kennard, Delon Wright, Jordan Clarkson, Terrance Ross, Danny Green, Kyle Korver
Small Forward
Core:
Kevin Durant ($8,900 DK/$9,200 FD)
I fully understand your pre-emptive skepticism here. He's been either barely breaking even with paying off his nightly price tag while leaving gaping opportunity cost elsewhere, or he posts a 23 DKFP dud while ripping you off at $9,100. But you must also understand a little something called regression, and it's something everyone's due for at some point or another. While predicting the random valleys among the spontaneous peaks and static in between performances is something not everyone is exactly the keenest on, noticing a price and opportunity point is definitely one that's much easier to put your finger on, and this case study here waves a flag of encouragement for me.
Coming off an embarrassing home loss to the Kyrie-less Celtics on Wednesday, Durant's got a bounce-back opportunity here with his cheapest salary cost since the fourth game of the season against a Denver Nuggets team who has been weak against the Small Forward position. KD's dynamite ceiling and ability to go off on inferior 1-on-1 defenders makes for feasible consideration, averaging a usage rate up over 35% in his last three games. There are other options I could talk about here as well at this position, but it's the ceiling vs. cost that gets me here.
Pivots:  Joe Ingles, Paul George, Danillo Gallinari, Jabari Parker, Will Barton, Trevor Ariza, Josh Richardson, Justise Winslow
Punts:  Jae Crowder, JJ Redick, Jeff Green, Royce O'Neale
Power Forward
Core: 
Pascal Siakam ($7,000 DK/$7,500 FD)
Another dude whose price tag blows me away, Pascal Siakam has yet to be effected by the arrival of Marc Gasol and continues to dominate value over seven of his past eight games while never seeing a salary cost of just over $7K. His minutes are the highest they've been all season, averaging close to over 35 a game in the span of his past eight floor appearances. Siakam draws a dreadful New Orleans Pelicans unit playing pick-up ball until their vacation and who's been annihilated against the Power Forward position all year. Very much able to take the elevator to breaking a slate, Pascal will be a linchpin to several of my rosters' versatile affordability points.
Pivots:  Tobias Harris, Aaron Gordon, Dwight Powell, Lauri Markkanen, Montrezl Harrell, Bobby Portis, Draymond Green, Kevin Love, Larry Nance
Punts:  Serge Ibaka, Kelly Olynyk, Bam Adebayo, Frank Kaminsky
Center
Core:
Hassan Whiteside ($6,400 DK/$7,400 FD)
Another bag of scrutiny awaits me with this selection, but as I mentioned earlier, there's a point where red flags tend to fly and this one includes a combination of reasons to be doing so. Hassan Whiteside is receiving a bow-topped gift bag in the Cleveland Cavaliers, who haven't had an answer for the opposing Center position for most of the season and are absolutely abysmal on the defensive side of things ranking dead last for the season overall in the category.
Much like the guys I've talked about prior, this ceiling is extremely within hand-shaking distance as Whiteside has appeared to be given the green light again to crush the ball down low and reaching nearly 50 DKFP in three of his last four games played with over 31% usage in two of those games. As I've discussed in a previous article, Hassan Whiteside is always and forever will be a roster-at-your-own-risk type of decision (which is actually contrary to a Core play). But given the equation of Price + Matchup + Ceiling + Survivable Floor (if the minutes and usage aren't for some reason impinged), it was hard not to discuss Whiteside in further detail to consideration to tonight's rosters.
Pivots:  Nikola Jokic, Nikola Vucevic, Andre Drummond, DeMarcus Cousins, Steven Adams, Clint Capela, Jonas Valanciunas
Punts:  Cody Zeller, Robin Lopez
Strategy
So many ways to approach this, but I can tell you that I'll be starting similarly to Wednesday's slate and targeting the primary weakness versus point guard today with the Washington Wizards. Kemba Walker is a fascinating anchor to start with and from there figuring where you'd like to settle on your first major spend-up besides Kemba, then tip-toeing from there. I am finding myself really attracted to a lot of the surrounding cast members of noteworthy play from the Toronto Raptors, despite their defensive and paced-down nature. Danny Green, Ibaka, and especially Siakam have really high opportunities to blow the doors off of their value points (with comparison to salary cost). I'm starting to settle on Siakam as my second piece in lineups amid the initial stages of lineup tinkering the night before.
With those things all in cognizant and respective reach, I also realize that I'm going to have to pay attention to whom of the potential slate-breakers I will be investing any shares in. Spending up at wishful game flow needs to be something that doesn't entirely strap you with concrete sneakers, which you'll find to be a key reason in my ever justifying a ceiling chase among players. For example, if Whiteside were to cost $2,000 more than he does today, then that would make that currently-desirable chase a lesser instance of one entirely and would easily be ignored. A character of consistent soaring performances such as Harden makes a spend-up justification obvious, but it's being able to know a good time to pay that extra to the already-costly tag that warrants confidence.
SEE ALSO: NBA Basketball ATS Trends: Betting Cheat Sheet (Friday, March 8)