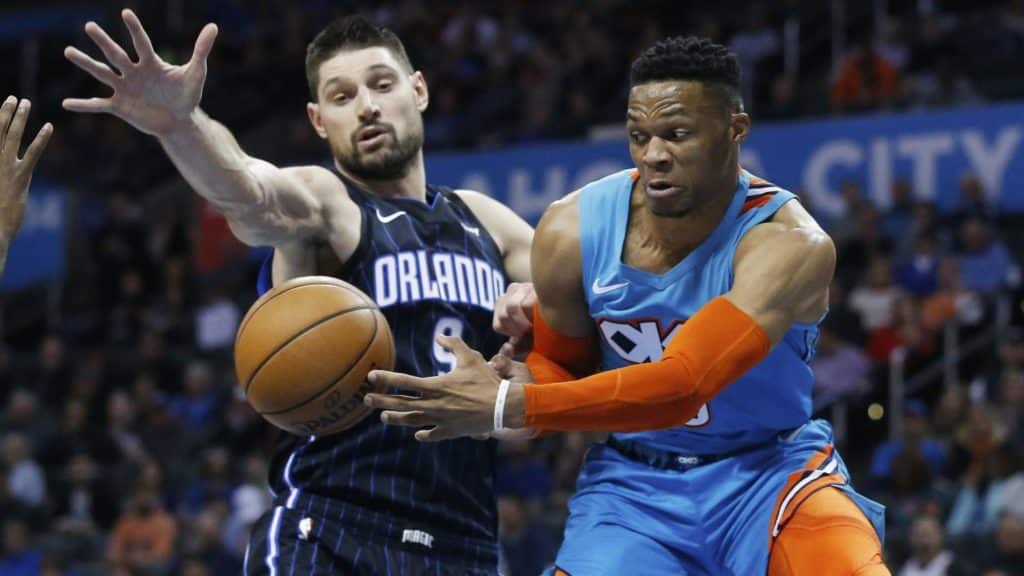 DFS Devil's Advocate: Cores, Pivots, and Strategy will offer to serve as a mutually proportioned grasp for an everyday NBA DFS main slate, touching on core and pivot plays at each position, as well as strategies you may find useful as roster outlines or interesting contrarian plays.
Tuesdays. Much like Thursdays, I regularly cringe when I pull up my browser to see the abysmal number of games the day has to offer and with lackluster teams featured to boot. Today on the other hand, we've got one of the exceptions of the season. Boasting a six-game slate with more than a fair availability of studs at the top of the pile, this Tuesday should be a fun and interesting one, considering we just may also see the return of Paul George.
Speaking of George, his questionable situation following several days of injury absence looms over the day to make for a bus-ton of intrigue on sites that offer Late Swap. However, from the perspective of those that do not offer such a convenience strategy it still makes for an interesting gamble against the public ownership and see if not flinching pays off (it didn't for Brandon Ingram last night but how the hell would anyone know?). Let's see who we've got…
Point Guard
Core:
• Kyle Lowry ($7,300 DK/$8,500 FD)
This guy is somewhat of a chameleon. He's sniffed the likes of 40+ DKFP three out of his past five games and without even seeing his price tag flinch hardly within $500 of a swing. Kyle Lowry may not knock it out of the park with his fantasy total on a nightly basis, but his consistency and stability make him a core play at this compelling salary cost today. While they've picked up their defensive prowess in recent games (like in Boston this past Sunday), the Houston Rockets still haven't deviated from the middle of the pack in a sample pool comparison of the past 15, 10, and 5 games (between 16th-18th in the league defensively in that span) . Plus, Lowry will be at home among The North. Too cheap, too good of a spot. You know what to do.
Pivots:  Ben Simmons (boost with Embiid OUT), Stephen Curry, Darren Collison, Russell Westbrook (monitor for Paul George status), Kyrie Irving
Punts:  Jeremy Lin, Cory Joseph, Ryan Arcidiacono
Shooting Guard
Core:
• James Harden ($11,100 DK/$12,100 FD)
As much as the cost may pain you considering the daunting defensive opponent (and it does me), there aren't many better options at the position today (especially on FanDuel). And on a day like today that's bare-bones-thinned out at the Shooting Guard position, it's practically impossible to want to fade a guy like Harden. Averaging 69.75 DKFP over his last three games, he's capable of decimating a slate with a 90+ point game and regardless of the opponent. There's one thing I do know: raw talent is hard to stop every single play and it will definitely wear an opponent down. And with a usage rate up over 38-40% most of the time (FOURTY!), it would be ill-advised to ignore The Beard.
Pivots:  Jimmy Butler (boost with Embiid OUT), Andrew Wiggins, Avery Bradley
Punts:  Delon Wright, Eric Gordon, Dennis Schroder (monitor for Paul George status)
Small Forward
Core:
• Kevin Durant ($9,100 DK/$9,700 FD)
The cheapest he's been in three weeks, Kevin Durant has been seeing between 30-40% usage over his past two games with Klay Thompson sidelined with knee soreness. If Klay is out again tonight, I'd expect to see the very same increased usage for KD against a Celtics team who's 28th in the league in opponent points off fast breaks and 28th in the league in opponent points off turnovers in the past five games. As we witnessed against the Rockets, the Celtics were devastated by shooters the entire game and I could see this damage being done in the very same fashion this evening. I will definitely be getting my share of Kevin Durant amidst this painfully weak Small Forward position tonight.
Pivots:  Paul George (monitor injury status), Bojan Bogdanovic, JJ Redick
Punts:  Gordon Hayward, Maurice Harkless, Bruno Caboclo
Power Forward
Core:
• Thaddeus Young ($5,900 DK/$7,000 FD)
Is it because of the name Thaddeus and that he's rocking a Pacers jersey that this guy's ownership and price tag have remained so insanely low, in contrast to his consistently concrete fantasy production? I can't think of any other logical reasons (not that those mentioned are legitimate ones or anything) because he's averaging about 6x value over his past six games and he's being even more counted on now that Domantas Sabonis has been absent with an ankle injury (and already confirmed out again for today). Against this Bulls mediocre defense, Thad is simply too cheap in a very opportunistic spot and will be an anchor to several if not many of my rosters (on DK especially).
Pivots:  Tobias Harris (boost with Embiid out), Aaron Gordon, Pascal Siakam, Draymond Green
Punts:  Jerami Grant (monitor for Paul George status), Taj Gibson, Dario Saric, PJ Tucker (if Faried is out, boost for Tucker)
Center
Core:
• Nikola Vucevic ($9,200 DK/$10,500 FD)
With the news recurring late Monday of another Joel Embiid knee injury absence, Nikola Vucevic immediately upgraded from an already great spot to a phenomenal one. Squaring off against the dried out Center position of the 76ers, Vuc should be licking his chops when seeing the bargain bin opposition forced to defend him down low in Philly. Despite the multi-facted Tobias Harris being recently added to the mix, there aren't enough bodies for this Sixers team to stop the Serbian sledgehammer who's coming off a 61.25 DKFP performance against another team weak against the Center position in Cleveland on Sunday. I eagerly anticipate a landslide of the same here and fail to see how anyone in Philadelphia is stopping him this evening.
Pivots:  Karl-Anthony Towns, Myles Turner, Jusuf Nurkic, Steven Adams (monitor for Paul George status)
Punts:  Robin Lopez, Marc Gasol
Strategy
With all the injury uncertainty behind Paul George, I find myself taking a safe route at the early construction stages of my rosters thus far by anchoring in Thad Young and looking at top-tier expenses at that point. I can either go the route of beginning with Vucevic after Thad and getting to at least one of the four Sixers pieces with Embiid out, OR going down the route of rostering Harden and aiming at one of the value Center plays from there considering it's possibly the deepest position of the day alongside Point Guard.
Both strategies will be the primary angles of tinkering among the starts of many of my rosters, as there are apparent pitfalls after the studs in nearly every position, but that tends to come with the territory when treading on shorter slates. There's a fair number of top guards that I will be sprinkling in alongside Vuc/Harden. With the questionable start of Paul George, I'll definitely be getting to my Westbrook pivots enough to match the field but am not overly assertive in trying to do much more than that with him. I'm taking my stand on Harden over the likely-to-be more popular play in Russ. But ultimately my eyes are on Vuc, and the rest will likely follow suit from there in 50-70% of my rosters (depending on how crazy behind the idea I get leading up until lock).