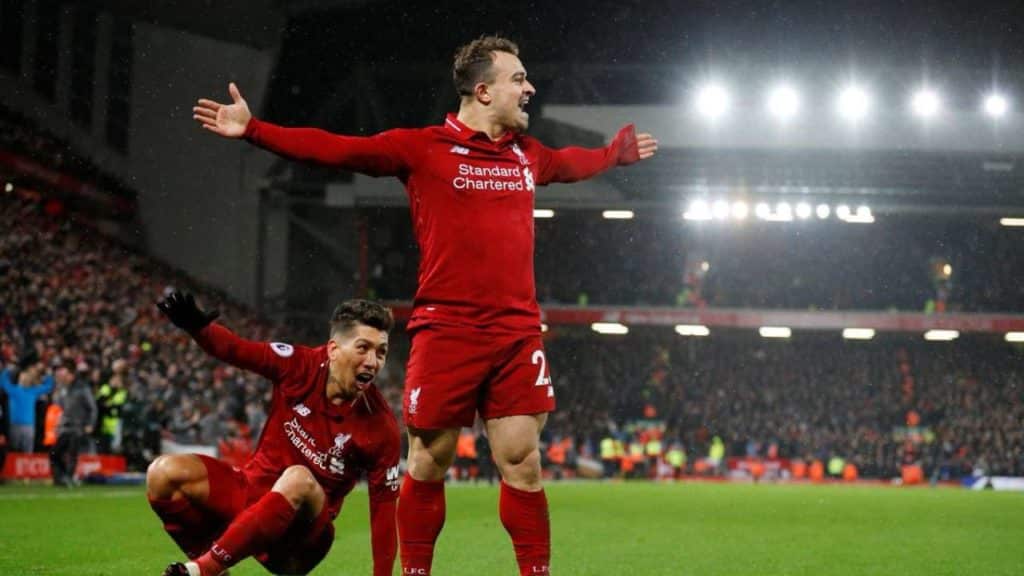 So you want to play daily fantasy soccer? I know at first it might not seem like the most accommodating sport for daily fantasy games. But when you get into it, DFS soccer can be a good time and a good way to make some money too.
Whether you have been an avid soccer fan your entire life, or you're looking for something to do now that the NFL season is over, or you're just one of those crazy people who love's waking up 6am on Saturday mornings to set your lineups (this will come in handy for the English Premier League weekends); DFS soccer is worth giving a shot. If you are new to the game, this article will have everything you need to know to get started playing Daily Fantasy Soccer.
Where can I play DFS Soccer?
You can play DFS Soccer at any major daily fantasy sports website. I use mainly FanDuel and Draft Kings. I personally prefer Draft Kings because they allow for a utility player in their contests whereas FanDuel does not. If you are confused already, don't worry, I will explain all that later. For now, just know that if you want to play DFS Soccer you can do so by simply finding a contest with your favorite DFS app or website.
Okay I've Found a Contest I want to play in. Now What?
Your next step towards becoming a DFS soccer pro is to pick a great lineup. This is the part where things could start to seem foreign to you if you are not used to soccer or fantasy soccer. In DFS soccer you have 4 main positions: forward, midfield, defense, and goalkeeper. In Draft Kings, you get two forwards, two midfielders, two defenders, a goal keeper and a utility player. Similar to a flex player in fantasy football, a utility player can be either a defender, and midfielder, or a forward. FanDuel lineups do not allow for utility players. Instead, FanDuel lineups have three midfielders rather than two.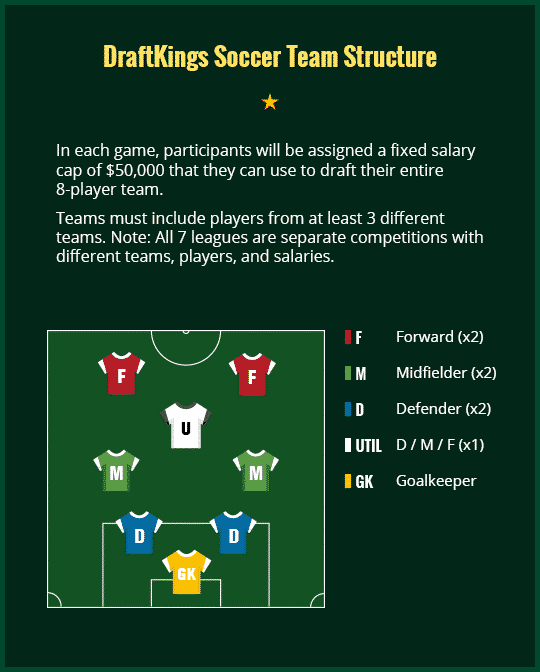 That's great! So how do the players in my lineup score points?
You might not think that there are as many statistical categories in DFS soccer as there are in fantasy football or fantasy basketball, but you would be wrong. As you can see from the chart, there are 12 different categories for outfield players and 6 different categories for goalkeepers alone. With these statistics in mind, try to put together a lineup that you think will score the most points possible.
Alright I think I am all set but I have one last question. How do I win?
Oh man, well, this is the toughest question of all. In the coming weeks, I will be writing articles where I give my top DFS soccer picks of the week. I'll come up with a list of players you should have in your lineup on a given day and back up my picks with research and statistics. But right now, here's a short list of players to have in your lineup at each position for the Premier League games this Sunday the 24th.
Forward: Pierre-Emerick Aubameyang ARS – Aubameyang can be a very boom or bust DFS player but he does tend to score against bottom feeders. I expect him to get at least one goal vs Southampton on Sunday.
Midfield: Henrikh Mkhitaryan ARS – Mkhitaryan is the ideal DFS midfielder this Sunday. He is on a team that should be on the attack often. He can score goals, take free kicks and corners, and won't cost you as much as some of the bigger names.
Defense: Trent Alexander-Arnold LIV – Alexander-Arnold had a great showing in the Champions league on Tuesday. He put in crosses, made tackles, picked off passes, and scored a ton of fantasy points in the process. I expect more of the same from him on Sunday against United.
Goalkeeper: David de Gea MUN – You will have to pay to get de Gea but it will absolutely be worth it. His Premier League form has been great recently and facing a high-flying Liverpool attack at home, he will get the opportunity to make plenty of saves and even keep a clean sheet.
Lastly, PLEASE make sure to check your lineup when the managers announce their lineups about an hour before kickoff. Make sure everyone on your team is starting in their game. That sounds like it could go without saying but you'd be surprised how often managers, especially one's with very talented rosters, switch the lineup around to give players a rest. Having a player in your lineup can be a death sentence. Also, you can often find good value in a bench player who is called up to play a full 90 minutes. And all of this can definitely be worth waking up for on a Premier League Sunday morning!