There's 175 Division 1 College Basketball games this weekend stretching from Friday through Sunday. For some that's a bit overwhelming which is why the DANTABASE is here to break down the key games happening this weekend getting everyone ready for some early March Madness betting. Bubble watch, Conference Tournament seeding and more are all at stake this weekend.
FRIDAY
HARVARD @ PRINCETON
Two of the top three ranked teams in the Ivy league set to do battle. Huge conference seeding implications on the line here.
BUFFALO @ TOLEDO
This is the game of the year in the MAC. The top two seeds in the conference meeting for the 2nd time. Buffalo blew out Toledo on their own turf now it's Toledo's turn to return the favor. Absolutely gigantic game here for the MAC Conference.
NORTHERN KENTUCKY @ WRIGHT STATE
The top two teams in the Horizon Conference set to do battle to fight for the top seed in the conference tournament. This is as big a game as it gets for the Horizon Conference. Northern Kentucky won the first matchup by four points. Can Wright State get some revenge?
SATURDAY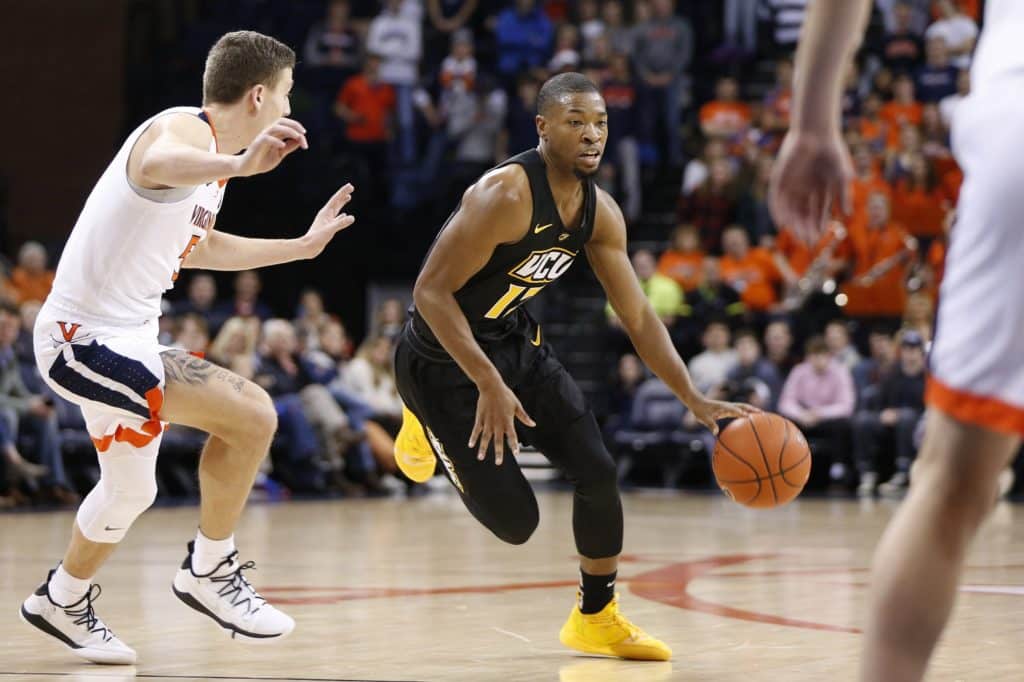 OKLAHOMA @ TCU
This game is a must watch for me. Both these teams are on the outside of the bubble and are desperate need for some wins. Both teams are running out of time to grab some wins and now is the time.
MARYLAND @ MICHIGAN
This is a gigantic game in the BIG TEN. Maryland upset Purdue earlier in the week and have been flying under the radar in the conference. If the Terrapins can find a way to win this one they could very well win the conference and be the top seed in the BIG TEN tournament.
CLEMSON @ LOUISVILLE
Clemson took a tough loss to Miami (FL) on Wednesday in the final seconds of the game. Louisville maybe took the toughest loss of any team this entire season with blowing a gigantic lead at home to Duke. Clemson probably needs this one more for the resume but Louisville needs this one more for the state of their team.
OKLAHOMA STATE @ TEXAS
Oklahoma State is basically done which puts them in the spoiler role. Texas still needs every win it can get. This is a must win for the Longhorns.
XAVIER @ PROVIDENCE
Xavier is probably not going anywhere this season which still makes them dangerous because Providence needs every win it can get right now. The Friars have lost a ton of close games this season so the key here will be not keeping the game too close.
INDIANA @ MINNESOTA
Somehow Indiana is still very much on the bubble and a win here could really help things. Minnesota has a nice resume but have lost a few in a row and after such a decent season they really don't want to jeopardize their tournament status with a long losing streak.
BAYLOR @ TEXAS TECH
Texas Tech is still alive for winning the BIG 12 regular season title but they certainly need to take care of business against a overachieving Baylor team. Baylor needs wins as they should be in the tournament but they still need to win games and build the resume.
NOTRE DAME @ VIRGINIA
Virginia is still fighting for a number one seed for the ACC and NCAA tournament. This game should be a blowout but with Duke coming back to beat Louisville it means the margin of error for the Cavs is next to nothing.
FLORIDA @ ALABAMA
This is a huge game for both teams. Alabama is on the inside of the bubble if I had to guess but still this is a big game for the Tide. Florida is probably right on the outside of the bubble and in search of a big win. This one is also big for SEC conference tournament seeding purposes.
MISSOURI @ OLE MISS
Ole Miss is looking good for the NCAA tournament but hey another win against a team that's probably not going to make the tournament will help. Missouri came up with a huge win over Arkansas the other night and well if they want to do any dancing come March now is the time to win these games. This is an absolute must win for Missouri.
WEST VIRGINIA @ KANSAS
West Virginia has been awful on the road all year so I doubt this will be much of a game. Kansas is still very much alive to win the Big 12 for like the 100th time in a row. Kansas must not have a let down game against the Mountaineers.
PENN STATE @ PURDUE
The Nittany Lions just shocked Michigan can they keep that momentum going? Purdue is coming off a tough road loss where they had a nice size lead blown against Maryland. Purdue is still alive to win the BIG TEN but they need to win this one for sure.
IOWA STATE @ KANSAS STATE
This is an absolute top 5 game of the day. This is a huge and i mean huge game for the Kansas State Wildcats. Kansas State has never won a BIG 12 regular season title and the Wildcats appear to be exactly on track to do that if they can get past the Cyclones and pass a few tests later in the month. Iowa State wants revenge after losing to KSU in Ames by one point a month ago. This one is must watch TV.
VCU @ DAYTON
This is a big time Atlantic 10 matchup here with the two hottest teams in the conference. VCU is currently the top ranked team in the Conference and Dayton is in 4th. Can Dayton close the gap and make a play for the top spot in the A10?
NORTHEASTERN @ CHARLESTON
The 2nd and 3rd best teams in the CAA do battle for conference tournament seeding rights and also the winner will stay alive with the chance for the top seed in the CAA.
VIRGINIA TECH @ PITTSBURGH
Pittsburgh was playing much better ball this year until the past few weeks where the Panthers have lost their way. Virginia Tech is injury plagued and just needs to battle through this with the tournaments right around the corner. Conference seeding is certainly on the line here.
NC STATE @ DUKE
NC State has been a really hard team to read this season. One game they'll look great then the next they'll have you thinking the Wolfpack are a awful team. Duke is Duke meaning they should win this one by double digits but who knows what can happen in this rivalry. NC State sure needs the win more despite Duke playing for a overall 1 seed in the NCAA Tournament.
TEMPLE @ SOUTH FLORIDA
Both these teams are on the outside of the bubble and looking and needing wins. Both these teams are very well coached good basketball teams. Something has to give. This is basically a playoff game for these guys.
MEMPHIS @ CENTRAL FLORIDA
UCF is certainly a bubble team that needs every win it can get. Memphis is a team trying to build something. Penny Hardaway seems to have this Memphis team playing some of their best basketball at the right time. UCF needs it more but regardless this should be a fun one to watch.
LSU @ GEORGIA
LSU is playing for the top seed in the SEC tournament and well they can't have a let down game against a inconsistent Georgia Bulldog team.
UNC GREENSBORO @ WOFFORD
The top two teams in the really underrated Southern Conference are set to do battle. This is a must watch for any mid major junkie like myself. Both these teams are good and very capable of being a few of the big boys if these teams can find themselves in the big dance.
TENNESSEE @ KENTUCKY
This is top game of all the games this Saturday and most likely the game of the weekend. Tennessee has looked flawless this year and well Kentucky is coming off an extremely tough loss on a bad call. I can't wait for this one.
DEPAUL @ BUTLER
Two bubble teams on the outside of the bubble fighting for their postseason lives? What more could you want? Both teams desperately need wins and well this is basically a playoff game in a way.
NORTHWESTERN @ NEBRASKA
Nebraska got killed when their star guard Copeland tore his ACL as the Huskers were looking like a shoe in for the NCAA Tournament. Nebraska hit a tough losing streak and then somehow found a way to muster up a one point home win against Minnesota earlier in the week. There's signs of life in Lincoln and now the Cornhuskers must continue to ride that momentum if they want any chance of playing in the NCAA Tournament.
MISSISSIPPI STATE @ ARKANSAS
The Razorbacks had their chances against Missouri and they couldn't capitalize and now they're not only on the outside looking in their in defcon 5 mode. This team needs wins and this is a gigantic opportunity for them. Mississippi State still wants to improve their conference seeding so they'll be up for this game as well.
SAN FRANCISCO @ PORTLAND
This is an absolute must win for San Francisco who finds themselves on the outside of the bubble and needing every win it can get right now. Luckily for the them Portland is absolutely terrible which means The Dons must win this game.
PEPPERDINE @ SAINT MARY'S
Once again just like San Francisco, Saint Mary's finds themselves on the outside of the bubble and desperately needing wins because they are running out of time on the season. Pepperdine is decent and could give them a fight.
ARIZONA STATE @ UTAH
Arizona State is perhaps the hardest team in all of college basketball to figure out. When the Sun Devils are on, they can play with anyone. When they're off, man, they are off! The Sun Devils are about as much of on the bubble as one could get. This is a must-win game for them and they should have revenge on their mind after the Utes upset the Sun Devils in Tempe earlier in the year.
UC SANTA BARBARA @ UC IRVINE
Two of the top three seeds in the Big West are set to do battle. This one should be a good one. Personally I think these are the two best teams in the Big West which means this should be a great game. Conference seeding is certainly at stake here.
SUNDAY
OHIO STATE @ MICHIGAN STATE
Ohio State suffered a brutal loss at home to Illinois on Thursday and now they hit the road to take on Sparty! That's a tough draw for the Buckeyes who find themselves certainly on the bubble. They sure could use a marquee victory over a top 25 team. Michigan State is still alive to win the BIG TEN so this is basically must watch basketball.
WICHITA STATE @ CINCINNATI
Wichita State is playing much better basketball in the past few weeks and Cincinnati despite the loss to Houston has really found themselves and appear to be headed in the right direction as the tournament approaches.
GEORGE MASON @ ST. BONAVENTURE
George Mason really needs to win this game. They aren't really on the bubble and with VCU playing Dayton there's a strong chance that the Patriots could really move up the ladder with a win over the Bonnies on the road.
SETON HALL @ CREIGHTON
Two bubble teams that absolutely need a win. This should set up for a great game. Creighton is traditionally really hard to beat at home. Seton Hall is the type of team that can win anywhere when they are on. This should be a good one.
VILLANOVA @ ST. JOHNS
Nova needs to shake off the one point loss to Marquette last week and take care of business against Chris Mullin and company. St. John's is on the inside of the bubble right now and appear to be a decent team but they could sure use a huge win like Villanova.