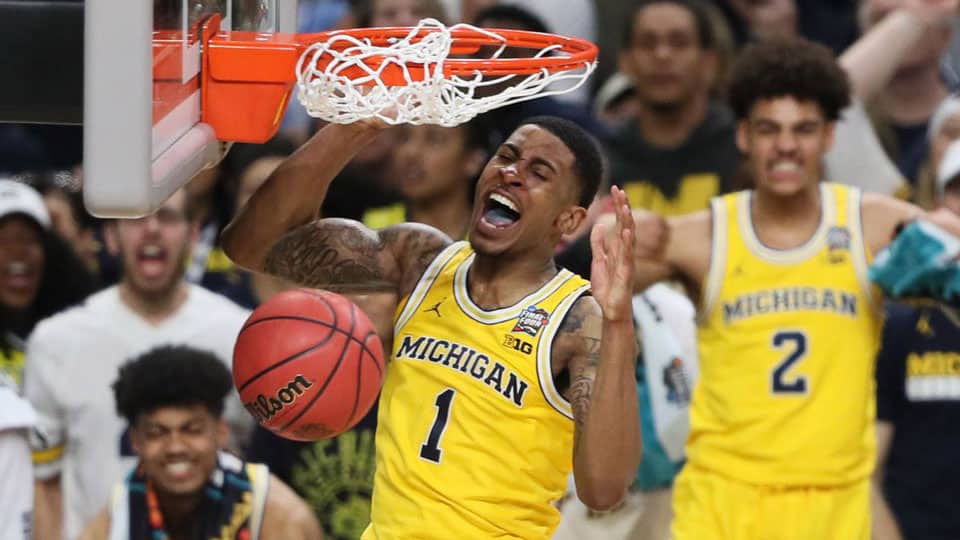 There's 173 Division 1 College Basketball games this weekend stretching from Friday through Sunday. For some that's a bit overwhelming which is why DANTABASE is here to break down the key games happening this weekend. Bubble Watch, Conference Tournament Seeding and more are all at stake this weekend. 
FRIDAY
MICHIGAN @ IOWA
Michigan is battling for a Big Ten Championship and oh perhaps a #1 seed in the NCAA Tournament. Iowa has lost two in a row and although if the season ended today they'd most likely be in the NCAA Tournament here's a great opportunity to gain a huge victory for the resume.
BUFFALO @ BOWLING GREEN
The Buffalo Bulls are not only in 1st place in the MAC East they are also #18 in the nation with key wins against West Virginia, San Francisco, & Syracuse out of conference. Which means they might have a good enough resume to make the tournament if they were to get upset in the MAC Conference Championship. Bowling Green is 2nd in the MAC East and had won 10 in a row before losing at Miami (OH) last Saturday. The winner of this game will have 1st place in the MAC East.
MARYLAND @ WISCONSIN
Both these teams would definitely be in the NCAA Tournament if the season ended today. Maryland is 4th and Wisconsin is 5th currently in the BIG TEN and the winner of this game should still be very much alive to win the regular season conference championship.
SATURDAY
KENTUCKY @ FLORIDA
Kentucky seems to be getting better with every game and now they hit the road for a huge one in Gainesville against a Gator team that is very much so fighting for their postseason lives. Florida could sure use a top 10 win against a blueblood like Kentucky to help their resume for March. Kentucky is still in play for the top seed in the SEC.
SETON HALL @ BUTLER
If the season ended today I'd suspect Seton Hall would be dancing but there's still plenty of season left for potentially lose out on the NCAA Tournament. Butler on the other hand has had a tough few months to start the season and if the Bulldogs want to make the NCAA Tournament they need to wake up fast and they can start here with a nice win over a decent opponent.
OKLAHOMA @ WEST VIRGINIA
The Sooners at the moment are looking good for a NCAA Tournament berth but they need not take this game lightly. This is a game that potentially if the Sooners were to lose could really hurt them in March.
RUTGERS @ OHIO STATE
Rutgers has won three games in a row with some nice wins over Nebraska, Penn State and Indiana. I still doubt they'll have any real chance at the big dance but Ohio State is very much a team that could end up on the bubble come Conference Championship time. Every win is important the Buckeyes need this one.
ST. JOHN'S @ DUKE
Chris Mullin seems to be doing quite the job with the Red Storm. If the season ended today St. John's would be dancing but not by too much. Duke is chasing a 1 seed. St John's just wants to dance this year and here is a gigantic opportunity to grab a big win for the resume.
GEORGIA TECH @ FLORIDA STATE
The Seminoles are certainly in the big dance if the season ended today but they must take care of business against the basement of the ACC. This is one they really need especially considering they've lost 4 of their past 7 games.
VIRGINIA TECH @ NC STATE
Both teams are fine when talking NCAA Tournament bids however both teams would sure like to improve their resume and seedings for both the ACC Tournament and the NCAA's.
GEORGIA SOUTHERN @ GEORGIA STATE
The 2nd and 3rd ranked teams in the Sun Belt meet up for a huge game in conference. Conference seeding and regular season conference championship is certainly on the line here.
NORTH CAROLINA @ LOUISVILLE
What a job Chris Mack is doing at Louisville in his 1st season at the helm. Earlier in the year they blew out the Tarheels on the road and I'm sure North Carolina hasn't forgotten that. Both these teams are not bubble teams but this is still must watch tv.
DUQUESNE @ DAYTON
The Atlantic 10 is really front loaded with both these teams being 3rd and 4th in the conference ranks at the moment. Both these teams are penciled in anyone's brackets yet but Duquesne can't be too far out of it.
TEXAS @ IOWA STATE
Iowa State would be a shoe in to make the tourney if the season ended today. The Cyclones are still very much alive to win the Big 12 regular season and get the top seed in the Big 12 Tournament. Texas on the other hand needs every win it can get. Shaka Smart came up with a huge much needed win against Kansas and if the Longhorns could somehow pull this out they would probably start to pop up on the bubble radar since they would have wins against North Carolina, Kansas, Purdue and Kansas State.
RADFORD @ WINTHROP
What. You guys aren't interested in a game from the Big South Conference? These are the top 2 teams in the Big South and conference tournament seeding is certainly on the line here. Plus Radford has wins at Notre Dame and Texas this season. These games certainly matter for conference seeding purposes.
NEBRASKA @ ILLINOIS
Nebraska barely missed out the NCAA Tournament last year and this year they looked like they were going to be a shoe in to make it, then one of their best players in Issac Copeland went down with a season ending injury and the Cornhuskers have dropped 4 in a row. They are certainly right now a bubble team that if i had to guess is barely in the tournament as of today which means these games are must win games especially against Illinois who's 13th in the BIG TEN but certainly playing better of late.
PROVIDENCE @ DEPAUL
Providence is for sure a bubble team and coming off a tough two point loss to Seton Hall where they had their chances to win. DePaul believe it or not is still kinda alive to make a run towards the NCAA Tournament. Sure, they've lost three games in a row but if the Blue Demons can muster up a few wins down the stretch here and maybe grab some Conference Tournament wins the Blue Demons can still dream but it starts with them needing a much needed win against Providence. Both teams need the win.
MISSISSIPPI STATE @ OLE MISS
The in state rivalry continues. Both these teams would certainly be in the field of 68 if the postseason started today. Mississippi State is perhaps the more desperate team though since they've dropped 2 of 3 and after traveling to Oxford they have games against LSU, Kentucky, Alabama & Arkansas coming up. They can't afford a 1-4 or 0-5 stretch here. Ole Miss has lost 3 in a row and 4 of 5 but after this matchup they get to breathe a bit with matchups against Texas A&M & Georgia. This is still a huge game for both teams.
UCLA @ WASHINGTON
Washington is playing for the #1 seed in the PAC 12 Tournament and to add another notch to their tournament resume. UCLA is 12-9 with no huge wins on the season. Perhaps this could be their chance. The Bruins have won 2 in a row and well now is the time for them to make a run if they want any chance of making the NCAA Tournament.
SAN FRANCISCO @ SAINT MARY'S
This is big time cross town game that not only has value with in the West Coast Conference but also could help both teams make a run at the field of 68. Both teams are certainly on the outside looking in at the moment and both are coming off bad losses. This is a huge game in the bay.
TEXAS TECH @ KANSAS
Kansas has lost 3 of 4 and desperately needs a win. Especially with road games at Kansas State, TCU and Texas Tech coming. This is a must win game for the Jayhawks if they want to win another regular season Big 12 Championship. Texas Tech has won 2 in a row after dropping a few games. The Red Raiders too have the Big 12 regular season title within their grasp. This is must watch TV.
HOFSTRA @ NORTHEASTERN
The top 2 seeds in the CAA going head to head on a Saturday afternoon who wouldn't want to watch it? Hofstra has created some separation with Northeastern getting upset by Towson but the last time these two met Hofstra escaped with a close win. If Northeastern wants any shot at the top seed in the CAA Tournament and perhaps a regular season title. This game is a must win.
ARKANSAS @ LSU
LSU is really turning heads in the SEC this season. Not only are they a NCAA tournament team right now but this team is in contention to win the SEC regular season title. That's why a game like this is so important for the Tigers. Especially with a brutal stretch of the schedule approaching. This is a must win game. Arkansas despite being the 10th team in the SEC currently is still in a position to make a run at making the NCAA Tournament but they must gain some quality wins quickly if they want any shot. Here's their opportunity.
INDIANA @ MICHIGAN STATE
The BIG TEN is probably the nations toughest conference this year thus is the reason why Indiana is still alive and certainly a bubble team despite losing 7 games in a row. They sure could use a high caliber win for the resume though. Michigan State is looking like a final four team of late but finds themselves in a battle with Michigan for top seed in the BIG TEN Tournament.
KANSAS STATE @ OKLAHOMA STATE
Kansas State is currently 1st in the BIG 12 and with Kansas having somewhat of a down season there's blood in the water. The Wildcats must not get upset in Stillwater like they did last week when they lost at Texas A&M. Oklahoma State sure could use a hot conference streak right about now.
SYRACUSE @ PITTSBURGH
The Orangemen are looking good for an easy NCAA Tournament selection. Pittsburgh on the other hand needs every win it can get.
GEORGE MASON @ VCU
The Atlantic 10 is front loaded and these are two of the top teams in the conference. Currently George Mason is in 1st place in A10. These teams are former CAA rivals with A10 title aspirations. This is a huge game for VCU who's got some ground to make up on the Patriots.
ALABAMA @ AUBURN
The basketball iron bowl! This year both teams are good and projected to be in the NCAA Tournament thus far. However, Alabama probably needs this one more. Both teams need the win especially with the SEC's overall depth as a conference this year.
TENNESSEE @ TEXAS A&M
Tennessee is #1 in the country currently. They are battling for a number 1 seed come March and with two games against Kentucky coming and road games at LSU, Ole Miss & Auburn they need not get upset to a 8-11 team. Texas A&M has been a hard team to figure out. They beat Alabama and Kansas State but have also lost to Texas Southern and UCI.
TCU @ BAYLOR
Baylor has came out of nowhere lately to really surprise the entire BIG 12. Currently they are 2nd in the BIG 12 with eyes on the BIG 12 regular season championship. Both these teams are currently bubble teams who are most likely on the inside of that bubble but whoever wins this will certainly improve their resume.
LOYOLA (CHICAGO) @ ILLINOIS STATE
The top two teams in the Missouri Valley Conference go head to head. The first time they met Loyola won by 3 at home and now Illinois State gets their chance at revenge. Loyola (Chicago) hasn't looked like the same Loyola team as last year although as of late they've seemed to step up their game. Traditionally the Missouri Valley has been a very successful when it comes to the NCAA Tournament.
SUNDAY
GEORGETOWN @ VILLANOVA
This is a huge game in the Big East for the Hoyas. Can they somehow take down the Wildcats who's owned the Big East of late? Not only do the Hoyas need this win for their resume for a chance at the NCAA Tournament but for the rest of the Big East. Villanova seems to be improving as the season has been going on which is a bad thing for the Big East and the rest of college basketball.
WAKE FOREST @ CLEMSON
Wake Forest has really underachieved this season and I'm not sure Danny Manning survives it. Clemson is a team that needs to really muster up some wins if they want any shot at dancing in March. This is a must win game for the Tigers.
MINNESOTA @ PURDUE
Both these teams should be dancing come March but Purdue is still somehow flying under the radar as a team that could potentially shock Michigan & Michigan State and steal the BIG TEN regular season crown and perhaps the #1 seed in the conference.
XAVIER @ CREIGHTON
Both these teams are in desperate need of wins. Both teams need to find their stride now before it's too late. This is basically a must win game for both teams if they want any shot at somehow dancing come March.