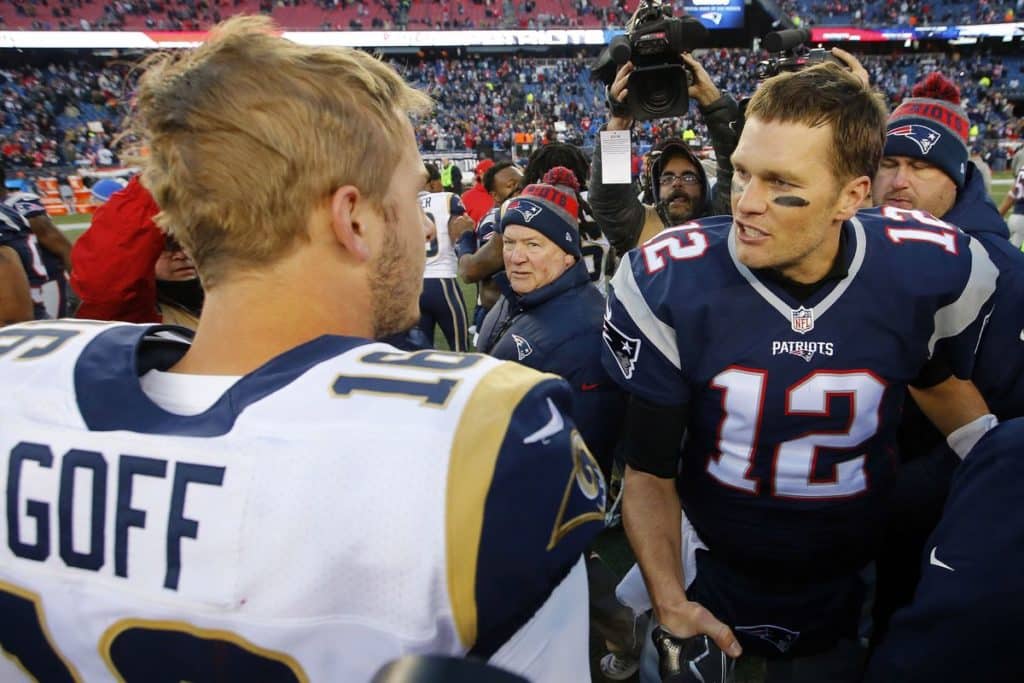 1) Wade Phillips swag
https://twitter.com/RamsNFL/status/1089614387294289920
2) Rams use the same personnel group 95% of the time and have only been slowed down by the Bears in Chicago. This is game is being played in a dome, and the Patriots D ain't Chicago.
3) Jared Goff will bust the myth that you have to be smart to play QB.
4) What's more of a motivating factor than *gulp* death threats?
5) Tom Brady is 11 years older than the average LA Ram on the field for the Super Bowl. Including Coaches & Players.
6) I love my curvy running back CJ 'Fresh Legs' Anderson.
7) It's been said on this web-site before, but worth re-upping: TOM BRADY kisses his son on the mouth.
8) It would be hilarious to see a Super Bowl champion play in a half – filled  LA Coliseum next year.
9) Goff is 8-0 vs. the AFC in his last two seasons
10) RAM IT! (made at Anaheim Stadium lol)
11) Rams haven't been underdogs all year. It's time to relish this role.
12) Tom Brady is nearly a year older than the average member of the Rams coaching staff. Yes, you read that right.
13) Sean McVay's girlfriend is gorgeous, and I assume a good person because I always assume the best in people.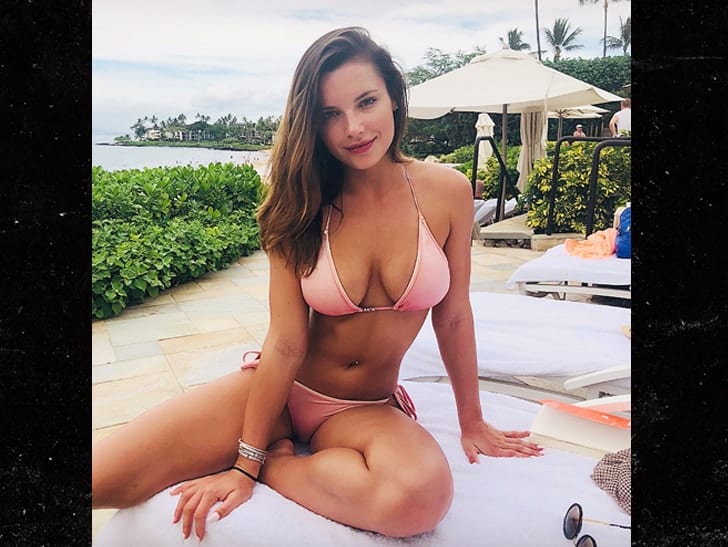 14) Tom Brady leads the league in off-target throws, 5 percentage points worse than Sam Darnold.
15) It is time to finish the 'Fight for LA!" and revisit the worst hype video of all time.
16) Brandin Cooks revenge game. He averages 6 catches & 89 yards vs. his former team. His/over 75.5 yards is a solid prop bet.
17) Todd Gurley shits in his house
18) Folks, I just double-checked: Tom Brady is in fact old. I realize I will probably get burned for saying this, but for the love of God I just want him to go away.
19) This guy
20) Aaron Donald.
21) Bad match-up for the Patriots D. Their solid LBs are useless vs. a Rams attack which does not rely on tight end production.
22) Did I mention shirtless Tom Brady kisses his son on the mouth while being man-massaged? It's progressive, I'm open to the idea. Fine. However, when his reluctant son (on camera mind you) gets it wrong the first time he then has to have a re-do, but for a longer amount of time? But, maybe this sort of attention to detail makes him a winner, who knows.
23) Beating the same franchise in a Super Bowl after they relocate across the country is a little much.
24) Robert Woods has been really good since he left Buffalo.
25) Halle Berry Mojo
26) REVENGE
27) Through 18 games, the Rams are better offensively & defensively from an efficiency standpoint than the Patriots.
28) Gronk ain't right. He's averaging 2 catches over the last 5 games.
29) "MMM…Donuts"
To live and die in LA….. #Rams pic.twitter.com/8kF5tAq3SF

— Black Bonnie (@EmbodySelfLove) January 29, 2019
30) Underdogs are 5-2 outright winners in the last 7 Super Bowls
31) LA has Rams Fever! The band wagoners have picked up all the Rams gear from the clearance racks. Nothing but Chargers gear left at my local TJMaXX.
32) More of a hope of mine than a reason, but a Rams win would increase the chances of my beloved Chargers moving back to San Diego. Obviously the Spanos family has no concept of history, as the Charger's owner (Paris Hilton's grandfather) once wrote in the Los Angeles Times in 1960 "…taking on the Rams in L.A. was like beating my head against the wall." Could not have said it better myself.
33) America has spoken and they want the Rams to win. I laughed out loud at Louisiana and also…Alaska??? West Virginia loves Tom Brady because he had a MAGA hat in his locker back in late '15.
https://twitter.com/mdecan/status/1090441399538016256
34) Rams have twice as many pro-bowlers as the Patriots.
35) Rams skill players lead the Pats in every offense category. Goff has thrown 1 more INT than Brady, preventing a clean sweep.
36) Tom Brady has won 2 Super Bowls before Sean McVay could legally vote. Make of this what you may, but Tom Brady is old (I'll die on this hill)
37) "TOP GUN DICKERSON" (3:51)
38) As I type this, LeBron is working on taking Kyrie from Boston. That has to be some sort of jinx on New England.
39) Brandin Cooks: Man on a Mission
40) Todd Gurley has a week of rest to heal whatever is wrong with him that nobody is talking about.
41) All of the "experts" are in love with the Patriots per usual
42) 95% of Todd Gurley's runs come with Goff under center. To repeat: the Rams run the same offense and nobody can slow them down. Belichick's genius can't stop unstoppable players.
43) Defense doesn't win championships in today's game. The three best defenses in the playoffs lost their first contest decisively. The Championship round did not feature a single top-10 defense. Advantage – Rams.
44) This is objectively better than the Super Bowl Shuffle and nobody talks about it.
45) Rams defense is better than the stats reflect. They ranked 6th in QB hits, but only had 41 sacks. Look for that D line to pressure Brady early and often.
46) Josh Reynolds now has nearly as many targets as the man he replaced, Cooper Kupp. With a promising NFC Championship game, it looks like he may be on the same page as his QB.
47) Dante Fowler Jr. has been ballin' out ever since the Rams plucked him out of Jacksonville purgatory.
48) LA has the most notorious fair-weather fans in America, but to their credit — they are creative.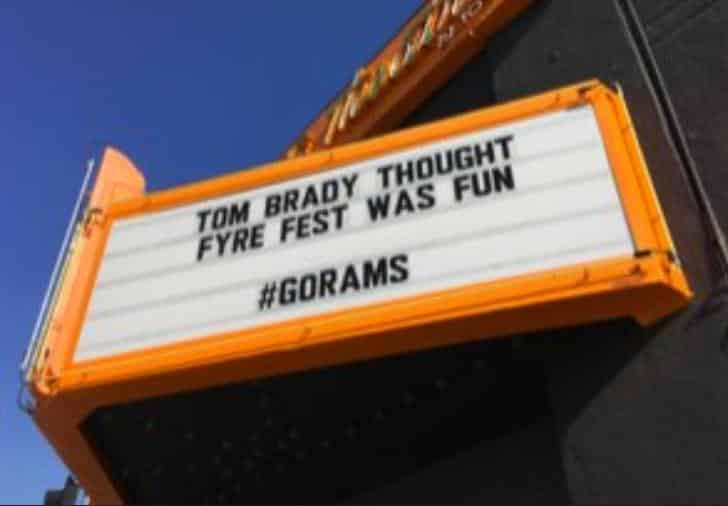 49) There's a chance the stadium crew in Atlanta will pump in crowd noise to benefit the Rams. Get some revenge for the Falcons historic loss two years ago.
50) This is John Parry's first Super Bowl as head referee. He currently resides in Akron, OH. People who live in Ohio aren't usually fans of Brady's Alma mater – the University of Michigan. Just sayin.
51) The McCourtys cannot match up with the versatile Rams receiving corps.
52) How cool would it be to see a Super Bowl parade in front of surprised tourists on Hollywood Blvd?
53) Aaron fucking Donald