1. Updating The Dying NFL Spread
Again, over the last four years, the NFL spread has mattered two to three times a week within the NFL
Week 15: Carolina covered +6, DET covered +2.5,
YTD: 35 times out of 216 games (14%) or 1.4 times per week
Moneyline it. Don't take the points and reduce your break-even point. Conversely, parlays-not teasers are more profitable, despite the stigma.
Remember-When a favorite wins the game straight up, they cover the spread 85.1% of the time over the last three-plus years and when an underdog covers, they win the game 82% of the time.
2. New England Has Problems
Look, I'm going to have to actually see The Patriots not make it to an AFC Championship game before I ever bet against them-especially at a very nice buy low price right now- but much like Pittsburgh, New England has actually found itself in a very interesting position. They can't win on the road. New England is undefeated at home (6-0) and 3-5 on the road with their one road wins being at Chicago, at Buffalo, and at The Jets.
To make matters worse, Josh Gordon announced today that he will be walking away from the game of football to focus on his mental health-or to avoid a suspension-whichever narrative you prefer to believe.
Tom Brady is also rumored to be playing with a torn MCL, evidence of which is shown here:
Want more evidence Brady is playing with an MCL tear? This looks more like popping a knee back into place than "fixing" a knee brace. Plus, watch when he gets up. https://t.co/WcRFBjJ5ZA

— Patriots SBLIII 🇺🇸 (@PatriotsSBLIII) December 19, 2018
On the plus side, New England finishes up with two home games against the basement floor of the AFC East in Buffalo and The Jets, and they have allowed 8.5 ppg to AFC East foes in December at home.
3. This Chargers Team Is Different
Yes, I wrote this up already a few weeks ago, but I don't think it can be stated enough. There was never a world where Philip Rivers and Co. were good enough to beat this version of The Chiefs let alone come back from 14 points down in the first quarter, but here we are. After not taking my own advice after week thirteen. I was too on Kansas City:
I went back and forth on the last talking point for this series, I almost went with the fact that Kirk Cousins still can't be trusted against winning teams (now 4-23) or the fact that Carolina probably just lost their season after again not being able to win on the road (1-5), or even how Philip Lindsay may be a top five NFL running back right now.
But I felt this topic of what The Chargers did on Sunday night said the most about any single team going forward this season. This was the exact situational spot that The Chargers year after year have not been able to show up in. The book had seemingly been out on The Chargers for a while now, as you can back them in low leverage situations against bad teams and Philip Rivers can usually be trusted to do his thing.
This last win against the home version of Pittsburgh though. Man, that says something. Pittsburgh was off yet another road loss, coming home, where they are one of the best teams in football (29.5 PPG) and for a while, that script had seem to take hold again as Chargers fans thought, "we've seen this movie already."
The Chargers fell behind 23-7 in the first half, only to re-group to a 26-7 second half and win outright with one of their best wins of the season in comeback fashion, 33-30.
This Chargers team seemed different, after all they had only lost to Kansas City, LARM, and a tough divisional road matchup with Denver up until this point-but this win was the statement win of their season stating that they have indeed arrived. This Chargers team was a popular public pick to at least make it to the AFC Championship game and they have not disappointed their backers much like say a certain team out of San Francisco, but that's neither here nor there.
They did this without pro-bowl running back Melvin Gordon and have done this all season without the services of Joey Bosa. The Chargers have to follow this season defining win with another one this upcoming week as fourteen point favorites against Cincinnati, in a situational spot where they have notably dropped the ball after coming up big. I like their chances.
This Chargers team followed up a season defining win against Pittsburgh with Act II of their incredible season. They were a public darling all off-season, and are rewarding season win total backers with a trip to the collection window.
4. Jacksonville Is Tanking
The headline somewhat says it all for this statement piece, but to be blunt, this team had no intention of winning on Sunday. Leonard Fournette was having his way with Washington in the first half, yet inexplicably Jacksonville decided that was not the direction they wanted to go in the second half and put the ball in Cody Kessler's hands to the tune of 9/17 for fifty seven yards passing.
Blake Bortles is a certainty not to return next season, as most mock drafts have Jacksonville looking to obtain the services of Justin Herbert of Oregon, should he decide to come out. If not, it could be Dwayne Haskins for Jacksonville, and they are doing everything they can to make sure they are able to make the decision for whichever quarterback they want. They need to hit the reset button, and this is the only way to do so. It just depends on which signal caller they will choose.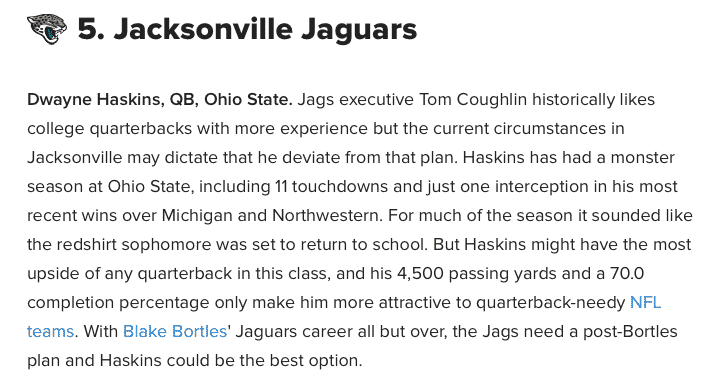 5. The NFC East Is Not Over…Yet
Well, well, well. Big dick Nick comes through again. Not many people gave Philadelphia a chance in their Sunday Night Football tilt with The Rams who happened to be off a loss as they closed north of thirteen point underdogs, however Nick Foles channeled his Super Bowl MVP ways to the tune of 24/31 for 270 yards.
Foles is getting a ton of praise and likely a bit too much credit as he didn't top 280 yards or throw a touchdown with one interception while the ground game handled much of the dirty work with three touchdowns and the defense came to play holding LA to 23 points, but we've seen this movie before and what Foles is capable of.
On the other side, Dallas fell to the hottest team in football, The Indianapolis Colts, 23-0. Dak regressed to his pre Amari Cooper days throwing for 206 yards and an interception while Cooper was held in check with only 32 yards on four receptions. Dallas is not above a late season collapse by any stretch of the imagination, and don't look now but it's fully possible.
If Dallas were to lose to Tampa Bay (+7) and The New York Giants in week 17 (spoiler roll) while Philadelphia won out (currently favored against Houston) and likely favored against Washington, Dallas needs to end this division chase this week against Tampa Bay.