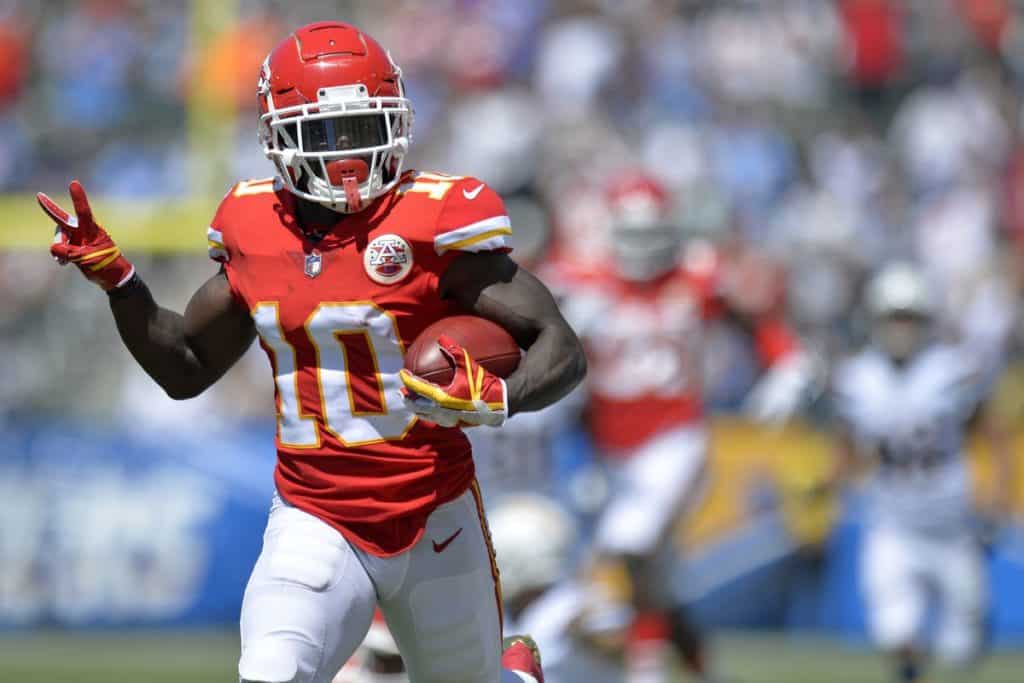 Welcome in again as Christian Pina fills in for Ryan Kramer on the Monday Night Football prop bets column. This week we get a matchup with serious playoff implications. After the amazing season Kansas City has had, it's hard to believe they could be tied with The Chargers for the division crown if The Chargers were to lose this matchup.
Huge MVP implications on the line as well as Mahomes has taken the odds-on favorite for the hardware back from Drew Brees, and the dark horse number 3 odds-favorite? Philip Rivers. Let's get into the action:
Thursday Night Football Game Info
Time: Thursday, December 13th @ 5:15 PM Pacific
Location: Arrowhead Stadium, Kansas City, MO
Weather: 38f and partly cloudy
TV: NFL Network
Spread: Chiefs -3.5
MoneyLine: +180/-200
Total: 54.5
Odds courtesy of MyBookie.ag
Thursday Night Football Prop Bets
1. Philip Rivers Under 292 Passing Yards
Rivers in his last three years versus the Chiefs in the Chargers-Chiefs second game of the season:
2015 – 178 yards, 0 TD, 1 INT
2016 – 269 yards, 2 TD, 2 INT
2017 – 227 yards, 1 TD, 3 INT
2. Travis Kelce Over 85.5 Receiving Yards (-105)
With Tyreek Hill healthy but banged up, Mahomes favorite option should be open early and often for every passing down. Kelce only had one reception for six yards in their last meeting earlier this season which was also Mahomes worst start of the year yards-wise with 256. He did throw four touchdowns.
3. Patrick Mahomes Over 18.5 Rushing Yards (-125)
With Spencer Ware doubtful, Mahomes is going to have to shoulder more of the running attack. Not to mention in the first game Ware was getting adjusted, Mahomes ran for 52 yards on 9 carries. Last week against Baltimore and their top ranked rush defense, Ware did have 75 yards while Mahomes barely ran-but with Ware doubtful, Damien Williams won't be enough. Mahomes also ran for 21 yards in their last game Vs. The Chargers.
4. Team To Score The Longest Touchdown: Kansas City Chiefs (-150)
I don't know how much I have to explain this one as Tyreek Hill is always a threat for the deep ball and Mahomes can find any receiver open. When we look to the other side of the ball, deep threats Mike Williams and the receiving core of The Chargers are much more of a dink-and-dunk style of offense with Keenan Allen monopolizing touches.
Tyreek Hill  had the two longest touchdowns of the game on a 91-yard punt return to open the scoring and a 58-yard catch later in the first quarter in their first matchup, so let's go right back to the well.