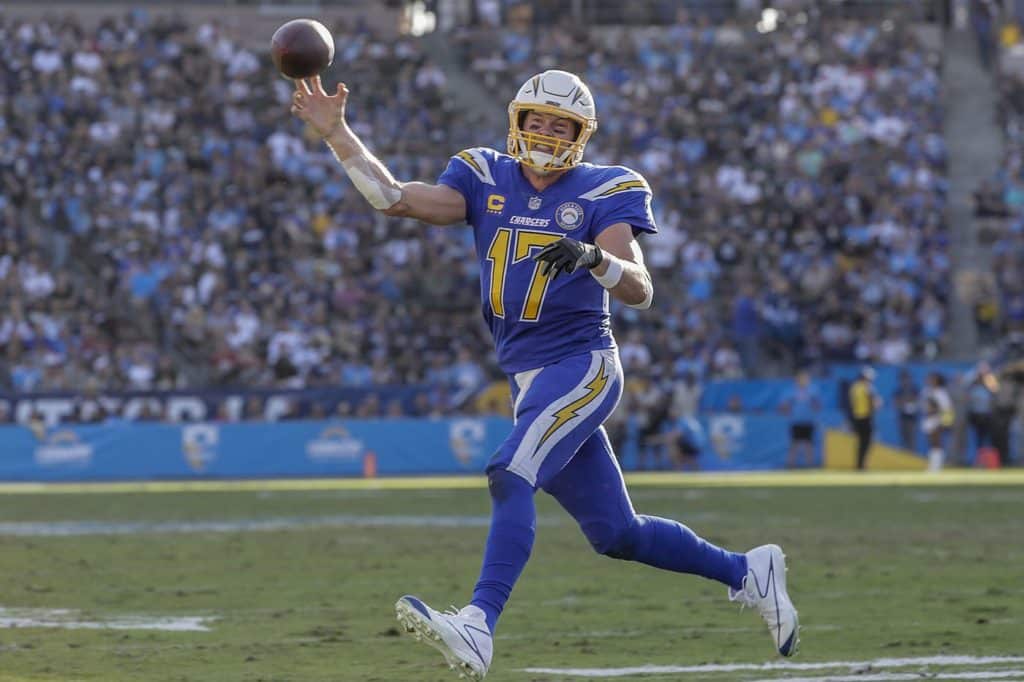 As we enter the last four games of the NFL season, it's always a good time to try to get out ahead of the futures market for what surely will be an ending of the regular season filled with twists and turns. I'm going to eliminate the "favorite" in each scenario although it does deserve to be talked about that this is the first time New England hasn't been the odds-on favorite in the AFC in the better part of a decade at any point in the season and the favorite now, Kansas City does sit at over +200.
So, let's start with The AFC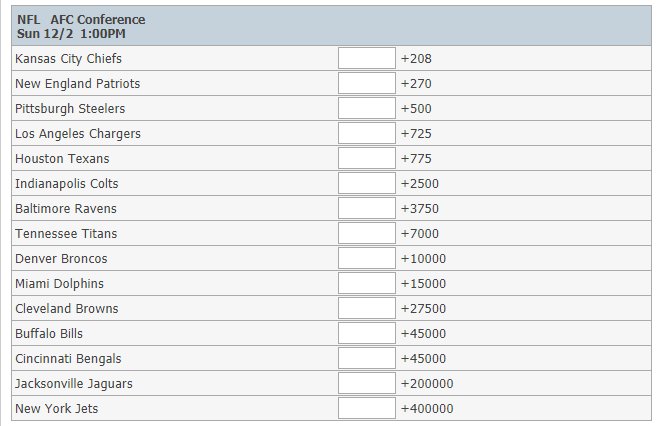 1.New England Patriots (+270)
Where else would I start? I don't know how much I have to harp on this, as if you're not familiar, they've been to seven straight AFC Championship games, and you know, won four of them.
I've written this up time after time that I have no idea why at the beginning of every season the Patriots aren't lined like the Cleveland Cavaliers with Lebron James. Yes, I realize an NFL playoff game is a one-off and not a series like The NBA and "Anything can happen" except, no. New England should never be over a +200 to win the AFC Championship game, all you have to do is bet them and can hedge for profit as over the last seven seasons they've never been an underdog in an AFC Championship game. Hello free money.
Due to the rise of the Chiefs, everyone apparently forgets that they have the greatest quarterback in NFL history, the best coach in the history of the game, and oh by the way they're getting healthy at the exact right time. The knock on New England this season was their lack of depth and playmakers at the wide receiver position and how much they would miss Brandin Cooks. Well, enter Josh Gordon, who despite what he's done isn't being talked about nearly enough.
He's literally Brandin Cooks. What do I mean by that?
Josh Gordon vs Brandin Cooks Through 8 games with Patriots:
Josh Gordon 31/54 – 57.4% – 547 Yds 2 TD – 17.6 Y/R
Brandin Cooks 33/54 – 61.1% – 563 Yds 3 TD – 17.1 Y/R
So, if you'd buy into this team if they still had Brandin Cooks, you better buy into them now that they have Josh Gordon and a working Rob Gronkowski.
2. Houston Texans (+775)
Yes, they started the season 0-3 and everyone wrote them off for dead. All they have done since that moment is rattle off eight straight wins to bring their record to 8-3 while being the class of the AFC South. No one wants to buy into this team who just finds ways to get the job done. Despite winning eight straight games, Houston's Super Bowl odds haven't changed one cent, which doesn't make much sense, they've even notably dropped after some wins.
Houstons remaining schedule includes the Browns, Colts, Jets, Eagles, and Jaguars, a combined record of 21-33. Even if they drop one to the hottest team in the AFC, The Colts, they're going to be walking into an AFC playoff birth and you could be holding over +700 with two games to hedge or sell.
3. LA Chargers (+725)
Much like New England, if it weren't for the Chiefs, everyone would be making a much bigger deal about what Philip Rivers and co. have been able to do this year. After season after season of letting bettors down, LA came into the season with the most public-hype it's seen in years. All LA has done this year is deliver despite kicking woes that still remain, the Chargers have only lost to the leagues very best outside of one slip up in Denver. Before the Denver game, the Chargers had only lost to the Rams and the Chiefs, who at the time had a combined record of 11-1.
I almost give them somewhat of a pass on the Denver game as it was on the road in a tough divisional matchup, which is by no means a "lock." Yes, it would have been great to see the Chargers take the next step in a game they in the past had usually lost. It makes matters that much worse than the Chiefs lost that same week where they could have gained some ground. The thing about this Chargers team is that they are in the shadow of the Chiefs right now, but come playoff time, we have seen time and time again how first-year starting quarterbacks falter in the playoffs as the moment is just too big for them (Jared Goff, Blake Bortles, Marcus Mariota, etc last year) so don't be that surprised if Kansas City and that woeful defense takes an early exit this postseason.
Melvin Gordon will be healthy for the playoffs, as will Keenan Allen, Mike Williams, and Joey Bosa who may be the actual X-factor in taking down any quarterback on the other side.
That concludes the AFC, so let's check in on The NFC (Prior to 11/29 TNF game):

Again, we're excluding the "favorite" here with The Saints, so obviously The Rams at +200 make a very intriguing option as they are likely to be a favorite in any matchup besides the NFC Championship game which will likely be around a PK. I also love and subscribe to the fact that it's very difficult to beat the same team in the NFL twice, which makes me truthfully like The Rams, even more, to knock off The Saints.
The NFC is also very top heavy, as I don't actually think teams like The Bears (first-year playoff QB), Dallas Cowboys, Seahawks, etc actually have a realistic chance to win The NFC, and the odds reflect that.
1.Minnesota Vikings (+1000)
Here's the problem with Minnesota. They employ a quarterback named Kirk Cousins. Now, I'm not going to sit here and bash him without any data to back it up, so let's take a look at what Kirk Cousins actually is. He's a stat-padder. He's a quarterback you want to back in a 10 AM time slot as a 7 point favorite against a bad team. When the lights get bright, much like Andy Dalton he crumbles. This isn't just a, "Oh, I don't really think he's a great quarterback" with no data to support this either.
Kirk Cousins is now 4-22 all-time against teams with a winning record.
I don't know if you're aware of this, but in the playoffs usually every single team has a winning record, so I can't get behind him until he shows me he is capable of beating a good team. He has that exact opportunity this weekend against New England, however. If the season ended today, Minnesota would be in as a Wild Card, and we've seen stranger things happen.
2. Carolina Panthers (+3300)
Carolina has become the NFC's version of The Pittsburgh Steelers in that they are great at home (5-1) and frankly terrible on the road (1-4). Carolina's stock has taken a huge beating the last two weeks due in large part to dropping three straight games at Pittsburgh, at Lions, and Vs. Seattle.
Yes, two of those were on the road, but at some point, if you're going to enter the NFC playoff picture as a wildcard you're going to have to win on the road, and they have shown this season that is just too tall of a task for this team. Carolina is going to have to figure out a cure for that very quickly as three out of their last five games are on the road, granted they get Tampa, Cleveland, Atlanta-yet have to play The Saints twice. The price has dropped too much, but this team has to figure it out to retune your value. Carolina is only one game out of the second wild-card trailing only the dead on arrival Washington Redskins.