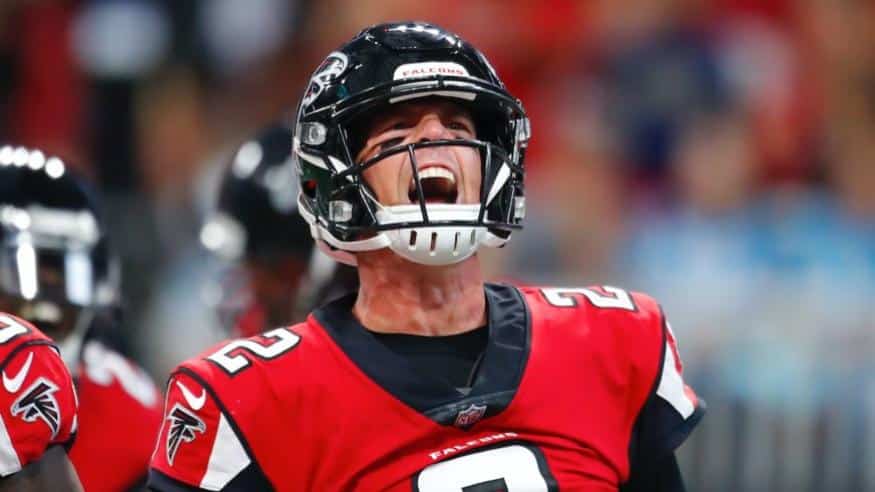 The Holidays are here, and it's time for your fantasy teams to feast. As we approach the end of the regular season in fantasy leagues, every week is crucial make sure you think your decisions out thoroughly.
Week 12 Quarterback rankings
1) Matt Ryan – featured in a game where points are expected. The Eagles weren't able to take advantage of the leaky New Orleans defense that allows 22.1 fantasy points to the position, 4th most in the league. Last time these teams played in week 3, Ryan had 5 Touchdowns in a 40.1 point performance. NO has allowed 19 passing touchdowns, Ryan has thrown 22 resembling that of his MVP season.
2) Drew Brees – Listed in the same game as our top QB for the week, an absurd 36 point team total has the Saints leader as the top option for many this week. I have him second with the weapons he has at running back and being a 13.5 point favorite, and I think the Saints will lean on the run if the game indeed does open up late, making Ryan a better option with the game script.
3) Andrew Luck – I guess all the questions with his arm have been answered and Luck is approaching his old ways where he always finished as a top 5 quarterback. This season he has 7 top 10 finishes only trailing Pat Mahomes.
4) Cam Newton – Some will look at the overall picture and find Seattle as the 3rd stingiest defense vs. quarterbacks this season. But the truth is the last month they have allowed multiple passing touchdowns and 300+ pass yards in three of the four weeks. Newton is ranked top 5 in deep ball attempts and top 8 in completion percentage under pressure.
5) Russell Wilson – Back to retro Russell dominance of the past few years, Wilson gets a tasty matchup vs. a bottom 10 defense vs. quarterbacks. The Panthers have allowed multiple passing scores in 8 of 10 games and have been diced up for 10 in the past three weeks. Look for that to continue, giving Wilson an opportunity to run one in as the Panthers have surrendered two rushing scores to opposing QB's as well.
6) Carson Wentz – many people will be hesitant here, and his recent struggles and talks of even Nick Foles coming in are far from attractive. The sexy thing here is the matchup, and remember Wentz already went off for three passing scores vs. the Giants in week 6. What better remedy when struggling than to face the Giants. Fire up Fire crotch
7) Tom Brady – This season he has been incredibly inaccurate under pressure. The last three weeks Brady has one passing touchdown, failing to surpass 15.7 fantasy points. Maybe father time is playing his role because TB12 has struggled to get the ball downfield averaging only 8.4 yards per pass attempt while only completing 31.1%oh his passes. That's worse than Nick Mullens and Josh Rosen if that tells you anything.
8) Kirk Cousins – The 11th overall QB this season, Cousins has thrown for multiple scores in 3 of the last 4 weeks. Last week was a terrible performance but was padded with some garbage scores. The reality is Cousins has been mistake-prone as of late tossing four interceptions in 3 games.
9) Ben Roethlisberger – Big Ben makes the top 10 this week while he keeps producing for his fantasy owners. 13 touchdowns in 4 weeks, but even more impressive two rushing scores in the last three games. The Broncos pass defense is above average this year, but the previous three games have seen them give up eight passing touchdowns and over 900 yards.
10) Jameis Winston – this week in the musical chairs game that Tampa Bay conducts, Crab legs gets the nod vs. a 49ers defense that gives up the 9th most points to the position. San Fransisco has now allowed 21 passing touchdowns but only have two takeaways, resulting in them yielding multiple passing scores in 8 of 10. In 50% of those games, the opposing QB's threw for three scores.
11) Aaron Rodgers – a matchup vs. what looks to be an improving Minnesota defense. We all know if Rodgers gets time he can dissect a defense, the Packers O-line owns a 7.4% sack rate while the Vikings D-Line has a 7% rate, advantage GB. Last time they played, Rodgers only threw one touchdown and 281 yards on 42 attempts while having a season-high 71.4% completion percentage letting you know he used the quick pass game. The Vikings defense hasn't allowed over 206 pass yards in 4 weeks and only 3 passing touchdowns.
12) Lamar Jackson – Last week many wondered what the gameplan would be for a team that led the league in pass attempts per game. Well, all questions answered and Jackson had 27 carries. A quarterback with that much opportunity warrants a top 12 projection. If he can become a reliable passer, his ceiling would be unmatched.