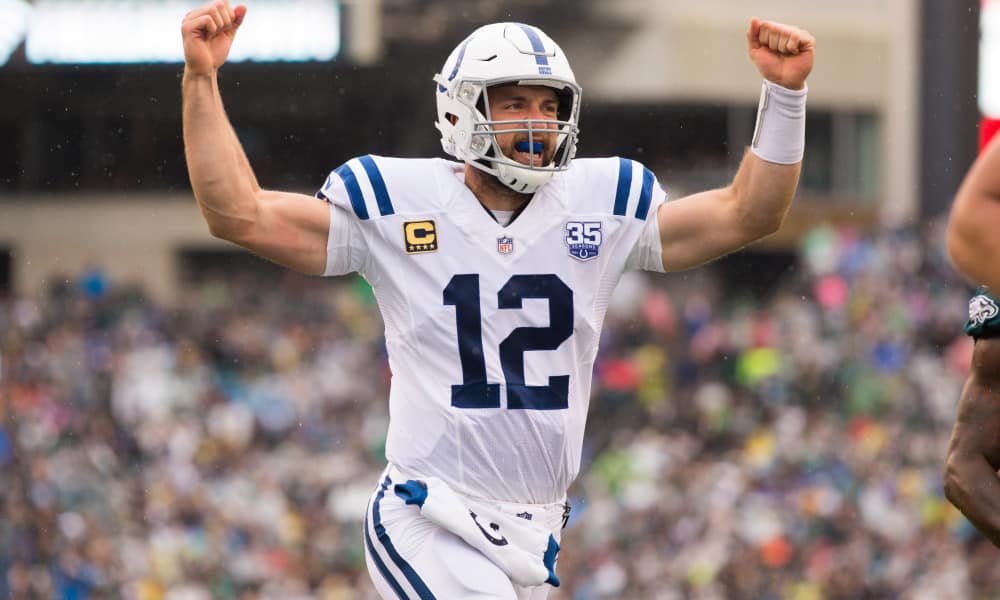 As we approach the halfway mark of the season, matchup-based projections now have more of a base and we can start taking advantage of teams struggles in certain spots.
A key injury on either side of the ball can create an opportunity for us to plug in players we think can over-exceed their projections while hoping they carry the lowest ownership as possible. Sometimes we can't avoid rostering a player that will be highly owned if he's in a particular spot and holds a good price in terms of value.
Depending on the type of game you're playing in, targeting and avoiding certain players can give you the leverage you need to cash. Let's talk about a few of this week's quarterbacks.
Chalk
The two most expensive quarterbacks on the main slate on draft kings are also projected to be the 2 highest owned quarterbacks in mid to large field tournaments.
Patrick Mahomes  $7,000
"Showtime" Mahomes has been nothing short of electric and the DFS world has caught on from an ownership and price perspective. Projected to be in 15% of rosters, he will need to over-exceed his 25 point projection to pay off his ownership. He carries a ceiling of 39 points and has become matchup-proof at this point of the season. This week he faces a Denver pass defense that ranks top 7 in DVOA. The Chiefs have an implied team total of 31.5 points, the 2nd highest of the week.
Aaron Rodgers   $6,400
Another quarterback in a prime spot this week is No 12 in Green Bay. This week he'll be involved in what's supposed to be this weeks shootout with a total of 56.5 points. The Rams defense does rank top 5 in fantasy points allowed as a defense, but the numbers don't resemble the weakness in 3 opposing quarterbacks they held to 6.2, 1.6 and 6.2 points helping out their overall ranks. Rodgers carries the 2nd lowest contrarian rating making his projected 22 points the floor to what he needs to pay off his price and ownership.
Contrarian Play of the week
Joe Flacco    $5,300
Joey Big game is projected to be basically forgotten this week carrying an ownership of 2.5%. That bodes well for his $5,300 price tag facing a defense that's allowed multiple passing touchdowns in 5 straight games since week 1. Flacco has averaged 17.1 points per game this season and that would be good enough for a top ten average in 2017. Many people are talking about how many attempts Andrew Luck has made already this season but the truth in the numbers tell us Flacco is second, only eight attempts behind with 303.
Surprisingly, he also has more yards than Luck and has 11-4 TD-INT ratio. Flacco is also 6th in both air yards and yards per attempt making him an optimal start facing a Panthers defense that's allowed 26 plays of 20+yards (7th most) and 3 of 40+. Look for the former Super Bowl winner to make some big plays downfield.
Fan Favorite Play of the Week
Andrew Luck $6,300
The Raiders Secondary has looked somewhat improved from last season but has still shown vulnerability in many spots. They have faced the least amount of pass attempts this season, 34.3 per game, but much can be in the hands of the game script as they've been blown out by 16+ points in 50% of their games.
Oakland is dead last in sacks and quarterback hit rate, so look for Luck to have plenty of time in the pocket and be able to exploit that weakness of the Raiders which is defending the long ball giving up the 5th most plays of 20 yards and the tied for the most for 40+ yards downfield (7). Luck is projected to be the 5th highest owned quarterback in week 8 but could easily be the week's top scorer at a cheaper price than the chalk of the week.
The what were you thinking play of the week
Alex Smith  $5,000
We always try to go way off the grid with this one, and week 8 belongs to the conservative Smith in a matchup vs a Giants defense allowing the 13th most points to the position. Now, I don't expect him to win you the week, but his price allows you to fit in some of the higher priced guys while not settling for a dud at QB. The Redskins have resorted to an extremely boring gameplan keeping the veteran play-caller under 200 yards for consecutive weeks. Look for Washington to dink and dunk it all over the field tallying stats for Smith.
Another way to attack the Giants is on quarterback runs, where they've faced 36 attempts and have given up a league-high 196 rush yards to the position. Expect Smith to use his legs to keep the chains moving to give the offense more time with the ball. Don't forget about Smiths' ability to run over his career where he's had over 350 rush yard multiple seasons. Alex Smith will be in less than 1% of rosters this week make him the ultimate "What were you thinking" this week.