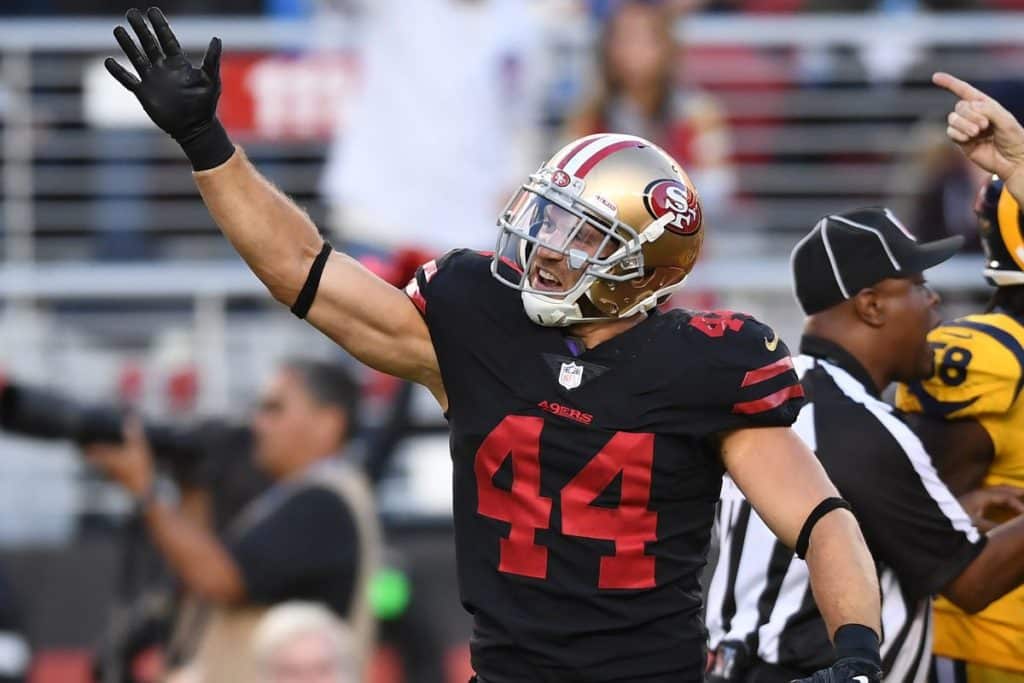 Greetings fellow prop market investors and Monday Night Football. Well, we are now about 1/3 through the season and as a loyal Giants fan, I am at a crossroads as I watch them waste the great talent of Beckham and Barkley, for my official comment on the situation stay tuned for the Week 7 NFL Picks Podcast.
As for the game at hand, ESPN will surely attempt to tout this as a great historical matchup when in reality it is a matchup between an average team who refuses to give Aaron Rodgers the talent needed to make another run as his career approaches the twilight and a preseason hype team that is dealing with the "well as long as these guys stay healthy we might be able to compete" injuries leading to them being a bottom 5 team. For now, let's dive into the matchup and identify inefficiencies in the prop market to get you paid on Monday Night Football. For more in-depth analysis listen to the Week 6 Picks Podcast below.
Season: 14-11 (+2.25u)
MNF: 11-9 (+1.3u)
TNF: 3-2 (+.95u)
Monday Night Football Game Info
Time: Monday, October 15th @ 5:30 PM Pacific
Location: Lambeau Field, Green Bay, Wisconsin
Weather: 36f and clear
TV:ESPN (Joe Tessitore, Jason Witten, Booger McFarland, Lisa Salters)
Spread: Packers -10
MoneyLine: +400/-500
Total: 47
Odds courtesy of MyBookie.ag
Monday Night Football Prop Bets – Five Ways to Get Paid
1. Score in the 1st 6:30 YES (-115)
Both these teams have struggled to stop anyone in the first quarter combining to give up 15.8 pts per game in the 1st Q. The trend continues and someone gets on the board with their first drive.
2. Kyle Juszczyk Over 30.5 Rushing + Receiving Yards (-115)
This is Shanahan's swiss army knife, it just happens to come in the form of an FB. With a game script that likely will feature the 49ers playing from behind, I expect Juszczyk (one hell of a scrabble score there) to be on the field a ton and he should be able to hit this over with 2-3 catches and a couple carries.
3. Alfred Morris Under 72.5 Rushing + Receiving Yards (-115)
This total is correlated to Prop #2. Again when i project this game script I don't see how Morris gets enough work as the 49ers should be trailing for much of this game. Take the under and run don't walk to the window when it cashes.
4. Aaron Rodgers Over 2.5 Passing Touchdowns (+125)
What's wrong with the Packers? What's wrong with Aaron Rodgers? Well besides his longtime partner in crime Jordy Nelson being gone not much other than a shitty O-line and a knee that has hobbled him of late. But now we are on Monday Night Football and Aaron wants to show the world that he is the best(not showtime Mahomes!). I'd love to take a side bet that they don't even attempt to go after a rushing TD in this one and when you expect a team to put up 30 and your QB is Aaron Rodgers that equates to 3+ TDs.
5. PROP BUILDER SPECIAL: Jimmy Graham Over 50.5 Receiving Yards and Scores a TD (+285)
San Francisco has been less than stellar defending the TE (24th in DVOA) and Graham has become a bigger part of the offense as the Packers have faced injuries. I look for them to get Jimmy involved early and often especially in the red zone and sure this is a 3-1 prop but I like its chances.
Good luck and Let it Ride!!!