We have ourselves a very tight turnaround for the third leg of the FedEx Cup, as the Top 70 golfers in the standings jet down to Aronimink Golf Club in Philadelphia to play the BMW Championship after finishing up in Boston on Monday.
I'm going to knock down the fourth wall for a second for all of you readers – like probably most of you, golf isn't at the forefront of my interest this week. Not only does the NFL begin on Thursday, but like most of you, I have multiple fantasy football drafts this week including a hyper-competitive auction on Tuesday night that'll take over 3 hours to complete. I also manage a small portion of a large nationally run Survivor Pool with over 11,000 entries and am responsible for reporting to the syndicate over 400 picks. This doesn't seem daunting until I tell you that in 2018, with all the marvels of technology available to us, it still is conducted over email (Give me 1,000 tax seasons for this CPA over the hell-week that is managing a large Survivor Pool over email in Week 1).
Given that it's a short week for preparation and that odds and DraftKings values are already pushed out a day anyway, this column is going to be a little different and more abbreviated than what you may be used to. Call it a bit of a cliffs-notes version of it.
First, let's talk briefly about the Aronimink Golf Club. In 1928 the golf course opened and was designed by the famed Donald Ross. Donald Ross designs tend to be fairly similar from the golf course to golf course. They each are of a parklands style where the ability to hit the correct side of the fairway is critical. Otherwise, a golfer will have a poor angle into a pin position. Add to it that each green at Aronimink slopes from back to front it's your fairly standard Ross design.
Over the years the golf course lost a few its roots but in 2003 Ron Prichard restored the golf course to its true calling. Donald Ross's notes from his original design were obtained and Prichard worked to recreate the golf course as it has been intended. His restoration is widely hallmarked as a great achievement in design.
The golf course hosted the 2010 and 2011 AT&T National, but if you're looking to handicap this year's event based on those two tournaments you won't get much information. Aronimink only ran about 6,800 yards on the scorecard in those events, and it has since been lengthened to over 7,200 yards to accommodate the explosion in distance off the tee.
This poses a bit of a problem for handicappers like me who rely heavily on course history, but in this case, it won't be too much of a concern of mine. The BMW Championship rotates to different courses each year anyway, and the tournament directors tend to set each up a particular way without delivering many tricks. Like last week, elite-ball strikers over the short game and putting specialists will be the key to identifying contenders and pretenders.
Additionally, momentum and form is generally a good indicator at the BMW Championship of who will play well in the event. In the last three years of the Top 20 finishers at the BMW Championship, 60% of them had at least a Top 20 in one of the first two FedEx events. When the big bucks are on the line like this week, no one takes a week off and the cream typically rises to the top.
Because of the short week and the overall lack of props out there right now (particularly matchups), here's instead a series of charts showing Top 10 performers of likely favorites, Bottom 10 performers of likely favorites, and a Top 5 list of sleepers (regarded as normally 65/1 or higher) in all the relevant strokes gained ball striking statistics since The Open Championship: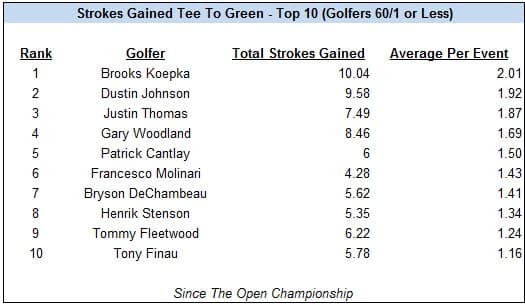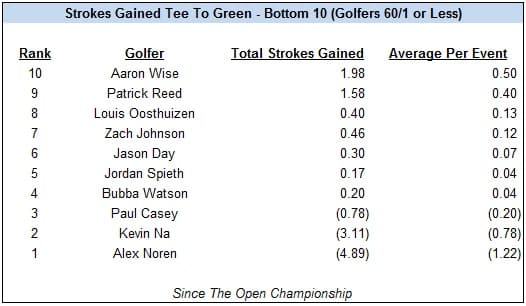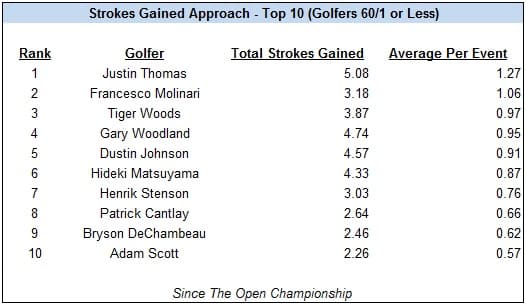 A few notes from the charts:
Favorites who appear on all three "Top 10" charts are Dustin Johnson, Gary Woodland, and Patrick Cantlay. Golfers like Brooks Koepka, Tony Finau, Justin Thomas, Francesco Molinari, Bryson DeChambeau and Henrik Stenson appear in two of the three. These guys should be targets in DraftKings and matchup props.
Favorites who appear on all three "Bottom 10" charts are Zach Johnson, Jason Day, Kevin Na and Alex Noren. Though there could be a contrarian opportunity for everyone listed on a Bottom 10 chart in DraftKings, you should look to fade them on matchup props, particularly the ones who appear on the Bottom 10 Strokes Gained-Approach chart.
Abraham Ancer is the only sleeper to appear on all three "Top 5 Charts".  Kyle Stanley, Keegan Bradley and Byeong Hun An appear on both the Top Strokes Gained Tee-To-Green and Approach charts and should be good low priced options on DraftKings or in matchup props this week. Rafa Cabrera-Bello just missed on appearing on all three charts and should certainly be considered as well.