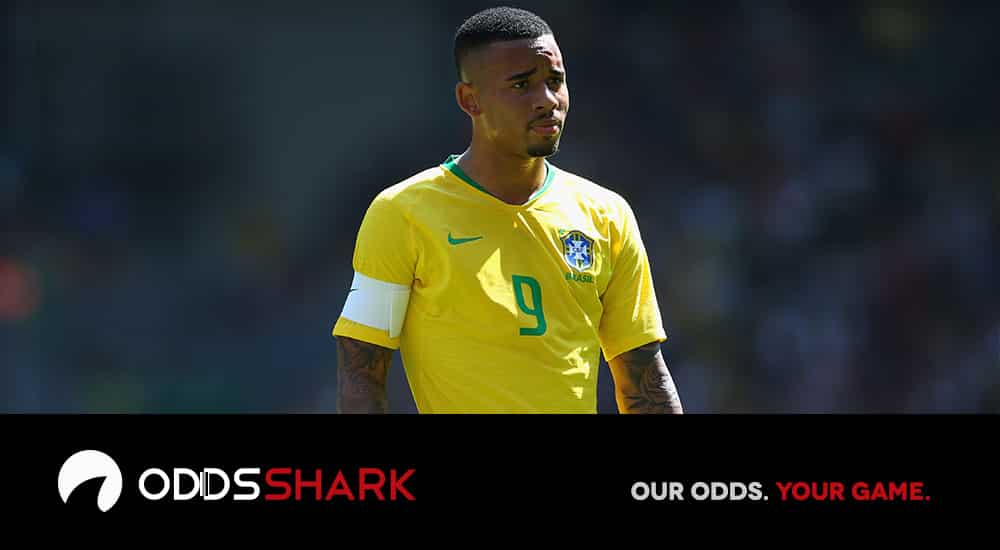 With the 2018 World Cup getting underway in Russia on Thursday the tournament-opening futures have been set at sportsbooks monitored by OddsShark.com, and a pair of teams are battling for top spot on the list.
Brazil is the +450 favorite (bet $100 to win $450) on the 2018 World Cup odds at the sportsbooks, with Germany just behind them at +475 on the list. Those squads both get underway at the tournament on Sunday, with Brazil a -245 betting favorite against Switzerland, and Germany set as -205 chalk taking on Mexico.
Just a step back on the odds to win the 2018 World Cup are Spain at +600 and France at +650. The Spaniards won't get a chance to ease into tournament play this month, as they're immediately up against rival Portugal in their opener on Friday. Spain is a -110 favorite for the contest, but the OddsShark Computer is siding with Portugal with its World Cup betting picks.
France is a clear -425 favorite against Australia in its first game of the World Cup on Saturday, while Argentina is a -300 favorite taking on Iceland that same day. Argentina rounds out the top five teams on the odds to win the 2018 World Cup at the outset of the tournament, holding down +950 odds.
The odds grow longer outside of the top five on the board, with Belgium at +1200, England at +1800, Uruguay at +2500, Portugal at +2800, and Croatia at +3300. Belgium and England both get underway on Monday, with the Belgians a heavy -650 against Panama and the English at -240 against Tunisia. Uruguay is a -170 favorite against Egypt on Friday, and Croatia faces Nigeria as -145 chalk on Saturday.
Farther down the 2018 World Cup odds, Colombia is at +4000, with host Russia at +5000, and Poland at +8000. Every other team in the field has odds of +10000 or greater to start the tournament, with Mexico, Denmark, and Switzerland all at that mark. Panama and Saudi Arabia are at the bottom of the list at +100000 odds.
And in World Cup tournament props, Lionel Messi and Neymar are atop the 2018 Golden Boot odds at +1000 apiece, with Antoine Griezmann at +1200 and Cristiano Ronaldo and Harry Kane both at +1600. Messi is also the +800 favorite on the 2018 Golden Ball odds, ahead of Neymar (+900) and Ronaldo (+1400).