With a C-Level tournament held on a C-Level course, you'll have to wait for my thoughts next year on how dumb it is that TPC Southwind in Memphis is worthy enough to be awarded a WGC in 2019. Instead, I simply couldn't contain my sheer excitement that the U.S. Open is imminent. This week, I devoted my time to analyze who are the hottest and coldest golfers heading into the second major of the year. And by doing so, gamblers can begin to target which horses they'll ride at Shinnecock Hills to try and break the books.
A few weeks back I took a look at what types of golfers fared best at different U.S. Open venues. From historical analysis and taking into consideration the restoration and lengthening of Shinnecock Hills, longer hitters off the tee with solid iron play should have the edge over golfers who are more adept scramblers and putters. While both the fairways and the greens at Shinnecock Hills have been expanded a bit since 2004 to allow a little more room for error, tee to green performance will be paramount for whoever wants to make a run down the back nine on Sunday.
For this analysis, I took a look at nearly every golfer currently 250/1 or better to win the U.S. Open on mybookie.ag and evaluated their performance in Strokes Gained Tee To Green since The Masters. I say nearly because some of these golfers played primarily in Europe over the last month where ShotLink data isn't kept. That's why you won't see an appearance from favorites like Jon Rahm, Tommy Fleetwood, Francesco Molinari or Henrik Stenson, all of whom are playing well and in no way should be counted out next week. It also doesn't count the team event at TPC New Orleans, as ShotLink data wasn't kept there either.
Even despite the omissions, though, this data gives a fairly comprehensive roadmap of whose ball-striking is heating up and whose is cooling off on the eve of the U.S. Open. This isn't a definitive representation of who will perform best next week. It's just a starting point to wet everyone's appetite.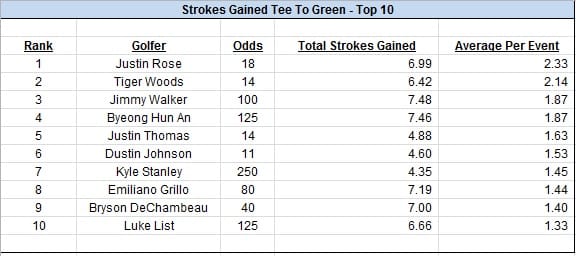 PGA Tour junkies shouldn't be too surprised at some of the names on this list. Justin Rose is the best performer tee to green since The Masters in large part due to his blistering performance at Colonial. Rose gained on average 3.96 strokes/round from tee to green over the field at Colonial while also posting very solid performances at both the Players Championship and The Memorial. Rose also ranks inside the Top 10 since the Masters in Strokes Gained Off the Tee and on Approach, so if anyone is coming into the U.S. Open firing on all cylinders right now, it's him.
Like they were coming into The Masters, both Justin Thomas and Dustin Johnson seem to be pretty quiet in the weeks leading up to Shinnecock Hills. Neither has been a serious threat to win any tournament they've entered since Augusta, but both of their ball-striking is in great shape at the moment. Shinnecock Hills sets up well for them as they're long enough off the tee to have short irons into the less-than-receptive greens that they'll face. Each is in prime position to hoist the 2018 U.S. Open trophy.
I've seen some complainers on Twitter and Reddit about how Tiger Woods doesn't have it anymore. Well, how do you explain that he's 2nd in Strokes Gained Tee to Green since The Masters? Small sample size – maybe. But the stats are what they are and anyone who thinks Tiger isn't capable of winning a golf tournament anymore isn't in touch with reality. On the season he's 5th in Strokes Gained Tee to Green in large part to his fantastic performances at The Players Championship and The Memorial over the last month. These aren't just one-off flukes anymore – these are real, hard numbers based off of multiple tournaments in 2018. His driver and his putter are still a liability and probably will hold him back from winning the U.S. Open. But with the way he's striking his irons, if he's even just average with those clubs there should be plenty of Tiger roars resounding throughout Long Island.
The list revealed some nice longshots next week. Not only were Bryson DeChambeau, Byeong-Hun An, and Kyle Stanley all competing to win The Memorial last week, but they've delivered some strong, consistent golf since The Masters. Luke List has been a bit hit or miss since early April but at a bigger ballpark like Shinnecock, he deserves to have a look at. And Emiliano Grillo and Jimmy Walker have been excellent with their ball-striking at every tournament they've entered over the last two months. Neither has posted a tournament performance less than 0.7 Strokes Gained Tee to Green/Round since The Masters. All of these golfers should be taken into consideration when the props are revealed next week.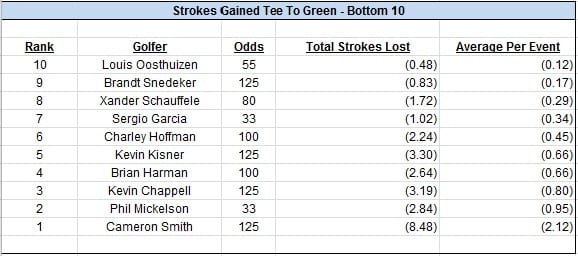 Some of these golfers shouldn't be a huge surprise to be on the list as they've struggled not just recently but for most of 2018. Brandt Snedeker is actually pretty good at the U.S. Open in his career, missing the cut only twice and racking up five Top 10's. But he along with guys like Charley Hoffman, Cameron Smith, Brian Harman, Kevin Chappell, and Kevin Kisner just haven't been sharp lately. Even a 2nd place finish at The Players Championship wasn't enough to save Xander Schauffele from the naughty list. All of them have the talent to turn it around quick, but heading into the U.S. Open they're ice cold.
It's been a rough go of it for Sergio Garcia. After carding a 13 at the Par 5 15th at Augusta his struggles continued with a pair of missed cuts and a 70th place finish. It's surprising to see Sergio struggle this much tee-to-green as he's considered one of the most elite ball-strikers in the world, but at this point, he appears to be a complete stay-away. It's important to note his recent struggles because his season-long stats make him look like a real contender. Right now in 2018, he ranks 24th in Strokes Gained Tee to Green, 54th Off The Tee and 11th in Approach, which could be misleading for anyone not paying attention of late. There certainly could be a contrarian angle for him next week, but with the state of his game, it's going to come at a big risk.
One of the more surprising names on this list is Phil Mickelson, who comes in as a very popular candidate to win the U.S. Open after he finished 2nd the last time it was held at Shinnecock Hills. But his inclusion on this list is where the numbers can be a bit misleading. Instead, he's probably here because of this: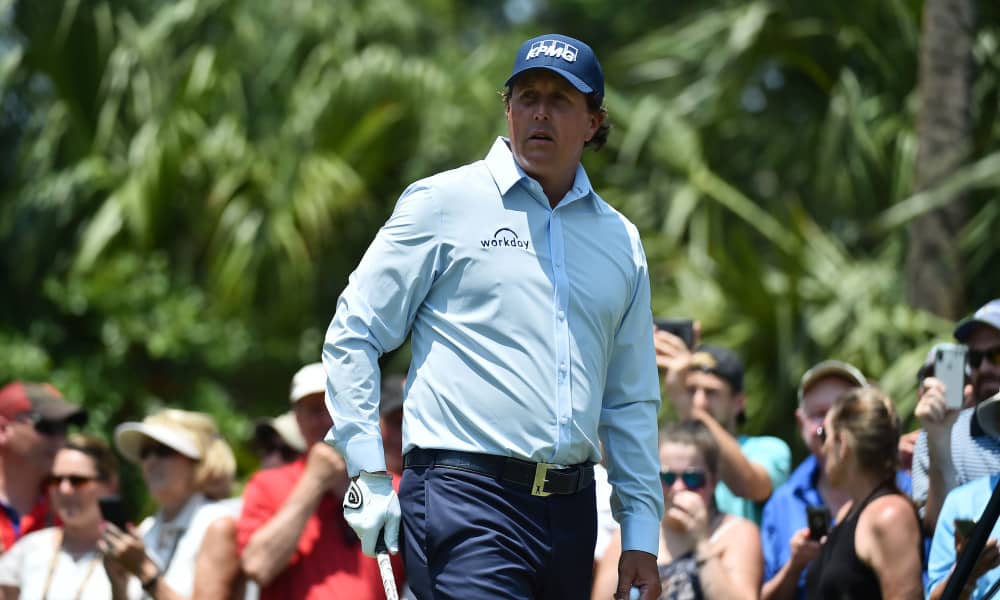 It's a great look if he's looking to present quarterly earnings to the board of directors. But a dress shirt on a golf course in 90-degree heat just isn't a smart move (even if he has an equity stake in the company that makes them). Mickelson was absolutely miserable at The Players Championship, posting a disastrous -5.49 strokes lost to the field that week. But in the other two events he teed it up at with a normal collared shirt, he was just fine! He placed 5th at Quail Hollow and 13th at The Memorial while posting Strokes Gained Tee to Green stats of 1.46 and 1.19 per round, respectively. I'm not saying Phil's fashion choices were directly the reason for the hiccup at TPC Sawgrass, but bettors might want to take that into consideration when handicapping him next week.
The appearance on the list also might be a little unfair for Louis Oosthuizen. Oosthuizen has played in four tournaments since The Masters – two pretty good and two not-so-good. Oosthuizen was a disaster at both Quail Hollow and TPC Sawgrass, posting a combined -4.05 Strokes Lost Tee to Green at those two events. After a week off he showed up to Colonial where he posted 2.46 Strokes Gained Tee to Green and a 5th place finish, and followed that up with a performance of 1.46 Strokes Gained Tee to Green and a 13th place finish at The Memorial. Has he figured it out? Were the last two weeks just a mirage? That's for bettors to sort out as he prepares for a U.S. Open set up that could play similar to Chambers Bay, a place he finished 2nd at in 2015.

Most of the players on this list already made an appearance on the Top 10 list above. What this list shows is how much above their season-long average these players are at since The Masters. For golfers who have ranked highly all season like Justin Rose, Tiger Woods and Byeong Hun-An, it's probably safe to assume that even a small slip in recent performance next week could still produce a solid finish for them. But for other guys who are performing way over their heads like Jimmy Walker, Peter Uihlein, and Kyle Stanley, they could be candidates for serious regression. On one hand, each could continue to ride the wave of their recent hot play, but on the other, they could come crashing back down to Earth at a more difficult golf course. Buyer beware for anyone looking to have some action on them next week.
Jason Day is going to be a difficult golfer for bettors to evaluate next week. On one hand, he's played pretty well since the Masters, posting very good Strokes Gained Tee to Green stats and chalking up a win at Quail Hollow and a Top 5 finish at The Players Championship. On the other hand, he's scoring without getting anything from his approach shots. He's actually lost 0.3 strokes/round on his approach shots since The Masters and for the year he ranks an awful 175th in Strokes Gained on Approach. He'll have to be better in this department next week, as anyone who can't hit their marks on the greens will leave themselves tough putts or long chip shots out of collection areas. Bettors will have to decide if he can turn this around or if he'll have to win the tournament with his driver and putter alone.
Two interesting names on this list are Charl Schwartzel and Matt Kuchar. Neither is posting stats that scream a legitimate contender but both are trending up nicely as we head into next week. Both struggled with their ball-striking for most of the season but over the last few tournaments have really improved in those areas from where they were at the beginning of the year. Even so, both will have to play even better than their recent form to be in the discussion for a U.S. Open title next week.
Most of the names on this list are repeats of the Bottom 10, but one name sticks out like a sore thumb – Jordan Spieth. Like Phil Mickelson, though, he seems to be on this list solely because of one tournament. Spieth was uncharacteristically awful at The Memorial last week, losing 2.91 Strokes Tee to Green/round over the course of Thursday and Friday to send him home early. But he was perfectly fine in this category at The Players, the Byron Nelson and at Colonial, averaging 1.67 Strokes Gained Tee to Green over the field at these events. Even so, his performance tee to green at The Memorial leaves an incredibly bad taste in our mouths as we head to next week, as his broken putter is no longer the only concern.
My man Tony Finau also appears on the list, which is a bit deflating given how high I've been on him all season long. Finau was stuck in neutral at Quail Hollow and TPC Sawgrass, but he was pretty good at The Memorial where he posted 1.46 Strokes Gained Tee to Green to give some of his backers confidence. Where he's cooled off is in his approach shots, and he'll have to rediscover that next week. Nevertheless, I have high hopes for him at Shinnecock Hills and he should still be on everyone's radar.
*****
Again, all this shows is who's playing well and who isn't as we head into the U.S. Open. Some of the guys who are struggling might be targets to bet on based on course fit. Others who have played great might be candidates to go the opposite way. But before you decide, having a firm comprehension of which players are peaking or struggling could save you from making a poor decision.