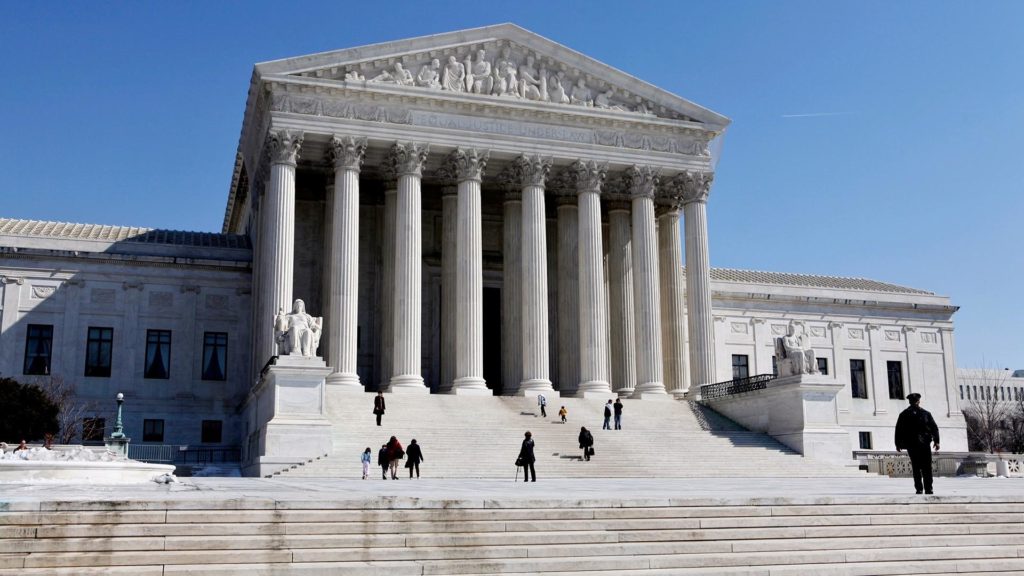 Well folks, it finally happened.
BREAKING: U.S. Supreme Court rules that federal ban on state-sanctioned sports betting is unconstitutional. Decides case in favor of New Jersey. Floodgates now officially open for other states to allow sports betting. #RIPPASPA

— Daniel Wallach (@WALLACHLEGAL) May 14, 2018
The tweet heard around the world came out this morning detailing that The U.S Supreme Court ruled in favor of New Jersey declaring that PASPA was unconstitutional.
What does it mean?
Well, in short, right now…Nothing.
Think of legalized sports gambling the same way as legalized marijuana. Repealing the federal ban simply means that at this time, states are free to make their own decisions regarding it with New Jersey obvously being the likely candidate to get things going first. Heres something of a diagram of when you can expect your state to adopt it:
A look at which states are likely to legalize sports betting following today's Supreme Court ruling. https://t.co/OdiRcxX7Y6 pic.twitter.com/9ls41KErkJ

— AP Interactive (@AP_Interactive) May 14, 2018
In talking with people that have been well informed throughout this whole process, namely Prop Swap, one thing was made very clear. The push to legalize sports betting among those opposed to it was made on the back of one idea: jobs. If you build a sports book, you now need ticket writers, risk managers, odds makers, bartenders, and everything else that comes along with operating a functionable sports book. So, with that being said, I don't think the online version of sports betting is going to happen as quickly as everyone is making it out to be, for a couple of reasons. Although New Jersey could adopt it within weeks.
The legality issue of having to be within a state who have made it legal. Similar to Draft Kings and Fan Duel (who we will get to in a little bit) I think that apps are going to be the outlet that is created becuase websites can't offer a GPS tracking function the way an app can.
An online outlet has to comply with the state, not a blanket platform, think of it as if a marijuana store tried to make a "Bark Box" for weed, subscription boxes can't be sent to states that don't allow it.
Okay, now that the issues are out of the way, let's take a look at the next question, who is in position to offer a sports book?
The obvious answer is Draft Kings and Fan Duel. They already have a GPS function bet into both their website and app. After that, I think Google Sportsbook and Yahoo Sportsbook are coming. I'm sure you probably saw the Draft Kings email that was sent out today:
The Market Effect
If you missed the last article I wrote about this exact topic, you can read it here.
Here's the point of the last article: Money is going to turn this market upside down a little bit.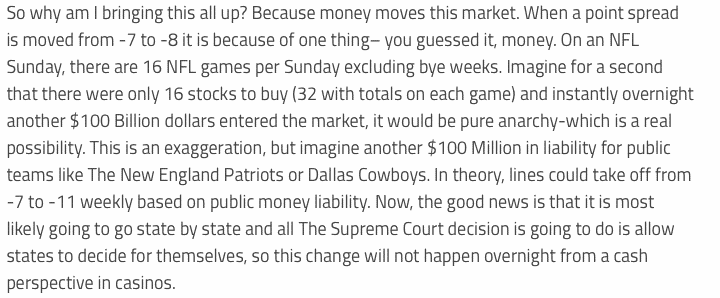 What if New Jersey hangs a number at -8 but Las Vegas is -5? Things could get interesting.
We won't know the effects this has on the market for a very long time, but one thing is for sure, it's now each states decision and there are alot of happy people out there except for maybe the offshore industry. If it becomes main stream enough, local books and offshore are going to have one advantage above all, the lines they hang.
If the NBA adopts an integrity fee and charges -115 instead of -110 the only advantage that local shops or offshore will have to compete is offering better lines, especially to professionals. In a world based on convenience (which is the reason Vegas adopted the mobile app-to compete with offshore) that may be the only way to stay in business.
The Taboo Is Going Away
If you've ever watched a Triple Crown event or horse racing, they fully embrace betting, the shows are flat out built around it. If companies like ESPN, CBS, and Fox want to reach the new demographic who are, lets be honest, only watching a matchup of say Miami Vs. Cleveland for one reason they need to adopt that philosophy.
Viewership and sponsorships will go up without a doubt, but they can't sit there and pretend it doesn't exist. Fantasy shows and analysis are sought after and a part of programming now, but imagine a company like ESPN having a panel talking about betting each and every game now. Instead of hiding in the shadows of podcasting, it's going to be mainstream.  It's not that outlandish and may just happen, and I personally, can't wait.