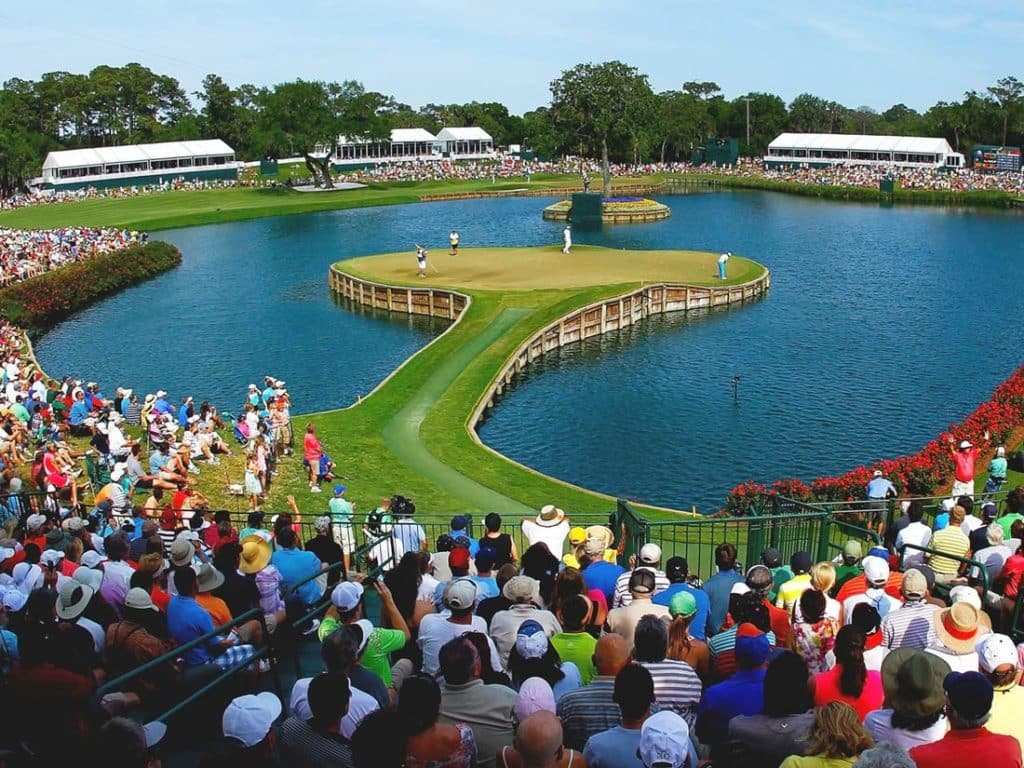 Let's just cut to the chase…Tiger is going to win the 2018 Players Championship.
That's a difficult phrase for me to write. When it comes to gauging how Tiger will fare in his first second third comeback, I've always shaded towards the "wet blanket" side of the spectrum as opposed to the opinion of a man who'd show up to a tournament wearing a Tony the Tiger onesie.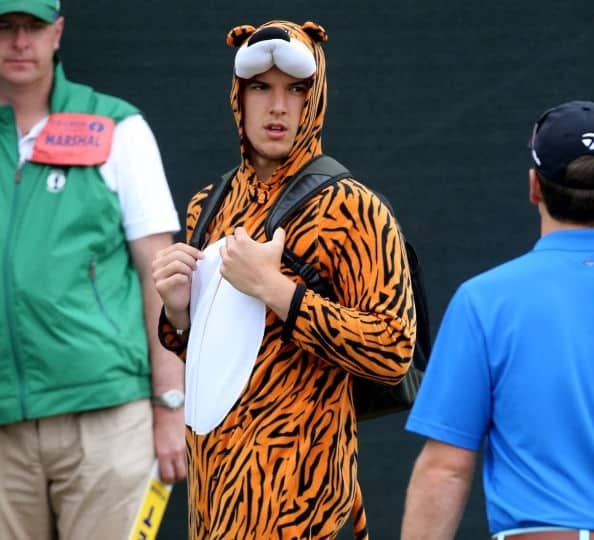 Even despite wildly exceeding my expectations, I've still had a "yeah, but…" attitude about him. Tiger makes the cut at Torrey Pines and just misses a Top 20 in his first PGA start in a year – "yeah but his driver sucked". Tiger finishes Top 5 at Bay Hill and Innisbrook – "yeah but wait until he gets to a course where he has to hit the driver on 70% of his tee shots". Tiger's driver turns around at Augusta and he showed some Sunday Magic – "yeah but his irons were awful".
All season long it seems like only 2/3 of Tiger has been able to show up to a golf tournament. Early on in the season his irons and short game were carrying him, but he was all over the place off the tee and wasn't hitting any clutch putts. At the Masters, his driver and putter started to wake up, but his approach game went to hell unexpectedly. And then last week at Quail Hollow Tiger put together his best performance from Tee to Green, only to lose ~1.5 shots/round on the greens.
This week will be different. This week he puts it all together.
I'm not going to overreact to his dreadful performance on the greens at Quail Hollow. For one, all the greens were rebuilt since he last played there and were much different than what he was familiar with. The greens also ran slow, and Tiger admitted that he had trouble putting with enough speed all weekend. Tiger historically fares better on faster putting surfaces, and at TPC Sawgrass the greens should run at a bit of a quicker pace with dry conditions expected. Last week should be a blip on the radar and he should perform much better on the greens.
More importantly, though, is that even with the improvements with his driver the course design should keep that club in the bag most of the weekend. TPC Sawgrass is a classic Pete Dye design – narrow fairways, tight sight-lines, strategically placed sand and water hazards, and a setup that demands strategy and accurate placement off the tee to set up the approach. There's just not a lot of room to miss off the tee, but with approach shots playing such a paramount role this weekend it'll be those who, like at Augusta, are able to hit the correct side of the fairway to set up the best angle to the green.
It's here where Tiger can have a huge advantage over the field. He can hit that patented 2 iron stinger as far as most players can hit their 3 wood or even their driver. The course isn't overly long and he can afford to keep his tee shots between 270-290 yards with the trade off of having a prime position in the fairway to stuff his approach close. Even on holes where he'll pull out the driver, statistically he's been much better with that club over the last few tournaments. Tiger is only ranked 110th in Strokes Gained Off the Tee this year, but he ranked 21st at the Valspar and 24th at Quail Hollow (which is a more important indicator on how well he's faring given Quail Hollow is such a driver heavy course).
On the books, Tiger's futures are anywhere from 25 to 40/1, and he's $8,600 on DraftKings. He's played his best golf this year on courses that narrow his focus off the tee and enables him to turn the tournament into a chess match. We've seen pieces of the unstoppable force of nature we all remember him as, but golf fans and pundits are itching to see it come together for one whole weekend.
It's time.
Here's who will be playing for second (with odds courtesy of mybookie.ag and DraftKings values) :
Rickie Fowler – 20/1, $9,600
Rickie and I are working through some issues after I assassinated him on the Masters Preview Podcast, only for him to finish 2nd and serve me a healthy portion of crow for dinner. But thanks to some couples therapy I'm back in on Rickie and this week is setting up for him to have another good performance at TPC Sawgrass. He's very feast or famine at The Players Championship in his career. He won the event in 2015 and also added a T2 finish in 2012, but outside of that he doesn't have a finish better than 60th and accrued four missed cuts (ouch). While his Strokes Gained Approach statistics are "good-not-great" this year, on shorter approaches (125-150 yards) he's 14th in scoring and 15th in proximity to the hole. That's a range he should have on several holes at TPC Sawgrass this week and if his wedges are dialed in then he should be a factor down the Back Nine on Sunday.
Patrick Reed – 33/1, $8,700
You've broken me Patrick. I'm all in on the helicopter finish:
**winces**
Patrick marches to the beat of his own drum, whether it be the unorthodox way he hits a left-to-right shot or wearing the sacred green jacket to a Chik-Fil-A. Keep doing you, Patrick, because it's working. The Masters Champ has five straight Top 10 finishes on the PGA Tour. He also should have added a win at the Valspar, which is a course that has similar features to TPC Sawgrass. Like Fowler, while his Strokes Gained on Approach statistics aren't eye-popping he's faring well on shorter approaches. Reed is 1st in scoring on approaches 150-175 yards and 12th in proximity, while also 8th in scoring on approaches 125-150 yards and 5th in proximity from that distance. He's yet to record a Top 20 finish at TPC Sawgrass, but that drought should end this weekend.
Zach Johnson – 60/1, $7,500
Once upon a time, Zach Johnson was one of the most consistent players at TPC Sawgrass. From 2010-2015 ZJ's lowest finish at The Players Championship was a T26 and he had a near miss in 2012 with a T2 finish. His last two years at the event have been less than spectacular. That marks the time he switched from Titleist to PXG and his form deteriorated, especially with his irons which is how he put food on the table. It seems like he's finally comfortable with his wedges, and he's faring much better in proximity and scoring in approaches under 175 yards. So far in 2018, it's only produced one Top 10 finish, but look for him to show better this weekend if his irons are dialed in like they have been all year.
Rafael Cabrera Bello – 100/1, $7,400
Rafa has a good history at TPC Sawgrass, as he finished T4 in last years event. He's cooled off a bit after starting off the year in great form but I foresee a bit of a bounce back on the strength of his excellent play with his irons and short game. Rafa is 7th on tour in Strokes Gained on Approach, including 6th in proximity on approaches 150-175 yards and 25th in scoring on approaches between 125-150 yards. He's also scrambled well out of the rough in 2018, and the bermuda grass around the greens can be tricky for those who aren't sharp in that area. He hasn't been great off the tee this year but if he can keep the ball in play then he should post his second consecutive solid finish.
J.J. Spaun – 650/1, $6,600
There's no one way to play TPC Sawgrass, and often this tournament yields a few surprises up at the top of the leaderboard. In 2016 it was Colt Knost, Ken Duke and Alex Cejka who were surprisingly in contention on Sunday afternoon. In 2015, Ryo Ishikawa had missed six cuts and had only one finish better than 60th before posting a T8 finish at The Players Championship.
That guy this year might be J.J. Spaun. His form in 2018 is…well…no bueno. Prior to the Valero Texas Open he failed the make the weekend in four straight events. But I like him this week because when he's driven the ball well he's been great on his approach shots. Spaun ranks 23rd in proximity within 150 yards and 6th in proximity within 175 yards. He finally made it to the weekend at the Valero and posted a T26 finish, so he may have found his form. If you want to load up your DraftKings lineups with studs and are looking for a cheap fill in, or if you're looking for a long shot Top 10 or 20 play, J.J. Spaun might be your man.
The Players Championship DraftKings Lineup #1:
Justin Thomas – $10,800
Patrick Reed – $8,700
Tiger Woods – $8,600
Bryson DeChambeau – $8,300
Scott Piercy – $7,000
J.J. Spaun – $6,600
The Players Championship DraftKings Lineup #2:
Rickie Fowler – $9,600
Paul Casey – $8,900
Henrik Stenson – $8,800
Ian Poulter – $7,800
Zach Johnson – $7,500
Byeong Hun-An – $7,300
The Players Championship DraftKings Lineup #3:
Jordan Spieth – $11,100
Justin Rose – $9,100
Patrick Cantlay – $7,500
Emiliano Grillo – $7,500
Rafael Cabrera Bello – $7,400
Ryan Moore – $7,300