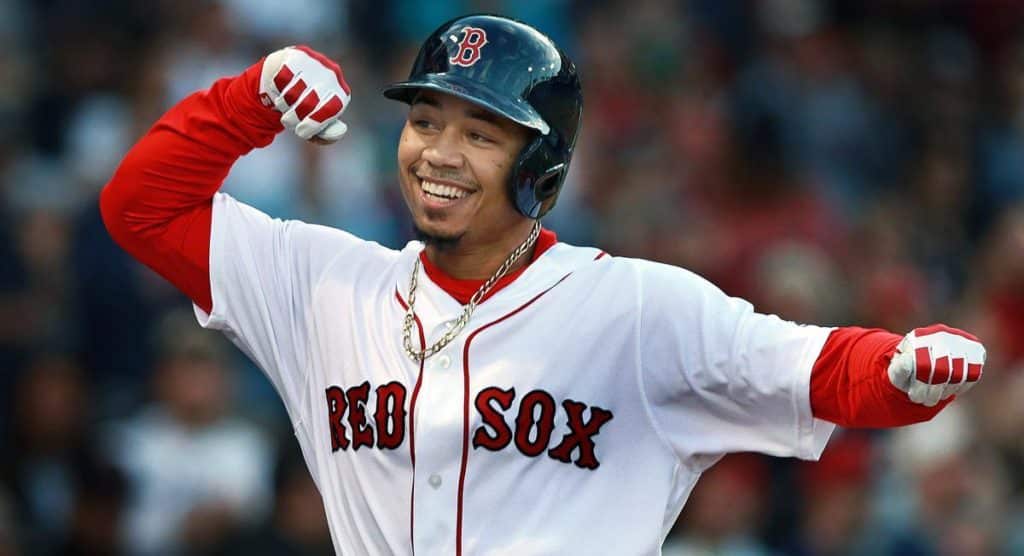 1.The Baby Braves Are Here
The FIRST place Atlanta Braves are playing out of there mind right now at 19-11  and it's not going to stop anytime soon. They are set up for the next 7 years if things fall right, and it's due to the big three. Rookie Ozzie Albies is hitting .280/10/23 in just THIRTY games. Ronald Acuna is hitting .382/2/5 in 34 games and guess what. They get Jose Bautista to add to their offense starting this weekend. Look, they may have arrived a year early and I don't know if they can hold this up all season but they are currently 4 games ahead of The Nationals. If you don't have a win total over bet, buy some stock in the baby Braves to win their division, they're fun as hell to watch.
Atlanta Braves To Win NL Pennant (+1400)
2. Mookie Is Gaining On Trout
I'll never forget losing a 20/1 Mookie Betts AL MVP bet to Mike Trout in 2016 when the only category Mike Trout had him beat in is WAR, but Mookie is back with a vengeance this year hitting .370/12/25 in only 27 games. Look, Trout is still the front-runner at -130, but I personally bought some Mookie Betts (+225) for AL MVP this past week. One bet will pay for the other at least, and this appears to be a two horse race this year. Mookie was seriously robbed (bias aside) in 2016 and he's going to make it hard as hell for Trout to run away with it.
Mookie Betts AL MVP (+225)
3. The News And Notes For The Weekend
The New York Mets have designed Matt Harvey for assignment after refusing a minor league assignment which means they have 15 days to trade or release him. Look, Harvey clearly has some issues upstairs but the talent has always been there. If he gets a fresh start on a contender and commits himself, he can really do something special to boost a team. Look for The Yankees, Nationals, Braves, or Angels to make a play for him if he is released.
LA Dodgers shortstop Corey Seager is out for the season and will undergo Tommy-John surgery. This is a brutal blow and would be even worse if not for The Dodgers depth, but he can't be replaced. LA is floundering and they desperately need Justin Hunter back after losing another series to Arizona. I wrote in the last edition of First To Third that it was time to make a decision and I'm going with Arizona. LA just isn't right this year, especially Kershaw. Arizona finally has finally found an identity, not to mention a real ace with Corbin-and when added to Greinke & Ray, those top three are VERY hard to deal with.
Ichiro is finally walking away from the game in something of a unique role as he will be something of a player-coach while he transitions to the front office. He will suit up for pregame work, taking batting practice, and do on-field work, but will not be on the active roster for the rest of the season. From an actual betting perspective, this really isn't' important for Seattle, but everyone should tip the cap and acknowledge what Ichiro has done after TWENTY-SEVEN seasons between Japan and Major League Baseball.