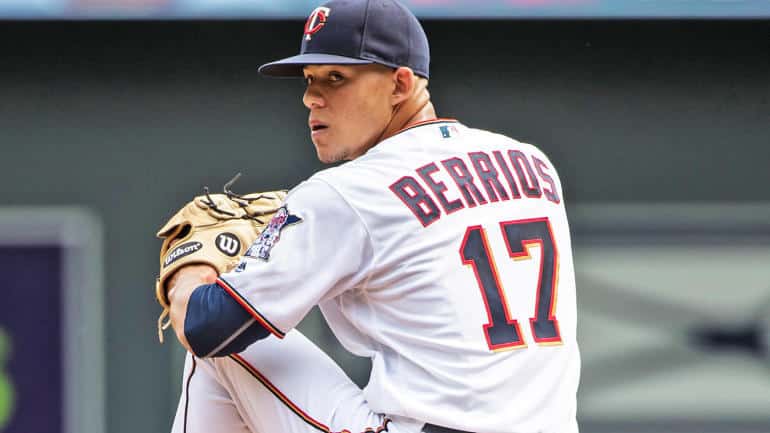 Welcome to the first edition of First To Third where we will take a look at the week that was in MLB from a gambling perspective and try to get a leg up on things upcoming. Baseball gambling is all about managing and mitigating variance, and from that perspective, it can be a bit difficult because the game is frankly built around randomness. This article will be on Monday's and Fridays.
In a game where things revolve around the current form (pitchers, hitters, slumps, breakouts, etc) one thing remains the same. If you can use past performances to dictate the future, you can identify an edge. So, let's get into whose hot, who's not and who we can try to make some money off of.
1. The New Boston Big Three
I've said this time and time again that Rick Porcello isn't as good as his Cy-Young season, but is much better than his form of last season. That "real" version of himself is still very very good. The great thing about Porcello (among many) is that he qualifies as a "King Pitcher" in that he rarely opposes another teams ace as in theory, Chris Sale gets those honors. David Price also looks to have regained his form (one injury hiccup aside). This 1-2-3 punch is one of the best in baseball and with the high powered offense behind it, you can always employ a chase system (although not usually recommended) when they lineup to pitch on back-to-back-to-back days. Boston is 15-2 on the season and quite frankly not a lot of people are taking notice.
Chris Sale: 1-0/1.69 ERA (Red Sox 3-0 in his starts)
Rick Porcello: 3-0/1.33 ERA (Red Sox 3-0 in his starts)
David Price: 1-1/3.46 ERA (Red Sox 2-1 in his starts)
Weekend Lookahead: Three-game series with Oakland (9-10) Likely starters: Pomeranz, Sale, Price.
Boston currently +350 To Win AL /+700 To Win World Series
2. It's Time For You To Make A Decision
Arizona was always a team without an identity, something of a rudderless ship. I've written in the past that A.J Pollock is the key to this team, and while he's been everything and more he once was, the true MVP of this team right now is number two starter, Patrick Corbin. It's fitting these two topics are back to back in that there are a ton of similarities to Corbin's breakout year and Porcello's. Traditionally the "breakout" seasons for hitters are their age 27 seasons, and for pitchers, it is their third full season in the league. Corbin is actually in his fifth MLB season, but his fourth full season so he is arriving a bit late, but make no mistake, he's here. Robbie Ray has always been the sabermetric handicapper's wet dream and was the obvious choice to break out, and because Corbin's stuff doesn't miss a ton of bats he was looked at as an afterthought. That is until you dig in and see that outside of his injury-plagued seasons his strikeout numbers have gone up every single year and he's missing more bats than ever this season. I know it's three starts, but Corbin is reminding me of Porcello's rise to dominance out of seemingly nowhere, not to mention they are built exactly the same. Corbin is coming off a complete game one-hitter, but I'm more interested in his strikeout numbers. He has struck out more than 8 batters every single game this season, and even in his one loss he still struck out 9. The shift in focus for Corbin is real, the buy sign is flashing.
Next Start: April 22 at home against San Diego (7-13)
Patrick Corbin NL Cy-Young Odds: (+3000)
Now, with that being said, from a team perspective. It's time for you to make a decision on the NL West. As it stands right now, Arizona is off to their best start ever at 12-5, and LA is hovering around mediocrity at 8-9. That's going to create an obvious shift in the fluid market that is futures betting. If you believe The Dodgers will rebound (especially when they get Justin Turner back, there is no better time to buy than right now. With that being said, if you took a chance on Arizona pre-season, you're sitting pretty and can hedge beautifully with a reduced price ticket on The Dodgers. The point I'm trying to make is that there's a very real chance this could be the bottom of the market for LA.The choice is yours. Don't forget, LA has the deepest of pockets and will get stronger with the addition of Turner and Julio Urias.
Weekend Lookahead: Arizona has a weekend homestand against San Diego (7-13) and that series price will be appetizing. L.A opens a homestand against The Nationals (& Scherzer) with Kershaw.
3. The Kids Are (Actually) Okay
As I stated above, I'm a firm believer in (about) the idea of a third-year breakout for starters and the age 27 season for pitchers. That being said within the last couple of seasons there's been an uptick in "phenoms." These young kids are coming up a bit too soon and people are more informed, thus knowing how good they eventually will be. Jose Berrios is the classic example, although don't forget about Sean Manaea, Jameson Taillon, Julio Urias, and the list goes on. Lucas Giolito is probably suffering from a bit of that this season. You'll see the glimpses, but they are a probably a bit too raw. But some of these "phenoms" are actually here, and over their past growing pains, and don't forget the actual phenom, Julio Urias is coming back. That's before we even get into the one pitcher who may be better, Alex Reyes. But, let's get into the group of past "can't miss" prospects who we can actually get behind at the moment.
Jose Berrios-2015's #4 pitching prospect. 2018: 2-1 (Twins 3-1) 1.63 ERA
Blake Snell-2015's #5 pitching prospect. 2018: 2-1 (Rays 2-1) 4.02 ERA
Aaron Nola-2015's #7 pitching prospect. 2018: 1-1 (Phils 1-2) 2.37 ERA
Jameson Taillon-2015's #9 pitching prospect. 2018: 2-0 (Bucs 3-0) 0.89 ERA
Sean Manaea-2015's #10 pitching prospect. 2018: 2-1 (A's 2-1) 1.80 ERA
As you can see, the prospects are rounding into their own. Lucas Giolito is probably in over his head right now and may need some more seasoning but there's a bit of Phil Hughe's in his game which isn't a good thing.
Weekend Look Ahead:
Berrios: No Start
Manaea: Saturday Vs. Chris Sale
Snell: Saturday Vs. Kyle Gibson (1-0, 3.68 ERA)
Nola: Saturday Vs. Steven Brault (2-1, 4.74 ERA
Taillon: No Start