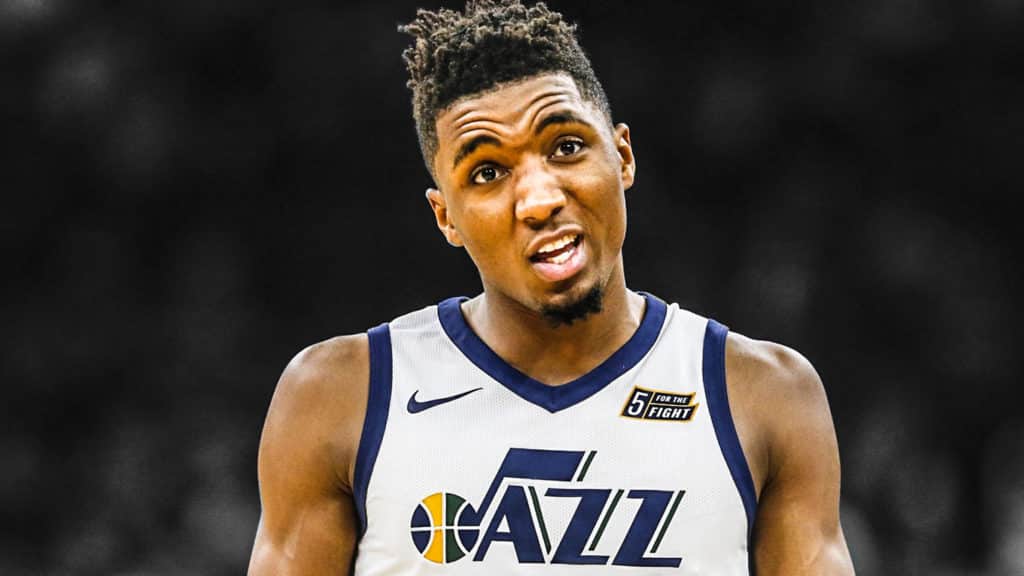 Throughout the playoffs, we'll be doing series previews for each and every matchup. For more in-depth analysis, check out our Eastern and Western Conference Preview Articles, which covered the conferences at-large. Find all of our NBA playoff content here and on Twitter (@GamblingPodcast and @NBAZachB).
Series Prices and Game 1 Line
Utah Jazz +115 vs. OKC Thunder -135.
G1: UTA @ OKC (-3.5), O/U 206, +145/-170.
Regular Season H2H (3-1 OKC)
10/21/17: OKC (-3.5) 87, Utah 96. Under 200.5.
12/5/17: Utah 94, OKC (-8) 100. Under 198.5.
12/20/17: Utah 79, OKC (-8) 107. Under 196.5.
12/23/17: OKC 103, Utah (-1.5) 89. Under 197.5.
Facts and Figures
OKC Thunder (#4)
48-34 Overall. 34-47-1 ATS. 36-46 O/U.
Leading Scorer: Russell Westbrook, 25.4 PPG.
Best Stats: 12.5 OREB/Gm (#1), 9.1 STL/Gm (#1), 16 Opp. TOV/Gm (#1).
Worst Stats: 11.2 Opp. 3-PT/GM (#25), 21.3 AST/Gm (#28), 71.5% FT (#29).
Notable Injuries: Corey Brewer, Knee – Day-to-Day. Alex Abrines, Concussion – Day-to-Day. Andre Roberson, Knee – Out for season.
Utah Jazz (#5)
48-34 Overall. 42-40 ATS. 38-43-1 O/U.
Leading Scorer: Donovan Mitchell, 20.5 PPG.
Best Stats: 99.8 Opp. Pts/Gm (#1), 41.8 Opp. Pts in the Paint/Gm (#2), 9.5 Opp. Fastbreak Pts/Gm (#1).
Worst Stats: 1.52 AST/TOV (#23), 25.3 Pts in 1Q/Gm (#25).
Notable Injuries: Thabo Sefolosha, Knee – Out for season.
Key Overall Matchup
Extra Possessions
Given how tight these teams are across the board, this figures to be the closest and most intriguing series of all eight we have in the first round. Utah and OKC both finished with the same record at 48-34, had point differentials within a point of one another at +4.3 for Utah and +3.4 for OKC, and both have bulldog point guards upon whom they rely for a lot of their success.
That is why, to me, this series will come down to little plays on the margin that determine extra possessions for either team. This battle will take place primarily on the glass, which might end up becoming the most important place on the floor throughout this series. OKC is, by far, the best offensive rebounding team in the league, averaging over 12 a game and rebounding an incredible 27.7% of available rebounds on the offensive end. When they get a second chance, they kill you, leading the league in second-chance points per game at 15 per game.
It is strength vs. strength, though. Utah, in their own right, is likewise elite at protecting the glass and finishing possessions by securing the rebound after forcing a missed shot. They allow just allow offensive rebounds on just 20.2% of rebounding chances. They were also second best in the league at limiting second-chance points, giving up just around 10 per game. Given OKC's penchant for breaking team's wills late in the game which possessions that seem to last forever, Utah needs to wipe their own glass clean and limit OKC to one shot per possession. Their offense can struggle at times if Russ' extra gear isn't working, but it will break you down if given too many second shots.
Other areas on the floor will also factor in who gets extra possessions and is thus able to control game flow and tempo. OKC led the league in recovering loose balls, and while the Jazz were not bad, momentum plays for Russ and co. must be limited, especially when OKC is at home. Diving on the floor for loose balls isn't necessarily en vogue in today's NBA, but OKC does it better than anyone and is unafraid to get dirty – it doesn't bother them. In fact, they feed off it. Utah must match that intensity and get to every 50/50 ball like it's their next breath. You don't want Russ and Steven Adams to start pounding their chest over the course of seven games.
Extra possessions are really just the name of OKC's game. They lead the league in steals per game and lead the league in forcing opponents to turn the ball over. Utah has to protect the ball and make sure every half-court possession leads to a chance to score. That starts by clearing the defensive glass, continues with recovering as many loose 50/50 balls as possible, and ends with protecting the ball offensively and, similarly to "reserving the right to punt" in football, reserving the right to at least get a shot attempt.
Key Individual Matchup
Battle of the Bulldogs.
Russell Westbrook and Donovan Mitchell might be the most exciting matchup across all the first round series. The two are quite similar in their approaches to the game, always pushing to get downhill and attack the rim with ferocity. But the importance of their matchup stems not from their similar roles, not their similar styles.
Donovan Mitchell's emergence on this Utah Jazz team has been equally impressive volume-wise as it has output-wise. He's not just one of the guys; rather, he is their guy. His usage rate on the season is now up to 29%, making him one of the top thirty guys in the league by possession volume. This only exacerbates in the clutch, where the Jazz go beyond featuring him and downright rely on him. In clutch situations (<5 minutes and score margin <5), Mitchell uses 46% of Utah's possessions. While his efficiency numbers haven't been incredible there, he's certainly had his moments. And he will have to have them in this series. He will have the ball in his hands, as a rookie, on the biggest and brightest stage against one of the NBA's most feared guards.
Russell Westbrook, as we all know, will also have the ball in his hands for a majority of his team's possessions. Westbrook was third in the league in usage, occupying 33% of OKC's possessions this year. And we all know he lives for the big moment, where he will have the ball in his hands over and over again. He will go at whoever is guarding him.
Both teams are prepared for close games in the fourth quarter, and both are more than confident with the ball in their respective bulldog's hands. Which one of them dominates the biggest moments will determine this series more than any other factor.
Meaningful Trends
OKC is 15-23-1 ATS as a home favorite. Yet, they are also 26-13 SU. These spreads are going to be tight, so the MoneyLine might be better.
Utah is 8-18 SU as a road dog.
The under is 20-11 when Utah is a home favorite.
Utah wins if…
Mitchell has special moments in the fourth quarter; Joe Ingles turns Paul George into more "supporting cast" than "second superstar"; Gobert frustrates Westbrook at the rim without removing himself from rebounding position.
OKC wins if…
Mitchell looks like a rookie; Gobert overcommits to rebounding or rim protection and leaves one of them vulnerable; Melo makes threes and buys into his role, whatever it may be.
The Pick
Utah in 7.