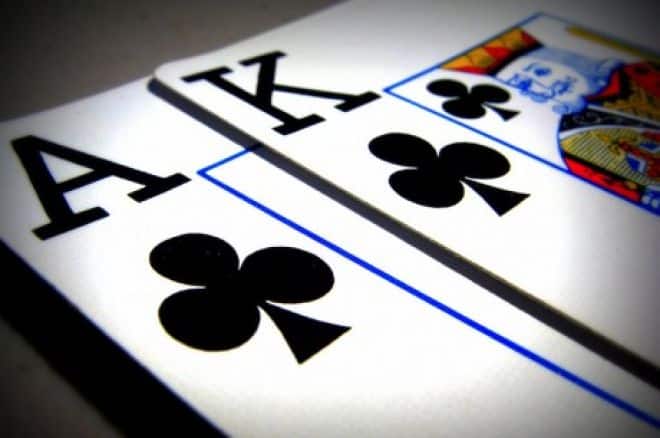 In a rare parallel to poker, the best hand is Ace-Ace. However, Ace-King can be just as effective and when your opponent is only holding a Jack or Queen, your chances increase. It's actually almost the same thing in baseball. Aces cost a premium to get behind, but where I'm really interested in is that King. Think of it like this, which is more attractive to you?
You have a hand of Ace-6, and you know your opponent has King-6. But to continue the hand, you must lay -300.
Or-
You have a hand of King-6 and you know your opponent has Jack-6 and to continue the hand, it's Even money.
That is what is happening in Major League Baseball's market right now.
In a betting market that is extremely top heavy and ace starters are routinely in the neighborhood of -200 and above, betting them can be extremely difficult. In truth, you only have a few options, open money line parlays or risking the horror of a run-line bet to cut down the juice. There is a third option, however: ignore them completely.
From a betting perspective, I would argue a great number two starter in the rotation is much more valuable. I wrote about this a long time ago, stating that Jose Quintana was the most valuable pitcher from a betting perspective when he was the number two starter behind Chris Sale on The Red Sox. Rick Porcello is another great example when David Price was…actually David Price.
The point is that if you can get 1A in a rotation that routinely doesn't have to face the other teams best starter since aces are (in theory) matched up with other aces due to how teams set their rotations. Some of these starting pitchers are their team's number ones, but that is where you can exploit another market, most usually the first five under one.
1.David Price, Boston Red Sox (Ace: Chris Sale)
I know that obviously even the most casual of fans know him, but he's not being priced like the David Price of old, and make no mistake he's back. In two starts he is 1-0 without allowing an earned run and has looked like he is finally healthy and wants to prove he still has it. There was a time not too long ago David Price was just as expensive as Chris Sale, now he's being priced like a mere Jack. Take advantage and be ahead of the market before his prices increase, it may not take long.
2. Alex Wood, LA Dodgers (Ace: Clayton Kershaw)
Alex Wood does not allow earned runs. It's a very simple concept, which works out well for betting him because usually, you have to give up runs to lose a game. Alex Wood is the best pitcher you probably aren't betting each and every time, and you should. Alex Wood hasn't allowed more than five runs since July 21st, 2017 in a bit of a fluke against The Atlanta Braves. If you throw that one out, it wasn't until September 27th at Colorado 2 years ago. He would be the ace of any other team in baseball but is priced like The King.
3. Carlos Carrasco, Cleveland Indians (Ace: Corey Kluber)
Carrasco is right on the edge of what I would deem an "ace." That list ends with Stephen Strasburg, and he's literally the next highest pitcher I have ranked there. One theme you will notice is I like backing the number two pitcher on a team after the ace loses garnering a lot of public money. The reason is most likely there was a ton of parlay action on the big ace favorite, and the public jumps off a team all pissed off. Carrasco is sometimes priced a little bit high for what he is–A "king" pitcher, but he usually gets the other team's number two starter, who he is always better than.
4. Charlie Morton, Houston Astros (Ace: Justin Verlander)
Regression may be coming, but the good news is Houston's offense is able to pick him up each and every time. He also hasn't allowed a run in 2018. When you actually break this down because of how great the Astros rotation is, Morton may be priced like a pair of 10's. Verlander, Keuchel, McCullers, and Cole form one of the best top ends of the rotation in baseball, and now you can add the fact that he has one of the best offenses in baseball behind him. Whoever is pitching against the 5th starter on the other team is going to be great value for Houston this year.
5. Michael Fulmer, Detroit Tigers (Ace: Jordan Zimmerman)
If you've followed me for any amount of time, you know my love affair with Michael Fulmer unders. His offense is awful, and he's a top 10 pitcher in the game. In two starts, Michael Fulmer has allowed one earned run, but he's been doing this for years. Fulmer will usually get the other teams ace, which makes him a bit more comfortable to play in the first five under market. When it lines up that he does get a back end of the rotation level opponent, you can take advantage in a big way because his talent is out of this world. Jordan Zimmerman is looked at as this teams ace for some reason, but it isn't true-not even close.
6. Dylan Bundy, Baltimore Orioles (Ace: Chris Tillman)
Most people don't know this, but Bundy at one time was the top prospect in baseball and a top overall draft choice. After injury, he is showing why. Some people think he is primed to regress this season, but he has all the talent in the world. He's picking up right where he left off last year, with zero respect. He is this teams ace and isn't being priced as such.
7. Tyler Skaggs, Anaheim Angels (Ace: Garrett Richards)
The talk is all over Ohtani, but Skaggs is quietly one of the most solid #2's in baseball. He's been great in 2018 and was quietly just as good last season. The team and offense are improving around him, and if the market overcorrects itself on Ohtani, he may actually start getting priced as The Jack, not King. Dating back to last season, the last time Skaggs allowed more than 4 runs was September 1st of last season, and if you throw that one game out, he didn't do it again until April 11th, of last season.
8. Alex Triggs, Oakland Athletics (Ace: Kendall Graveman)
I almost didn't want to give him out on this list, because I want to keep him as unknown as possible. He's been one of my favorite pitchers (next to Michael Fulmer) to get behind for a long time. Triggs is almost constantly lined as an underdog, and hasn't allowed more than two runs this season. I realize that's a short sample size, so dating back to last season, he hasn't allowed more than 5 runs since June 9th, 2017.
9. Aaron Nola, Philadelphia Phillies (Ace: Nola)
Nola has been a good friend of professional bettors for a long time. Casual fans are beginning to take notice as well now that Philadelphia is about to end its rebuilding process and start contending again. Make no mistake, Nola is the ace of his own team, but he isn't priced like one yet. The addition of Jake Arrieta is what makes this applicable here. Nola did start opening day, but that was due to the fact that he has earned it there while Arrieta was new. If Arrieta can regain some form, Nola's price will continue to get better because Arrieta has the name value.
10. Rick Porcello (Ace: Chris Sale)
He won a Cy-Young two years ago and just about everyone thought he would regress last year, and they were right. Rick Porcelli isn't as good as his Cy-Young season, but he isn't as bad as he looked last year, the in-between version of Porcello is still very very good. As stated above with David Price, The Red Sox actually have three aces, but they can't all be priced like one. The order should be Sale, Porcello, and then Price. If you can pay Jack prices for Porcello, he's going to be the true King.
11. Danny Duffy, Kansas City Royals (Ace: Danny Duffy)
Danny Duffy has both been very good to me, and both ripped my heart out on many occasions, so let me warn you here. The issue with Duffy is The Royals may lose 100 games this year, the good news is you can explore other markets including a first 5 under autoplay. Make no mistake, he's only to ever be played in the first 5 market, but he'll give you everything he has every time. His control can leave him at times, and he has a tendency to blow up in one inning, but when he's in a groove there are few pitchers better. Much like Fulmer and Nola, he is a much better bet in the first five under market because he often does face the opponent's number one.
12. Sean Manaea, Oakland A's (Ace: Kendall Graveman)
There may be no more frustrating pitcher to watch than Manaea, who probably has another year in the majors to go before he REALLY hits his stride, but his prices will also come at an increase once that happens. Triggs and Manaea are as good 2/3 pitchers as there are in this league. If Oakland was ever able to attract an actual ace, they would be a poor man's version of The Red Sox. The good news is that Graveman fell into the number one slot, so Manaea and Triggs rarely have to square up against another teams ace. Manaea was a top 5 pitching prospect in all of baseball and it was not a long time ago he was mentioned in the same sentence as Jose Berrios. These guys just came up a bit before they were ready, be ahead of the market because soon they will be priced like the aces they are.
13. Patrick Corbin, Arizona Diamondbacks (Ace: Robbie Ray)
The Robbie Ray love by sabermetric guys has been on the brink of baseball sex for years, and he probably deserves it. The thing that isn't great about Robbie Ray though, is he's priced as he should be; The Ace. Right below him is Patrick Corbin, who is finally putting it all together. Corbin was never bad, but if he can continue looking this great, they will form one of the best 1-2 combinations in baseball. the humidor they just installed in Arizona can only help as well.
14. Kyle Freeland, Colorado Rockies (Ace: Jon Gray)
I know its a terrifying idea to back a Colorado pitcher. The thing about Freeland that is somewhat amazing is that he's actually traditionally better at Coors Field than on the road. I wouldn't believe me either, so take a look:
Freeland has the purest talent as anyone on The Rockies staff and for some reason, Jon Gray (who is the epitome of average) gets the ace pricing, which is fine for our purposes. Back Freeland at home, and also take a look at those inflated totals when Freeland pitches at Coors. There's a ton of value with him.
15. Tanner Roark, Washington Nationals (Ace: Max Scherzer/Stephen Strasburg)
I told you the best hand you can have in poker is Ace/Ace, and that's what The Nationals have with Strasburg and Scherzer. The best times to take The Nationals, however, are when Roark and Gio Gonzalez are on the mound for them. Especially after the public jumps off them after a Scherzer or Strasburg loss and are pissed off. The offense behind them doesn't change, and Bryce Harper is the front-runner for NL MVP right now in a contract year. The Nationals are priced at a discount any time these two take the mound. Roark also has 29 wins the last two years.
Honrable Mention: Aaron Sanchez, Luis Severino, Blake Snell, James Paxton, & Jacob Degrom.