Most people tend to focus their bets on only picking winners. They're easy to do and fairly mindless to place a bet on. But for those who choose poorly, it could make the tournament a very boring one to sweat should they go up in flames early.
That's where betting on props come in. Most books offer dozens of props ranging from player performance, top player by geographical region, final round scores, and even bets on what sponsor hat the winning golfer will be wearing or if they'll cry when they win. Several of these can be a lot of fun to either root for or root against. But those who blindly bet them without much thought are doomed to lose their money to the bookie.
It can be a bit overwhelming to sort through the ones that are worthwhile and those that are sucker bets. Here's a deep dive on a handful of popular props to enhance your Master's experience.
Will Tiger Woods Hit the Fairway on Opening Tee Shot: Yes -145, No +125
The "Tiger Woods Hit Fairway" prop is a popular one the books offer even at non-majors, and through the years the "no" side of this prop has prevailed. In 2015 those who backed "no" on this prop went on a torrent streak that eventually led the books to stop offering it due to Tiger's inability to find the short grass on the opening hole. But because Tiger has made spinal fusion surgery the hottest cure to any swing flaw and rediscovered his game, those who think he'll hit the fairway on the opening hole are the favorite over the naysayers.
John Q. Public will be quick to pull the trigger on YES on this prop, but I'm not quite ready to make that leap. To assess how this prop will go, let's take a look at how this hole will set up for Tiger and what type of shot he'll be looking to hit: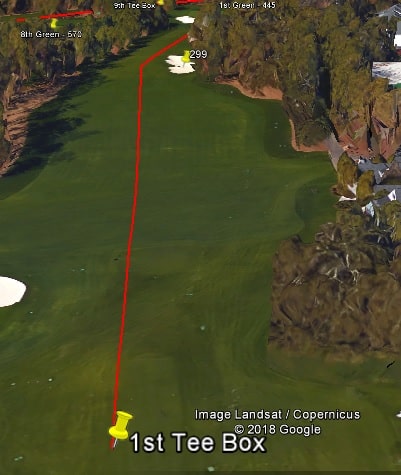 The 1st hole plays downhill until the beginning of the bunker some 270 yards down, then plays back up the hill towards a green that is protected by a deep frontside bunker on the left side. It's a challenging tee shot that's imperative to nail perfectly. For a right-handed golfer, it'll encourage them to try and hit a fade from left to right and flirt with that fairway bunker. They'll also have to hit driver off the tee, as anything less will collect at the bottom of the hill and leave them a tough 175 yard uphill shot for their approach. The landing zone will be about 25 yards wide from the edge of the bunker to the first cut of rough on the left side of the hole.
The risk, obviously, is overcooking the fade into the fairway bunker to put them behind the 8 ball to recover for par. But the reward is an ocean of green to work with if they manage to keep it on the right side of the fairway, and if the 1st round pin placement is back right it could be a great opening birdie opportunity. Anyone who misses left will have to carry the frontside bunker onto the green, which is not exactly the most eye appealing shot.
Tiger Woods has been successful this year at tracks where he didn't have to use his driver. When he is hitting three woods or 2 irons off the tee he was setting himself up in great shape for his second shot. But on the 1st Hole, he'll have to use the driver and that club has been very shaky for him this year, especially when he sets up a fade. His miss off the tee in 2018 has been a double cross to the left and he'll have to get that out of his head when he steps up to the tee.
While Tiger's strokes gained stats in 2018 have been superb, he's only 153rd on the PGA Tour in Strokes Gained Off the Tee, and his 201st in Driving Accuracy. On Monday, Tiger's State Run Media reported that in his practice round he carried his tee shot on the 1st over the bunker, which is a highly aggressive shot. I can't imagine he'll try that on Thursday with temperatures 15 degrees cooler to take away some of that carry. Therefore, I see a lot of value at taking +125 that Tiger Woods will miss the fairway on his opening tee shot, but I suggest waiting to see when Tiger will tee off on Thursday. The course is expected to receive heavy rain on Wednesday night. If Tiger has a morning tee time and misses left there's a chance he could still catch the fairway as damp conditions will reduce the amount of roll on the tee shot. But if he has an afternoon tee time, the course should dry up enough to surely put a miss to the left into the rough.
Will Rory McIlroy Score an Eagle During the Tournament: -110 Yes, -120 No
To assess this prop, we'll have to look at two things – Rory's propensity to score eagles at The Masters, and how the weather may impact the Par 5's.
Rory's played in every Master's since 2009 and has carded an eagle in 2009, 2013, 2015 and 2016. It's slightly worse than a coin flip based on course history that he'll have one. He's most often recorded an eagle at 13, carding three eagles there and one each on the 2nd and 8th.
So why would I lay juice on YES when the straight odds suggest it's an underdog? As I'll discuss in more detail below, I'm anticipating that course conditions will allow for low scores. Augusta hasn't received much rain in the last few weeks, but on Wednesday night the course is expected to receive 3/4 of an inch of rain. Overnight rain on Friday and Saturday will also soften up the greens a bit. And the wind, which is one of Augusta National's only defenses, shouldn't be much of a factor all weekend.
When it rains, Rory pours. Several notable wins for Rory have come on a wet course, including the 2011 U.S. Open and the 2014 PGA Championship. Even the firm greens of Augusta can be receptive to long approaches when the weather is damp, and Rory is plenty long enough off the tee on Par 5's to be able to hit high irons into them and go flag hunting.
Obviously, if Rory misses the cut then this prop is in a lot of danger. But considering Rory's consistent track record at Augusta in his career I expect him to have plenty of opportunities for an eagle on one of the Par 5's. I'll be placing a bet on YES on this prop.
Will There Be a Hole In One: Yes -140, No +110
This prop is a blast to bet on no matter which side of it you're on. It's the ultimate sweat of a golf tournament. For one, anytime you hear a huge roar on another part of the course, you'll anxiously wonder if someone carded an ace. And anytime CBS flashes to a non-contender playing a Par 3 and Verne Lundquist ominously says "this was a moment ago", you know that an ace could be coming.
There are a few ways to play this prop. Most books will offer props for aces on each hole, each round, or a blanket bet on YES or NO for the entire tournament. If you want to be on the side of YES, your best bet is to place a bet on either Hole in One on 16 at +125 or Hole in One in the Final Round at +135. There have been 28 aces at The Masters, and 19 have come at the 16th. In fact, this millennium there's only been two aces at either 4, 6 and 12, so betting on aces on the individual hole props for those are a suckers bet.
While I don't have the exact stats on hand, I do know that the vast majority of those have come in the traditional Sunday pin placement in the back left. The recipe for an ace at 16 on Sunday is to hit the ball towards the back right portion of the green, then let the ball funnel back towards the hole. If you like YES here, book your bets on those two props as these are the most likely outcomes for an ace and provide the maximum amount of value.
Will this tournament set up a hole-in-one at 16 in the final round? For 2018, I'm leaning towards the side of NO. For one, I'm playing the odds on this one – we've seen aces on 16 in both 2016 and 2017, but before 2016 there wasn't an ace there since 2012. More importantly, though, I don't think the wind conditions on Sunday will be favorable for aces. 16 plays on an NW tee to green direction, but on Sunday the winds will be coming out of the NE. That means anyone who'll try and hit towards the back right portion of the green will actually be hitting primarily into the wind. While the winds won't be too gusty, it might be enough to knock the ball down short of the sweet zone and prevent the ball from funneling to the hole on the proper line. While it's always fun to root for aces, this year I'll be the Grinch who doesn't want to see one fall.
Winning Score – Over/Under -10.5
The weather is capable of turning Augusta National into two completely different golf courses. It could yield a shootout like in 2015 where multiple golfers finish up double digits under par. Or if the winds kick up and the temperatures drop everyone will finish over par like they did in 2007. In order to handicap how the scoring conditions at The Masters will be, the weather must always be considered.
There are four weather conditions that dictate what scores the course will yield:
Wind

:

Wind is by far the biggest factor in deciding how Augusta National will play. Given the placement of pine trees and the design of the holes, the winds are often swirling and can play havoc with a golfers psyche if they're not prepared for it. The greens can also dry out very quickly in windy conditions, which forces gamblers to consider the tee time draw before placing bets. While any gusty winds make Augusta National harder, generally the course plays the toughest when the winds are out of the west.
Temperature: As a general rule of thumb, warmer temperatures generally have produced lower scoring tournaments (see 2011 and 2015) while colder temperatures have produced high scoring ones (see 2007 and 2016)
Rain: Augusta National plays the toughest when it's firm and fast. Firm and fast conditions make it very hard to stick approaches close to the hole and can cause three putts if golfers are a little overzealous on their lag putting. But if the course gets drenched, while shorter hitters will be put at a disadvantage the longer hitters can hit shorter irons into more receptive greens to go flag hunting. Damp conditions can also slow down greens that run 13+ on the stimpmeter in dry conditions. The course does have a Sub-Air system underneath the greens to suck out water as necessary, however, during heavy rains, there's only so much it can do to keep the greens running fast.
Humidity

:

Humidity can play a role in the tournament in the absence of rain. Humid conditions allow the green to hold the morning dew longer. That'll make greens a little more receptive and slow them down a bit. Low humidity with a combination of high winds can dry out the greens and cause nightmares for golfers.
Currently, here's how the forecast shapes up during Masters Week:
Pre-Tournament: Dry Conditions until Wednesday evening, 3/4 inches of rain expected overnight Wednesday
Thursday: High 70 degrees, E winds 5-9 MPH, dry conditions, 19% humidity
Friday: High 78 degrees, WSW winds 8-13 MPH, 26% humidity, 1/4 inch of rain expected overnight Friday evening.
Saturday

:

Colder, High 65 degrees, NE winds 8-15 MPH, showers during the day and heavy overnight, 0.8 inches total expected Saturday-Sunday, 54% humidity
Sunday: High 66 degrees, NE winds 7-10 MPH, dry conditions, 42% humidity
In summary, the tournament will have wet conditions most of the weekend with most of the rain occurring overnight and not affecting tournament play. Colder temperatures will move in over the weekend but without wind, it shouldn't bother the golfers too much. Finally, the toughest scoring conditions look to be Friday after a full day for the course to dry out and wind out of the WSW, which increases the difficulty of Amen Corner and to make 15, a great scoring opportunity, tougher as well.
Over the last 5 Masters, the winning score has exceeded -10 only once. That might draw more uninformed public money on the under. But with winds not playing much of a factor all weekend, rains softening up the course and comfortable temperatures at least for half the tournament, I expect scoring conditions to be favorable this year. I like over -10.5 as the winning score of the tournament. And if your book offers it, I also like under 66.5 for the leading score after Round 1. I expect a couple guys to go low on Thursday afternoon and take advantage of soft, benign opening round conditions to get off to fast starts.