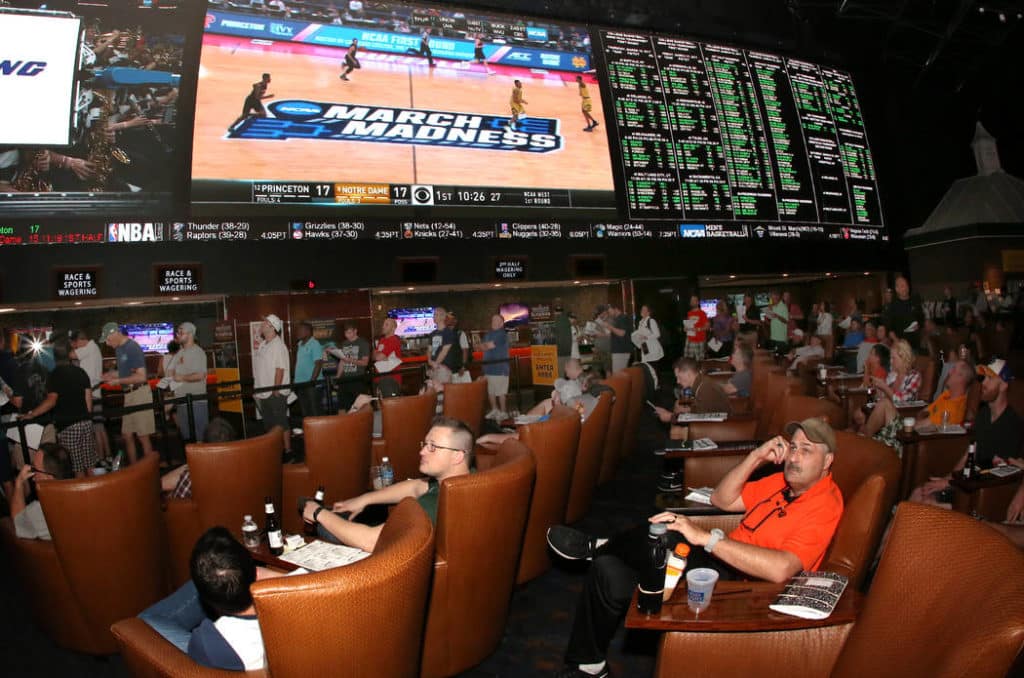 In the words of one of the most underrated rappers of all time, Fabolous:
Louis Vuitton shoes, she got too much pride
Her feet are killing her, I call it shoe'icide
Looking good has its sacrifices
Chilly weather bring four figure jacket prices
If you can't decipher the rap game-let me explain it to you. Supply and demand.
March Madness is here and it brings one thing: huge crowds. Now, that's not really an issue in of itself as there are definitely more places to watch the NCAA tournament than there are people, but it does affect one thing: long lines to get your wagers in.
So what's a guy to do? Adapt, my degenerate friends, adapt.
Today, books such as My Bookie, Bovada.lv, 5dimes, Pinnacle, Sportsbook.ag, and BetOnline reign supreme. You can place all your wagers from the comfort of home on your computer, and if that is even too inconvenient, you can just turn on your iPhone and place wagers on the go. The only issue was the most important one, how do you get your money? Simple: they'll send you a check.The technology was crushing the Vegas sports book industry. It is estimated that over 3 Billion (with a B) is wagered "illegally" on offshore sports books, and that's not even counting people with actual bookies.
Vegas sports books were scrambling and didn't know what to do. In the true spirit of Kevin Durant, If you can't beat 'em, join 'em. Vegas sports books one by one adopted the mobile wagering app. Today, using GPS, as long as you're in the state of Nevada, just about any casino offers a mobile app through their parent company. Most books require a $100 deposit to open your account, and then you have a sports book in your pocket at all times.
Item One: Get A Mobile App
Look, You can never duplicate the feeling of cashing a ticket, but you have to give a little here. Whatever hotel you and your friends are planning to watch the tournament or are staying at, make a run at the sportsbook as soon as you get there and fill out about 3 minutes of paperwork and get a mobile app. You'll save yourself the hassle of waiting in any line what-so-ever and can place wagers on the go at any time. most books also allow live betting without having to leave your seat.
There's no better feeling than having your money instantly in your account while enjoying every second of every game-not to mention you don't have to wait in line to cash your tickets. Not to mention when your extremely hungover the next day, you won't have to leave your hotel room to place your next set of bets on time.
Item Two: Hit The Dispensary 
When in Rome. I don't' know if you know this, but as of 2018 Marijuana is as legal as a bottle of vodka in Vegas, without a medical card. Dispensaries are conveniently placed very close to just about each casino and hotel now including one .3 miles away from The Westgate Superbook. Check in to your hotel, get your account set up, and go get some of the devil's candy, you're going to be watching 18-year-old kids try to put a ball in a net for the next week straight after all.
Item Three: Plan Ahead
As you can see from above, Las Vegas is changing with the times. The worst thing you can do in Vegas during a time like this, however, is to not be prepared. If you think you're going to get a seat at a sportsbook during the busiest time of the year, you're just wrong. If you're going with a group of people, split a table and a seating area so you aren't just wondering around trying to find a place to watch the games. You wouldn't meet up with a lady of the night without a plan, so protect yourself the same way and pick a couple different viewing parties for the full experience. A full list of events can be found here.
Item Four: Remember The Basics
"March Madness is the only time of the year when grown men have to remind each other to eat." -Ryan "Real Money" Kramer.
He's not wrong. Pace yourselves here and make sure to take advantage of that hotel room for regular meals. Naps too, by the way, can't say enough good things about naps. But after that have a plan on where to eat. Your body needs fuel to make it through this week of degeneracy, and the sports book deli is only going to get you so far. Class it up a little and plan ahead and enjoy an actual meal every night, if it's only one planned meal a day for dinner. Some of my favorite places during March Madness are The Golden Steer, Cafe Martorano, Nobu, & Andiamo At The D.
Item Five: Think Outside The Box
I know It's Vegas. Who wants to plan something right? Well, if you don't you're going to be scrambling to find places to watch every game. If everywhere is sold out, have no fear, this is what I'm here for. Some of the best places to watch the NCAA tournament aren't what you may think. Every strip club will have a viewing party which isn't as packed as sportsbooks and casinos (and you have a mobile app to place bets everywhere, remember?!).
All strip clubs will also offer free transportation to and from your hotel as well. Sapphire, Treasures, Sophia's, Crazy Horse(II+III), Hustler, & Spearmint Rhino are some of the best spots in the city and the view isn't half bad between games either. If you're looking for more of a tame experience, try Top Golf. They have over four levels of bars and over 40 tvs for your watching pleasure. Downtown is also a great place to watch the games as they are more of a local destination. Lastly, Red Rock is almost eerily quiet outside of locals that week, and has a fantastic book.
Item Five: Recovery
This is Las Vegas people. Being hungover can't stop you from enjoying your days. Because this is such a drinking-heavy town, Vegas has equipt you with the most up to date and a convenient way to kick a hangover known to man. You actually have more than a couple options for this one.
The Oxygen Bar. Most casinos and hotels now have one of these installed just about everywhere. Sit down and enjoy some pure o2 as you try to get your levels right.
Mobile in-room hangover IV treatment. These are a bit more expensive, but allow you to recover while still in your bed (hopefully) still half naked and enjoying the company of a lovely lady from the night before. Give them a call with about an hour heads up, and they'll be there to help you get back on your feet. Trust me, they won't judge the type of condition you're in.
Get On The Bus. The mobile Las Vegas hangover bus will allow you to get right in and get straight with your levels, but not maybe with god.
Item Six: Hope For The Best, Prepare For The Worst
No matter how well you prepare and think you have Vegas figured out, much like (I hear) Bankok sometimes will just get you. Things happen in this town that doesn't happen anywhere else. Set aside some emergency cash, cap yourselves at what you're allowed to lose-you know the drill.
If you find yourself unable to locate your hotel, the app Hotel Tonight can get you in some of the best hotels at leftover prices the day (or minutes before) of. Airbnb is another option, although that does take a little bit of planning. Taxies are not in style, so make sure you have a Lyft and Uber account loaded prior to arriving. Take a picture of your ID and make sure "find my iPhone" is on.
Item Six: Make Amends
If you're a married guy whose wife has generously let you enjoy a boys weekend, reward her. It's no secret that Las Vegas has some of the best shopping in the world at any one of the numbers of Las Vegas Casinos, so take some of those (hopeful) winnings and treat the lady in your life. The Forum at Caeser's is a great place to search for a start to say you're sorry for maxing out that credit card.