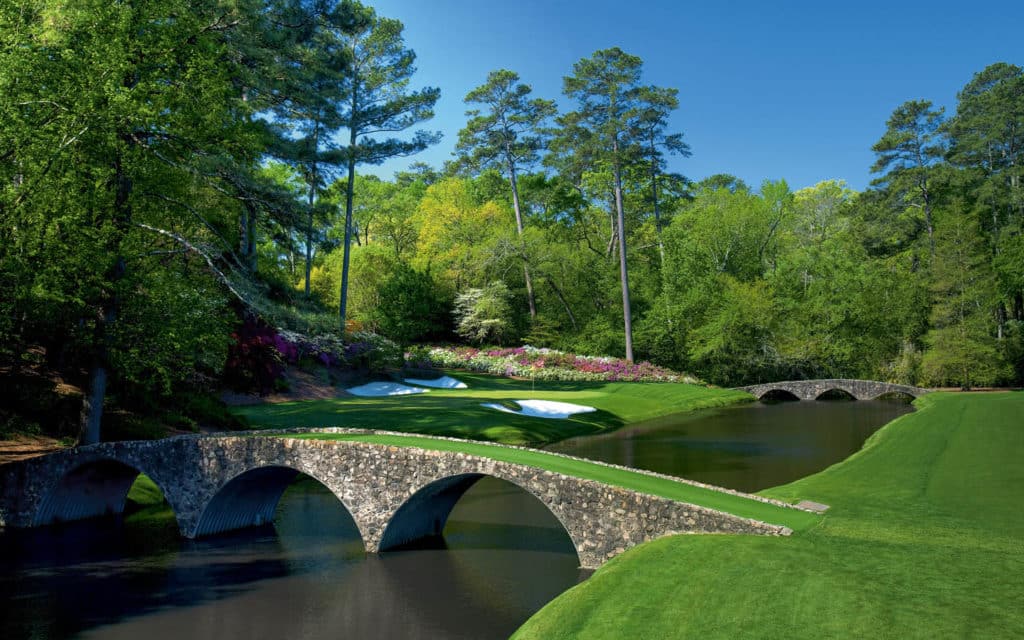 If you've been following along with this particular corner of SportsGamblingPodcast.com, the central theme of this blog has been tournament by tournament course previews, betting picks and suggested DraftKings Lineups, and beating back the horde of Tiger Woods Kool-Aid Drinkers who are just convinced he's ready to complete another Tiger Slam.
And while you'll still get your recommended DraftKings Lineups at the end of the article to get in your weekly fix, we're going to talk about the other art of gambling on golf – betting futures.
Betting futures in golf is a lot different than in other sports. In the NFL, for example, you can look at futures odds in relation to how a team's schedule is upcoming and if their odds might rise on the back of a winning streak, or if there's a window where they could hit a rough patch and you can grab them at a better price.
Forecasting an outcome in golf months from now isn't quite as simple. It's hard enough to figure out on a week to week basis if a golfer will show up to a tournament with his A game or his C game. Try forecasting that out 3 months from now where the difference between a missed cut and a major championship may come down to a half a degree swing plane flaw that could either be corrected or wreck havoc at any given moment. And unlike other sports where you can watch a team play a game in its entirety, you might only get one or two shots on the telecast all weekend to help form an opinion of the health of a golfer's form. You're almost doing it completely blind and hoping any statistics you rely on are telling the full story.
As a general rule of thumb when betting golf futures, a golfer's odds will generally go lower between now and the start of a tournament. Having patience can pay off. Major swings in the market, save for blue-chip golfers like Tiger, Phil, Rory, Spieth etc. won't be driven by the volume of tickets, sharp action or money flowing in on them. The books usually will adjust their prices based on performance on a week to week basis, and it'll either take a win or a string of strong Top 10 performances to see the odds rise. For most golfers, particularly someone hovering 50/1 or lower and isn't on a hot streak, if you like them now you can get a better price on them later on as the market adjusts.
So how do you identify guys to target? Here are a few key ground rules when looking to place early bets on majors:
Course Fits: Like you would for any run of the mill tournament, figure out well in advance what types of golfers do well at the course where they'll tee it up. For the Masters, this task is relatively easy as it's played on the same track year over year, with the only variable being the weather. For the other majors, though, this involves scouring the internet to try and find clues of how tournament directors will set up the golf course and pick attributes that fit for how you think the course will play.
Current Form

:

Compare a golfer's recent results to his ball striking and putting stats. Is a guy on point with his driving and iron game but costing himself positions on the leaderboard with a cold putter? Or has he played like a magician and hit out of trouble for miraculous birdies and par saves. Putting is much more fickle than ball striking, so guys who can show consistent performance from tee to green generally have a better shelf life than those riding a hot flat stick. And a cold putter can easily be turned around in a short period of time. That'll help you pinpoint guys who are undervalued or those that'll start to cool off.
Forecast Form: How do you think a golfer will fare over the next four weeks? For example, if you want to put down a bet on Rory McIlroy to win the Masters at a better price, place that bet before he tees it up at the Dubai swing on the European Tour as these are events he typically dominates. Most guys generally play the same set of tournaments year in and year out. If you can match up their current form to a favorable stretch of tracks they'll tee it up at, you could get ahead of the market before their odds go up,
Get Into A Routine: Make it a habit to check the future odds on your sportsbook every Monday morning to see how they've adjusted after last week's tournaments. There won't be a lot of changes week to week, but if you make it a repetitive habit you can identify who's moving up and down the board quite easily. You'll naturally start to see trends of how your book prices golfers on a week to week basis to help you better identify values and the right time to put down a bet.
Doing these four things is vital towards helping you pick futures for Majors. By getting in at the right time and at better values, you'll be able to allocate less capital on more golfers to give you a better chance on cashing a lucrative win ticket and pulling in higher net profits on the tournament.
Here are a few notable trends for Masters Futures Odds I've had an eye on, with their beginning of the year and net change in odds in parenthesis.
2018 Masters Odds Risers
Tommy Fleetwood – 40/1 (50/1, +10)
Tommy Fleetwood is next in line to be the next great English golfer. He's not just considered one of the best ball-strikers on the European Tour, but one of the best in the world. And he's taken this superb ball-striking up a meteoric rise in the World Golf Rankings over the last 12 months from 100th to begin 2017 to now 13th heading into the Genesis Open this week. After starting the year at 50/1 to win the Masters, Fleetwood defended his title at the Abu Dhabi HSBC Championship to push his odds up to 40/1.
A common misconception of Augusta National is that you have to be a good putter to win the Green Jacket (a narrative not helped when the likes of Tiger Woods, Phil Mickelson, and Jordan Spieth have dominated there). But since the course has been "Tiger-proofed" it's become much more important to be proficient tee to green. We've seen that of late with recent winners Charl Schwartzel, Bubba Watson, Adam Scott and Sergio Garcia, who'll notoriously rank low in Strokes Gained-Putting statistics but possess tremendous driving and approach shots in their game. Fleetwood fits this mold as well. Between his great form and an upcoming schedule of high profile events, he's had past success at, I wouldn't be surprised if his odds climbed as high as 25/1 by the time the Azaleas are in bloom. If you like him, buy now at 40/1 before he climbs up the odds charts.
Marc Leishman – 45/1 (60/1, +15)
The Big Game Hunter's rise in odds vexes me. He's been good, not great, so far in 2018 with a 7th in a limited field at the Tournament of Champions and a T8 at Torrey Pines as his only notable finishes of the year. To see the books adjust Leishman's odds to those of Sergio Garcia and Tommy Fleetwood without a win or better results are surprising.
Leishman certainly has it in him to win a Green Jacket, as he held the lead after the first round of the 2013 Masters on his way to a T4 finish. And over the last 6 months, his ball-striking has tremendously improved to the elite level needed to win at Augusta. But I much prefer his odds at 60 or 70/1 than the level they are at now. There's a good chance his odds will cool off to where they should be while still playing solid enough golf to warrant consideration as a potential winner. Wait it out and check his temperature around NCAA March Madness before you look to put down any early capital on him.
Brian Harman – 100/1 (135/1, +35)
The ability to hit the ball from right to left has been a key attribute for several Masters Champions throughout the years. This shot is particularly important on the tee shots at holes number 2, 9, 10, 13, and 16 and on the approaches of holes number 1, 3, 5, 8, 10, 11, 15 and 18. That's why we've seen several left-handed winners like Phil Mickelson, Bubba Watson, and Mike Weir, as it's much easier for them to hit an accurate fade than it is for a right-handed golfer to hit an accurate draw.
So between his recent play and God's plan to have him swing from the opposite batters box, Brian Harman has seen his Masters odds on the rise since the turn of the calendar. He went toe to toe with Dustin Johnson at the Tournament of Champions and hung around the top of the leaderboard all weekend at the Sony Open to help propel him to a career high world ranking of 20th.
But anyone who bought in early hoping they have a sleeper in Harman probably have fools gold.  Harman's natural ball flight is actually a draw, which is the opposite of what you'd like from a left handed golfer at Augusta. It's a recipe for disaster any time a golfer has to change their game to play at Augusta (Martin Kaymer is nodding violently in the corner, still in denial he can perfect a high draw following yet another missed cut at the Masters). Besides, sometimes when you bet on the Masters it comes down to if you can imagine a guy slipping on the Green Jacket and shaking hands with Jim Nantz in Butler Cabin. Color me dubious a guy like Brian Harman will ever be serving Sweet Peach Tea, Chicken and Dumplings and Georgia Peanut Butter Pie at a Champions Dinner. Don't waste your money here.
2018 Masters Odds Fallers
Paul Casey – 50/1 (35/1, -15)
Like Leishman, Paul Casey has moved in the opposite direction of what his recent form would suggest. It's most likely due to only teeing it up twice and his overall lack of exposure to mainstream golf fans so far in 2018. But he's 2/2 at posting Top 10's in 2018 and with several high profile events upcoming that he'll tee it up at, a few more good finishes and he'll start climbing back to odds he was at in January.
Casey's game was lost at the beginning of this decade, but he's rediscovered the elite ball-striking that once propelled him to 3rd in the world. Casey has posted three straight Top 10's at Augusta and seems primed to end a winless drought that stretches back three and a half years. Anywhere from 50-60/1 on Paul Casey is probably a good value for him for The Masters, and I wouldn't oppose getting out ahead of the market and put down capital now before his odds start rising again.
Adam Scott – 60/1 (40/1, -20)
60/1 for former Masters Champion Adam Scott seems very low, but his play over the last 12 months has warranted it. He's fallen all the way down to 51st in the world and hasn't posted a Top 10 at any worldwide event since last June.
So what's the problem? It's hard to say. While his strokes gained stats has slipped a bit, they're still solidly inside the Top 30 and at levels more than good enough to win on the PGA Tour. If I had to diagnose the problem it'd be that he's missing greens more often than he has in the past, and that's caused his deficiencies in his short game and putting to be more exposed on the scorecard.
Adam Scott was absolutely atrocious at Pebble Beach last week, so we might not be at his bottom of where his odds could be between now and the Masters. But he has such a strong history of success at Augusta National that he needs to still be on your radar, particularly when his odds are this low. Keep and eye on him as he heads towards courses he has a good track record at – Riviera, PGA National and Bay Hill. If he starts posting some consistent Top 30 finishes and is maintaining solid strokes gained tee to green stats, it might be time to take a look on him to claim his 2nd Green Jacket.
Charley Hoffman – 75/1 (60/1, -15)
Let's get one thing straight – Hoffman shouldn't be anywhere near 75/1 to win the Masters, let alone at the 60/1 he was priced at in January after his near miss at the Hero World Challenge.
But would I like him as a, say, 110/1 flyer like where he was at last October? Sure, I can be talked into that. His ball striking stats are what you'd want in your prospective Masters Champion – 27th Tee to Green, 15th Off the Tee and 55th on Approach in the Strokes Gained categories in 2017, and with a small sample size in 2018 he's 52nd in Strokes Gained Tee to Green despite some pretty lackluster performances so far. And he's the type of grinder you may want to back if Augusta's only defense, the wind, kicks up like it did last year when he shared the lead with Sergio, Fowler and Thomas Pieters after 36 holes.
Given his recent play of late, I would expect his odds to return to more reasonable levels and settle back between 100-125/1. But if you like living on the edge and want to hold onto a 100/1+ golfer to shock the world and win you a bunch of cash, Charley Hoffman wouldn't be too bad of an option.
The Genesis Open
This week the PGA Tour tees it up at the famed Riviera Country Club in Los Angeles for the Genesis Open. The field is absolutely stacked this year with big names such as Dustin Johnson, Jordan Spieth, Justin Thomas, Rory McIlroy, and more.
Oh, and there's a certain 14 time major champion who also will be teeing it up this weekend that you may have heard of.
Riviera is a golf architecture nerds wet dream, as the design of the course emphasizes strategy and shot placement instead of overpowering the track. It's a course where you continually will be thinking a shot ahead to put yourself in position for lower scores. Andy Johnson of The Fried Egg wrote a spectacular overview of Riviera, so for an in-depth preview of the course itself, I most certainly recommend using that as a resource.
The Genesis Open should be a ball striking fiesta, so for your DraftKings Lineup, you should target guys who excel in Strokes Gained Tee to Green with an emphasis on Strokes Gained on Approach. And because we've accumulated enough tournaments under our belt in the 2018 season, we can start to rely more on current data from PGATour.com to identify golfers in prime form that excel in those stat categories. Your lineups might feel a little chalky, but given the deep field, you'll be able to differentiate yourself enough to fare well in large contests this week.
Here's a smattering of golfers I like given their DraftKings price range:
$9,000-$10,000+: Dustin Johnson ($11,900), Justin Thomas ($10,700), Paul Casey: $10,200, Tommy Fleetwood ($9,500)
$8,000-$9,000: Alex Noren ($8,700), Marc Leishman ($8,500), Tony Finau ($8,200), Chez Reavie ($8,000)
$7,000-$8,000: Brendan Steele ($7,900), Kevin Streelman ($7,800), Kevin Chappell ($7,700), Keegan Bradley ($7,600), Patrick Cantlay ($7,600), Ollie Schniederjans ($7,600), Charles Howell III ($7,300), Francesco Molinari ($7,200), James Hahn ($7,100)
<$7,000: Martin Laird ($6,900), Ryan Armour ($6,900) Brandon Harkins ($6,800), Bud Cauley ($6,700), Tom Hoge ($6,600)
Genesis Open DraftKings Lineup #1
Dustin Johnson – $11,900
Chez Reavie – $8,000
Brendan Steele – $7,900
Kevin Streelman – $7,800
Patrick Cantlay – $7,600
Brandon Harkins – $6,800
Genesis Open DraftKings Lineup #2
Justin Thomas – $10,700
Marc Leishman – $8,500
Tony Finau – $8,200
Kevin Chappell – $7,700
Ollie Schniederjans – $7,600
Charles Howell III – $7,300
Genesis Open DraftKings Lineup #3
Paul Casey – $10,200
Tommy Fleetwood – $9,500
Alex Noren – $8,700
Keegan Bradley – $7,600
Francesco Molinari – $7,200
Bud Cauley – $6,700