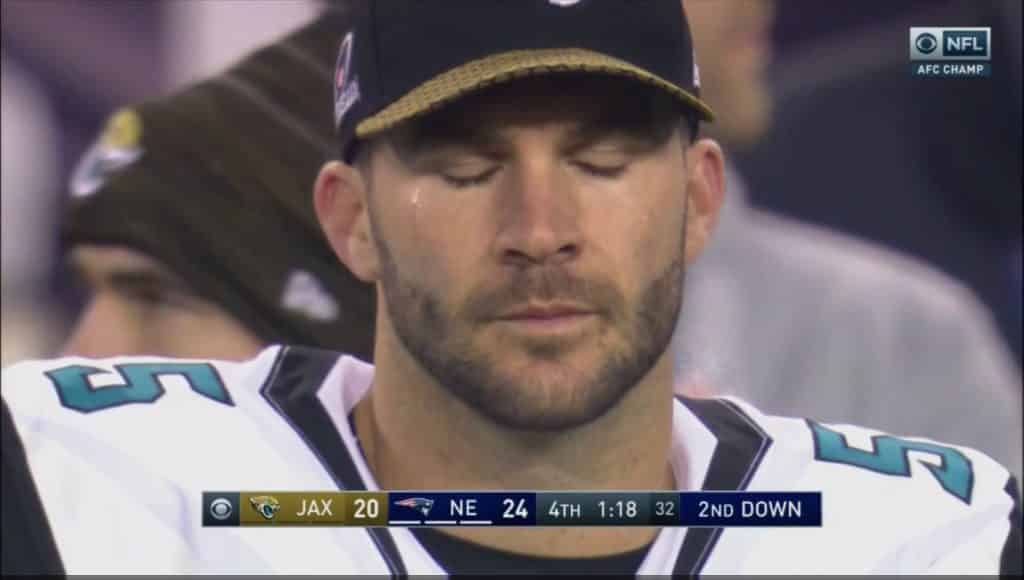 And then there were two.
As Heath Ledger so iconically stated as The Joker, "Some people just want to watch the world burn." Count me in, as NFL fans around the globe were almost treated to a Blake Bortles Vs. Case Keenum Super Bowl as both teams jumped out to an early lead but neither could hold it together for four quarters. Reason and talent won out, however, as New England advanced again in the AFC (although failing to cover as 7 point favorites) and Philadelphia came through for the second straight week as a home underdog (+130 moneyline.)
Myself and everyone here at Sports Gambling Podcast will have a ton of content coming out in the two weeks leading up to the Super Bowl, but for now, let's take a look at the week that was.
New England Patriots: 24 Jacksonville Jaguars: 20
After jumping ahead to a 14-3 lead, New England was once again available in the live betting market as a PK and even at its peak, +2.5 and +200 on the money line. Bettors who once again put their faith in Tom Brady and co. were rewarded as a 14-3 fourth quarter put New England into yet another Super Bowl. For the level of hate that Blake Bortles gets you certainly can't put this loss on him, as he went 23-36 for 293, a touchdown, and more importantly, 0 interceptions. In the end, Jacksonville just asked a bit too much of their defense and couldn't close it out. Some notes from the prop market, Blake Bortles went over his passing yards prop (set at 220) for the first time this postseason and conversely, Leonard Fournette went under.
From the New England perspective, the slow start has been a fantastic way to make money on in-game wagering as New England was -4 on the live spread when they were down 7-0 to Tennessee. During the 14-3 Jacksonville lead, they could be had for +200 on the money line or +3.5 on the point spread. One thing that is of note, is that New England has yet to score a touchdown in the first quarter of the playoffs this season, and more importantly have yet to score a touchdown in the first quarter of the last 7 Super Bowls that Tom Brady has been the quarterback in.
With the absence of Julian Edelman and most recently Rob Gronkowski, Danny Amendola has crushed his prop market totals with an 11/112 line against Tennessee and a 7/84/2 line against one of the best pass defenses the NFL has ever seen. Dion Lewis and James White also combined for 10 receptions for 55 yards in this matchup-which bolds well for their Super Bowl market as Philadelphia allowed 11 catches for 86 yards to Jerrick McKinnon.
As far as next season goes, the hot topic will be what Jacksonville does with Blake Bortles. If they release him prior to March 1st, Jacksonville will be completely free of Blake Bortles 19.1 million dollar cap hit. Yes-Blake Bortles 5th year option goes from $6 million to $19.1 million-and there's a certain head of football operations who has a nice past with one Eli Manning. Case Keenum and Sam Bradford will also both be available.
Philadelphia Eagles: 38 Minnesota Vikings: 7
Believe it or not, this game was at one point actually led by Minnesota, as Case Keenum connected with Kyle Rudolph for a 25-yard touchdown with 10:14 remaining in the first, but it was all downhill from there as Philadelphia rattled off 38 unanswered points. There has been no bigger critic of Nick Foles since he took over, and he flat out proved everyone wrong in this game. Aside from his first start against a Giants team who had quit-Nick Foles was actually only responsible for 7 points up until this point as every other point had come from a running back, field goal, or Philadelphia's defense. A betting angle that was great to exploit during this run was Philadelphia's team total, as it was 4-0 both first half and full game if you had taken the under. That wasn't the case in this one, as Nick Foles exploded for a stat line of 26/33 for 352 yards and three touchdowns.
The nagging toe injury to Xavier Roades no question hurt-especially when it came to Alshon Jefferey who hauled in 5 receptions for 85 yards and two touchdowns. , Roades had held Julio Jones to 2 catches for 24 yards, AJ Green to 2 catches for 30 yards, Golden Tate to 4 catches for 7 yards, Jordy Nelson to 60 yards, and Antonio Brown to 62 yards-just to name a few-prior to this one-putting Jefferey well over his prop yardage of 64.5 yards. But make no mistake, Nick Foles was efficient, decisive, and flat out balled out on this Vikings defense that had been so stout.
Embracing the role of the home underdog, Philadelphia's defense came to play as the stats may not tell the whole story of Case Keenum's day. Keenum completed 28/48 for 271 with one touchdown and one interception (a pick-6) which on the surface don't look that bad, but as anyone who watched this game will tell you, Keenum just didn't have it today. With a receiver core of Stefon Diggs and Adam Thielen, his top weapon was Jerrick McKinnon (11/86) which is exactly what Philadelphia wanted. Aside from some garbage time, Diggs and even more so-Thielen were held in check. The better team won in this one, and it wasn't close.
Opening Super Bowl LII line: New England (-5.5) Vs. Philadelphia Eagles
Total:47.5
As a whole, this NFL postseason was the year of the underdog, which is a welcome sight to professionals as this regular season was largely dominated by favorites. Some final NFL post season stats:(Courtesy of Covers.com)
Underdogs: 9-1 ATS
Home Teams 3-7 ATS
Home Favorites 1-7 ATS
Home Underdogs 2-0 ATS
Over/ Under: 5-5