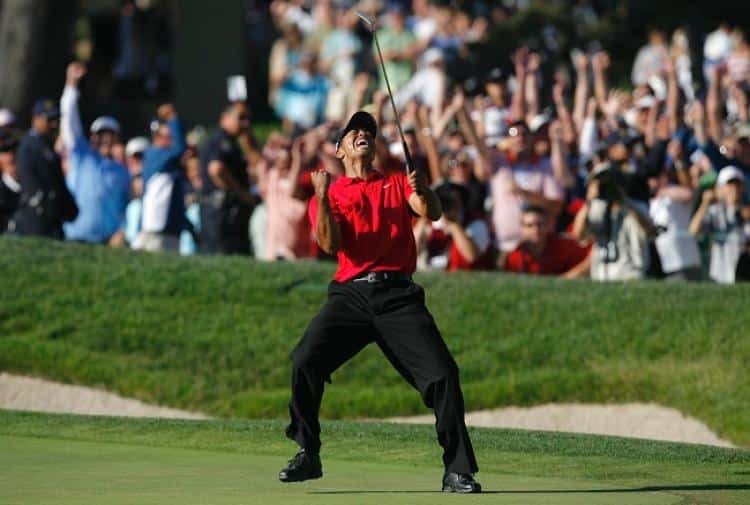 The executives at CBS and Golf Channel must be popping plenty of champagne bottles this week. No, it has nothing to do with the rumors that the Golf Channel technicians will likely end their strike this week, which caused havoc for the already low rated final round coverage of the CareerBuilder Challenge. It has everything to do with golf's biggest star making his grand return to the PGA Tour on a weekend where its main competition is the Pro Bowl and Virginia vs. Duke in college hoops.
When you think about the courses Tiger Woods has dominated over his illustrious career, there's five that immediately come to mind: Augusta, Bay Hill, Firestone, Muirfield Village, and Torrey Pines, the site of this week's Farmers Insurance Open in La Jolla, California.
Here's Tiger's finishes at Torrey Pines from 1998-2013:
3rd, WIN, T2, 4th, T5, WIN, T10, WIN, WIN, WIN, WIN, WIN (U.S. Open), T44, WIN
He OWNS Torrey Pines, and it's domination like this that sparked a dramatic redesign of South Course in 2002.
The redesign of the South Course was part of the "Tigerproofing" Era in golf, where several prominent courses were lengthened, greens were rebuilt and bunkers were added in an attempt to level the playing field (aka help prevent Tiger from embarrassing guys like Chris DiMarco and Woody Austin every weekend). Rees Jones was charged with the redesign and added over 500 yards to the scorecard thanks to repositioned tee boxes and, on some holes, relocated greens. In addition, several fairway bunkers were added to try and give golfers pause to pulling out the driver, and greens that were once sloped became tiered and flattened, a notorious calling card to most Rees Jones designs.
But like most attempts to "Tiger Proof" golf courses it simply made his domination at these venues almost a foregone conclusion. Tiger possessed such an advantage with length both off the tee and on approach shots that lengthening it even further for his competitors only made things worse. And in the case of Torrey Pines South, most amateurs who tee it up there were none too thrilled with the redesign, particularly with the increase in difficulty and their dissatisfaction with the rebuilt green complexes.
They, along with most armchair golf architects, prefer the North Course, which the players will also get a chance to play in the first or second round. The North Course plays much easier than the South, playing at a manageable 7,200 yards from the tips and for the most part has stayed true to the original design by William Bell in 1957. In 2016 the course underwent a renovation but instead of increasing the difficulty like its brother in the South did, Tom Weiskopf removed bunkers, increased green sizes and flipped the nines so that the Back 9 plays more along the Pacific Ocean for spectacular views to bring you home. The reviews have been relatively well received to make it a much more enjoyable golf experience for the average golfer.
Once again, the Sportsbooks are offering the very popular Tiger Woods Props this weekend. John Q. Square loves to bet on these, and the books love to collect from John Q. Square thanks to overeager Tiger backers who think he'll turn back the clocks to his glory years with heavy juice and bad prices.
Let's go over a handful of notable props to consider on your betting tickets this weekend:
Will Tiger Woods Hit the Fairway On His Opening Tee-Shot: Yes -180, No +145:
Back at the Hero World Challenge, Tiger pulled out the driver at the opening hole and barely hit the fairway, cashing in for all the Tiger believers out there who bought into the pre-tournament hype that he was going to put on a strip show.
This week, the juice is way, way out of control on Yes, and I wouldn't be surprised as we get more positive reports from @GCTigerTracker that you might have to lay 2/1 on him hitting the fairway Thursday morning.
True to form, the propaganda being pushed out this week rivals that used to describe Kim Jong Il's golf game, as I've been seeing these types of tweets flooding my timeline in the past 48 hours:
But those who are rushing up to the counter and put faith in the GOAT aren't doing their homework. Let's take a look from the first tee at what Tiger will be staring at:
This will not be an easy opening tee shot for Tiger on the South Course on Thursday. For one, the fairway is only 27 yards wide, which is much narrower than the 45-yard landing strip he enjoyed at opening hole of the Hero World Challenge in December. The left fairway bunker is long and requires a carry of 310 yards to cover, while the second fairway bunker on the right requires about 280 yards to carry. Even so, Tiger will probably still pull driver as he looks to hit a cut down the dogleg that starts 260 yards from the tee to set up a manageable wedge into the green.
The problem, though, is when Tiger missed with the driver at the Hero they were blocks to the right as he set up for that cut shot. He'll also have to hit that cut into a wind coming over those rightside bunkers, and if he balloons a bit offline it could get knocked down and land in the rough near that far right bunker or in the bunker itself.
Given how intimidating this hole sets up and the shot required for him, I think there's some value in NO on this prop. Keep an eye on it tomorrow and watch Twitter for any signs you might get a better price. If not, I think +145 provides some pretty good value that lets you lessen the buzzkill of Tiger not getting off to a great start on Thursday morning.
Will Tiger Woods Make the Cut: Yes -200, No +160
Something is fishy here. You're telling me that, even as good as he looked at the Hero World Challenge which was played on what amounts as a glorified resort course, he'll be able to avoid a clunker at the tough South Course and be one of the top 70 golfers to make the weekend during his first official start back in over a year? And not only that, he's -200 to make it over a very talented field?
It seems like they're begging the contrarians like me to jump on No here. There's a lot that can go wrong for him. What happens if he bombs out on the South Course on Thursday? Will he press too hard and make some mistakes on Friday? Will he go through the motions and just look to make some progress before he tees it up at Riviera next weekend? What happens if he's rusty around the greens like he was at the Hero? The deep rough around the greens at Torrey Pines will hurt him a lot more than when he missed greens at Albany.
And, yet, I have this feeling in my gut that this time is different. His swing doesn't look nearly as mechanical, forced and awkward like it did during his last comeback in 2015. Maybe the hype around him is real and he's closer to contending and, **gasp**, winning on tour than I'm giving him credit for. Or, maybe this is the books playing funny business and having their cake and eat it too. They're forcing anyone who likes Yes to way overpay, yet baiting anyone on No into an unfortunate doom on Friday.
I don't recommend betting this one. There's simply no value on Yes here. Instead, I offer this alternative as a better bet for anyone who wants to jump on the Tiger bandwagon this weekend…
Tiger Woods Lowest Round – Over/Under 69.5 (-110)
If you feel that Tiger is going to make the weekend, then he's going to have to put up a decent number on one of his two rounds, especially at the easier North Course. Often times the weather conditions dictate what type of tournament and scores we'll be seeing on the leaderboard (more on this in a bit), but the winds don't look fairly strong in the first 2 rounds and temperatures will be at a comfortable mid to upper 60's. The course shouldn't have as much teeth as it could, and there should be low numbers out there before we head into the weekend.
I'd rather bet on Tiger going Under 69.5 for his low round of the weekend at a better price than risk the wheels completely falling off on Thursday put him behind the eightball to make the cut. Even if he bombs out on Thursday, there's a chance he gathers himself and puts up a good round on Friday at the easier North Course. Put down this one so you not only can cheer him on for your wallet, but also for the nostalgia he turns back the clock and delivers some magic over the weekend.
Should I Put Tiger Woods in my DraftKings Lineup?
HELL NO. There's not enough upside with a price tag of the 5th most expensive golfer on the board. Don't we need to see some proof of life in a full field event first before we start building our lineups around him? Even if you have faith in Tiger this weekend, his ownership percentage is going to be through the roof with people losing their minds to play him in DFS. And with a deep field, there's so many better, safer golfers to stack your lineup with at much lower prices.
So who should you look to build around in DraftKings? Well, like I mentioned earlier the tournament can play out one of two ways depending on how Mother Nature is feeling. If the winds are up and the temperatures drop, then the top of the leaderboard will be comprised of mostly small ball hitters where par is key. The 2016 leaderboard is a great example of this, where the weekend was hit with horrific weather and forced a Monday finish.
Brandt Snedeker, who would never be confused with Dustin Johnson on the driving range, put up the round of a lifetime on Sunday, somehow carding a final round 69 when the average final round score of the field was 77. He actually was in the clubhouse in a tie for 3rd behind other short game specialists K.J. Choi and Freddie Jacobson before play was suspended for the day on Sunday. That allowed keen bettors who were aware of the blustery conditions to lay 3/1 on him overnight to win the tournament, then sat back with him to watch everyone around him falter to give him the win. Easiest golf bet myself and others have probably ever cashed.
But if it's favorable conditions, then it should be a bombers delight and favor longer hitters who are able to hit over the hazards that were intended to level the playing field for all. The weather conditions look pristine this weekend with light winds and very tolerable temperatures, so there should be good scoring conditions for longer hitters off the tee and those who score well on longer approaches.
Over the weekend, everyone plays the South Course and it's built to host U.S. Opens, so all the stats you'd look at when handicapping that event come into play here. Stats like Strokes Gained Tee to Green and Approach, Greens In Regulation, and Par 5 Birdie or Better % are king this weekend to help you field a winning DraftKings lineup.
Here are a few sample lineups I'll be playing this weekend:
Sample DraftKings Lineup #1:
Hideki Matsuyama: $10,800
Justin Rose: $10,600
Francesco Molinari: $7,400
Charley Hoffman: $7,200
Lucas Glover: $7,100
Stewart Cink: $6,800
Sample DraftKings Lineup #2:
Justin Rose: $10,600
Patrick Cantlay: $9,500
Tony Finau: $8,700
Keegan Bradley: $7,200
Charley Hoffman: $7,200
Robert Garrigus: $6,600
Sample DraftKings Lineup #3:
Rickie Fowler: $11,400
Marc Leishman: $9,200
Jhonattan Vegas: $7,700
Kyle Stanley: $7,700
Francesco Molinari: $7,400
Chesson Hadley: $6,800