Thank God there's gambling. Because it is really, really difficult to get amped up for the CareerBuilder Challenge.
Before I turn into Negative Nancy, let's go over a few things to look forward to this weekend at PGA West in Palm Desert:
Phil Mickelson makes his first start this calendar year. Anytime Phil Mickelson tees it up at an event, it's must-see television. You never know when Phil will try something insane like attempting to hit it over a pine tree 20 yards in front of him or hitting righty out of a cactus bush. Phil will be good for one or two WTF moments this weekend that'll leave you laughing at his insanity and marvel at his magic.
Jon Rahm also tees it up at the CareerBuilder Challenge after finishing 2nd at the Sentry Tournament of Champions two weeks ago. Rahm has rapidly ascended the World Golf Rankings in the last 12 months, starting at 137th in the world last January and climbing all the way to 3rd thanks to a stellar 2017 campaign. Not only does he mash the ball, he tends to be a bit of a hothead that makes for some pretty entertaining television. Hopefully, he'll be in contention all weekend to give more air time to his talented play and his molten hot blowups.
Any event that features Mr. "Grip It and Rip It" himself revs up the fun factor. No, you shouldn't bet on John Daly in any format this weekend. Yes, it's ok to laugh at his crazy outfits, when he fires through his 12th cigarette by the turn and the hundreds of retweets this GIF will get on Twitter this week:
Now…the bad news:
As a golf fan, when I watch a golf tournament my interest in the event often hinges on if I'd like to play at that course. The last two weeks we were treated with the Hawaiian swing, which featured the fantastic views of the Pacific Open and Hawaiian Beaches at Waialae and Kapalua. Over the next few weeks, we'll be treated with the legendary Torrey Pines, Pebble Beach and Riviera and all their rich history, as well as the incredibly lit 16th hole of PGA Mardi Gras (aka the Waste Management at TPC Scottsdale on Super Bowl Weekend). This time of year is when the PGA Tour plays some of the more visually pleasing and fun events on the schedule and makes me green with envy that these guys get paid millions to play these tracks.
But the CareerBuilder Challenge is the awkward middle child of the PGA Winter Schedule Family. For one, outside the names I mentioned previously, the field this year is incredibly milquetoast. Sure, it doesn't help that the European Tour bumped back one of its flagship events, the Abu Dhabi HSBC Championship, to this weekend and took with it almost all of the top European stars and top Americans like Dustin Johnson, Matt Kuchar and Bryson DeChambeau. But even so, this event has consistently struggled to attract intriguing, fiery and exciting players. No offense to the CareerBuilder regulars like Zach Johnson, Bill Haas, Brandt Snedeker and Webb Simpson – if I want a solid nap, having them at the top of the leaderboard surely will do the trick.
More importantly, though, the three courses that comprise of the CareerBuilder Challenge aren't exactly the crown jewels of the PGA Tour. Each golfer this weekend will tee it up at the Stadium Course, the Nicklaus Tournament Course and La Quinta CC over the first three rounds before the field is cut to the Top 70 and ties. The Final Round will be played at the Stadium Course, which is the toughest of the three.
The Nicklaus Tournament Course and La Quinta CC are both fairly benign. Each is relatively short Par 72 tracks where most should be able to hit past any fairway hazards to set up a short wedge or 9 iron into a receptive green. In an event where the winner often blows past -20, those two courses will be where players score the most. Other than the birdie bonanza, though, these two courses play fairly vanilla.
The Stadium Course, on the other hand, is mired in controversy. It was first introduced to the event, then known as the Bob Hope Classic, in 1987 and it was met with fairly hostile reviews from the players. So much, in fact, that the players formally petitioned the PGA Tour to ban the event from playing there again!  In 2015, though, it was reintroduced to the format and will continue to serve as a primary site for the event for the foreseeable future.
Normally when players complain about a golf course setup I feel very little sympathy for those snowflakes. But they may have a point on this one. In a personal, superficial opinion on the Stadium Course, the course is visually ugly. During winter the Bermuda rough is dormant, creating wide swaths of brown grass lining greens and fairways on the television set. Nobody this time of year, particularly those who live in the tundra-like I do, wants to see this landscape at a professional golf event.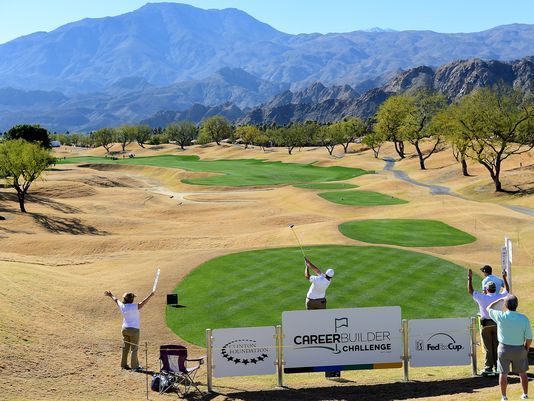 More importantly, though, the Stadium Course fits the theme of a quote that lays at the bottom its website from its architect Pete Dye – "Golf is not a fair game, so why build a fair course". It's widely reviewed as a disaster of golf architecture and no fun to play. There are several articles on the internet that rail against how foolish some of the designs of the holes are that I'll let speak for itself. I'll just leave this video from the greenside bunker at 16 as the sole piece of evidence I'll introduce to the jury:
What? No clowns mouth?
But like I said at the beginning, thank you to the gambling gods to give us something to root for this weekend. Here's who I like for betting tickets and DraftKings Lineups:
The Favorites:
Jon Rahm: 8.5/1, $11,800
Brian Harman: 14.5/1, $11,500
Patrick Reed: 19/1, $11,100
Kevin Kisner: 20/1, $10,400
Phil Mickelson: 20/1, $10,000
Webb Simpson: 21/1, $9,700
As mentioned earlier, the event is normally a birdie fest thanks to the Nicklaus Tournament Course and La Quinta CC playing like a souped up resort course. In looking at the past few years, tournament Top 10's are littered with guys who are fairly strong off the tee and able to bomb tee shots over any trouble for relatively short approaches. In prepping for the event, it shouldn't be a surprise if you end up liking a lot of the same golfers that you did last week at the Sony Open, as it'll take good iron play 150 yards and in to set up multiple scoring opportunities on very receptive and easy greens at the Nicklaus Tournament Course and La Quinta. After that, all bets are off once they head to the Stadium Course for the final round.
I don't see any flaws with tournament favorite Jon Rahm this week and would endorse building your DraftKings lineup around him or putting down a big Win Bet at 8.5/1. While I don't often recommend betting on golfers at that short of odds, Rahm is one of the premier drivers on tour ranking 3rd in Strokes Gained Tee to Green and 2nd in Strokes Gained Off the Tee in 2017, and ranking 7th and 5th in those two categories in the early part of 2018. Often it's his temper that puts him out of contention, but if his head is on straight this weekend I don't see any reason why he can't boat race a weaker field and take home the tournament.
But if you'd like to gravitate towards one of the longer favorites, I'd go right back to the well on Webb Simpson like you hopefully did last week. Simpson had a phenomenal weekend, rocketing up the leaderboard from T47 after Round 2 to T4 thanks to a -12 weekend. Webb was solid in almost all facets of his game at Waialae, ranking 14th in Strokes Gained off the Tee, 20th in Strokes Gained on Approach and most importantly 19th in Strokes Gained-Putting. If he can avoid a dud round, continue to play solid all-around golf and putt that well this weekend, then I love building around his $9,700 DraftKings Value and putting down capital at his 21/1 Win Odds and in tournament matchup props.
Other Contenders:
Brendan Steele (35/1, $8,900) and Chez Reavie (40/1, $8,800)
Like last week, there's a lot similarly valued golfers in the 30/1 – 60/1 price range that could be quite profitable this weekend. However, these two are my favorites from that group to put down longer win bets or throw into your DraftKings lineups. Brendan Steele had a pretty poor Tournament of Champions, but he finished Top 10 at this event in two of the last three years and is one of the best drivers on tour. So far in 2018, he ranks 6th in Strokes Gained off the Tee and 13th in Greens in Regulation, so he should have plenty of opportunities for low scores if he can get back to his normally superb ball striking.
Chez Reavie was a fairly popular play last week at the Sony Open thanks to his strong course history, but he put very poorly and faded to a T18 finish after spending a lot of the weekend in the Top 10. That might drive down his ownership a bit after leaving a few backers with bad tastes in their mouths, but he still led the field in Strokes Gained Tee to Green. If his putter gets hot he'll be right back in the Top 5 and could compete for the title.
Lucas Glover (70/1, $7,500)
Lucas Glover has enjoyed a nice revitalization to his career over the last year. Rock bottom for the 2009 U.S. Open winner came in 2015, where he fell to 634th in the world thanks to a decline in ball striking and a severe case of the putting yips.
Though he still has a bit of an issue on the greens, Glover has reclaimed his reputation as one of the best ball strikers on tour and climbed back into the Top 100 in the world thanks to a string of solid, consistent performances. His affordable DraftKings value helps offset some over inflated prices of a weaker field, and I wouldn't be surprised if you're able to cash in a 6/1 Top 10 bet on him this weekend as well.
Nick Taylor (160/1, $6,800) and Brandon Hagy (170/1, $7,100)
Here's a pair of affordable golfers who average over 300 yards off the tee and set themselves up for short approaches for birdie opportunities. When Hagy is on, he's a birdie machine ranking 67th in birdie percentage in 2017 and 52nd so far in that category in 2018. As for Nick Taylor, he had a solid Fall by posting Top 15 finishes at the Safeway Open and the CIMB Classic, and he ranks solidly in Strokes Gained Tee to Green and One Putt % in 2018. I like each of these as cheap options for your DraftKings lineup and longshot Top 20 plays at 6/1 and 6.75/1, respectively.
Sample DraftKings Lineup #1
Jon Rahm – $11,800
Brendan Steele – $8,900
Lucas Glover – $7,500
Kevin Streelman – $7,500
Jhonattan Vegas – $7,500
Nick Taylor – $6,800
Sample DraftKings Lineup #2:
Webb Simpson – $9,700
Chez Reavie – $8,800
Bud Cauley – $8,400
Charles Howell III – $8,000
Luke List – $7,600
Brandon Hagy – $7,100