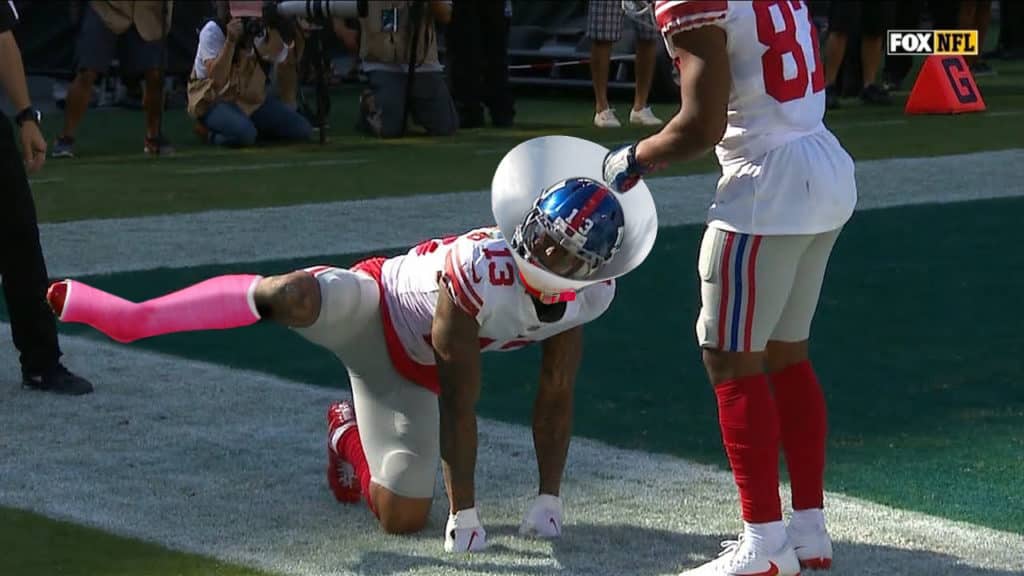 Podcast Recap
The Sports Gambling Podcast releases their NFL Picks Week Seven Podcast by picking every game ATS. They recap a wild NFL Week Six and give out their lock, dog and three team tease. Ryan's Giants have given him a new sense of hope and optimism while Sean's Eagles continue to look good in the NFC.
Kirk Cousins Accidentally Takes A Knee

Carson Wentz's Checkered Facebook History
Read about it here.
NFL Week 7 Odds
| Time | Teams | Spread | ML | Total |
| --- | --- | --- | --- | --- |
| 10/19/17 5:25 PM | KC | -3 | -165 | 46 |
| | OAK | | 145 | |
| 10/22/17 10:00 AM | TEN | -5.5 | -245 | 46.5 |
| | CLE | | 205 | |
| 10/22/17 10:00 AM | JAX | -3 | -170 | 44 |
| | IND | | 150 | |
| 10/22/17 10:00 AM | BAL | | 210 | 40 |
| | MIN | -5.5 | -250 | |
| 10/22/17 10:00 AM | NYJ | | 150 | 38.5 |
| | MIA | -3.5 | -170 | |
| 10/22/17 10:00 AM | TB | | | |
| | BUF | -3.5 | | |
| 10/22/17 10:00 AM | CAR | -3 | -165 | 40.5 |
| | CHI | | 145 | |
| 10/22/17 10:00 AM | NO | -5.5 | -245 | 47.5 |
| | GB | | 205 | |
| 10/22/17 10:00 AM | ARZ | | 155 | 47.5 |
| *Twickenham | LAR | -3.5 | -175 | |
| 10/22/17 1:05 PM | DAL | -6 | -255 | 46 |
| | SF | | 215 | |
| 10/22/17 1:05 PM | CIN | | 200 | 41 |
| | PIT | -5 | -240 | |
| 10/22/17 1:25 PM | SEA | -5.5 | -240 | 40 |
| | NYG | | 200 | |
| 10/22/17 1:25 PM | DEN | | 105 | 41 |
| | LAC | -1 | -125 | |
| 10/22/17 5:30 PM | ATL | | 160 | 56 |
| | NE | -3.5 | -180 | |
| 10/23/17 5:30 PM | WAS | | 190 | 48.5 |
| | PHI | -4.5 | -220 | |