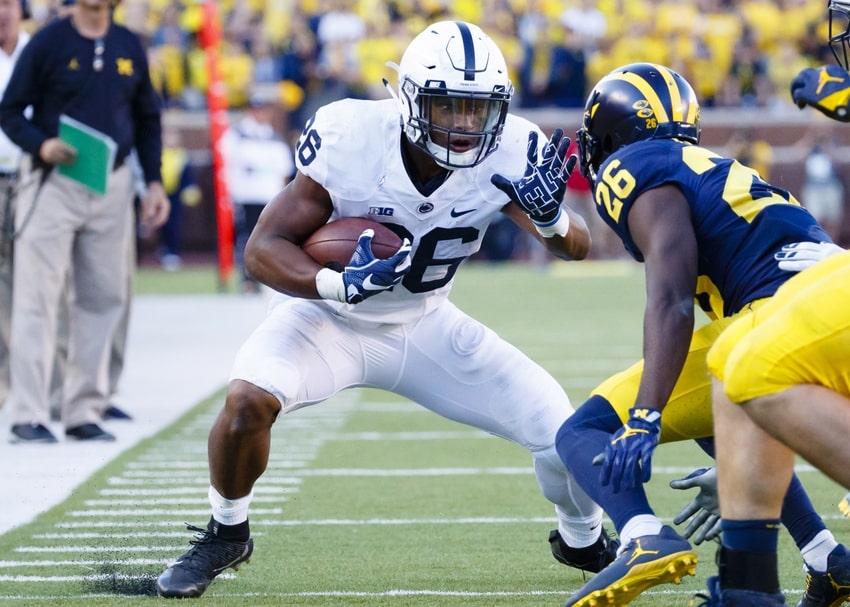 Here is my complete list of Week Eight College Football Previews from least important to most important. For more College Football analysis check out the Week Eight College Football Picks Podcast.
Georgia Southern @ Umass
Both teams are winless here so something has to give. Umass has played much better than Georgia Southern but still winless is winless. Give me Georgia Southern to cover.
UAB @ Charlotte
Charlotte is winless and playing at home but what does that matter if your team is absolute shit. UAB has got to be one of the better stories in college football considering that they are 4-2 and had their football program resurrected after a hiatus for a few years. UAB was projected to be a 1-11 team coming into the year. I like UAB to continue their ways. Give me UAB minus the points.
Tulsa @ UCONN
Both of these teams have two wins each and both of these teams are coming off double digit upset victories. Tulsa as I've mentioned on the podcast is probably the best 1-5 team in the nation coming into last week. I still think this Tulsa team might be able to find six wins and make a bowl. Give me the Golden Hurricane minus the points.
Coastal Carolina @ Appalachian State
Coastal Carolina has had its challenges in year one of the FBS but to be fair they are without their head coach who's health problems kept him from coaching this year and they've redshirted a ton of players. Appalachian State has somewhat struggled on the offensive side of the ball but the Mountaineers have still taken care of business with nice wins against New Mexico State and Idaho on the road. Give me Coastal and the points but I'd stay away from this one.
Kent State @ Ohio
Ohio has already had their in conference upset when Central Michigan came into their place and upset them. Kent State is coming off a huge upset win against Miami (OH) so you'll want to fade them here. Ohio is one of the favorites in the MAC and with good reason. Give me the Bobcats minus the points.
BYU @ East Carolina
What do we have here? East Carolina has the worst defense in the country and BYU has perhaps the worst offense in the country. Something has to give here. Its homecoming for the Pirates but I don't think that will help that garbage ass defense. I think BYU is the more physical team so give me the Cougars minus the points.
Kansas @ TCU
I find myself repeating myself each week thinking that Kansas will show up at least once this year within Big 12 play but it certainly won't come on the road or against TCU. Luckily the spread is high enough where you may just want to take the Jayhawks. This game will be over by halftime but give me the backdoor cover and the Jayhawks plus the points.
Idaho @ Missouri
Missouri has somewhat shown up the past two weeks on the road at Kentucky & Georgia and played much better than their first few weeks despite the losses. Idaho has underperformed this year and sure could use a big time victory. I think Missouri will continue to play better and potentially upset one of the SEC teams come November. Give me Missouri minus the points.
Rice @ UTSA
I was really high on this UTSA team before Southern Miss went into San Antonio and smacked them in the mouth. Rice is arguably the worst team in the FBS level. I like for UTSA to continue to build their program in the right direction with a blowout home victory.
Louisiana Monroe @ South Alabama
LA Monroe is coming off a week where they got upset by Georgia State. South Alabama has had ten days of rest after upsetting Troy on the road. I think South Alabama is a bit better than their 2-4 record and I think they make a solid push towards a bowl game with a nice win over Louisiana Monroe. Give me the Jaguars minus the points.
Central Michigan @ Ball State
This happened last year with Ball State head coach Mike Nei. They start the season looking pretty good and losing some close matchups against decent competition but then conference play begins and somehow the wheels fall off. Ball State has looked really bad the past couple weeks. Central Michigan on the other hand is a up and down team that is fighting towards another bowl season. Give me CMU minus the points as Ball State's season continues to crumble.
Utah State @ UNLV
Man UNLV really dropped the ball last week at Air Force. The Runnin' Rebels were up 27-0 and lost the football game! They were even winning in the final minutes of the game before the UNLV QB ran a drawl on third down to get them 20 yards but fumbled in doing so. Air Force took advantage of the turnover and drove 80 yards down the field and won the game. Utah State on the other hand is 3-4 and coming off a tough home loss to Wyoming. I like Utah State to get back on the winning track by coming into Vegas and getting the W.
Western Kentucky @ Old Dominion

(Friday Night)
We all knew Old Dominion was going to take a step back this year but we didn't know it was going to be this big of a step. I know they are starting a 17 year old true freshman walk on at quarterback but man has their offense struggled. Western Kentucky is salvaging their season after a bit of a shaky start. Give me the Hilltoppers to continue their winning ways with a nice road victory at ODU.
Northern Illinois @ Bowling Green
I know Bowling Green has only one win but this team has played better the past two weeks. They upset Miami (OH) two weeks ago and played Ohio pretty well for most of the game despite losing by 18. Northern Illinois is playing at a pretty high level and looks to be a real contender in the MAC but they need not sleep on this game. Give me BG and the points but NIU finds a way to get the W.
Troy @ Georgia State
Don't look now but Shawn Elliott might be building something in Atlanta. This is Elliotts first year in Atlanta and although they opened up the year with a home loss to FCS Tennessee State and then got killed by almost 60 on the road at Penn State this Georgia State team has won three in a row. Sure they were against Charlotte, Coastal Carolina & Louisiana Monroe but hey for a team projected to be pretty bad they have a bowl game in reach. Troy on the other hand might be the best team in the Sun Belt and they've won at SEC power LSU but followed that up with a home loss to South Alabama. Troy can't afford to look past these decent Sun Belt teams or they won't finish in the top of the conference. Give me Troy minus the points but I like what Elliott is doing at GSU.
Air Force @ Nevada

(Friday Night)
I know when you look at the records at both teams you see Air Force at 2-4 and Nevada at 1-6 but both teams are a lot better than their records. Nevada can't seem to find a way to win games. They played Northwestern, Colorado State and Toledo all tough but lost. Then got blown out by FCS Idaho State and Fresno State. Air Force on the other hand played well in close losses to San Diego State, Michigan, & Navy. Then got blown out at New Mexico. I still think Air Force can rally and make a bowl game. Give me the Falcons minus the points.
Louisiana Lafayette @ Arkansas State

(Thursday Night)
Arkansas State appears to be the team to really test Troy & App State for winning the Sun Belt. Sure they're 3-2 but their two losses were at Nebraska & SMU. Louisiana Lafayette is 3-3 and playing a bit better than publications had them projected. I like Arkansas State to get the win but give me Louisiana Lafayette plus the points.
SMU @ Cincinnati
Luke Fickell sure has had his work cut out for him at Cincinnati. The defense at times has been the strength of this team but the offense just can't get things going. The Bearcats need to play turnover free football if they want a chance to beat a pretty good SMU team. SMU had last week off and are playing just their second road game of the year and their first one outside of Dallas. I like what SMU is doing as a team though despite the somewhat shaky defense. Give me the Mustangs minus the points.
North Texas @ Florida Atlantic
It's separation week in the Conference USA this week with three or four huge games. This is one of them. Both of these teams are undefeated in conference play and remain among the top in each division. North Texas has really surprised where Florida Atlantic seems to be trending in the right direction after a shaky start against some decent teams. I like North Texas to come into Florida and get the W.
Buffalo @ Miami (OH)
Well things in Oxford have really not panned out. Many people had Miami (OH) as one of the favorites in the MAC this year but boy have things changed. Buffalo was supposed to be a one win team this year and they are playing some damn good football despite so many close losses they're still 3-4 but they could easily be 6-1. I like Buffalo to come in to Oxford and find a way to get the W.
Temple @ Army
Temple had their chances last week at home against a terrible UCONN team and came up short and probably cost themselves a shot at a bowl game.  Army on the other hand is playing great football and coming off a nice win against a good Eastern Michigan football team. Army is 5-2 and ready to clinch a bowl game with a home win against Temple. Give me the Black Knights minus the points.
Western Michigan @ Eastern Michigan
WMU is coming off a tough home loss to Akron in a game they were 14 point favorites in. Eastern Michigan is maybe the best 2 win team outside of Florida State and Tulsa and is coming off a one point loss at Army where the coach elected to go for two and the win in the final seconds of the game. This should be a great matchup between two rivals. Give me Eastern Michigan plus the points in this game but I sure wouldn't want to bet it.
Illinois @ Minnesota
Lovie Smith sure is struggling at Illinois. I know it's only year two and these things take time but after pulling out some decent wins against Ball State and Western Kentucky early in the year I was thinking hey maybe he can find a way to have them in contention for a bowl game come November. Then Rutgers came into their home and beat them up. Minnesota on the other hand started out hot but then PJ Fleck got a dose of reality with three straight losses to Maryland, Purdue & Michigan State despite solid outputs in each game. I like Fleck to find his winning ways again with a nice home victory over Illinois. With the number so high I'd probably take Illinois gambling wise.
Tennessee @ Alabama
Tennessee hasn't scored an offensive touchdown in a month and now they hit the road to face the best defense in the country. Butch Jones is basically already jobless at this point he's just collecting a check. What if Butch Jones somehow pulled this game off? Would he save his job? Perhaps but come on this Tennessee team barely beat a winless Umass team in Knoxville they can't go on the road and beat the best team in the country. The spread is just too high though. Give me Tennessee and the points but Bama wins by a large amount.
Marshall @ Middle Tennessee

(Friday Night)
This is one of the big Conference USA games that are happening this week. Middle Tennessee can't afford a third conference loss and despite their road upset of Syracuse they've somewhat underperformed this year. Marshall is trying to run away with the division and this game has been penciled in as one of their tougher road matchups of the season. I like this Marshall team so give me the Thundering Herd minus the points but this should be a nice matchup.
Purdue @ Rutgers
Wait what Rutgers won a Big 10 game last week? Perhaps this Scarlet Knights team is improving. I thought they would improve as the year went along mainly because I liked the hire of Jerry Kill at offensive coordinator. Purdue is probably the best 3-3 team in the country and looks to get back on track after a solid outing on the road at Wisconsin where they came up short. Jeff Brohm has got this Purdue team believing. Give me the Boilermakers minus the points in this one.
South Florida @ Tulane
Tulane had me believing when they blew out Tulsa at home but then they laid a egg on the road at Florida International. I was thinking Tulane is going to be a bowl team and a real tough out for the rest of the American and perhaps they still can be. Tulane runs the lethal triple option attack and they are still in year two of head coach Willie Fritz's era. I'm a big believer that Fritz will get this thing rolling at Tulane but last week was a little set back. South Florida looks dominate but they have yet to face a triple option attack. Can the Green Wave keep this close by running down the clock and not turning the ball over? Give me USF minus the points for this Tulane team may just be a year away from really being a threat.
Akron @ Toledo
Watch out the Zips have been getting better each week and knocked off Western Michigan on the road last week despite being a two touchdown underdog. Toledo seems to be the best team in the MAC but hey this Zips team is a decent team that should go bowling come December. Give me the Zips plus the points as Terry Bowden has this team believing.
North Carolina @ Virginia Tech
UNC has had just a awful year and it's not going to get any easier especially considering the rest of the division with exception to Pittsburgh has really improved. Virginia Tech had a week off to study the tape so look for this one to be ugly. The point spread is still way too much. Give me the Tar Heels plus the points but this shouldn't be much of a game.
West Virginia @ Baylor
It's been a tough year one for Matt Rhule and the Baylor Bears but I thought something like this would happen. Sure I didn't think they'd be winless at this point but I knew he was overhauling the offensive and defensive systems the Bears had ran previously. They seem to be getting better each week and becoming more familiar with the way Rhule wants his team to play so perhaps this could be a close one. WVU is coming off a nice win over a ranked Texas Tech team but there is still some big questions on the defensive side of the ball. Give me WVU minus the points but I don't like this game. It wouldn't surprise me at all to see Baylor in a one possession game late in the fourth.
Southern Miss @ Louisiana Tech
This is another big Conference USA game between two of the better mid major schools throughout the past 20 years of college football. Both these teams are not at the top of the conference USA at the moment but both are very capable of being in the championship game come the end of the season. Give me Louisiana Tech minus the points but this should be a good one.
Boston College @ Virginia
I really thought Virginia landed a home run hire last year when they got Bronco Mendenhall and despite really struggling in year one I still felt somewhat confident he was the man that could fix things in Charlottesville and now look at the Cavaliers who are 5-1 and one win away from their first bowl game six years. Boston College head coach Steve Adazzio is still on the hot seat but things may have cooled some after a nice road victory at Louisville. This should be a nice matchup but give me BC and the points although I think Virginia gets the W and becomes bowl eligible.
Fresno State @ San Diego State
Talk about best offseason coaching hires? Justin Wilcox at Cal or Jeff Brohm at Purdue but where is the love for Jeff Tedford at Fresno State? This was a 1-11 team last year and now the Bulldogs are 4-2 with their two losses being at Alabama and at Washington! That was a home run hire for sure. San Diego State was the cinderella team that had some nice wins against Arizona State, Stanford, Northern Illinois and Air Force but then last week they got smacked in the mouth in their own backyard by Boise State. I look for the Aztecs to get back on track and make a push for a new years six game with a nice win over Fresno.
Maryland @ Wisconsin
Man one can't help but think that this would of been a pretty damn good game had Maryland not loss their top two quarterbacks. Wisconsin is undefeated but played no one so we're all left wondering just how good they really are. Maryland at this point is just trying to find their way to a bowl game. Give me the Terps plus the points but I don't like this game at all.
Pittsburgh @ Duke
Okay I know Pittsburgh is really down this year but this is a must win game for Duke who has lost three in a row. If Duke wants to go bowling they must come away with this one. Pitt played NC State tough for a lot of the game but NC State finally pulled away for a nice road win. Give me Pitt plus the points but Duke finds a way to get a much needed W.
LSU @ Ole Miss
Ole Miss is playing for nothing since they already can't play in a bowl game but that's not going to stop them from ruining other teams chances. Just ask Vanderbilt who many fans had that game penciled in as a win for the Commodores. LSU is a weird team that somehow is developing confidence after nice wins against Auburn and Florida. Give me Ole Miss and the points in this one.
Oregon @ UCLA
UCLA has to be thinking about just buying out the big contract on Jim Mora and hiring a good football coach. The Bruins defense is absolutely terrible plus they struggle to run the ball on offense. Oregon was once looking like a threat in the Pac 12 north but much like Maryland they lost their top two quarterbacks to injury. This is a real shit game for gambling but give me UCLA minus the points.
Syracuse @ Miami (FL)
I'm still not a believer in this Miami Hurricane football team. Paul Johnson and Georgia Tech need to learn how to kick a field goal because if they had just made one of their kicks that they didn't attempt then Miami would have a loss on their schedule. Syracuse is a weird team. The Cuse lost at home to Middle Tennessee but then comes back a few weeks later and beats number 2 Clemson. Syracuse hasn't traveled well in quite some time so give me Miami to get things done at home.
Colorado State @ New Mexico

(Friday Night)
This is a big time Mountain West matchup. New Mexico can't afford a third conference loss and usually plays pretty well at home. Colorado State is looking like perhaps the team to beat in the Mountain division but will need this win since they still have games against Boise State and Wyoming coming. Give me CSU to come into town and get the W.
Auburn @ Arkansas
Arkansas is still without their best player in QB Austin Allen so if you're asking why I have this game that far back its because of that and the fact that Arkansas is 2-4 and probably going to be 2-5. On the other hand I knew Auburn was an overrated football team. Sure, they blew out Miss State and Missouri but one must think how good are those teams really? The Auburn defense is legit but it's the offense that I still really question. Luckily for them Arkansas doesn't have Austin Allen or I might be calling for an upset here. Give me Auburn to win this one but Arkansas covers. Remember Auburn ran up the score on the Razorbacks last year and I'm sure Bielema won't let his team forget that.
Colorado @ Washington State
Colorado has under performed for me this year. They were in position to beat UCLA and Arizona but just came up short. Washington State is coming off a huge blowout road loss to Cal. I think Mike Leach and his Cougars will be ready to rebound on a Colorado team that struggles to force a pass rush. Give me Wazzu minus the points here.
Iowa @ Northwestern
A classic Big 10 matchup. Northwestern has been a huge let down this year but last week they got a much needed nice win at Maryland. Iowa had the week off to focus for this one. Give me Northwestern to find a way to win this one but this should be a real close game.
Wyoming @ Boise State
Last year this was the game that decided the Mountain Division and Wyoming came up with a huge upset win on a safety late in the game. Boise was flying under the radar and were much better than a lot of people thought just ask San Diego State who got blown out at home by this Boise team. I think Boise gets the W here but Wyoming covers in what should be a great game.
Iowa State @ Texas Tech
I loved the Matt Campbell hire at ISU and now he's proving it in year two. I underestimated Kliff Kingsbury and Texas Tech who appear a bit better than I had them being coming into the season. I like Texas Tech minus the points but ISU is going to be bowling this year.
Arizona State @ Utah
ASU continues to be one of the harder teams to predict each week. Week 1 vs New Mexico State I was convinced they were garbage despite winning. Then a few weeks later San Diego State wins big in Tempe and I felt good. Then ASU turns around and beats Oregon and Washington in Tempe and loses a close game at Stanford. The defense that looked so awful appears to be coming around. Utah is Utah. A tough team that always plays better than they are. I like Utah to find a way to get a W here but this is a huge game for ASU considering they only have one Pac 12 loss.
Louisville @ Florida State
I knew all along that this Louisville team was counterfeit but losing at home to a terrible Boston College team? Florida State on the other hand didn't really impress me despite getting the win at Duke. Louisville really blew out FSU last year so I'm sure Jimbo has reminded his team about how Petrino and company ran up the score on them. Give me FSU to get the revenge W but this one could be interesting.  
Memphis @ Houston

(Thursday Night)
This is a huge American Conference matchup. Houston is coming off a bad upset loss at Tulsa and Memphis found a way to beat Navy but now has a short week coming off facing a Navy game that beat them up. I look for Houston to get back on track and be a player in this division with a nice rebound win at home.
Oklahoma @ Kansas State
Man Kansas State has had some bad luck with Zach Ertz getting injured right before the two home matchups against TCU and Oklahoma. Still the K State defense played a strong game last week despite the outcome. I think Oklahoma comes into Manhattan and covers with a nice two touchdown win. If Ertz was playing it would be a different story but thats a huge loss for the Wildcats.
Indiana @ Michigan State
Everyone slept on Michigan State this offseason and now if MSU can stay focused they can be a real player in the BIG 10 East. Especially when you consider just how well they always play against Ohio State. MSU must not look past matchups like this because Indiana is a pretty good football team despite their 3-3 record. Give me Indiana plus the points but MSU finds a way to remain unbeaten in BIG 10 play.
Arizona @ California
Woah. Two teams that nobody saw coming. Both these teams were projected to be in the basement of their divisions but wait both teams are suddenly big time players in each division. Cal has three PAC 12 losses so I doubt they are in contention for their division but they have bowl game on their mind. Arizona only has one PAC 12 loss so this is a huge game for them! Give me Cal plus the points as Berkeley is a tough place to grab a victory.
Central Florida @ Navy
Central Florida is one of the nation's last remaining undefeated teams and Navy was undefeated up until last week when they lost a close game at Memphis. I like Navy to rebound in this home game and cover the spread against UCF but UCF finds a way to get the W. This should be a great game.
Kentucky @ Mississippi State
Okay so two things we will find out here. Kentucky should be 6-0 but they're 5-1 because they somehow let Florida win that game. Mississippi State is a big question mark? Are they the team that beat LSU by 30 or the team that got absolutely destroyed by Georgia and Auburn. Give me Kentucky plus the points but this is a huge game for the Wildcats.
Wake Forest @ Georgia Tech
I can't believe this is my fourth rated game but Wake Forest is 4-2 and already has two conference losses so they can't afford a third. Georgia Tech is 3-2 and coming off a conference loss to Miami in a game they should have won. I like Wake Forest plus the points but GT finds a way to actually win a close game.
Oklahoma State @ Texas
This game screams trap game to me. Oklahoma State is known to lose big divisional games especially on the road. Texas is improving with each week. The Longhorns almost beat Oklahoma and USC and will sure be ready to get up for this one. Give me Texas plus the points and you may even want to sprinkle some on the money line here.
USC @ Notre Dame
USC has been one of the nation;s biggest disappointments yet again despite only having one loss. Trojan fans should feel very lucky at that because they could easily have three or four losses at this point. Notre Dame is a team that we're still wondering just how good they are. They have now what seems like a nice victory at Michigan State and a nice loss at home by one point to a undefeated Georgia team but one can't help but think who else has ND played? North Carolina? Temple? Miami (OH)? Boston College? Give me USC and the points in this one for I'm still not a full on believer in Notre Dame.
Michigan @ Penn State
We all knew coming into the year that this would be a big time game but we really didn't know that the Michigan offense would be this bad. Penn State hasn't forgotten just how bad Michigan embarrassed them last year in the big house. John O'Korn must find a way to throw the ball down field if Michigan wants to win this game. Give me Penn State in this one as they get revenge on a Michigan team that is struggling to move the ball.