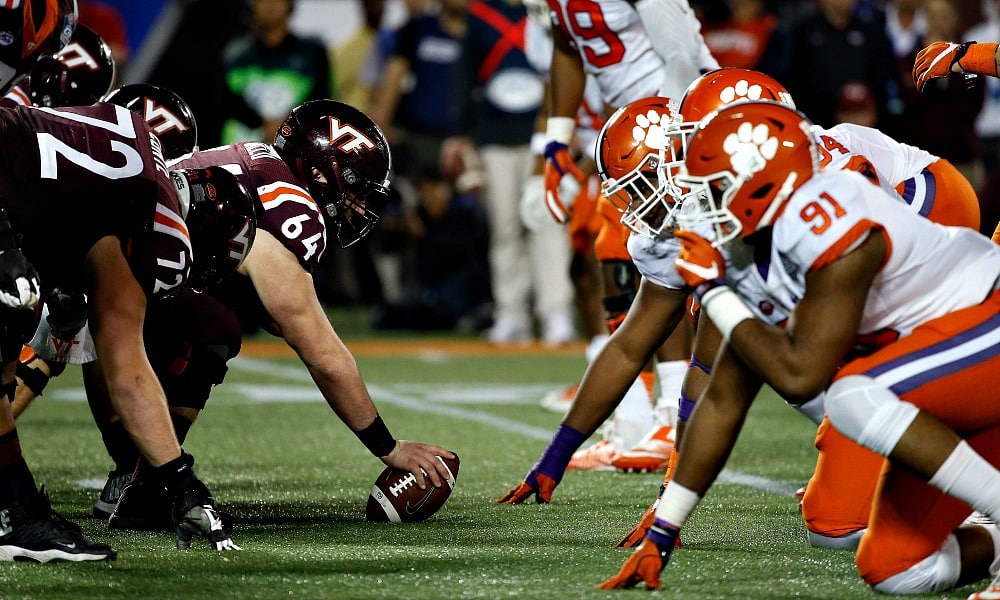 Here is my complete list of Week Five College Football Previews from least important to most important. For more Colege Football analysis check out the Week 5 College Football Picks Podcast.
Murray State @ Louisville
The Murray State Racers are 1-2 and that is on the FCS level so you know this game is going to be absolute shit. Louisville has an absolutely awful week with their basketball program so they could use a nice blowout win.
Ohio State @ Rutgers
Finally JT Barrett was able to throw the deep ball granted it was against a pretty terrible defense and UNLV, now comes the worst that the BIG 10 has to offer. Rutgers played Nebraska tough but that's not saying much since Nebraska has struggled in every game this season.
Washington @ Oregon State
Washington got a nice victory on the road against Colorado. Oregon State had a week off to think about this game but come on this Beavers team has been pretty terrible all year long. Look for the Huskies to beat up on their conference foe.
South Florida @ East Carolina
Last sunday when the NFL was kicking off East Carolina was playing at UCONN. The Pirates started out hot but barely hung on as that terrible UCONN offense found a way to excel against perhaps the worst defense in the country in ECU. South Florida is a top 25 team so as much as I love my Pirates, this game shouldn't be close.
Rice @ Pittsburgh
Perhaps the one defense that could be worse than ECU would be Rice. Overall Rice might be worse of a team when you consider their offense was held to just 7 points against Florida International. Pittsburgh has had a really rough season so far with double digit losses to Penn State, Oklahoma State & Georgia Tech. In fact their lone win was a overtime win against FCS Youngstown State. I like the Panthers to really focus on getting a nice win with ACC conference play taking full effect next week.
UTEP @ Army
UTEP might of fired their offensive coordinator a week ago but that didn't really help. They still got blown out by their rival school New Mexico State. The Miners are still winless and that trend will most likely continue. Army is 2-2 and coming off a tough loss to a improving Tulane team and the Black Knights will look to get things back on track this week.
UCONN @ SMU
Randy Edsall really has his work cut out for him with this years Husky team. Perhaps he can keep the offense on pace with the fourth quarter performance they had against East Carolina. I have my doubts since this SMU team is really flying under the radar in the American. SMU was playing TCU great before they gave up a hail mary as the half expired. I like SMU to be a solid bowl team this year and this UCONN team just isn't very good.
Miami (OH) @ Notre Dame
Notre Dame might be decent but who knows. They have wins against Temple, Boston College & Michigan State and those three could all be teams that end up below .500. The Irish played Georgia tough though and Georgia looks like it could be the best team in the SEC East (if that means anything). Miami (OH) had some tough breaks to start the season but is still a solid mid major and a decent MAC team. Notre Dame should roll but they need not overlook this one.
Charlotte @ Florida International
Florida International is probably the worst 2-1 team in the country with a 7 point win against FCS Alcorn State and a 13-7 win over a terrible Rice team but hey 2-1 is 2-1. Charlotte is 0-4 and coming off a shutout home loss to pretty bad Georgia State team. Florida International should move to 3-1 which is quite amazing considering they haven't been very impressive when you turn on the tape. Winning is contagious though so maybe Butch Davis has this Panther team believing they're a lot better than they are.
San Jose State @ UNLV
San Jose State got embarrassed by Utah State last week losing by 51 points. The Spartans really haven't done much this season despite their win over FCS Cal Poly. Meanwhile UNLV lost to a FCS team in Howard before finding their lone win at Idaho. I like UNLV in this game but both teams haven't been too impressive this year.
Coastal Carolina @ Louisiana Monroe
Coastal Carolina is coming off a blowout loss to FCS Western Illinois. Coastal did have a nice early season win against UMASS but they've struggled since. Louisiana Monroe is coming off a epic comeback overtime win against their rivals in Louisiana Lafayette. This could end up being a decent game but Louisiana Monroe should come out with the W.
Texas State @ Wyoming
Texas State is coming off a loss to UTSA (who's quietly flying under the radar). Texas State's biggest problem this year has been the lackluster offense, at times the defense has really done their part. Wyoming has struggled against the big boys but have handled business against Gardner Webb & Hawaii. I like the Cowboys to win this at home.
Akron @ Bowling Green
Akron is 1-3 but they are better than their record. Last week Akron lost a close game against a pretty good Troy team on the road. Their other losses were against power 5 teams Penn State & Iowa State. Their lone win may against FCS Arkansas Pine Bluff but they're still better than most think. Bowling Green has struggled all year going winless thus far but they probably played their best game last week in a 11 point loss to a decent Middle Tennessee team. I like Akron to get the job done for both teams are desperate for a win.
Buffalo @ Kent State
Kent State is coming off a road loss to Louisville that we all saw coming. The question with the Golden Flashes is are they actually going to be a decent MAC team or not? Sure, they're 1-3 but look at their losses which all came on the road against Clemson, Marshall & Louisville. That's three pretty good football teams. Buffalo is 2-2 which is already exceeding expectations but they could and should be even better after letting the Army game slip away. This should be a close game since we really don't know much about Kent State.  
North Texas @ Southern Miss
North Texas is better than their 2-2 record. They were actually beating Iowa in the fourth quarter before the wheels came off. Last week they had a nice come from behind win against UAB. Southern Miss is 2-1 and had the last week off so they should be fresh for this one. This should be a decent game as both these teams should be bowl teams come December.
New Mexico State @ Arkansas
The seat is heating up in Fayetteville as Brett Bielema's Razorbacks are just 1-2 with their lone win coming against FCS Florida A&M. New Mexico State is already exceeding expectations with a nice couple wins and even a solid performance against the teams they lost to. I look for Arkansas to really get their team together for this must win game. Give me the Razorbacks big in this one despite New Mexico State being a decent Sun Belt team.  
Nevada @ Fresno State
Nevada is really struggling at 0-4. They looked decent the first two weeks against good teams then the wheels came off with a loss to FCS Idaho State and getting blown out by Washington State. Their Alabama transfer quarterback left the program after last weeks blowout. Fresno State on the other hand needed a week off after getting destroyed by Alabama and Washington on the road. Even with them getting blown out this Bulldogs team looks much better than last years team. Should be a close game but I like Fresno in this one.
Houston @ Temple
The Temple offense looks pretty awful so far this season and Houston has maybe the best defensive player in the country in Ed Oliver. The Houston offense needs to continue to develop under Kyle Allen but I like this Houston team overall despite the loss to Texas Tech last week. Give me the Cougs to go in the Philly and get the win.
Middle Tennessee @ Florida Atlantic
Lane Kiffin is off to a rough start at FAU, he's 1-3 with the lone win coming against a FCS team. Middle Tennessee is coming off a nice win against Bowling Green and is probably a bit better than their 2-2 record. They're only two losses came to Vanderbilt and Minnesota and they did knock off Syracuse in their place. I like the Blue Raiders in this one but it could be a close one.
Ohio @ Umass
Umass really played Tennessee tough and almost came away with their first victory of the season. Ohio is one of the best teams in the MAC and pulled out a big win in overtime last week at Eastern Michigan. Umass is good enough to keep this close but i like this Ohio team to find a way to win this game.
Eastern Michigan @ Kentucky
EMU lost a heartbreaker last week in overtime against Ohio but if you think that heartbreak was bad look over at your opponent this week. Kentucky really should of beat Florida we all know it. They had a few mental breakdowns that cost them the game. They need not let that be an excuse because this Eastern Michigan team is capable of beating them. I like Kentucky to get the W but they better show up!
South Alabama @ Louisiana Tech
Louisiana Tech should of beat South Carolina last week but Carolina caught a hail mary like pass that landed them in field goal range in the final seconds. They're one if not the best team in the Conference USA. South Alabama isn't as bad as their 1-3 record. They lost in overtime last week against Idaho and before that they lost games to Ole Miss & Oklahoma State so give them a break. This could be a close one but i like Louisiana Tech to get the much needed W.
Navy @ Tulsa
Tulsa has had just about everything go wrong that could go wrong to start the season and it's not going to get any easier with only having a week to prepare for a underrated and undefeated Navy team. Tulsa may be 1-3 but they are a very good 1-3. Navy is coming off a nice double digit win against Cincinnati but I see them having a bit more trouble with the Golden Hurricane.
Colorado State @ Hawaii
The Rams are just 2-2 but they're losses were against Colorado State & Alabama. This CSU team is good though, real good and my favorite to win the Mountain West Mountain division. Hawaii is a decent 2-2 but their wins came against UMASS and Western Carolina. I think the Rams will be a little to physical for the Rainbow Warrior defense but they need not sleep on quarterback Dru Brown.
Ball State @ Western Michigan
Ball State cost me some money last week when they threw a late pick six that cost them any chance they had at beating Western Kentucky. I have Western Michigan ranked as a better team than Western Kentucky so that's not good news for Ball State. Tim Lester has the Broncos looking like a decent bowl team in year one of his era.
Central Michigan @ Boston College
Boston College showed up against Clemson despite the final score. The defense is still the strength of this team. Despite my disliking for the overall BC program they seem to match up well against the MAC. Plus, Central Michigan is looking like a middle of the run MAC team after last weeks double digit loss to Miami (OH). I like BC in this one but their offense needs to show up!
Marshall @ Cincinnati
Marshall is looking like a pretty good mid major and big time player in the Conference USA this year. Cincinnati is coming off a loss to Navy but seem to be much more competitive than most had them at this point in the season. This should be a close one but I like Marshall to get the W.
BYU @ Utah State
The real question in this game isn't the in state rivalry but if BYU can actually move the ball on offense. Utah State looked pretty good last week and if the D plays like that again this weekend it's going to be a long night for the Cougars. This should be a heated game though so I think it'll come down to the fourth quarter.
Troy @ LSU
This is a sleeper game. You might remember last year when Troy played at Clemson and only lost by 6. I know it's a new year but this Troy seems to be just as good as last years team that gave Clemson so much trouble. LSU is still trying to find their offense after beating Syracuse by 9. LSU should win this one but stranger things have happened.
Air Force @ New Mexico
Two option based offenses going up against each other is always great for college football. Especially when they're conference foes. Air Force has had two tough losses in a row against Michigan & San Diego State (both ranked). New Mexico went on the road and scored a nice win at Tulsa last week. This game will be a close game.
Nebraska @ Illinois
Yet another game Mike Riley can't afford to lose. Illinois is still looking for their marquee victory under Lovie Smith. Nebraska has looked so bad this year that even if Illinois pulled it off I'm not sure that would be marquee enough. I think Nebraska finds a way to win but Illinois keeps it close.
Ole Miss @ Alabama
I'm only putting this game this high because Ole Miss always seems to give Bama a hard time. Those were under the Hugh Freese days though and Ole Miss looks to a shell of its former self but perhaps they can turn back the clock for one day. Bama looked like the best team in the country last week beating the hell out of Vandy in Nashville after looking kinda down against Colorado State. I like Bama big in this one.
Vanderbilt @ Florida
Vandy asked for Alabama and wow did they get them. The Vandy offense should struggle some more when they face a loaded Florida defense. The real question is whether Luke Del Rio or whoever plays under center for the Gators can actually get the offense rolling. This games in the swamp so take the Gators minus the points if you ask me.
21.Baylor @ Kansas State
Baylor might be winless but the team seems to be improving each week under first year head coach Matt Rhule. Last week they took Oklahoma to the brink. Kansas State has been somewhat of a let down for me this season. I thought the offense would be a little more developed than it has been. Manhattan, Kansas is a tough place to play so I'll ride K State but Baylor keeps it close.
Syracuse @ NC State
Dino Babers is still a year or two away but if you want a hint that the Orange are headed in the right direction then here's a perfect opportunity for them. NC State got their much needed win at Florida State and could be looking past this one to Louisville next week? I like NC State to win but give my Syracuse and the points.
Northwestern @ Wisconsin
Northwestern has really been a let down despite their 2-1 record. Wisconsin has looked great but then again they've literally played no one. I think Pat Fitzgerald will have his team up for this one but Wisconsin is a pretty damn good team despite their soft schedule. I like the badgers in what could be a close one.
North Carolina @ Georgia Tech
Georgia Tech is somewhat flying under the radar and should be undefeated if they could kick a field goal. North Carolina looks to be having quite the rebuilding year after struggling with Cal, Louisville & Duke. It will be interesting to see how the Tarheel defense will fare going up against the Paul Johnson option attack. I like Georgia Tech in this one.
Maryland @ Minnesota
Maryland has their top three quarterbacks out so I'm not sure this will be much of a game. PJ Fleck seems to be really rowing the boat in Minneapolis. Give me the Gophers by a couple scores.
Arizona State @ Stanford
Todd Graham sure needed that upset victory against Oregon last week but his seat is still hot as they travel to Palo Alto. Stanford finally remembered it's formula in a nice win against UCLA. Arizona State struggles on defending the run so i think Stanford pulls out the W but I'd take ASU to cover with that many points.
Texas @ Iowa State
This is a very interesting Thursday night game. Matt Campbell has the Iowa State program headed in the right direction. Tom Herman despite losing the USC game seems to have things going in the right direction in Austin mainly because they have finally found their quarterback. Gun to my head I'm taking the Horns minus the points but this game could be a close one. Aimes should be rocking for this one.
Florida State @ Wake Forest
I don't think there could've been a worst start for this Florida State team. They lose to Bama and lose their best offensive player for the year, then comes the hurricanes and two weeks off before NC State beats them. Wake Forest has probably had the opposite happen to them with blowout wins with exception to the App State game but hey winning at App State is always tough. I like FSU to find a way to win but watch out for this Wake team, Dave Clawson has them believing.
Northern Illinois @ San Diego State
Talk about a great non power five matchup between two teams that could make a run for the new years six bowl. Northern Illinois has had a week to prepare for San Diego State so I love them plus the points but stop there I think NIU could be good enough to get the out right victory. Play it the other way and San Diego State could add another legit victory to their already impressive resume. This is a must watch mid major matchup for me.
California @ Oregon
The Golden Bears of Cal have easily been one of this seasons biggest surprises this season. Eugene, Oregon is one of the toughest places to win in the country. I've already underestimated Cal a lot this season so let me continue that trend and say I like Oregon minus the points in this one.
Oklahoma State @ Texas Tech
Mike Gundy really blew a lot of hot air into our brains the first couple of weeks or so it seems after the TCU game last week. This still may be his best team but I don't think I can trust that defense at all anymore. Meanwhile another real surprise team has been this Texas Tech Red Raiders team. Kingsbury may be coaching himself off the hot seat. OK State should dominate this Texas Tech defense but what about the other way around?
Memphis @ Central Florida
This could be a preview of the American Conference Championship but this also could cost one of these teams the American Conference Championship, making this a gigantic game for these schools. Memphis has star QB Riley Ferguson and WR Anthony Miller who are one of the best QB to WR tandems in all the land and UCF has a legit defense and a speed offense. This should be a shootout even though UCF has looked great on D. Give me Memphis and the Points.
Iowa @ Michigan State
This is a huge game for Michigan State head coach Mark Dantonio who remains on the hot seat after Notre Dame blew them out. Iowa is also coming off a tough home less to Penn State. I like Michigan State to sneak one out in this one.
Colorado @ UCLA
The Colorado offense struggled last week against Washington just like i predicted. UCLA gave up 58 points to Stanford. Maybe this is the perfect team for the Colorado offense to play? UCLA sure could use a win after two road losses. Give me the Buffs and the points but it should be a close one.
Indiana @ Penn State
Penn State really should of won by more last week at Iowa but Iowa City is always a tough place to get a victory so maybe we give them a pass. Indiana is a legit team and despite not being a real contender in their own division they're plenty capable of beating you. I think Penn State runs away with it but give me the Hoosiers to cover.
South Carolina @ Texas A&M
Kevin Sumlin pulled out a nice win last week. I had A&M heading in another direction so that was pretty impressive to me. South Carolina not only lost one of its best players for the year but they squeaked out a home victory vs Louisiana Tech. Give me the Aggies to continue their winning ways in College Station.
Miami (FL) @ Duke
This Friday night matchup suddenly is one of the biggest matchups of the weekend mainly due to Daniel Jones and this Duke defense. The Blue Devils might be the feel good story of the year so far. Miami (FL) rallied to beat Toledo and should continue that with a win this weekend but one can't help but think this could be a tough out after the way Duke has been playing this year. Give me Miami minus the points but tread lightly.
Mississippi State @ Auburn
This is a tough game for me to make sense of. Auburn sure looked good last week but that was against a awful Missouri team. Miss State looked great two weeks ago but dropped an egg last week. I just can't see the Auburn offense being that good again so give me the Bulldogs plus the points.
Georgia @ Tennessee
Tennessee fans are already waiting for Jones to be fired but wait stop all that talk. This is the type of game Jones somehow wins, ask Georgia fans the last time they came into Knoxville. Yes, I've been impressed with Georgia but i'm still concerned about their consistency so here's another test. I like the Vols plus the points but maybe just maybe UGA pulls it out.
USC @ Washington State
Another great Friday night football game could be happening. USC hasn't really looked too impressive despite their undefeated record. Washington State has looked legit for the most part. The Boise game was the one they probably should of lost but hey a win is a win. I think USC somehow manages to sneak out with the W despite Wazzu and Pullman being jacked up for this game.
Clemson @ Virginia Tech
Clemson has already had some impressive wins but hey I'm not sold on Auburn or Louisville at all yet this season so could it be perhaps Clemson is a bit overrated? Yes, they've been impressive but what if? Blacksburg is a tough place to come into. Bud Foster and the hokies defense should give Clemson QB Kelly Bryant his hardest test yet. Give me the hokies and the points and if Clemson isn't ready they may just lose out right.