When: SATURDAY AUGUST 26
Where: TMobile Arena in Las Vegas, NV
Fight Odds
Fight Prop Bets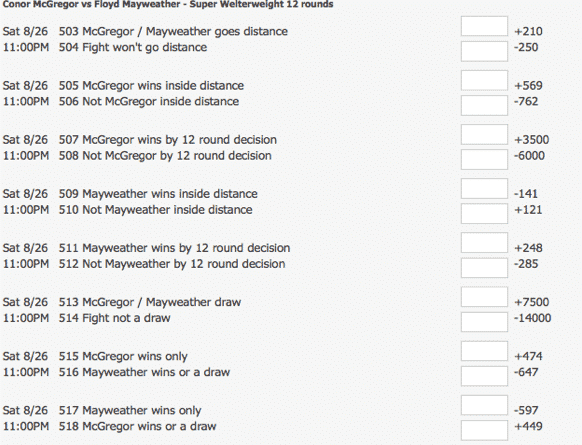 Connor McGregor Prop Bets
Floyd Mayweather Prop Bets
Mayweather vs McGregor Breakdown
Welcome to the mega fight ladies and gentleman. Whether you're a die hard boxing or MMA fan and hate this fight, or just want to be entertained, either way it's happening. This fight is obviously so unique in so many ways just because of the unknowns. On one side, we have Floyd Mayweather, probably this generation's greatest boxer, sporting a record of 49-0. On the other side is Connor Mcgregor. Mcgregor is a UFC fighter with a MMA record of 21-3. The only defeat you probably read about was to Nate Diaz at UFC 196 though, and it's probably the only one worth mentioning. Mcgregor is the only dual weight class champion in UFC history as well.
So let's start with the basics here. This fight is a boxing match if you didn't gather that yet. I don't really care how many sides surround these guys, what i'm interested first and foremost is are the gloves. UFC MMA regulation gloves are 4oz. Which are pretty light by combat standards, that's 4 ounces away from bare knuckles after all. The gloves for this fight will be 10 ounces. Here's why this matters.
Connor McGregor has probably the most punching power from a left hand we've seen inside the UFC with 4 ounce gloves. The heavier the gloves, the less power, so McGregor's punching power will probably be less in a boxing ring than it is in an octagon.
Obviously Floyd is used to these sized gloves, basically fighting in them his whole life. Now Floyd has said he doesn't care about the gloves and he'd fight in whatever he wants. The only reason I bring this up is if the size of the gloves were to change in Connors favor, it may swing the betting odds a little it even more towards him. (Remember, Floyd opened -1200, Connor +800).
So once again, we have arguably the greatest boxer of our generation at 49-0, stepping into a boxing match with a mixed martial artist with no boxing experience what so ever. Now, I'm not in the camp that Connor McGregor has 0 chance like most boxing people are. I also believe they aren't just saying that—they believe it. I've learned a long time ago to never count him out, but make no mistake about it, this is a money grab situation by Connor McGregor (and Floyd too).
Let's get this out of the way. I firmly believe Floyd Mayweather is going to defeat Connor McGregor. But I'm not willing to go into this fight laying -700 with 0 exposure to a man that I believe has a higher chance to win this fight than most.
The Case for Connor McGregor:
Unknowns. All of them. Outside of some shaky i-Phone footage there is really nothing to go off of with what kind of style Connor will come out with. He has one of the most un-orthodox stances in MMA as it stands right now, I'd assume something of the same in a boxing match. Connor also possesses knockout power that is literally out of this world. His knockout against Jose Aldo was a thing of beauty, but I don't expect Floyd to come running into it the way Jose Aldo did.
Connor McGregor knocks out Jose Aldo in 13 seconds:

But I don't want to be put in a position to not game plan for it. I believe if Connor is going to win this fight it's going to have to be early. Connor McGregor has very suspect cardio, and fades late in UFC fights which at most are 25 minutes. Go back and watch the closest thing he's come to a boxing match with the second Nate Diaz fight. He faded A TON late. So here's how we game plan for this.
McGregor To Win Prop Bets

$25 to win round 1= $643
$25 to win round 2= $1,000
$25 to win round 3= $1,125
$25 to win round 4= $1,250
$100 total investment in Connor in rounds 1-4.
1 Unit investment on Connor Mcgregor to win (+4.74) His fight odds are +474.
The Case For Floyd Mayweather
Let's start off with he's the probably the best boxer of this generation. I know he's old. I know he's coming off a long lay off. I'm going to keep this simple. Floyd Mayweather in theory should run circles around Connor McGregor and win the most boring fight you'll ever watch that cost you $99.00. Floyd Mayweather is the most gifted technical defensive boxer I've ever watched.
It's literally a thing of beauty to watch to combat sport nerds, and infuriating to regular fans. Think 12 rounds of the Tyron Woodley Vs. Damien Maia fight, and that will be Floyd's perfect end game here. Floyd hasn't knocked anyone out since 2011, and Connor McGregor has one of the best chins in MMA history. The cardio for McGregor will be key though, if he fades late, again in theory, Floyd could put him down. There is a reason Floyd by decision is +248. Vegas doesn't think this is going to a decision, which for anyone that bets Floyd's fight, Floyd and the over, or Floyd be decision has built bankrolls for YEARS.
So again, here's the deal. I'm on Floyd here. By no means would I ever tell you guys to lay -740 straight, and I'd hate to see people lose money on a -740 favorite because they took him by decision instead of a KO. So here's my advice.
If you guys know what penny stocks are, we are going to take what I call the "Penny Stock Route" to cashing in on this fight no matter what happens. Again, everyone's unit size is different here, but here's something eye popping. Whatever online sports books you guys allow, find the one with the lowest line on Floyd Mayweather. I'm going to use 5Dimes here just for the sake of a book, but much better numbers exist than the -740 out there. But take a look:
Mayweather Parlay Calculator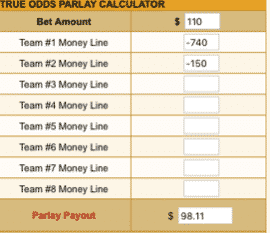 If you parlay Floyd Mayweather with anything up to a -150 favorite, it's just about -110. That's a normal bet vig to pay on anything. But you don't have to stop there. Pick out situations you guys love, or are currently betting and just add Floyd Mayweather. Clayton Kershaw, Alex Wood, Max Sherzer, Chris Sale, even these big favorites in baseball can turn Floyd Mayweather from -740 to -140. Don't believe me?
Floyd Mayweather Parlay

Mayweather vs McGregor Betting Strategy
So here's what I'm doing for the next 20 or so days before this fight. If you're going to bet 1 unit on a play straight, just bet .5 on it, and bet the other .5 in a parlay with Floyd Mayweather. All online sports books will allow cross sports parlays.
If you put in one $50 parlay a day, even if a couple lose along the way, because it's a parlay, you aren't going to lose the juice on the other one. And if you have an underdog your betting? even better. But you can get to the point where you have 20 $50 dollar bets on Floyd, So risking about $1,000 to return just about $900. Then just take the biggest number on McGregor you can for $100. Risk $200 to win $1,000 for example. No matter what happens, you will come out on top.
Examples: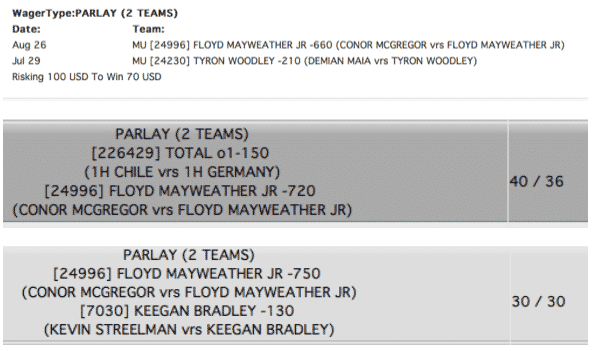 Again, they add up. Risk a little bit at a time if you want to and do a bunch of them. Then just come back on Connor to guarantee yourself profit no matter what happens in this fight. Best of luck guys.