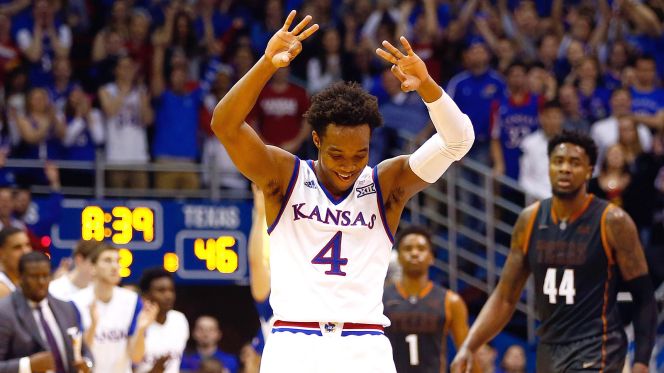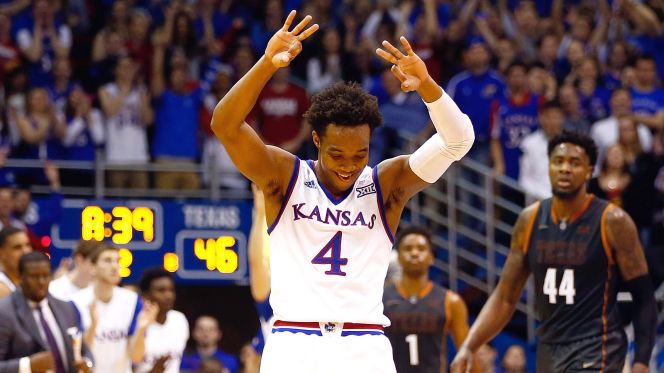 Written By: Colby Dant (@TheColbyD)
1. Kansas Jayhawks
The Jayhawks have won the Big 12 regular season 12 straight years. Might as well make it a 13th because I don't see anyone knocking off the Jayhawks. Bill Self had another top 10 recruiting class and Frank Mason and Devonte Graham return. The out of conference schedule is loaded with games vs Indiana (opening night), vs Duke, @UAB, vs Stanford, & vs Nebraska. They should at least be 3-2 in those and it's possible that they win them all.
2. Iowa State Cyclones
It's year two under Steve Prohm and the Cyclones should be better than last year. The Cyclones will be bringing back Monte Morris, Matt Thomas & Nazareth Mitrou-Long. That's plenty of talent and veteran leadership to perhaps take this team to the next level. Out of conference there isn't many notable games but the big ones include games vs Cincinnati, & @Iowa. They should go 2-0 in those matchups.
3. Texas Longhorns
Shaka Smart already exceeded expectations in year one and now comes year two. Yes they lost five seniors and a junior point guard in Isaiah Taylor. Still, with all that I expect the Longhorns to be one of the top teams in the Big 12. Smart is too good of a coach to expect otherwise. Jarrett Allen is a highly touted freshman and if he lives up to the hype this Longhorn team could make a run in the tournament. Out of conference schedule has some nice matchups @Northwestern, vs Alabama, @Michigan, vs Arkansas, & vs UAB. They should have a winning record against those teams and could be favored in every single one of those.
4. Baylor Bears
There's no denying the Bears lost a lot from last years team but head coach Scott Drew is ready to reload and still be a tournament team. Sure a lot of that has to do with a Miami(fla) transfer in point guard Manu Lecomte and the fact they did retain Al Freeman and Jonathan Motley. I almost had the Bears projected at 2nd or 3rd but the Bears always seem like a team that has a ton of talent but can never truly live up to it. We'll see about this year. The out of conference schedule has some marquee matchups vs Oregon, vs VCU & vs Xavier. If they can go 2-1 in those and handle the small schools then the people in Waco should be happy about the season.
5. West Virginia Mountaineers
The ultimate asshole Bob Huggins is back at the helm in Morgantown, WV. Huggins is a decent coach despite how much of a scumbag he appears to be. The Mountaineers lost Jaysean Paige & Devin Williams but there is still reason to be optimistic for this season. Jevon Carter, Dax Miles & Tarik Phillip are all returning and if they can get some solid help from a few freshman than WVU might really surprise some people. The out of conference games that are notable are vs Illinois and @Virginia. I'd expect them to go 1-1 in those. All in all I think they sneak into the tourney as a team that gets better as the season goes along.
6. Oklahoma Sooners
Buddy Hield, Isaiah Cousins and Ryan Spangler are gone. That's the bad news, but coach Lon Kruger is too good of a coach for them to totally drop off the grid. Senior Jordan Woodward is back to lead the Sooners and mix that with some possible good newcomers like junior college transfer Darrion Strong and redshirt freshman Matt Freeman. I think it's safe to say it's a rebuilding year but I think the Sooners still could make a run for getting into the field of 68. The out of conference schedule has big games lined up @Wisconsin, vs Wichita State, vs Memphis and vs Auburn. I got them going 2-2 in those but if they get going early they might be able to go 3-1.
7. Kansas State Wildcats
Bruce Weber returns an experienced team that could surprise this year. It's tough to rank the Wildcats this year. Last year they lost what seemed like a million close games. Well, this year they get the opportunity to right those wrongs. Led by guard Wesley Iwundu the Wildcats inherit a veteran team with exception to top 100 recruit Xavier Sneed who should start for them at SF. If he develops early watch out for the Wildcats. The out of conference schedule has games @Boston College, @St. Louis, & @Colorado State. Those are all winnable games that the Wildcats need to win if they wanna get to the postseason.
8. Texas Tech Red Raiders
Tubby Smith bolted out of Lubbock in a surprising move to Memphis. Former assistant Chris Beard had just taken the UNLV job weeks before Smith made his move. Beard than quit UNLV in what was a disaster for Vegas and headed back to Lubbock for the head coaching gig. Smith left the Red Raiders in great shape with Aaron Ross, & Zach Smith leading the way for a veteran team. The out of conference schedule is light with their only big tests coming @Auburn & @Richmond. They should at least split those games.
9. Oklahoma State Cowboys
The Travis Ford era is over in Stillwater, now enter head coach Brad Underwood from Stephen F. Austin where he did a remarkable job. The Cowboys actually return some decent talent with Jawun Evans, Phil Forte III, & Leyton Hammonds. It's a new system so this might take some time but the Cowboys landed a great coach. The out of conference schedule has some big games @UConn, @Tulsa & @Maryland. I'd expect the Cowboys to go 1-2 in those but maybe they could surprise.
10. TCU Hornfrogs
TCU has been terrible at basketball for quite sometime. However, the frogs landed the home run hit they needed when they landed former Pitt head coach and TCU alum Jamie Dixon. Sure it will take time but this program is trending upwards. Malique Trent is the frogs best returning player and Dixon might be able to make him even better. Fans in Dallas will need some patience though. The out of conference schedule has games @UNLV, vs Washington & @SMU. They'll be lucky to win one of those games (UNLV I'm looking at you). Great things take time. They're on the right track.