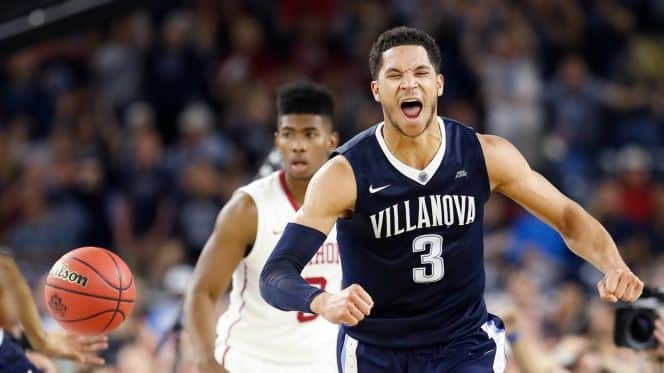 Written By: Colby Dant (@TheColbyD)
1. Villanova Wildcats
Jay Wright and the defending champs are back! Well, sort of. Ryan Arcidiacono and Daniel Ochefu are gone but there is still plenty of reasons to be optimistic that the Wildcats can win the Big East and contend for another National Championship. Kris Jenkins & Josh Hart are back to lead them. Out of conference schedule wise the Cats challenges should be @Purdue, vs Notre Dame and vs Temple. They should at least go 2-1 in those are possibly 3-0.
2. Xavier Musketeers
The Musketeers are coming off a great surprise season, but with that comes great expectations for this season. Trevor Blueitt and Myles Davis are back to lead the Musketeers. I expect them to challenge Villanova for the Big East Title. The out of conference schedule proves the Musketeers aren't messing around. They have games @Missouri, vs Northern Iowa, @Baylor, @Colorado, vs Utah and vs Wake Forest. That's the toughest out of conference schedule in the big east, so by the time conference play rolls around they should be plenty tested. If you're a fan of them just be happy if they go 4-2 in those games mentioned above.
3. Seton Hall Pirates
The Pirates are the last team to beat defending champion Villanova. So they got that going for them. Okay now i'll be serious. Head coach Kevin Williard had a great season and to think they almost fired him? The Pirates should make the tournament again this season as they are led by star guard Khadeen Carrington. They also bring back starters Desi Rodriguez and Ismael Sanogo so this is a veteran team that could really be a surprise team. The out of conference schedule is highlighted by games @Iowa, @Florida, vs South Carolina & vs Rutgers. They should at worst go 2-2 in those but I'd expect them to go 3-1 in those. Watch out for the Pirates to be a sleeper team.
4. Creighton Bluejays
Creighton hasn't been to the NCAA tournament since the Doug McDermott days but it appears as they're finally reloaded and ready to make a run to the tourney. Head coach Greg McDermott has been very vocal on the experience and talent this years team in bringing in. Add the experience of Maurice Watson Jr. and former Kansas State transfer Marcus Foster along with redshirt freshman Justin Patton and this team could be primed for a run in the NCAA Tournament. Out of conference schedule wise the big games are vs Wisconsin, vs Washington State, @Nebraska, & @Arizona State. They should go 3-1 in those games but the Nebraska game could be tricky since it's a in state rivalry game.
5. Marquette Golden Eagles
Steve Wojciechowski brings back four of the five starters from last seasons team. Sure, they lost Henry Ellenson to the NBA but this team could still be a pretty good team this season. Anytime you return four starters it's a great thing. Especially if you plan to make a run in the tourney. Out of conference wise the marquee matchups are opening night @Vanderbilt, vs Michigan and @Georgia. They need to find a way to go 2-1 in those games and avoid any upsets from the small guys like Fresno State, etc. All in all I like them to make the tourney this year.
6. Providence Friars
It seems like nearly every publication regarding college basketball has been shitting on Providence. I think Ed Cooley is a better coach than people give him credit for. Sure Kris Dunn is gone but Rodney Bullock is back and they have some new talent coming in that will surprise some folks. I'm looking at you Isaiah Jackson (George Mason Transfer). Out of conference schedule wise the big games are @Ohio State, @Memphis, vs UMASS, & @Boston College. Those games are tough with exception to the BC game. It's key that they win a few of those and handle their business vs the mid majors. All in all I think the Friars could surprise some people but it's still a rebuilding year.
7. Butler Bulldogs
It's hard to have them ranked as the 7th team in the division because Butler is always a team that overachieves. With that said the Bulldogs will have to replace key players like Roosevelt Jones and Kellen Dunham. Kelan Martin is now the team leader and they do gain some experience in transfers Avery Woodson and Kethan Savage but still I think 7th is where they fit. Perhaps they prove me wrong. Out of conference wise the Bulldogs have big matchups vs Northwestern, @Vanderbilt, @Utah and vs Cincinnati. Those are some tough matchups. I'm thinking they go 1-3 in those if not 0-4. If they go 2-2 every bulldog fan should be happy.
8. Georgetown Hoyas
The seat in DC for head coach John Thompson III is might hot after finishing last season below .500. Last year turnovers were a big part of the problem, if they can fix that maybe just maybe they can save their coaches job. They do return a couple of nice pieces in Isaac Copeland and L.J. Peak. Out of conference wise they have some challenging matchups vs Maryland, @Oregon and @Syracuse. If they can steal one of those it would be key because they should be underdogs in all three of them.
9. St. John's Red Storm
Chris Mullin used his NBA experience to land some nice recruits so maybe there is hope after all in NYC. This is still very much a rebuilding year but they have some young talent in Shamorie Ponds, Marcus LoVett & Bashir Ahmed. Add that with sophomore Federico Mussoni and Tennessee transfer Tariq Owens and maybe this team can develop into a decent team. The out of conference schedule has tests @Minnesota, vs Michigan State, vs Penn State & @Syracuse. There's a chance they lose all of those but I think they might be able to steal the Minnesota game. Things are still looking up in NYC.
10. DePaul Blue Demons
The Blue Demons haven't won more than 12 games in a season since 2007. This year I think they'll get over that hump but not by much. They have 4 seniors coming back and a couple transfers coming in that could help. Still at best their finishing in last unless St. John's somehow implodes. The out of conference schedule has games vs Rutgers, @Northwestern, @Temple, & @Wyoming. If they can go 2-2 in those games there's reason to be optimistic in Chicago.