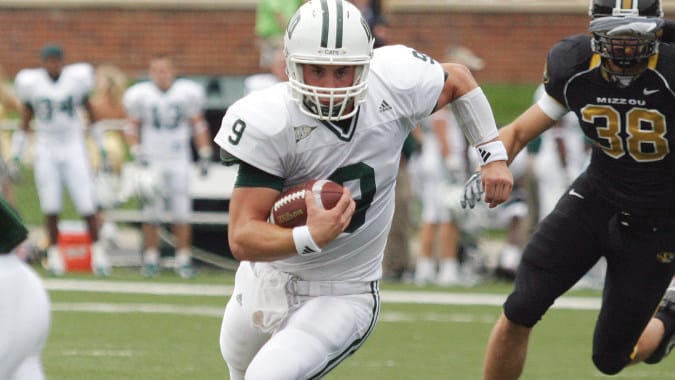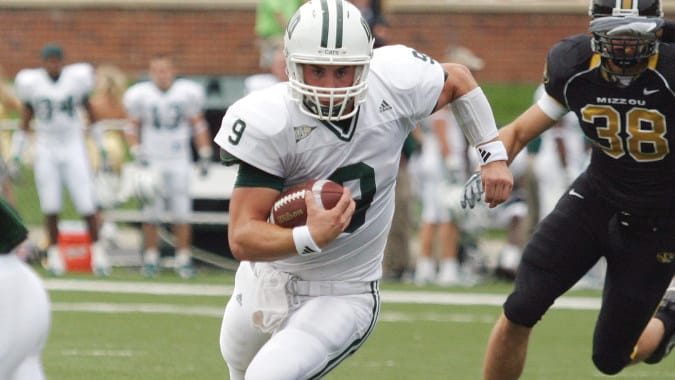 Written By: Colby Dant (@TheColbyD) also check out:

MAC East Preview
What you didn't think I'd preview this conference? Come on now I can't discriminate against the little guys. Come on its August I'm dying for some MAC football. Hopefully you are too haha. The Mid American Conference (MAC) is a very underrated football conference, sure its not a power 5 but plenty of these teams have fared pretty well against the big boys throughout the past 10 to 15 years.
Some of college footballs best coaches and biggest assholes have started out here Nick Saban (Toledo), Uban Myer (Bowling Green), Brian Kelly (Central Michigan), so there's plenty of reasons to be excited for another MAC season.
East Division
1. Ohio
Former Nebraska head coach Frank Solich has done a great job at Ohio for the past decade or so. Most people have Bowling Green repeating but this year I think the Bobcats win the division. Out of Conference the cats start with Texas State a game they should win. After that a couple road match-ups against power 5 teams come calling @Kansas (They will upset the jayhawks), and @Tennessee (I'm probably gonna take the Bobcats plus the points).
If they can go 1-1 in against the power 5 teams and 3-1 out of conference (they also play 1aa Gardner Webb) the bobcat fans should be happy. In conference play they get Bowling Green & Buffalo at home which they should win. They really lucked up schedule wise by not having to face MAC favorite Western Michigan or Northern Illinois. Their toughest conference road games should be @Toledo on a thursday night and @Central Michigan If they can go 1-1 vs them look for the Bobcats to be playing in the MAC Championship.
2. Bowling Green
The Falcons are coming off another great season but gone is head coach Dino Babers who moved on to Syracuse. Now comes in first time head coach Mike Jinks from Texas Tech. Senior QB James Knapke is ready to take over the QB spot and he'll be running a similar offense to the one they had under Babers, plus he's no stranger to the position he started ten games as a sophomore. Schedule wise the Falcons have a tougher schedule than the Ohio and most the division. They start the season @Ohio State which we all know should be an L (hopefully they'll keep it close for some), Then the Falcons host 1AA school North Dakota, not to confused with the 1AA powerhouse North Dakota State.
So Bowling Green should be 1-1 before they host Middle Tennessee from the Sun Belt, Middle Tennessee is a veteran team that will be bowling this year, In fact I'd favor MT right now if they were to play tomorrow. After that BG has a road game @Memphis which you would have to favor Memphis. 1-3 first month for Jinks? It very well could be. Conference wise the Falcons have a few tough road games @Ohio, @Toledo, @Northern Illinois & @Akron. They should be happy if they go 2-2 in those 4 games. All in all the Falcons take a step back but still end up bowling in something like the chile cook off bowl.
3. Buffalo
The Bulls are back in year two of Lance Leipolds tenure, last year Leipold did a great job just barely missing out on a bowl game. I expect them to make a run at the MAC east division title this year. Although they'll fall short I think the Bulls are on the right track. Out of Conference wise the Bulls start the season against the 1AA Albany Great Danes, so that should be a win, then they get a week off before they play @Nevada in Reno.
I doubt they come away with that one, the other non conference games are home vs Army and @Boston College. They should be happy if they go 2-2 out of conference. In conference the Bulls have it pretty tough with games @Northern Illinois, @Ohio, @Western Michigan & @Bowling Green. They'll be the underdog in every single one of those games. Home wise they do get winnable games against Kent State, Ball State, Akron, & Miami (Oh). If they take care of all those and win the two out of conference games the Bulls should end the season at 6-6 and being bowl eligible.
4. Akron
Terry Bowden, son of Bobby is back coaching at Akron if you didn't know and last year he pulled off 8 wins at Akron. Yes, that was a great coaching job but now comes the hard part of replacing 9 offensive starters. I expect the Zips to take a step back this year but this is a team to watch come November when they get used to playing together. Schedule wise the Zips were not afraid to go for it all. After a week one matchup with 1AA school Virginia Military the Zips play @Wisconsin (come on Zips pull the upset), then the following week they play @Marshall, then the following week they are home to Appalachian State ouch! That's a tough three game stretch there where they should be the underdog in all three.
After that the conference play starts and the Zips have a favorable road schedule with games @Kent State, @Ball State, @Buffalo before ending the season @Ohio. I could see them going 2-2 or 3-1 there. Home wise they have Miami (Oh), Western Michigan, Toledo & Bowling Green. They'll be favored in only one of them (Miami OH). All in all i think the Zips miss out on a bowl game or being bowl eligible this year but Bowden has them on the right track.
5. Kent State
Coach Paul Haynes is back for yet another season. This year the Golden Flashes season rides on the offense, last year they had the nations worst ranked offense and that means never watch them on television, I don't care if its a tuesday night prime time game. The defense was great last year but that offense ugh. Schedule wise the golden flashes might of been slightly hammered when they set this up.
They have 4 out of conference games just like anybody else but they have two 1AA opponents in North Carolina A&T and Monmouth (better win those), because your other non conference games are @Penn State & @Alabama. Before I saw that I think I had the Golden Flashes making a bowl game, but now yeah not so much. Conference wise they draw C.Michigan, W.Michigan & N.Illinois from the West. Ouch! Yeah they really get some tough homes games against Akron, Ohio, Western Michigan & Northern Illinois. Maybe they beat Akron if not theres not going to be any conference home wins. On the road the Golden Flashes get @Buffalo, @Miami (OH), @Central Michigan, @Bowling Green. All in all they should be happy if they can somehow get 5 wins.
6. Miami (OH)
It's tough to preview this team. What happened to that 2010 Championship team or the Roethlisberger years?. Chuck Martin is a proven winner at head coach just not a division one level yet. I didn't know where to put this team to tell you the truth. They lost quite a bit last season but they return QB's Billy Bahl & Gus Ragland and with that comes hope. Schedule wise the Redskins (not Redhawks) really can't hope for more than one out of conference victory with that being home against Eastern Illinois (who could also beat Miami) besides for that they play @Iowa, home to Western Kentucky (who ended the season in the top 25 last year) & @Cincinnati.
So just hope for a 1-3 month to start the season. In Conference the Redskins get home games against Ohio, Kent State, Central Michigan & Ball State. They'll be lucky to go 2-2 in that stretch. Road game wise they play @Akron, @Bowling Green, @Eastern Michigan & @Buffalo. They'll be lucky to go 1-3 in that stretch. All in all its looking like another shit season for the Redskins. I'd say 2-10 or 3-9 is the way the year goes.