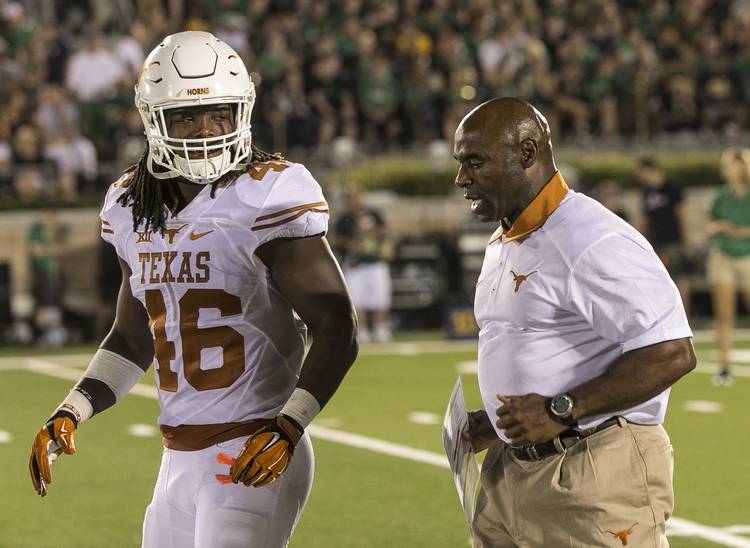 Written By: Colby Dant (@TheColbyD) also check out:

Big 12
Hey the big 12 which consists on 10 teams is finally doing the math and figuring out that they need more teams for their own conference name to make sense. So on September 1st they are supposed to make an announcement that they are now good at math. Who those schools will be who knows? Who cares there's a season at play here. Last year Oklahoma made the playoffs and some have them getting back there again but I wouldn't bet on it. Other than that the division is still pretty loaded with solid football with exception to the University of Kansas. Okay here are my picks.
1. Texas Longhorns
Okay, I admit that I'm really buying into that win over oklahoma last year. Besides that I don't have much to go on. They have a true freshman qb but playing in his actual high school offense so there's that. Plus they keep doing an amazing job on the recruiting fronts. This is the year they put it all together. Schedule wise the first six weeks are crazy.they start the season at home against Notre Dame and UTEP and then travel to Berkley to play Cal before they go to Stillwater to play OK State! Then they play OU in the Red River Shoot Out! Well I'm getting on the Longhorns but if I'm wrong Charlie Strong will probably be fired before that game. The Talent is there though and in Strong I trust. The Longhorns win the division but miss out on the playoffs.
2. TCU
Gary Patterson is still in the midst of maybe the best coaching job ever in the college ranks. When he took over at the helm the Horn Frogs were in the Confrence USA for Christ sake. They lost a lot on offense but Patterson has this team rolling. Schedule wise they get Arkansas out of conference which could go either way. In division they get Oklahoma and OK State in Fort Worth but have to travel to Morgantown, Waco & Austin if they can go 2-1 in those games I think they finish 2nd in the division.
3. Oklahoma
Yeah yeah yeah I get it I have the defending division champs in third. I think this years Sooners might be a bit overrated. They start the season off with the Houston Cougars and let me just say I like the Cougars to upset the Sooners. After that they still have to play Ohio State out of conference! Sure that game is in Norman which they rarely lose at but still Id favor the Buckeyes to steal that game. Then comes the divisional games. They play @TCU the week before the red river rivalry. I doubt they get both of those games. They should be able to handle the rest of the home games but watch the Baylor game. On the road they should be able to handle Iowa State and Texas Tech but watch out for the game in Morgantown, WV. All in all I think 3rd place is where they end up.
4. Baylor
Art Briles may be gone, several players may have transferred but boy did Baylor pull a nice move when they brought in interim head coach Jim Grobe. I don't think people realize how good of a hire that was even if it is on a interim basis. If the players buy into him I expect the Bears to surprise a lot of people and make a run for the big 12 championship. People forget Grobe once won the ACC with Wake Forest. That might be one of the best coaching jobs in the past decade or so. Schedule wise the Bears play no one out of conference which is just laughable normally but this year it may help Grobe. In division they get away games @norman @Austin & @Morgantown ! Ouch but if anyone can do it Grobe possibly can. I like them to surprise some people and finish 4th.
5. Oklahoma State
Mike Gundy is still doing it at Oklahoma state. "Come at me, not a kid, I'm a man I'm 40!!!!!! Wait….50″ yeah he's gotta be somewhere around that age now. Gundy has done a pretty good job at OK State. I expect another decent season from the Cowboys. Out of conference they really only get tested in a home game against Pitt. They should win that. So they should be undefeated headed into conference play with two tough games @Baylor and home against Texas if they win one of those Cowboy fans should be happy. Late season road games could tell the story for the Cowboys season with some tough road games @K State, @TCU & @Oklahoma. They'll for sure be underdogs in the TCU & Oklahoma games and possibly the K State game. If they can go 2-3 there Gundy will be overachieving. All in all I see OK State going 8-4 or 7-5 this year.
6. Kansas State
I gotta admit they are one of the teams I really pull for. Maybe it's because Bill Snyder their head coach was born before world war 2 and he's the last of loyal coaches to stay at one place for the course of ones career. Last year the Wildcats had a ton of injuries, specifically at quarterback and they still overachieved. This year the Wildcats might have better luck and if that happens I think this team can surprise some people including myself. They start the season at Stanford and let me tell you people that is a dangerous game for the Cardinals. In division they have road games @west Virginia, @oklahoma & @TCU. They'll be lucky to go 1-2 in those games. However they do have Ok State, Texas & Texas Tech coming to Manhattan, KA. I think they go 2-1 against those three but watch it they have the potential to win all three. All in all Bill Snyder overachieves yet again and Wildcats finish 5th or better.
7. West Virginia
The seat is hot for coach Dana Holgerson and perhaps after this season he'll be sleeping on one of those couches that those fans set fire to. The Mountaineers should go bowling again but will that be enough? Out of conference they play Missouri in Morgantown so they should win that one, plus they play BYU in Landover, Maryland weird set up but they should win that one too. So let's say they are 3-0 coming into divisional play, the mountaineers get TCU, K State, Oklahoma & Baylor all at home. They really need to win all of those because I doubt they win @Texas or @OK State. They might not even win @Texas Tech either. I expect them to go bowling but I don't know if a 7-5 or 8-4 season will save Holgerson.
8. Texas Tech
When it comes to Douchebags Kliff Kingsbury sure seems to fit the part but regardless it's a huge year for Kingsbury. His teams have been way too inconsistent and that head coaching seat is getting pretty hot. Out of conference Tech plays @ASU which is a winnable game although they won't be favored and watch out for Skip Holtz's Louisiana Tech squad that almost knocked off K State in Manhattan last season (lost in overtime). If they get by those guys Kingsbury could really save his job with a few key wins. They need to upset West Virginia in Lubbock and pull the real shocker against ether OU or Texas (both travel to Lubbock). All in all I see 6 or 7 wins. If it's 6 I think Kingsbury is fired if it's 7 I think he's back next year.
9. Iowa State
Wow the Cyclones really did it! They landed one of the hottest coaches in the country in Matt Campbell (Toledo). I was shocked Campbell left Toledo for that job but hell maybe
Matt knows something I don't. The Cyclones start the year against Northern Iowa and they are a decent 1AA team so don't overlook that game. The reason they might overlook it is because the following week they play hated rival Iowa. It's Iowa guys and these games are more important than the super bowl for anyone living in Des Moines. Iowa will beat the Cyclones but hopefully it will be a good one. When it comes to division games I really don't see the Cyclones being favored in any games with exception to their matchup with the Kansas Jayhawks. If you're a cyclone fan just enjoy the fact you landed Campbell and buy an extra cotton candy at the Iowa state fair.
10. Kansas
Wow I don't even know where to start. Just shy of a decade ago the Jayhawks were in a BCS football game (which they won) but then they're coach for cursing at his players haha. Then they hired Turner Gil and fat ass Charlie Weis. Now enter David Beaty who's in year two of his life in Lawrence. The Jayhawks haven't won a road game against a power 5 conference since Bush Jr. was in office. Is this the year they do? I'm thinking no. Out of conference The Jayhawks will lose to Frank Solich's Ohio team and they Jayhawks travel to Memphis so I don't see them winning that one. I think they beat Rhode Island though so let's just give him that. 1-11 here you come.