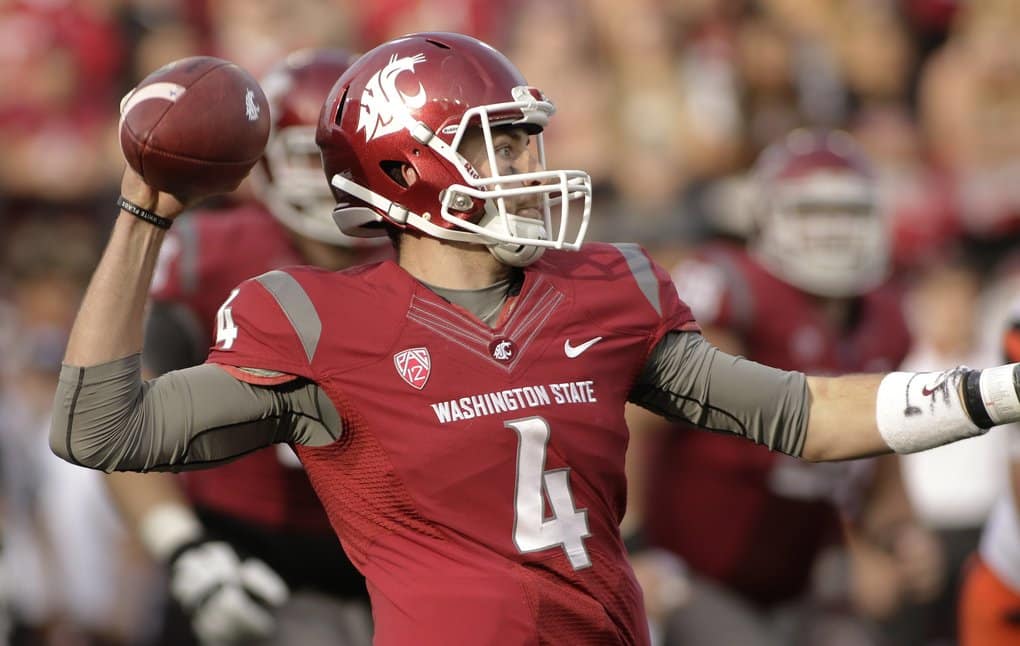 Written By: Colby Dant (@TheColbyD) also check out:

PAC 12 North Preview
The North is just like the SEC West just absolutely loaded. I've gone back and forth like forty times trying to pick a winner and this is what I've decided. People will think I'm crazy and yes I will admit I'm about two drinks deep.
1. Washington State
Wait what, Yes I fucking said it. The Cougars are my pick to win the Pac 12 north and Mike Leach and his pirate loving ass will be the talk of the college football world. Luke Falk must stay healthy for this to happen. They will probably lose week 2 @Boise State and everybody will start shitting on me. Hold your horses though because the Cougs get Oregon in Pullman (where they should of beat them last time) they also host UCLA and Washington in pullman and avoid playing USC or Utah. Sure they'll have to win either @Stanford or @Arizona State but I think they can at least get one of those games.
2. Oregon
The Ducks will be my favorite to win the North if they win @Washington State. The Ducks also have a favorable schedule with getting Washington and Stanford in Eugene. However I think they'll lose one in either Los Angeles (USC) or in Salt Lake City. You Duck fans might want to watch out for the out of conference game in Lincoln, Nebraska as well.
3. Washington
Everyone this year is high on the huskies and with great reason Chris Peterson is one of the best coaches in college football and their Defense is pretty scary. It's just the offense that leaves me thinking that the huskies are a bit overrated. I still do have them finishing 3rd above Stanford because they get the Cardinals and USC might I add in Seattle. So call off the dogs for this year but let's face it they're on the right track.
4. Stanford
Holy shit how could I pick a team that almost made the playoffs to finish 4th in their own division. Well they're replacing QB Kevin Hogan and while I understand that freshman Keller Chryst is already on the NFL radar. I just think the Cardinals have too tough of a schedule. They start the season against an underrated Kansas State school and then get a bye week before they take on USC. In fact if you include the USC game its quite the grueling five game stretch (vs USC, @UCLA, @Washington, vs Washington State, @Notre Dame) they'll be lucky to go .500 through that stretch and oh don't forget they still have to play @Oregon and @ Cal. All in all I think the Cardinals take quite the step back in 2016. So maybe youtube the Mark Madsen dance for any fun this fall.
5. California
The Golden Bears are supposed to be rebuilding but all of a sudden here comes transfer QB Davis Webb who transfers in from Texas Tech. Why is that important? Because head coach Sonny Dykes used to be the offensive coordinator at Texas Tech and Webb will be quite familiar with the offense. The only problem for the Bears is that they play in the Pac 12 North. Every team mentioned above is just better than the Bears but still the Bears aren't far behind. Which means watch out for the occasional upset or two. The Bears start the season off in Australia of all places after that though they travel to a tough San Diego State team before hosting the Texas Longhorns and thats out of conference. In conference they actually don't have that crazy of an away schedule but they have home games against Utah, Oregon, Washington, Stanford and UCLA! Yeah so cancel your pac 12 championship plans but a bowl game is possible.
6. Oregon State
Gary Anderson is in year two in Corvallis and with that the team should be so much more competitive. Anderson is too good of a coach to not do great things here but it's only year two. I think they could possibly steal one against Minnesota but they're not good enough to take down Boise State. In fact the basement of the division is still destined for this team but the team might pull of an upset here or there (I'm looking at you Arizona or Utah). Beaver fans just bare with Anderson he'll get you guys on track.