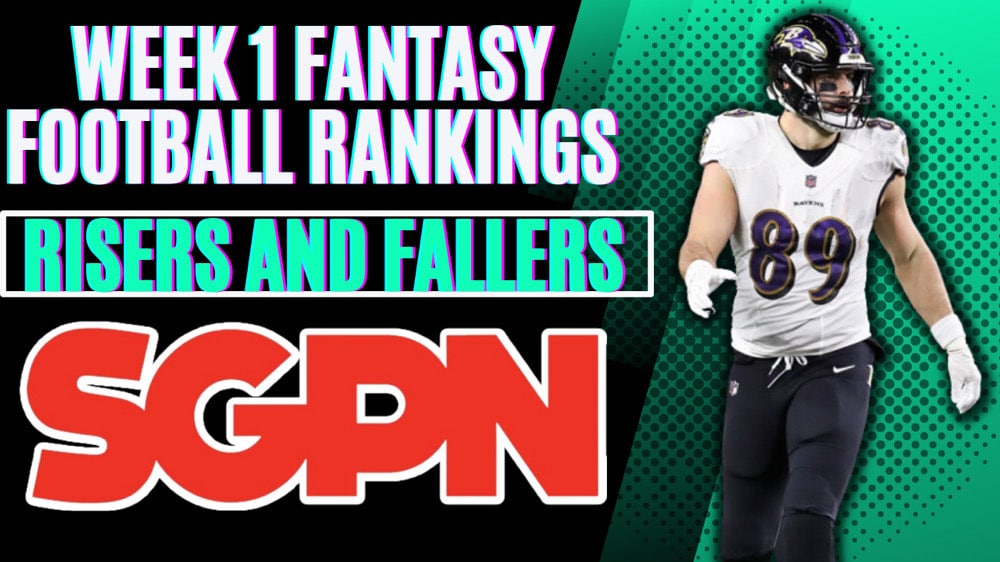 Week 1 is finally here, and we actually have to set those lineups. All of the hype around all of these players and not the panic. Who should I start, and Who should I sit? We all hope that our NFL teams and our fantasy football teams do enough to back up the crap you have been talking about all off-season. Starting your studs is always the best advice for Week 1. There are multiple studs that could miss Week 1, so we will need to look for help. Let's take a look at my Week 1 Fantasy Football Rankings!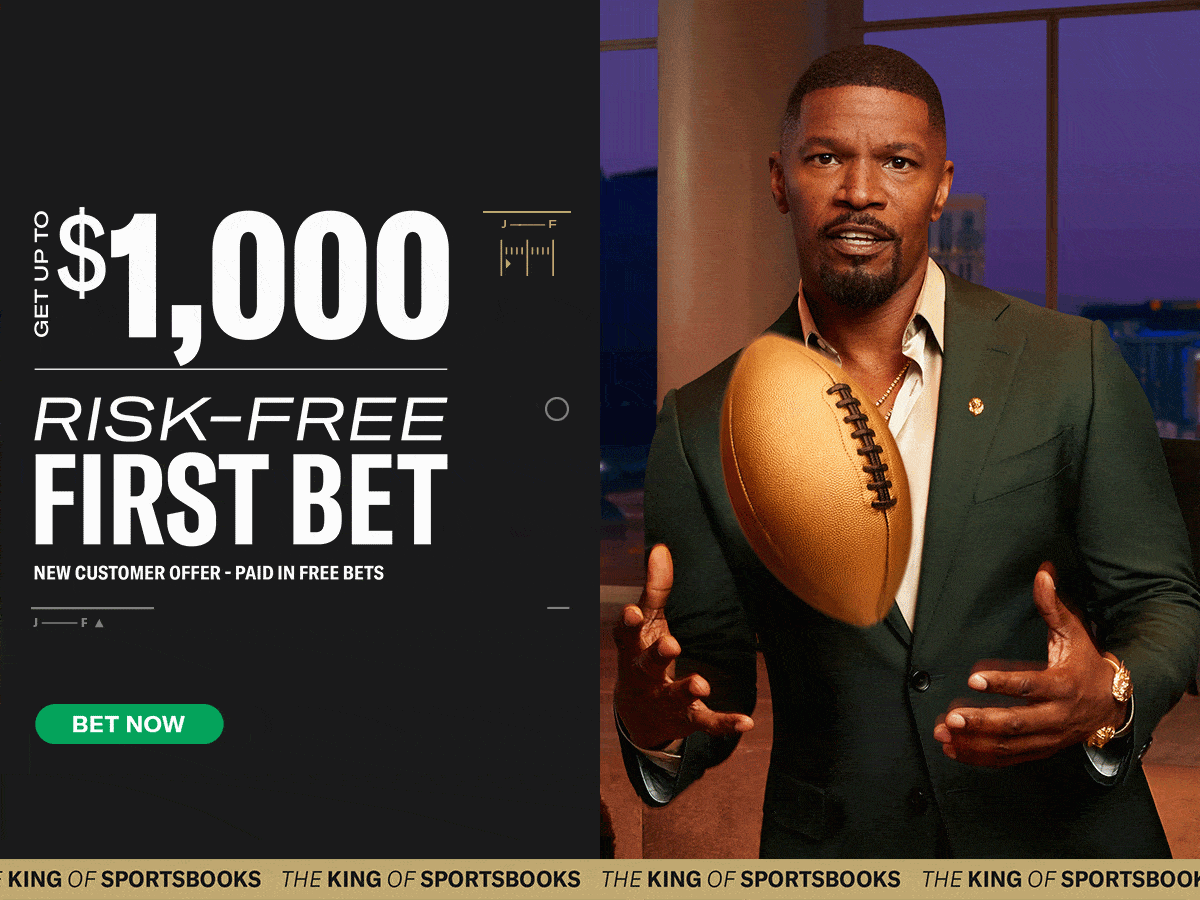 MORE SGPN FANTASY FOOTBALL CONTENT
SGPN Fantasy Football Cheat Sheets
Follow SGPN Fantasy Football on Youtube
Week 1 Fantasy Football Rankings: Risers and Fallers

We have you covered, and you can check out all of our rankings on the website. These are my rankings on the FantasyPros ECR. I have highlighted some players that I am higher on than the expert consensus. Good luck this week, and if you want any advice this season, please reach out. The easiest way to find us is by joining our Patreon and joining our discord.
Stay tuned in to the news because there are a lot of players already questionable for this week. If they play or don't play, there will be ripple effects. Tyler Higbee has seen a big jump in the rankings, and waiver adds with Cooper Kupp being out. Deon Jackson is someone you can consider flexing without Zack Moss or Jonathan Taylor. The Broncos lost Tim Patrick for the season, and Jerry Jeudy likely will miss a few weeks.
Here are my picks .5 PPR Rankings for Week 1 (click and scroll)
Quarterbacks

Riser: Ryan Tannehill +6 vs. ECR
The addition of DeAndre Hopkins changes a lot for this offense. Tennessee has made a lot of changes to the offensive line and brought in a new play-caller. Tannehill isn't far removed from back-to-back QB1 finishes. Last year was a disaster on many levels, including his health. The Saints are not an easy matchup, but the Titans, with Henry, Hopkins, Chig, and Burks, could still put up points. I like the addition of Tyjae Spears as well.
Riser: Desmond Ridder+8 vs. ECR
Marcus Mariota was awful last year, and he still was fantasy-relevant. In 12 games, he was a top-20 quarterback in 10 of them. This included Drake London and Kyle Pitts missing some time. The Falcons have added Bijan Robinson and get both of their top options back healthy. Atlanta also added Mack Hollins, who is an upgraded as their WR2. Ridder has some rushing upside and gets a soft matchup in Week 1.
Riser: Deshaun Watson +3 vs. ECR
This could be a higher-scoring game, and all signs point to this Browns' offense opening things up. The Browns let Kareem Hunt go, and they used both of their top picks on receivers. The additions of Elijah Moore and Cedric Tillman go with Amari Cooper, David Njoku, and Donovan Peoples-Jones. They are also going to have to try to keep up with the Bengals.

Faller: Matthew Stafford -4 vs. ECR
I fully expect the ECR to catch up to this one. Matthew Stafford was horrible last year, and that was even with Cooper Kupp. That offensive line is atrocious, and Stafford is a statue back there. His best receivers will be Van Jefferson, Puka Nacua, Tutu Atwell, and Tyler Higbee. Expect the Rams to try to run the ball a lot to protect Stafford. I'm Out!

Faller: Baker Mayfield -9 vs. ECR
Baker is on his fourth team in just one season. I love the weapons, but this is a bad situation. Tom Brady even struggled last year behind this offensive line. Baker has struggled with good situations, and we saw last year in Carolina how he crumbled behind that offensive line. Mayfield should be nowhere near your lineup.
Faller: Bryce Young -2 vs. ECR
Rookie quarterbacks rarely produce early for fantasy football. They are on bad teams with a shortage of weapons and typically a bad offensive line. Usually, they have a new coaching staff and a lot of roster turnover. Bryce Young checks all of the above boxes, and on top of that, the top receivers are all banged up. The Falcons are also not as soft of a matchup as people might think.
Running Backs
Riser: Deon Jackson +16 vs. ECR
The Colts RB1, by default, is Deon Jackson. I know there is some love for Evan Hull, but Jackson has produced on an NFL field, and all projections point at him. Jackson is not only able to produce as a runner, but his pass-catching skillset should intrigue you. The Colts will be from behind most of the game vs. the Jaguars, and Jackson should be heavily involved on all three downs. Jackson will be an outlet for him out of the backfield on designed plays and screens.

Riser: J.K. Dobbins +6 vs. ECR
J.K. Dobbins has not been healthy fully since his rookie year, where he didn't take over the backfield until halfway through the season. Dobbins has averaged almost six yards a carry, and when he gets 10 or more touches, he averages over 14 fantasy points. The knock on Dobbins is that he can't catch. He won't need to against the Texans' defense that gave up the most fantasy points to running backs in 2022.

Riser: Rachaad White +6 vs. ECR
Rachaad White is the only show in town for Tampa Bay's backfield, and the ECR just doesn't care. The Buccaneers will be playing from behind this week and all season. White's pass-catching ability gives him HUGE breakout potential. Look for White to get 20+ touches this week and at least eight targets. I would not be surprised if he finished as an RB1 this week.

Faller: Breece Hall -7 vs. ECR
The Jets already said they are going to be smart with the touches for Breece. All signs point to Hall getting worked into the offense more as the season progresses. I love the fact that he will get a lot of targets with Aaron Rodgers. But the Bills are a tough matchup, and Hall could be limited.

Faller: Jaylen Warren -11 vs. ECR
I love a good Cinderella story, but the Jaylen Warren hype is interesting. Mike Tomlin has never had a dual-threat backfield. As soon as Najee had the plate removed from his cleat last year, we saw his touches and snaps increase. Warren is a great handcuff, and he will get some playing time. But people are really thinking he is going to take Najee's job. I think that is a far-fetched idea. The Steelers also get the 49ers this week, no thanks.
Faller: Tyler Allgeier -7 vs. ECR
Maybe the Falcons go up big on the Panthers, and Allgeier gets some playing time. Not out of the possibilities, but I am not trusting the Falcons to do that just yet. Bijan will get most of the work, and Cordarelle Patterson is still there. This is also one of the slowest pace-of-play teams in the league.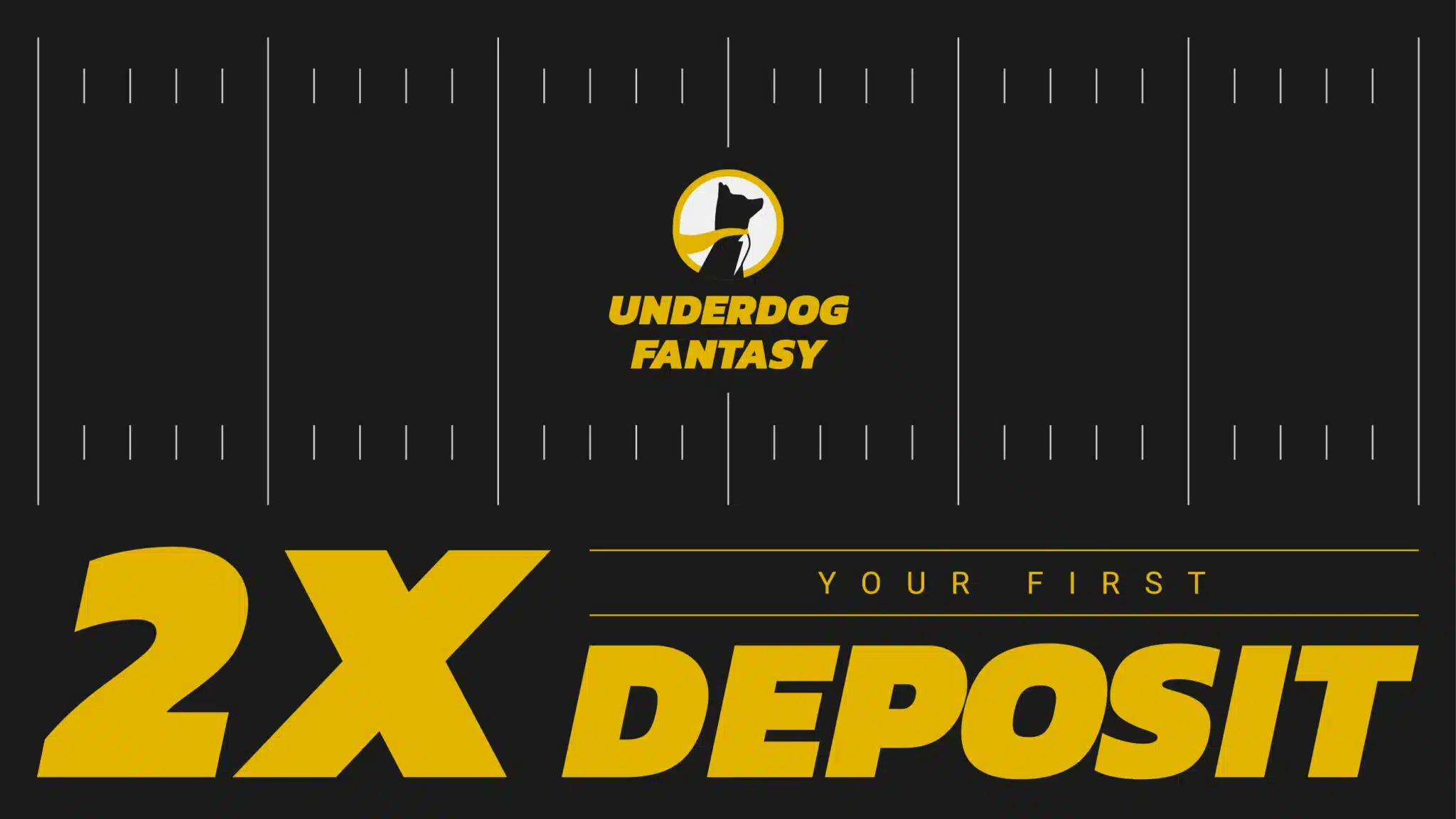 Wide Receivers
Riser: Amari Cooper +6 vs. ECR
It is a home game! I could just end it right there. But this is also going to be a high-scoring game. Cooper was great last year at home with Jacoby Brissett. He will be great this year with Deshaun Watson.
Riser: Jonathan Mingo +13 vs. ECR
I am not encouraging anyone to start Jonathan Mingo. But, if Theilen is out or limited, he will get a lot more work. Mingo played primarily in the slot, and that is where the Panthers intend to play Adam Thielen. Both Adam Thielen and D.J. Chark are questionable this week. Mingo could end up being their WR1 and their primary slot option this week.

Riser: Isaiah Hodgins +18 vs. ECR
All of the talk about the New York Giants is about Darren Waller and their 900 slot wide receivers. Don't forget who turned into the Giants' top option at the end of the season and in the playoffs. Hodgins is their top red zone option and outside wide receiver. Hodgins had eight catches for 85 yards and a touchdown in their playoff win. He will be a popular waiver wire add next week.
Faller: Drake London -7 vs. ECR
I don't hate Drake London. I just like a few options better. The Wide Receivers between 15-30 are all very close. This will be a lower-scoring game, and we still need to see what the target distribution looks like in this low-passing volume offense. London saw big increases in production when Desmond Ridder took over. But there was no Kyle Pitts and no Bijan Robinson. I need to see it before I believe it with this one.

Faller: Juju Smith-Schuster -7 vs. ECR
The thought of JuJu in the slot where Jakobi Meyers was a consistent option has been interesting all offseason. Now we are hearing that his knee is a ticking time bomb. We have seen him struggle and regress over the past few seasons. He has not been able to land a long-term contract with anyone for three years in a row. Now we know why. I am taking safer options here.

Faller: Rashod Bateman -23 vs. ECR
The Houston Texans did not give up a lot of production to wide receivers last year. This was partly due to the fact teams could just run all over them. The Ravens are still going to run the ball a lot, and I don't know how many targets Bateman is going to get. We have barely seen him play, but when he does, he only gets a few targets. They have Mark Andrews, Odell Beckham Jr., and Zay Flowers in a game that we don't see them passing a lot.
Who are your favorite TE replacements this week for those that might be without Kelce ?

Tight End Streaming Options ⤵️

— Dave Heilman (@DynastyDorks) September 7, 2023
Tight Ends
Michael Mayer +5 vs. ECR
Josh McDaniel has always involved his tight ends in the game, and sometimes it was multiple. I know Austin Hooper is there, but Mayer will get on the field. He is a great blocker on top of him being a great overall tight end. I like him to have an earlier impact than others.

Riser: Mike Gesicki +8 vs. ECR
Mike Gesicki is the TE1 for the Patriots, and we have heard about it all offseason. Bill O'Brien has done well with athletic tight ends in the past. Do you remember C.J. Federowicz and Owen Daniels? The team doesn't have any alpha options at wide receiver. Look for them to utilize the tight ends heavily, especially against the Eagles, who lost their linebackers and slot corners this offseason.

Riser: Tyle Higbee +6 vs. ECR
Everyone likes Tyler Higbee this week. I LOVE Tyler Higbee this week. He was already a double-digit guy in this offense, and now Cooper Kupp is out. Higbee could get up to 15 targets this week, and the Rams are likely playing from behind most of the game. He could be a top-five option this week with Kupp and possibly Kelce out.

Riser: Hayden Hurst +3 vs. ECR
Frank Reich loves the tight end, and the team gave Hayden Hurst a pretty solid contract. Hurst should be a safety blanket for rookie Bryce Young, and now we are hearing that the wide receivers are banged up. If both D.J. Chark and Adam Thielen do not play, I might have to move Hurst up even more. He is a deep streaming option this week with the situation in Carolina.

Faller: Jake Ferguson -2 vs. ECR
Jake Ferguson does appear to be the starter for the Dallas Cowboys, and that is great. I just don't see him getting the volume that Dalton Schultz was getting. Brandin Cooks was a huge add for the Cowboys, and we are also seeing big improvements from Jalen Tolbert. The team has CeeDee Lamb and Michael Gallup already. They also throw the ball to Tony Pollard a lot. Ferguson is a touchdown-or-bust option for me.