Everybody loves an underdog story. There's nothing better than bragging to the entire bar about the plus-money bet that you just cashed. Predicting a college football upset can give you a high that makes you feel like you're standing on the mountaintop. You can bet these Week 1 College Football picks against the spread, as single moneyline plays, or as a parlay, and you'll be the Tailgate Hero. Welcome to the Sports Gambling Podcast Network Animal Shelter. Let's find you a dog.
Go here for daily free NCAAF picks!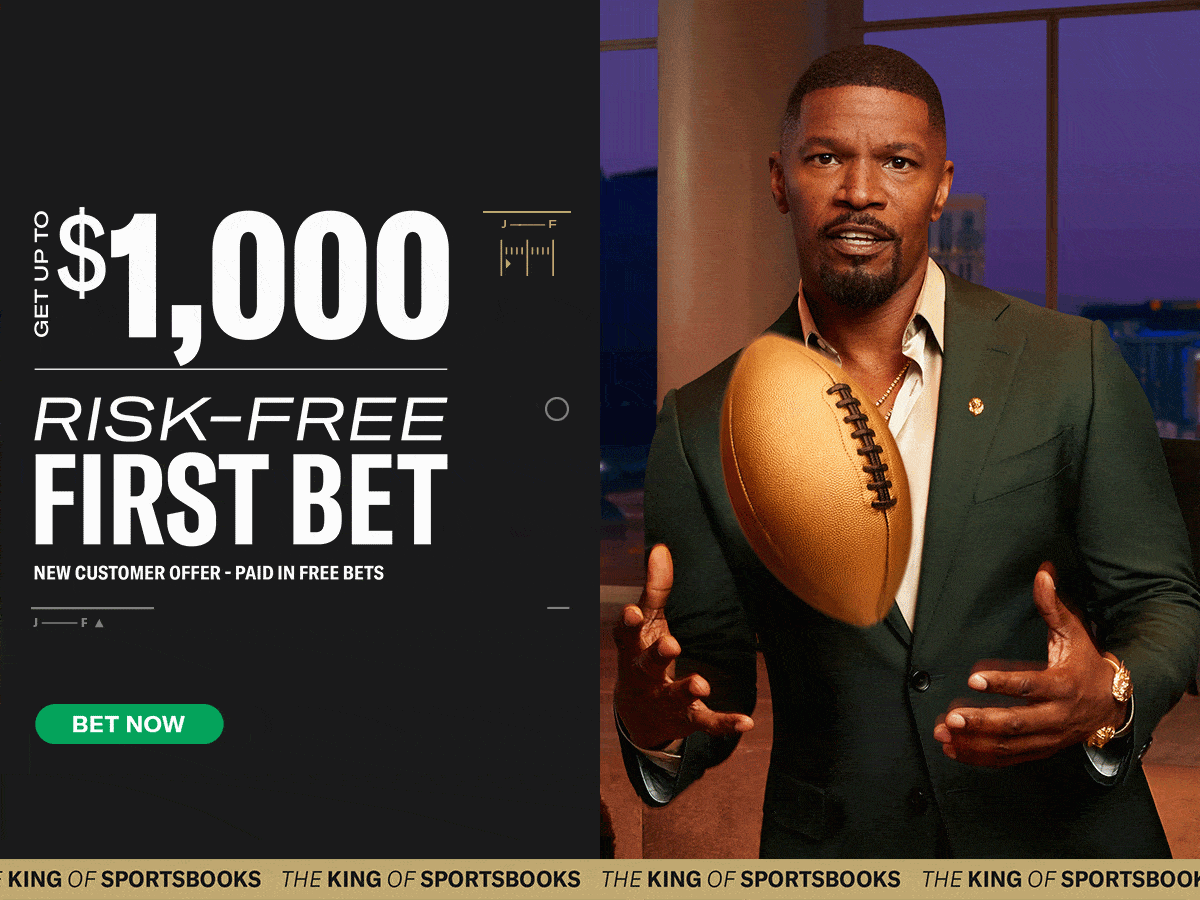 Week 1 College Football Picks: Moneyline Upset Parlay
+5061 The College Football Experience Parlay
We here at the Sports Gambling Podcast Network love large odds. Some people say parlay betting is dumb, but when you treat a parlay like a lottery ticket, it's not. Let me explain. Many folks are avid lotto players. For example, Mega Millions and Powerball. The odds of winning the Powerball jackpot is 1 in 292.2 million, and even lower for Mega Millions at 1 in 302.6 million.
The notorious slogan is, "risk a little to win a lot." What if I told you that you could place your $2 entry fee on a measured college football parlay where you can select your winning numbers based off of analysis instead of a machine randomly doing it for you? This week's selections of college football upsets would pay out $103.23 on DraftKings Sportsbook.
You can download the DraftKings app and use our code "DEGEN" on your first deposit. When you do that and bet $5 on any college football pick, you get $200 in bonus bets instantly!
There are 15 slates of college football. If you were to place just one $2 college football parlay each week, that's a $30 dollar bet total. With just one correct +5061 The College Football Experience Parlay, that's $73.23 of profit, $176.46 if two hit, $279.69 for three etc.
Are you feeling more frisky? Those profit amounts increase incrementally with just a few extra dollars on each parlay. Lastly, in case you weren't already sold, I can promise you that watching North Texas, Wyoming, and South Alabama play college football is more entertaining than 40 seconds of ping-pong balls.
Week Zero Recap
This article went 1-2 on moneyline picks last week. There were only two total upsets last week, and we had one of them in Jacksonville State as they closed at plus money. The other two games were very frustrating. Ohio had the lead until their quarterback, 2022 MAC Player of the Year, Kurtis Rourke, exited the game due to injury.
After that, it was a slow death courtesy of three INTs from the backup. Lastly, thank God Ohio had already blown the parlay because Florida International only had FOUR (4) passing yards, but the Panthers led for 57 minutes and lost!

Dog #1: South Alabama Moneyline +200
South Alabama at (-6.5) Tulane (O/U 52.5)
This matchup can make an argument as one of the top Week 1 games this year. Tulane is coming off a magical Cotton Bowl victory over USC. South Alabama ranks 4th out of 133 teams in Phil Steele's Experience Chart. The Jaguars return 18 total starters, nine on each side of the ball.
RB La'Damian Webb returns for South Bama, and he snapped the single-season Sun Belt rushing record, putting up 1,063 yards while missing a game and a half. Along with Webb, QB Carter Bradley returns off of a 2022 Sun Belt record-breaking campaign. Bradley accumulated 3,343 passing yards, setting the conference's new all time single season mark. Bradley's top 2 WRs from '22 return (Devin Voisin and Caullin Lacy), plus four of the five offensive linemen.
G5 Player To Watch 📈:
La'Damian Webb, RB, South Alabama

2022 Stats:
1,276 All-Purpose Yds | 15 TDs

2022 Accolades:
• All-SBC 1st Team
• 2X SBC Offensive Player Of The Week@webb_3ladamian @SouthAlabamaFB

📸: USA Athletics
🎥: ESPN pic.twitter.com/ZSg7geHiSQ

— LIGHT ON COLLEGE SPORTS (@LightOnSports) July 8, 2023
QB Michael Pratt returns, but star RB Tyjae Spears leaves Tulane for the NFL. Where the matchup may be exploited is the Green Wave lost all five of their top tacklers from a season ago. Tulane was on the right side of a lot of close wins in 2022 and could be vulnerable on the night when they will celebrate and raise banners for a 2022 AAC Championship and a 2023 Cotton Bowl win.
Dog #2: North Texas Moneyline +210
(-6.5) California at North Texas (O/U 54)
Early in the season, look ahead spots can lead to a really juicy college football upset. Cal hosts Auburn, a much more notable opponent, during Week 2. In a look ahead spot, players often overlook their current opponent, and coaches tend not to want to use the entire playbook. That way, the next foe can't fully scout what they can do.
Since the line opened, Cal has fallen from being a 10-point favorite to now crossing seven and settling at 6.5. Also, the total has traveled from 58 through 55 to now 54. Low or shortening totals are often a sign that the underdog could be live. The game time (3:00 CT) temperature in Denton, Texas, is projected to be 101 degrees on Saturday. North Texas has been practicing in the heat all August. On the other hand, average temperatures in the Bay Area sit around 75 degrees.
September 2nd is in the 10-day forecast. Current projected high temperature in Denton that day is 101.

Between now and September 2nd, Berkeley, CA will not get above 86.

— Zac Babb (@ZacBabb) August 24, 2023
This is a tremendous spot for the Mean Green. However, I admit backing Head Coach Eric Morris in his first career game as head coach is a bit nerve-wracking. Former UNT head coach Seth Littrell and Morris are both Mike Leach Air Raid disciples, so even though it's a new offensive system, it's still the same concept. Expect the Mean Green to air the ball out and play with tempo to try and get some of the Golden Bears' defenders taking deep breaths on a knee in between plays.
Dundee's Dog: Wyoming Moneyline +455
Each week, I will write up Pick Dundee, aka Colby Dant's favorite college football upset prediction. Dant is the host of the Sports Gambling Podcast Network's CFB podcast, "The College Football Experience." Dundee also loves a good college football parlay and is well known for his success betting moneyline dogs. His favorite Week 1 plus-money-play is Wyoming to pull off the upset at home against Texas Tech.
Pick Dundee (@TheColbyD) has given out FIVE double digit money line dogs in back to back weeks!🗣#GamblingTwitter #BettingPicks #CollegeFootball #CFBPicks #CollegeFootballPicks pic.twitter.com/ixKqZJ76ca

— The College Experience (@TCEonSGPN) September 21, 2022
(-14) Texas Tech at Wyoming (O/U 50.5)
The last Power Five team to visit Laramie, Wyoming, was in 2019, when Missouri came to town for the season opener. Wyoming knocked off the Tigers 37-31 as a 16-point dog. War Memorial Stadium in Laramie, Wyoming, has the highest elevation (7,215 ft) in all of college football.
Texas Tech Offensive Coordinator Zach Kittley will no doubt have a very good offense in 2023. The Red Raiders return 11 starters and have one of the best wide receiver rooms in the country. With that said, this game is a matchup of styles. Texas Tech wants to go up-tempo with their big plays coming through the air, and Wyoming wants to pound the rock.
The Cowboys will be without their top two RBs, but third string running back DQ James averaged 8.6 yards per rush when he got his chances in 2022. "Next man up" should be fine behind a usually great offensive line.
The total opened around 56.5, and now it's down to 50.5, which indicates the Cowboys may dictate the pace of this game. Wyoming Head Coach Craig Bohl's defense returns 10 starters, and their physicality could give some fits to a Red Raiders team trying to play with a fast pace without being used to the extreme elevation.
Keep in mind Texas Tech has Oregon on deck in Week 2. Wyoming plays Texas in Week 2, but the opportunity to knock off a Power Five team in the friendly confines as a Group of Five team is rare. The Cowboys won't be looking ahead, but are the Red Raiders?
Stadium of the Night 🌚

🏟️ War Memorial Stadium
✔️ Capacity 30,181
📍 Laramie, Wyoming

Highest elevation in FBS (7,220 feet)

Home of @wyo_football pic.twitter.com/no37nVFxpF

— CFB Home (@CFBHome) June 19, 2023
The College Football Experience
For more analysis and entertainment on these games, make sure you turn into The College Football Experience. Colby Dant, PattyC, and NC Nick talk about each FBS game and mix in some FCS games, giving out moneyline and ATS college football picks every Wednesday!