After recently looking at the Circa Million V contest (a truly one-of-a-kind contest, which you can read more about here), it's time to look at another contest hosted by the folks over at Circa Sports, known as Circa Survivor. (Not to be confused with Philadelphia (Go Birds.) rock band Circa Survive, which I have typed multiple times on accident while writing this). (Also, as always, please bet responsibly.)
You need to imagine this song as you make picks every week. It helps you be more successful.
I'm sure many of you reading this article have played in or are familiar with survivor pools. But the magnitude of this one is unparalleled. Simply put, the last reminder entry in the Circa Survivor wins $8 million, YES, EIGHT MILLION DOLLARS! That is ALOT of money, in case you didn't know.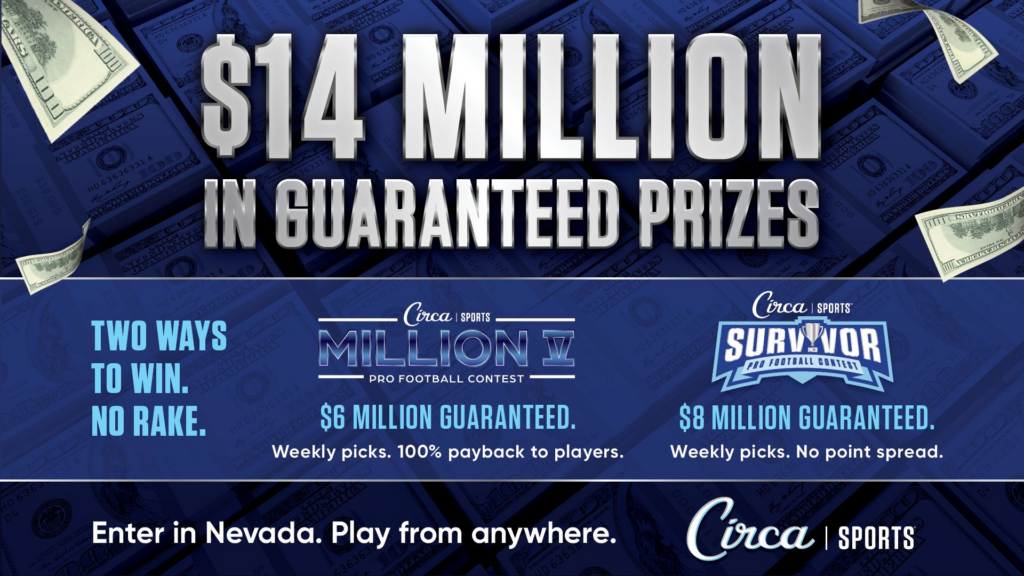 Circa Survivor: Make Your Weekly Picks Count and Win $8 Million
What's the Circa Survivor?
Much like the Circa Million V, the Circa Survivor contest is scheduled to run from September 7th, 2023, through January 7th, 2024. Also known as the greatest time of the year, the NFL regular season. (The playoffs and Super Bowl are pretty great, too, fingers crossed for a Taylor Swift halftime show this year!) 
Speaking of scheduling, start planning that trip to Las Vegas! Sign-ups began on May 25th, 2023, and run through 2 p.m. EST on September 9th, 2023. It's more to note that all sign-ups MUST be completed in Las Vegas. Here's a write-up from my previous article about the Circa Million V contest that talks a little bit more about signing up:
"Before getting into the details of the contest, it's crucial to note that all sign-ups MUST be done in Las Vegas in person at the Circa Resort Casino (One time, SGPN Best Ball guru Andrew Raub Facetimed me eating dinner on their rooftop location, it's an incredible view!), the D Las Vegas, Tuscany Suites & Casino (this is where I stayed when I went to Las Vegas to my first and only time!), Legends Bay Casino or the Pass at Water Street. 
Next Steps
Once signed up, picks can be submitted at any of the Circa sportsbooks or the Circa Sports app, but it has to be the Nevada app. Suppose you're not in Las Vegas/Nevada. In that case, out-of-state residents can utilize a Nevada-based proxy service to submit their weekly picks. But again, you must sign up in Las Vegas, even if you plan on utilizing a proxy service. (Also, the proxy service must be present when registering)."
Shout out to Circa Sports for creating such exciting contests! Shout out to Circa Sports for making them available to people not residing in Las Vegas/Nevada. Also, shout out to all the proxy services that make it possible! All you have to do to sign-up in person in Las Vegas (and also have your proxy there if outside of Las Vegas/Nevada), and then you can enter your picks from wherever you are! Plus, I'm sure I don't have to try too hard to tell you to plan a trip to Las Vegas because your next trip is most likely planned in your head.
Next up, let's take a look at the contest rules and details directly from the Circa Survivor contest write-up:
Circa Survivor Contest Details:
– $1,000 to enter, ten entries per person max (can rebuy up to ten additional entries until the registration deadline if you lose on the opening TNF game) 
– Up to 20 picks in 2023: NFL Weeks 1 – 18, plus Thanksgiving Day/Black Friday and Christmas Day 
 Each NFL team can only be selected once per each entry during the contest. 
– No Rake! – the last remaining entry wins the entire survivor pool: $8 million guaranteed, plus more if entries exceed $8 Million 
– Entries are eliminated from the contest by selecting a team that subsequently loses or ties its NFL game that week or continues until a single entry remains 
– The contest continues until a single entry remains 
If more than one entry remains after all 20 legs, the pool is split equally among all the entries that successfully submitted a selection during the leg  
During the Season: 
– Picks are due at 4 p.m. PST every Saturday or before kickoff of the selected game (whichever is earlier), except for: 
Thanksgiving Day/Black Friday: picks are due by 10 p.m. PST the preceding Wednesday night 

Christmas Day: picks are due by 9 a.m. PST Monday, December 25th 
As mentioned, the last remaining entry wins $8 million, guaranteed! But they could even win more if entries exceed $8 million! I know what my nerves are like competing in survivor pools with thousands on the line for the winner. I can't imagine how my nerves would be entering my pick each week, especially the longer the season went on. Another note worth making: you'll see everyone's picks via Circa Sports website and on Twitter @CircaSports. (Make sure to give them a follow if you aren't already!)
Circa Survivor Strategy
While we're here, let's talk about strategies for the Circa Survivor. To me, there are three overall strategies that you could deploy. But before mentioning those strategies, there is a critical action I would take. That action is to make a plan for Thanksgiving/Black Friday and Christmas Day. Thanksgiving/Black Friday and Christmas Day are considered their own weeks. So you might have to use up to 20 teams throughout the NFL season. Since Thanksgiving/Black Friday and Christmas Day are separate weeks, you want to make sure that you have a team to use that you feel comfortable with for both weeks since the number of games is a lot smaller than a typical week. 
Getting back to the three strategies, I would label them as lower risk, medium risk, and higher risk. However, every week and every pick is indeed a risk because of the concept of "Any Given Sunday" credited to Bert Bell, a former head coach and owner of the Philadelphia Eagles (again, Go Birds.) and a former commissioner of the National Football League. (Bell also owned and coached the second-best NFL team in Pennsylvania, The Pittsburgh Steelers, in his career.)
Three Approaches to Circa Survivor
The lower risk would be a strategy where you use the best teams in the NFL (Eagles, Chiefs, Bengals, etc.) early in the season to try and ensure your survival in the early weeks before having to start making more challenging decisions as the contest goes on. (Week 1 pick: Baltimore Ravens)
The medium risk could also be called playing it week by week. It would combine elements of both the lower-risk and higher-risk strategies. You would adapt each week by looking at the schedules. Maybe there's a week two teams are playing each other that you feel might not win many games this season and might want to try and pick the winner, whereas the next week, you might not particularly see many matchups that stand out, so you use one of the best teams to try and ensure your survival. (Week 1 pick: Washington Commanders)
The higher risk would be a strategy where you look to save the best teams in the NFL (Eagles, Chiefs, Bengals, etc.) to use later in the season and look to use the teams you would be less comfortable using and use them early with favorable matchups that might stand out at the beginning of the season. (Week 1 pick: Carolina Panthers)
Regardless of what strategy you plan on using in the Circa Survivor, it's easy to see that Circa Sports' strategy was to provide an exciting survivor contest for NFL fans everywhere, and they delivered just that. Get excited. NFL football is just around the corner! Get excited. The Circa Survivor contest has arrived! Good luck, Trust your Gut, and as always, please bet responsibly.