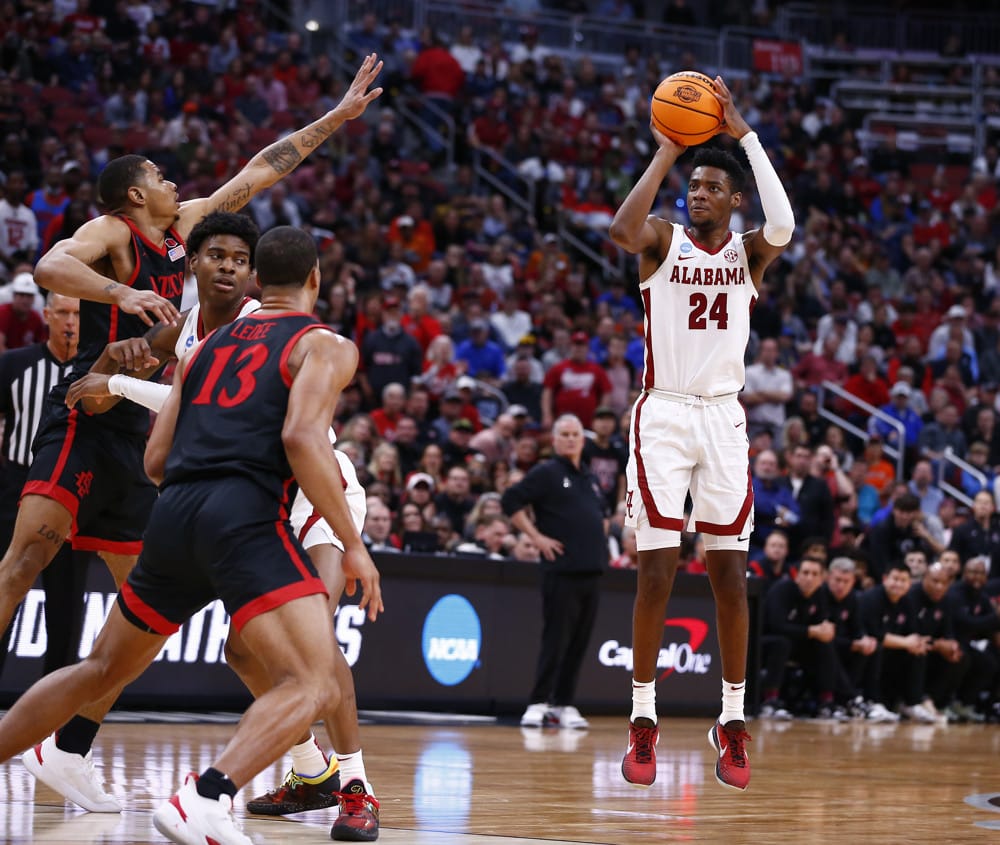 NBA Draft Prop Bets
The guys (@GamblingPodcast) give out their favorite 2023 NBA Draft prop bets on this latest NBA betting podcast. They're joined by Lonte Smith (@XXLonteXX) and Terrell Furman (@ReallyRell__) from the NBA Gambling Podcast to give out NBA prop bets on Victor Wembanyama, Scoot Henderson, Brandon Miller and more. Plus will Webanyama be a bust?
(8:14) Brandon Miller NBA Draft Bets
The draft starts at pick 2 as everyone knows Wembanyama will go first. Miller was at one point the favorite to go second but now Scoot Henderson has entered the mix. However, Miller seems to be a better fit for the current Hornets team, but Scoot is the better overall prospect.
(11:46) NBA Draft Prop Bets
Bilal Coulibaly, a teammate of Victor Wembanyama has flown up draft boards as of late. Him going inside the top 10 at +220 is a good bet that as his versatile frame can make him impact the league right away, and GM's are noticing. Victor winning the Rookie of the Year seems like he is more than capable, but another angle to consider is Chet Holmgren winning, since he was out all of last year.
(25:25) More NBA Draft Props
Cam Whittemore is 2-1 to go fifth overall to the Pistons. When it comes down to it, Whittemore is going fifth in almost every single mock draft, so to get him at 2-1 is a good deal. The Thomas twins are also a duo of players to look at in and around the top 5. Ausar Thompson looks like a lock to go 6th overall, falling slightly behind his brother because of a poorer shooting ability.
Nick Smith Jr. is 40-1 to go top 10. He battled injuries this year but when he played he looked really good. In addition, he was the number one recruit in his class out of high school, which historically results in being a top 10 draft pick, since 2011.
Grady Dick under 10.5 for draft position is +190. Dick seems like a prototype pick for the Utah Jazz at 9 as they are in need of a shooting, and he might be the best shooter in the class. OKC could also be a likely landing spot for Dick.
Derek Lively II is +225 to get in the top 10. As a defensive prowess, his talent can really anchor a defense and change the game. In the top 10, a lot of teams can benefit from this impact.
(49:33) Victor Wembanyama Career Prediction
Lonte believes that he will be a lower end version of Anthony Davis but better than Kristaps Porzingis. Despite being the greatest prospect since LeBron, it is hard to imagine anyone to reach that status, no matter how good they might be. Regardless, by being a Spur at the start of his career, Victor will be in good hands to kick off a hopefully long and successful career.
Podcast Transcription