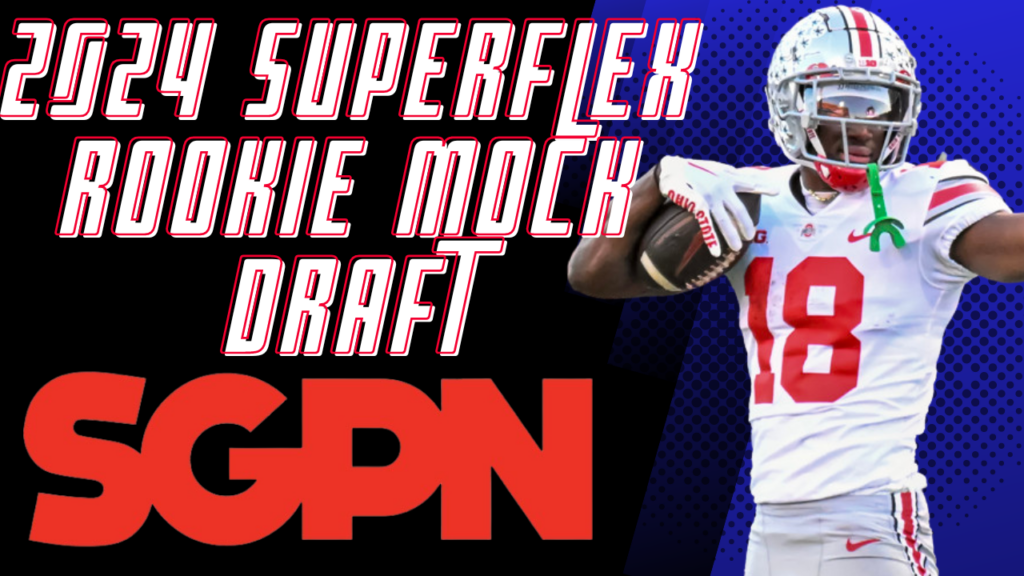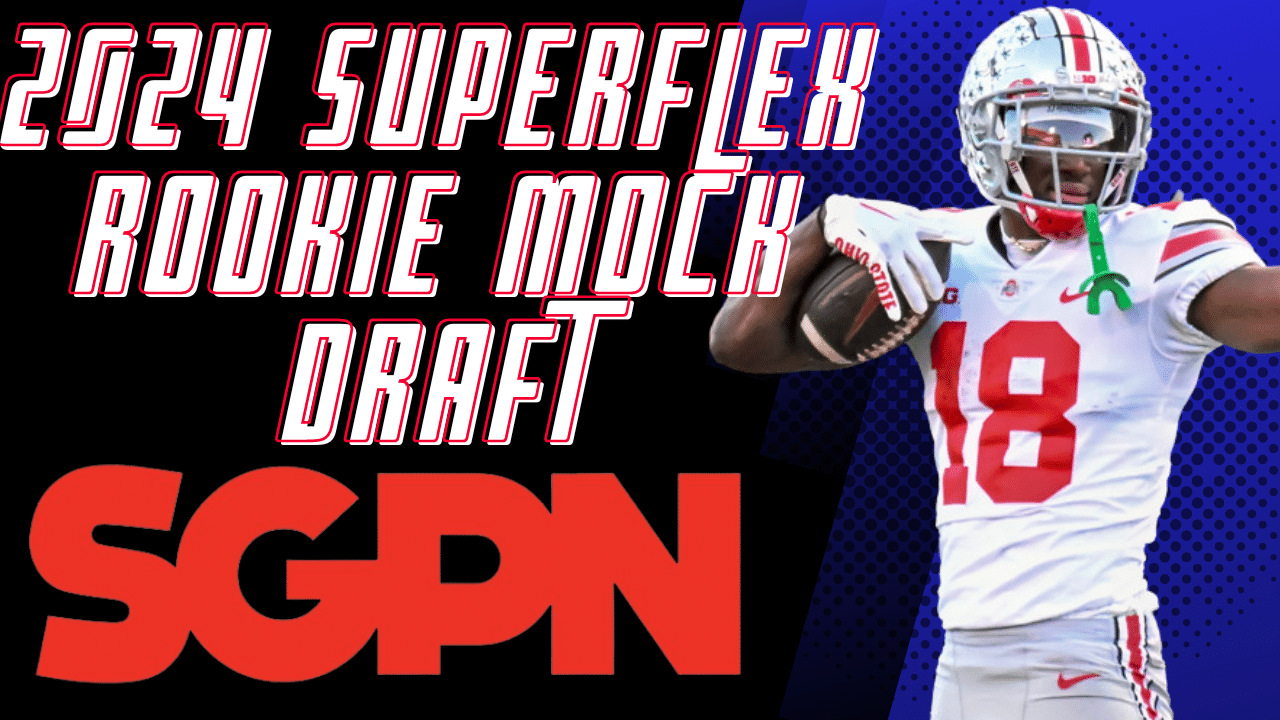 The 2024 rookie class is already gaining some hype. There is absolutely some blue-chip talent in this class, but who else is in this class? We are going to do a 2024 superflex rookie mock draft, and I asked some friends to join. This class has some big names already, but we went even deeper with four rounds. Do not forget about the 2024 picks in your drafts when making moves this off-season. This is a good class, and it appears to have solid talent in each position.
Trade Tip: 2024 picks can't get injured or suspended and can be essential pieces at the trade deadline. When moving back into the draft, we want to get pieces that help us this year. 2024 picks can help you this year. Holding a 1st or a 2nd until the trade deadline will give you the firepower to make moves. If things don't go your way, these picks are also valuable if you have to change directions mid-season. The last thing you want to do is go into a rebuild and not have your 2024 1st or any 2024 capital. 
The Draft Order: (Settings: 12 Team, Superflex, PPR, and 4 Rounds)
1. @CoachCraigsports – Coach Craig. Another writer for @FFLeaguewinners and his own brand Coach Craig Sports.
2. @FFjunkie_ – Brian Ford. Brian is from the DynastyFeverpod and GoingFor_2 team.
3. @PopesFFH – Jeremy Popeliarz. Featured Analyst @FTNFantasy and Dynasty Podcast Host.
4. @FF_Reeez – Tim Riley. Host of Frontline_FF and contributor to @FFleaguewinners and @DFF_Dynasty
5. @FantasyBluechip – Jaggery May. Jagger is a co-host of @tssfantasy and a writer for @DLFootball.
6. @Hgree56 – Hunter Greene. Hunter is a member of the Dynasty Lounge and contributor @FFLeaguewinners
7. @DynastyDorks – Dave Heilman. Lead Dynasty Analyst for SGPNFantasy and Podcast Host for the Sports Gambling Podcast Network.

MORE SGPN FANTASY FOOTBALL CONTENT
Follow SGPN Fantasy Football on Youtube
2024 Superflex Rookie Mock Draft – 4 Rounds
Round 1
1.01 – QB, Caleb Williams – USC
It feels like almost a foregone conclusion that Caleb Williams will be the first overall pick in the 2024 NFL Draft and 1.01 in the 2024 Dynasty Rookie Drafts. Some analysts have compared him to Patrick Mahomes. While he may never be Mahomes, he still has all the tools to succeed for both his future NFL team and Fantasy Football managers. – @CoachCraigsports

1.02 – WR, Marvin Harrison Jr. – Ohio State
There is no question that "MHJ" is the current WR1 in the 2024 class, and probably no question that he is considered the best non-QB in the class right now. The question at the moment seems to be, "Do we have him ahead of Drake Maye?" I think Harrison can be a special player and an elite dynasty asset.
I foresee him entering the rankings as a top-eight dynasty wide receiver immediately upon being drafted into the NFL. (Heck, there are some who already have him there.) On the other hand, Maye needs to refine some parts of his game and produce very well in 2023 (and, of course, secure requisite draft capital) for me to consider taking him ahead of MHJ, even in a superflex. – @FFjunkie_

1.03 – QB, Drake Maye – UNC

Maye is currently the unquestioned QB2 in this class to me. He exploded onto the scene this year, posting an impressive 4321 passing yards and 38 touchdowns for the Tarheels. Drake quietly added 698 yards on the ground and found the end zone seven times. Maye processed the game well and made every throw he needed to while showing some swagger in the run game. – @PopesFFH

1.04 – RB, TreVeyon Henderson – Ohio State
Henderson was the top running back recruit in 2021 for good reason. He broke out his freshman season with 1248 yards and 15 touchdowns. His less-than-stellar sophomore season can be attributed to a broken bone in his foot. At 100% health Henderson is easily the best running back in the 24 draft class.
He's an adept pass-catcher with excellent vision to find the gaps in the offensive line. He's a significant contributor to one of the best offenses in college. It's a no-brainer pick at 1.04 for me. – @FF_Reeez


1.05 – RB, Raheim "Rocket" Sanders – Arkansas
Rocket Sanders is an explosive runner with the size and upside to be the RB2 back in this class. He runs with strength and balance, albeit with his pads high. He flashes receiving chops and is a consistent hands catcher. – @FantasyBluechip 

1.06 – RB, Braelon Allen – Wisconsin
Braelon Allen is a large human being at 6'2″ and 240 lbs. As a true freshman, Allen quickly became the starter with eight games of 12 or more carries, seven of which resulted in 100+ rushing yards. In his sophomore year, he had 11 games of 14 or more carries and six games of 100+ rushing yards. I'm sure he's a Day 2 pick in the NFL Draft and in line for a massive workload for whatever team selects him. – @Hgree56 

1.07 – TE, Brock Bowers – Georgia
Brock Bowers will be another Kyle Pitts type of prospect. He is expected to get top-10 draft capital and will instantly be a top-10 or higher dynasty asset. Bowers' big play ability and elite athletic traits are hard to find. Any time you get a chance to draft a blue-chip player at a premium position, you have to take it. Took the positional value here. – @DynastyDorks
Brock Bowers SOMEHOW caught this and scored😳

— PFF College (@PFF_College) October 29, 2022
1.08 – WR, Emeka Egbuka – Ohio State
After Dave kindly settled my internal debate of Brock Bowers vs. Emeka Egbuka for me, the choice was clear. While he isn't drawing the attention of his teammate, Marvin Harrison Jr., Egbuka is an excellent WR in his own right. He is a former 5-star recruit and the #1 overall WR recruit of the 2021 class.
In his first season as the starter, he put up 74 receptions, 1,151 yards and 10 TDs. Look for him to continue to improve in 2023 under the tutelage of Brian Hartline and to be a top 15 pick in the 2024 NFL Draft. – @CoachCraigsports

1.09 – WR, Malik Nabers – LSU
Many folks who watched LSU film to scout 2023 rookie Kayshon Boutte came away more impressed with his teammate Malik Nabers. Nabers seems to be a riser in Devy's rankings and has a very good upside. He may be held back a bit by sub-optimal quarterback play if Jayden Daniels doesn't take a step forward. He has also had some off-field issues.
If those two concerns work out well, we'll likely be looking at a top 3-5 wide receiver in the 2024 NFL draft. Nabers has just enough size to play outside, has very good ball skills, and can separate well and produce some YAC. After the two quarterbacks, MHJ, and the top three running backs, things are pretty fluid; Nabers could very well be the 1.07 or higher in your 2024 dynasty rookie drafts. – @FFjunkie_

1.10 – RB, Trey Benson – Florida State
Trey Benson struggled to emerge at Oregon but exploded in his first season at Flordia State. He produced 1134 scrimmage yards and nine scrimmage touchdowns. Benson showed off his combination of speed and power, forcing 79 missed tackles and creating 698 yards after contact. With an ascending Seminole offense, I expect Benson to improve yet again and cement himself inside the top 3 running backs in this draft. – @PopesFFH

1.11 – WR, Xavier Worthy – Texas
I guess I love these freshman breakouts, followed by disappointing sophomore seasons. Although Worthy struggled down the stretch of 2022 with drops, he's an explosive speedster and solid route runner. This Longhorns team has a lot of talent across the offense. I expect a solid bounce-back season in 2023 and top-50 draft capital from him in the 2024 NFL draft. – @FF_Reeez

1.12 – RB, Donovan Edwards – Michigan
Donovan Edwards is an effective runner that lacks thump. His best traits are his receiving ability both in short range and downfield. He can comfortably catch away from his body and extend for circus catches and runs clean routes, particularly on out-breaking cuts.- @FantasyBluechip 

Round 2
2.01 – QB, Quinn Ewers – Texas
I think Ewers is on track for a bounce-back year. After leaving high school early, he's been good everywhere but never elite. If he keeps developing this year, quite a few teams will be willing to draft him at the end of the 1st round or the start of the 2nd round, similar to Will Levis. – @Hgree56 

2.02 – RB, Blake Corum – Michigan
Blake Corum might have been the third running back off of the board in this class. He was having a Heisman-worthy season last year before his injury. Corum is a powerful runner with good size and speed. This is a J.K Dobbins type of runner, power, and explosive. He doesn't offer as much in the receiving game, and that will be baked into his cost. – @DynastyDorks 

2.03 – RB, Will Shipley – Clemson
Will Shipley at the 2.03? If you had told Devy analysts this heading into either the 2021 or 2022 seasons, they would have called you crazy, but yet here we are. While Clemson has seen a downtick in offensive production, it is not because of a lack of effort from Will Shipley. He has scored 27 TDs (26 rushing, one passing) over the past two seasons. Shipley still profiles as a potential three-down RB at the NFL level, and I am willing to take the value at this spot. – @CoachCraigsports

2.04 – WR, Troy Franklin – Oregon
Someone whose opinion I respect says we shouldn't trust wide receivers from Baylor, Michigan State, or Oregon, where Troy Franklin plays. Franklin makes it hard to apply that rule, but time will tell. Franklin is tall (listed at 6'3″) and very athletic, with very good speed and hands. His releases are good, especially for his size (around 178 lbs.). That size may mean he won't have the versatility to win outside or break tackles consistently enough in the NFL.
I could see his stock rise as fellow 2022 transfers quarterback Bo Nix and running back Bucky Irving build on an impressive first year together. But how the NFL sees him in terms of role and usage will be critical in determining his draft capital. Either way, I don't expect Franklin to leapfrog any of the receivers taken ahead of him in this mock draft, so for now, we're probably looking at a round-two rookie draft pick in 2024. – @FFjunkie_

2.05 – WR, Beaux Collins – Clemson
Collins is an interesting prospect at this point. He is playing at Clemson, which has struggled to find consistent quarterback play since Lawrence left. This year he will look to improve on a disappointing 2022, where he only posted 373 yards and five scores.
He has all the physical tools at 6-foot-3, 195 pounds, to be a perimeter weapon at the NFL level. I am banking on the poor quarterback play as the reason he has yet to break out. Once paired with an NFL quarterback and coaching staff, he will be able to flourish into a solid X wide receiver. – @PopesFFH
2.06 – WR, Keon Coleman – Florida State
Coleman transferred to a loaded Florida State offense, and I have zero concerns about his potential production problems. While at Michigan State, he gave Big Ten defensive backs significant problems. A big receiver and polished route runner, Coleman is one of the most complete prospects in the 24 class. He's a guy you'll be hearing a lot more about as the season progresses. – @FF_Reeez
2.07 – QB, Michael Penix Jr. – Washington
Michael Penix Jr. is an upside project that has suffered from a myriad of injuries. His slow and awkward release requires lots of work as a passer. He lacks the zip to fit the ball into tight windows and struggles with placement outside of the numbers. – @FantasyBluechip 
2.08 – WR, Rome Odunze – Washington

Rome Odunze is the big-body receiver this 2023 class was lacking. At 6'3 ", 201lbs, Odunze has the size to play outside on most teams, similar to an Allen Lazard type. – @Hgree56 

2.09 – QB, Bo Nix – Oregon
Bo Nix is a polarizing player because of his struggles at Auburn. He has revitalized his career at Oregon and had a career year last year. Nix is a highly recruited four-star player with good size. If he is able to maintain the success he had at Oregon and continue to develop, he could get first-round draft capital. – @DynastyDorks 

2.10 – QB, Jordan Travis – Florida State
I'll be honest and say I was really hoping either Rome Odunze or Bo Nix would make it back to me in this spot. After those two went back to back, I settled for a high upside option in Florida St. signal caller Jordan Travis. He offers solid rushing upside and has continually improved as a passer. If Travis continues his improvement in 2023, do not be surprised if he becomes a top 2-round pick in the 2024 NFL Draft. – @CoachCraigsports

2.11 – WR, J. Michael Sturdivant – UCLA
Every time I see this name, I think of "In a world… where there's eight Jan Michael Vincents…" – Rick and Morty fans will get the reference. Well, I bet UCLA and coach Chip Kelly wish they had more than one "J-Mike."
The transfer from Cal joins UCLA at an interesting juncture when top recruit Dante Moore. Moore is competing with Ethan Garbers for the starting quarterback spot (after five years of Dorian Thompson-Robinson), and the program is poised to join the Big 10 (along with their neighbor USC) in 2024.
With the departure of Jake Bobo and Kazmeir Allen, Sturdivant is likely the Bruins' WR1 right away. Listed at 6'3″ and 205 pounds, J-Mike runs at over 22 MPH, according to head coach Chip Kelly. That kind of size/speed combo makes NFL scouts salivate, and a productive year could put J-Mike in the position to be a highly-ranked dynasty rookie wide receiver a year from now. – @FFjunkie_

2.12 – RB, Devin Neal – Kansas
Devin Neal was a significant beneficiary of a much improved Kansas offense in 2022. He saw his yards per carry increase from 4.5 yards per carry to 6.1 yards per carry. With a slender frame, we would expect him to have a ton of speed, but he doesn't. He does have the speed to rip off chunk plays and is a natural pass catcher. He is a bit raw, but if he puts it all together, he could become the next Austin Ekeler. – @PopesFFH

Round 3
3.01 – WR, Ja'Corey Brooks – Alabama
I was shocked to see Brooks make it past the second round of this draft. Despite not posting top-tier numbers, He's flashed elite potential in a saturated Alabama offense. At 6'2, 190 lbs, He profiles as an outside receiver that can make plays after the catch at the next level. Look for Brooks to assert himself as a star in the Alabama offense this coming season. – @FF_Reeez

3.02 – RB, Jarquez Hunter – Auburn
Jarquez Hunter is the heir apparent to Tank Bigsby and performed better in some analytical categories. Bigsby is the more all-around play, but Hunter might be the best pure runner. – @FantasyBluechip
3.03 – TE, Ja'Tavion "JT" Sanders – Texas
While Brock Bowers is the big-name TE in this class, Sanders has been putting up similar numbers throughout all of college. I could see this Bowers/Sanders talk similar to the Pitts/Freiermuth discussion in 2021. While Bowers and Pitts are elite athletes at the position, Muth and Sanders are both great receivers in their own rights. – @Hgree56 

3.04 – RB, Blake Watson – Memphis
Blake Watson just transferred to Memphis from Old Dominion. Watson is a shifty runner that shows good burst and lateral agility. He averaged 5.8 yards a carry last season. He is a skilled pass-catcher as well and is a small-school player that is moving up the ranks. NFL Draft Buzz currently has him as RB8 in the 2024 class. – @DynastyDorks 

3.05 – TE, Jaheim Bell – Florida State
Back-to-back Florida St picks? No, I am not a homer, but why not take a chance on the high upside of Jaheim Bell? Could Bell finally break out in 2023 with Florida St? That remains to be seen, but an NFL team could fall in love with his versatility and use him in a Chig Ogkonkwo or Jonnu Smith type of role. – @CoachCraigsports

3.06 – RB, Alton McCaskill – Houston
After posting 961 yards and 16 touchdowns in his 2021 freshman season at Houston, McCaskill missed all of 2022 due to an ACL injury. He then hit the transfer portal, and he'll be playing for "Coach Prime" (Deion Sanders) at Colorado in 2023. McCaskill has good straight-line speed, can break tackles well, and is not a bad receiver.
If the Colorado offense can gel and support McCaskill's continued growth, his stock will rise, and injury concerns will decrease. If that's the case, while he may not crack the top six or seven running backs in the class, I don't think he will be the eleventh one off the board as he is in this mock. – @FFjunkie_

3.07 – QB, Shedeur Sanders – Colorado
Shedeur Sanders is the son of Deon Sanders, so he has football blood running through his veins. Add in his back-to-back 3200-plus yard passing seasons, amassing 6963 yards and 70 touchdowns at Jackson State –we potentially have a star on our hands. In Superflex, quarterbacks are king, so this late, I am willing to throw a dart here on a potential home run. – @PopesFFH

3.08 – WR, Dorian Singer – USC
Lincoln Riley watched Singer go off for seven receptions, 141 yards, and three TDs against the Trojans and decided to recruit him to USC. He is electric with the ball and likely takes over as the top receiving option in a coveted Trojans offense. He has a solid catch radius and is one of the best in the class controlling his body. Paired with Heisman favorite Caleb Williams, Singer should see a major boost to his draft stock next season. – @FF_Reeez

3.09 – QB, Joe Milton – Tennesee
Another high upside QB that hails from the comfortable Tennessee Air Raid system. Has unreal arm strength and talent. Has the ideal size and mobility to extend plays. Decent enough ball placement, but I have concerns about field reading ability in a more complicated system. – @FantasyBluechip 

3.10 – RB, Miyan Williams – Ohio State

At this point of the draft, I'm looking for RBs with draft capital, high profiles, or from SEC/Big Ten schools. Williams is from Ohio State, a school that normally produces solid RBs. – @Hgree56 

3.11 – RB, Carson Steele – UCLA
At 6'1″ and 215 lbs, Steele is the ideal size and put him at #98 on Bruce Feldman's Freaks list. He also has good straight-line speed and shows great creativity in the open field.
Throw in all of the fun scouting terms like vision, balance, and instincts because this guy has them. Steele is also going to be in a great situation, joining the UCLA Bruins. This system did wonders for Zach Charbonnet, and Steele should put up monster numbers in 2023. – @DynastyDorks
3.12 – QB, Riley Leonard – Duke
While many may not be familiar with the name Riley Leonard because he plays at Duke, He has the chance to be the QB's biggest riser in the 2024 NFL Draft class. Leonard offers ideal size, a live arm, and a rushing upside. In his first season as a full-time starter, he threw for 2,967 yards, 20 TDs to 6 INT while adding in 699 yards and 13 TDs on the ground. – @CoachCraigsports

Round 4

4.01 – QB, Kyle McCord – Ohio State
I figured I'd take McCord here to give us an opportunity to discuss the Ohio State quarterback situation. If McCord wins the job and plays well, the Buckeyes will be a contender. If all those things happen, though, you are very likely not getting him in the 4th round of next year's rookie drafts. McCord seems to have the edge after a good spring and a minor finger injury for Devin Brown.
McCord doesn't appear to have the ceiling Brown does, but I expect him to secure the starting role. The battle for QB3 of the 2024 class (behind Caleb Williams and Drake Maye) is fairly wide open at the moment, and McCord may have as good a shot as just about any other prospect to be there when the dust settles a year from now. If that's the case, you're probably talking about a late 1st round pick in your rookie drafts. – @FFjunkie_

4.02 – WR, Jacob Cowing – Arizona
Jacob Cowing is coming off back-to-back 1000 receiving-yard seasons, and he has scored 14 total touchdowns in this span. Although undersized, he has good speed and is creative after the catch–seen by his 34 career missed tackles and 1476 yards after the catch. I am swinging for home runs this late, and Cowing could be that if he hits. – @PopesFFH

4.03 – RB, Jase McClellan – Alabama
Jase is leading the always-talented Alabama backfield. He's shown the ability to excel in pass protection, along with the patience and vision to let blocks develop. Mcclellan is versatile enough to be effective in various types of running schemes. Although he may not be a star in the NFL with his high IQ, he can certainly be effective at the next level. – @FF_Reeez
4.04 – WR, JoJo Earle – TCU
Earle is an upside bet on athleticism. Not unlike Quentin Johnston, he needs to work on a more refined route tree but is sure-handed. Will be drafted for special teams alone if not for receiving ability. – @FantasyBluechip
4.05 – WR, Mario Williams – USC
Mario Williams is a smaller WR but comes from that powerhouse WR factory called USC. This late in the draft, I'm willing to take the shot on a slot-only WR. – @Hgree56
USC WR Mario Williams is out here taking ankles🔥
pic.twitter.com/AutohWVjYf

— On3 (@On3sports) September 11, 2022
4.06 – QB, J.J. McCarthy – Michigan
The Michigan Wolverines have become relevant since McCarthy has taken over. His ability to beat Ohio State twice has made him the King of Ann Arbor. McCarthy will need a big 2023 to get the draft capital needed to be a first-round pick. But he does have the size and tools to be a good NFL quarterback. A projected day 2 pick, McCarthy was worth a shot in the 4th round. – @DynastyDorks
4.07 – WR, Antwayne "Juice" Wells Jr. – South Carolina
After putting up 83 receptions, 1,250 yards, and 15 TDs in 2021 while at James Madison, Antwane Wells Jr. decided to transfer to South Carolina. In 2022 he continued his production with 68 receptions, 928 yards, and 6 TDs while playing in the SEC. He offers ideal size at 6'1, 210 lbs, and above-average ball skills. If Wells continues his production in 2023, look for him to be a Day 2 pick in the 2024 NFL Draft. – @CoachCraigsports

4.08 – TE, Michael Trigg – Ole Miss
So my question is, "What happened?" It seemed like about a year or so ago, Trigg was a top two or three tight end in the 2024 class and would not be around at pick 44 in a rookie draft. Now he struggles to be top five at the position in the class and top eight or ten in devy overall.
Well, a broken collarbone during the 2022 season limited Trigg to six games for Ole Miss, and that has hurt his stock. Trigg looked good when on the field last year, his first in Mississippi after he and quarterback Jaxson Dart Borh transferred in from USC. He only averaged 9.2 yards per catch, but 3 of his 17 catches were for touchdowns, and his quarterback rating when targeted was an impressive 131.5.
While he is a bit undersized for a tight end (listed at 6'3″ and 240 lbs.), smaller players at the position can do well (especially in the current NFL), and the vaunted 2023 class had several such prospects. Trigg has very good hands and is athletic and physical, but he does not offer much as a blocker or separator. A bounce-back 2023 campaign could help him climb back up the 2024 rankings a bit. – @FFjunkie_

4.09 – WR, Roman Hemby – Maryland
Roman Hemby being available this late is wild to me–maybe because he is playing at Maryland, but this kid is a baller. He exploded for 1200 plus scrimmage yards and 11 scrimmage touchdowns in 2023. Hemby has a sturdy frame at 6-foot-0 and 200 pounds while offering good speed and decent elusiveness, forcing 36 missed tackles. If he lands in a spot with an opportunity, he will take advantage. – @PopesFFH

4.10 – WR, Jalen McMillan – Washington
A former top-40 recruit, McMillan returned for his senior season after posting over 1,000 yards last season. His 54 receiving first downs and touchdowns trailed only Marvin Harrison Jr. This Washington offense is going to be electric this season, and Jalen Mcmillan is going to be a big reason why. – @FF_Reeez
4.11 – WR, Adonai "AD" Mitchell – Texas
Why not? – @FantasyBluechip 

4.12 – RB, Frank Gore Jr. – Southern Miss – 
This pick is solely for the legacy pick. Frank Gore was the first RB I watched on the Colts as a kid, and his son is a solid RB. While I don't think he'll ever be a starter, he could be a solid change of pace back for a long time in the NFL. – @Hgree56