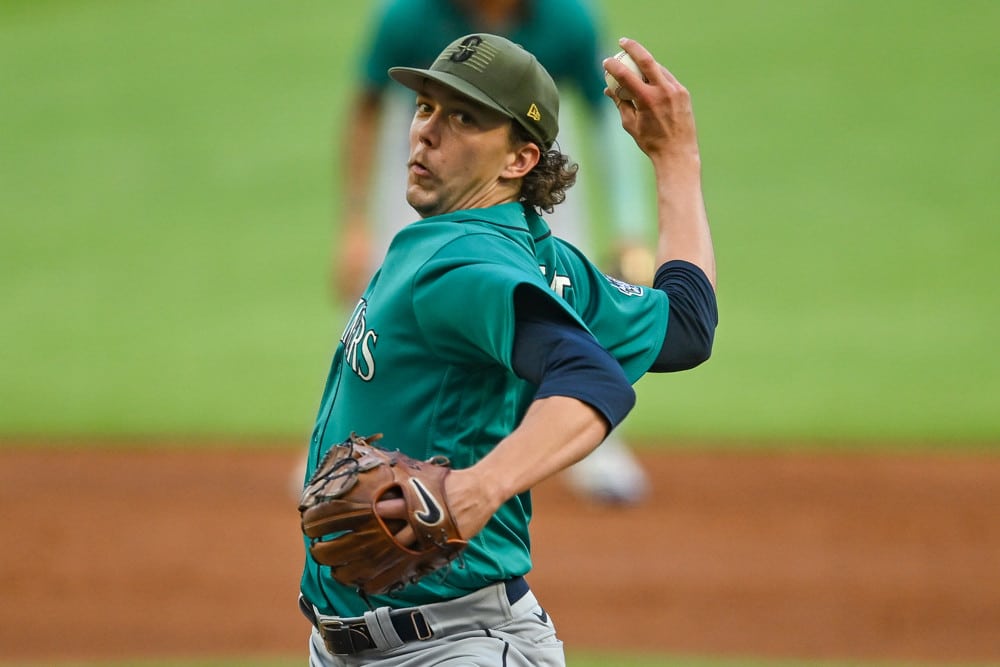 Finding the unluckiest pitchers in the league could lead to unearthing some really good values in fantasy ball. Low FIPs, high strikeout rates, few walks, high groundball rates… if we know how to read the signs, we could be adding some serious talent to our teams, often on the cheap.
Here are some pitchers with bad fortune this year that are likely to get better from this point on:

Fantasy Baseball: Unluckiest Pitchers In MLB With Rebound Potential
Logan Gilbert, Seattle Mariners
Gilbert, a proud member of one of the best rotations in baseball, has a 3.80 ERA. That's not bad, but if you consider his peripherals, he has been one of the unluckiest pitchers this season.
His Fielding Independent Pitching, or FIP, is 3.08. His expected ERA is an elite 2.98. He has 10.01 strikeouts per nine innings and just 1.65 walks per nine. Walks and strikeouts are one of the best predictive elements for future performance: a pitcher who can get lots of whiffs and limits traffic on the basepaths is destined for success.
Again, Gilbert has been good. He will likely finish with great numbers when all is said and done.
Sandy Alcantara, Miami Marlins
The reigning NL Cy Young has been a huge disappointment for those who drafted him to be their ace. His 5.07 ERA in 76.1 innings isn't remotely close to the 2.28 he posted last year.
However, while he certainly hasn't performed like he did in 2022, he has been better than his ERA suggests. His 3.65 FIP indicates that his defense hasn't always backed him up.
Yes, he is walking more people (2.95 per nine innings) than last year (1.97), but he still allows fewer than a homer per nine frames. His fastball velocity is also the same, and his strikeout numbers are similar.
Expect Alcantara to finish with an ERA in the low-3.00s, just like he did in 2020 and 2021. It's not the low-2.00s, sure, but 2022 was very likely a career year anyway. You'll be fine if Sandy gives you length, quality starts, and a low ERA.
Tanner Houck, Boston Red Sox
Tanner Houck has a mediocre 5.46 ERA that will surely scare people away. However, the underlying signs say fortune hasn't been on his side.
For example, he has a 3.85 xERA (which prioritizes quality and quantity of contact allowed) and a 4.07 FIP. He also has a healthy 49.7 percent groundball rate and strikes out almost a batter per inning (56 in 57.2 frames).
Also, remember he had a 3.52 ERA in 2021 and a 3.15 mark last year. He has done it before in a variety of roles. Fate gave him a spot in a crowded rotation, and if you are patient, he will improve soon.
High-Strikeout Plays Whose Luck Stands To Improve
Reid Detmers, Los Angeles Angels
Before Thursday's games, Los Angeles Angels Reid Detmers had been one of the unluckiest pitchers in baseball. He started the day with a 5.15 ERA in 50.2 innings, and that, combined with his 1.54 WHIP, had a lot of people losing faith. The Southpaw also had a 3.62 FIP, though, and that was prior to his excellent game.
He dominated the Chicago Cubs late on Thursday, with one run allowed in 5.2 frames. Additionally, he also logged two walks and eight strikeouts. The outing took his ERA all the way down to 4.79.
If you need a strikeout-heavy pitcher, there are much worse buy-low fliers than Detmers. He has 68 punchouts in 56.1; anyone who can get 24 swings and misses in one game (like he did on May 20 against the Minnesota Twins) is worth taking a chance on. He has been among MLB's unluckiest pitchers, but that could start changing.
Pablo Lopez, Minnesota Twins
Pablo Lopez started off the season with a bang, showing off his new sweeper and his increased velo. He then hit a wall but has still been one of the unluckiest pitchers in MLB with his 3.80 FIP and 3.44 xERA compared to his 4.25 actual ERA.
For example, take a June 1st start against the Guardians. He breezed through the first five innings but ended up allowing six earned runs in 5.2 frames. What happened in the sixth? Six straight singles, but none over 250 feet.
Lopez has struck out 92 hitters in 78.1 innings and sports a nice 1.14 WHIP. He has been dominant, and it's a matter of time until his ERA starts falling again.