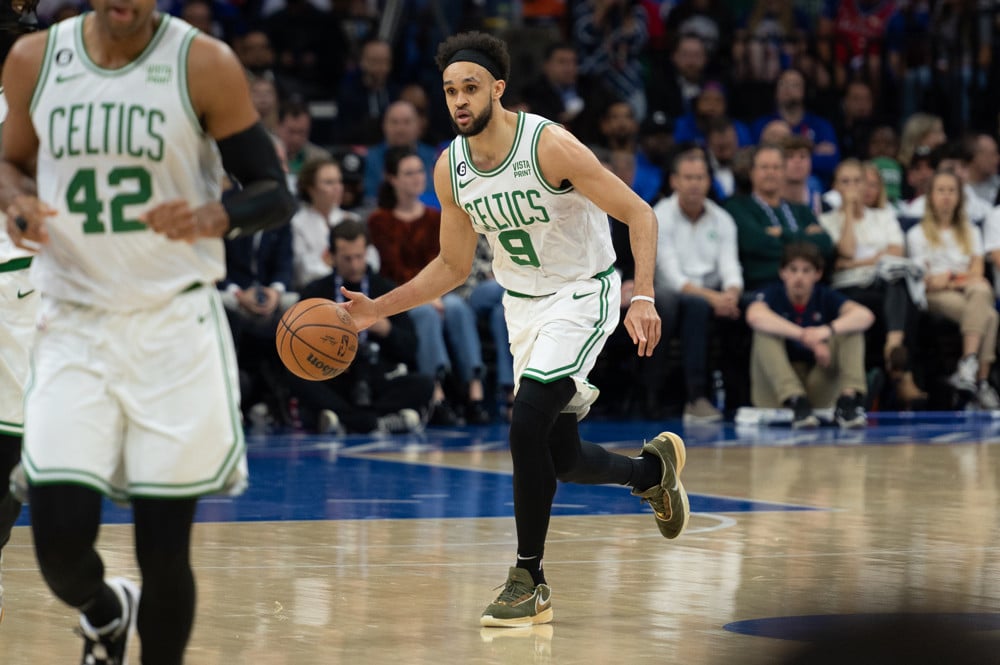 When we put together a showdown DFS lineup for Game 4, we lamented the lack of excitement in this series. However, it looks like we've thrown that sentiment out the window as it's turned into the most exciting series this year. So we want to help make it a little more exciting for you with a winning lineup for Game 7.
Go here for daily free NBA picks!
NBA Showdown DFS Lineup for Celtics vs. Heat Game 7
CAPT – Jayson Tatum – BOS – $20,700
You'll have to pay more than you have all series to put Tatum in that captain's slot. However, I still think it's worth it. So far, in elimination games, his fantasy point total hasn't gone under 50 and has averaged 58.4. If his last Game 7 is any indicator, there's room to exceed those predictions for Tatum too. He had 83.3 fantasy points when closing out the Sixers.
UTIL – Caleb Martin – MIA – $7,000
If you splurge for Tatum or Butler, you likely aren't going to be able to go after any of the other big names in this game. However, Martin has played and produced like many of those guys, and you're getting him at a lower price. After averaging 10.5 points per game in the Knicks series, he hasn't fallen below 14 in this series.
The rebounding is another reason to like him here. He always has a stable floor of about four boards, but last game, he exploded for 15. I wouldn't expect that many again, but just flirting with a double-double would make him well worth the cost here.
UTIL – Al Horford – BOS – $6,600
Horford is only this cheap due to the first three games in this series. Much like it has been for the teams, it's been a tale of two series for Horford. Early in this series, he disappeared off the boards. He averaged 3.7 rebounds in the three Celtics losses. He has since gotten back to his old ways and has 8.3 in the winning efforts.
When you add that he is going to take six or seven shots and two or three of them will be three-pointers, he should have some value on that end of the court as well.

UTIL – Derrick White – BOS – $6,400
White will likely be a heavily rostered option, just based on the narrative of Game 6. While that might be a reason you think about fading him – don't let the fact that he'll be a popular play shield you from the fact that he's also a hot hand.
I've mentioned that it's been a tale of two series for a lot of the guys I like tonight, and that's true for White here too. He was putting up 20.4 fantasy points a game in the first three games. Since then, he hasn't gone under 30.5 and is averaging 33.6. A lot of that is due to a huge uptick in attempts, and there's no reason to think those will go away now.
UTIL – Max Strus – MIA – $4,800
The production of Strus has trended in the wrong direction, and as a result, his salary has come down to 4.8k from 6.2k. I think this is the time you can find value in the Heat shooter. Despite the fact that he isn't getting the same numbers as he did early in the series, he's still getting the attempts. The shots just aren't falling like they were earlier.
His shot attempts and three-point attempts both went down by only one per game during the great series shift. However, his makes are down just as much – 1.3 and 1, respectively, on shots and three-point makes. Since he's still getting the shots and the price is down, you can feel good about playing him and hoping he has a better shooting night.
UTIL – Robert Williams – BOS – $4,400
Williams is a good bargain bin play for a couple of reasons. First, he's going to log 15+ minutes in this game, and he'll be on the glass when he does. In addition, he also has averaged over a block a game in this series, so you'll get some fantasy production on that end of the court as well.
If you'd like even more information that could help your NBA showdown DFS lineup, be sure to check out the NBA Gambling Podcast. The guys are dropping weekly episodes to make you the smartest guy at the bar.