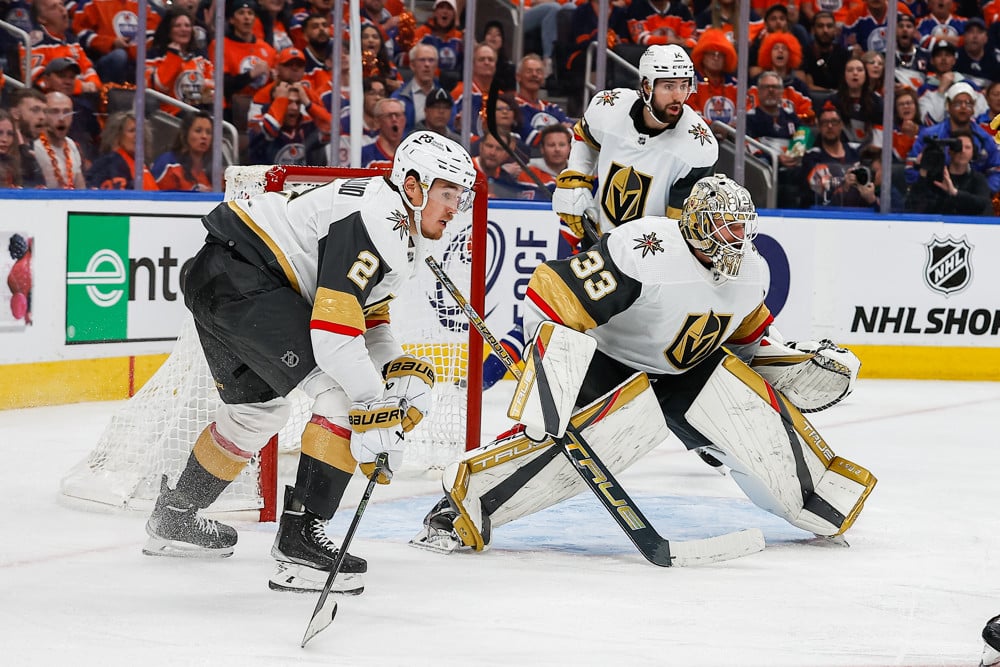 NHL Playoff Picks + USFL Week 6
The guys (@GamblingPodcast) talk NHL Playoff Picks in their latest Stanley Cup Playoff predictions podcast. They're joined by the ICE DOG himself CJ Sullivan (@CJSullivan_) for tons of NHL best bets. Go here for daily NHL picks. Then they're joined by Colby Dant (@TheColbyD) aka Rum Dundee for their USFL Week 6 picks.
(8:35) Florida Panthers (+125) vs Carolina Hurricanes (-145)
In hockey teams rarely go 2-0 to start the series and this trend has held true so far in these NHL playoffs. Last series both of these goalies played really well, and this level of play is not sustainable. For the series though, Carolina is somewhat of a super team and should be able to clean up shop.
(21:43) Dallas Stars (+105) vs Vegas Golden Knights (-125)
CJ is quite confident that the Stars will win one game in Vegas. However, Vegas is top in the league in goal defense in a number of categories but if there are hot whistles being blown the Stars can find some success. Dallas is probably going to win this series but you cannot count out Vegas.
(31:00) NHL Bets
Kramer Lock: Vegas in 7 +425
Kramer Dog: Carolina in 5 +550
Sean Lock: Carolina -135 for series
Sean Dog: Carolina win Stanley Cup +200
CJ Lock: Over 5.5 for Carolina Game 1
CJ Dog: Dallas +115 Game 1
(51:13) Maulers vs Showboats (+2.5)
The Maulers are likely to win this game as their defense is proven to be insane and their offense is legit. Memphis is technically at home but in the USFL there is not much of a home advantage. If they want to win this one they will need to score points on a defense that has yet to give up more than 24.
(55:41) Stallions vs Panthers (+6)
The Panthers really struggle to score points and the Stallions are in a position to be looking for a bounce back game. This line is a little short considering how good the Stallions are and looks like a real opportunity if they overcome their injuries.
(59:31) Breakers (-7) vs Stars
The Breakers showed some weakness last week as they only mustered up 10 points against the Showboats. At one point their offense looked elite but now the league knows they are breakable, pun intended. However, the Stars really struggle especially when defending the run which the Breakers do well.
(1:03:01) Generals (-4.5) vs Gamblers
The Gamblers have found a way to be a high-flying offense that can give the Generals issues as they have a slight problem putting up points. New Jersey also has a suspect defense but they could be in the perfect position to right the ship in this game.
(1:07:16) USFL Bets Week 6
Kramer Lock: Maulers -2.5
Kramer Dog: Breakers -7, Stallions -6 parlay
Sean Lock: Stallions -6
Sean Dog: Gamblers ML +155
Colby Lock: Maulers -2.5
Colby Dog: Panthers ML
NHL Odds Stanley Cup Playoffs
Game 1
Team
Sprd
ML
OU
FLA Panthers
-210
125
5.5
CAR Hurricants
-1.5 +180
-145
DAL Stars
-230
105
5.5
VGK Golden Knights
-1.5 +195
-125
USFL Odds Week 6
| | | | | | |
| --- | --- | --- | --- | --- | --- |
| | Teams | Fut | Sprd | ML | Total |
| 5/20 9:30 AM | Pittsburgh Maulers | 650 | -2.5 | -150 | 42 |
| Memphis, TN | Memphis Showboats | 1800 | | 130 | |
| 5/20 1:00 PM | Birmingham Stallions | 360 | -6 | -240 | 44.5 |
| Detroit, MI | Michigan Panthers | 1000 | | 200 | |
| 5/21 9:00 AM | New Orleans Breakers | 275 | -7 | -315 | 47.5 |
| Detroit, MI | Philadelphia Stars | 1100 | | 260 | |
| 5/21 1:00 PM | New Jersey Generals | 400 | -4.5 | -180 | 45.5 |
| Memphis, TN | Houston Gamblers | 750 | | 155 | |
Podcast Transcription