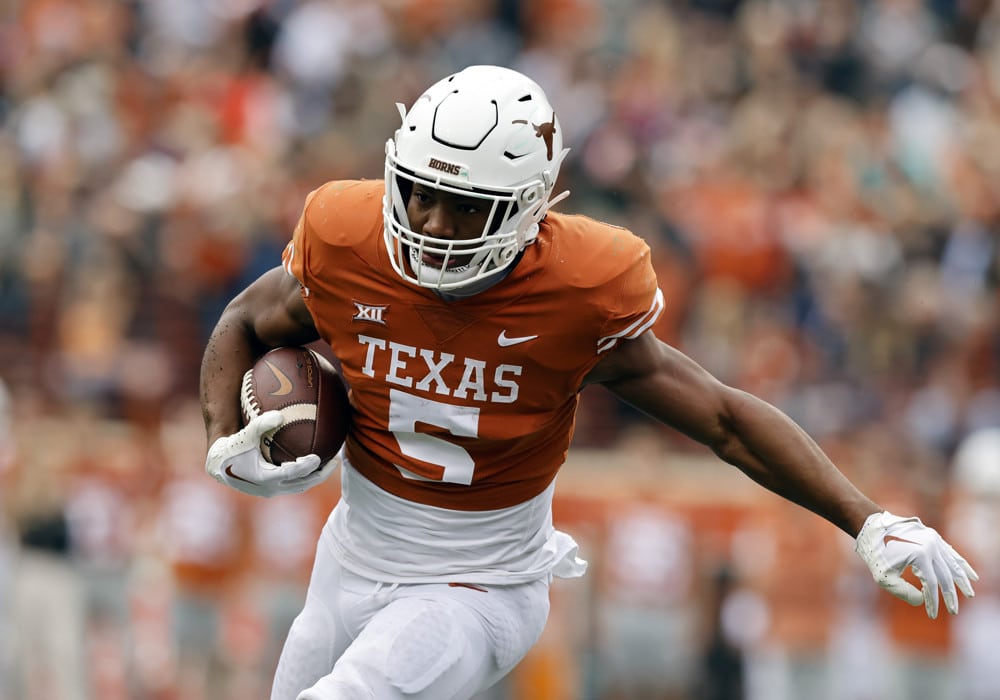 The fantasy football dynasty draft season is here. Whether you're drafting today, tomorrow, or even in a month or so, your drafts are quickly approaching. Which means you may be ready to make some trades. Maybe you want to move up in the draft, or perhaps you want to move back. You'll want to know all your players and picks' fantasy football dynasty trade value on the fantasy football dynasty trade value chart.
Regardless, you must look at your dynasty team and wonder how you can mix things up. It's time to build your dynasty. And we have created the fantasy football dynasty trade value chart to help. This chart is not an end all, be all. Don't forget; at Sports Gambling Podcast, we're never satisfied. We will continue to tweak this and do our best to perfect it. However, it can give you a good start.
Speaking of improvement and tweaking, the most challenging part about valuing rookies is they don't have the fantasy output the other players do. Our formula factors in average points per game, so when you have a bunch of rookies with a goose egg sitting there, it skews things. To try and counter that, I took the average of the five players above where they were slotted in and the five players below. This isn't perfect, but it gives us a head start and helps settle them in a little more accurately.
Go here for daily more Dynasty Rankings!

MORE SGPN FANTASY FOOTBALL CONTENT
Follow SGPN Fantasy Football on Youtube
Fantasy Football Dynasty Trade Value Chart – May 2023 Post-Draft Update
If you haven't reviewed our Fantasy Football dynasty trade value chart before, here's a little on the methodology. First, our rankings system takes FantasyPros' best, worst, and average rankings. We also throw in a little standard deviation to count all variables.
Second, you have to consider average fantasy football points per game because that's what fantasy football is all about. Third, values will change throughout the year, especially as rookies get their fantasy football points. And last, we listened to your feedback and altered some things.
Another metric that plays with the dynasty chart is a player's age. Somebody who is 22 will have a more weighted value than a player that is 32. Is that saying that 22-year-old players are always more talented than 32-year-olds? Absolutely not.
However, it is considered in dynasty value because, at 22, the player will likely be around longer. Considering all that and running it through our formulas, we can assign a value for each player. This value can help weigh your fantasy football trades and improve your future team!
---
Fantasy Football Dynasty Trade Value Chart
Draft Picks
| | | | | |
| --- | --- | --- | --- | --- |
| VALUE | PICK | | VALUE | PICK |
| 27 | 2023 Top 4 Pick | | 20 | 2024 Round 1 Pick |
| 22 | 2023 Top 12 Pick | | 12 | 2024 Round 2 Pick |
| 15 | 2023 Round 2 Pick | | 6 | 2024 Round 3 Pick |
| 10 | 2023 Round 3 Pick | | | |
Everybody values their picks a little differently. So this is simply a guide to how the next two years of picks, this year's picks, and next year's picks should be valued.
Quarterbacks
Quarterbacks Recap
It's no surprise to anybody that Patrick Mahomes lead the quarterback section of the fantasy football dynasty trade value chart. He has shown to be one of the most valuable fantasy assets and is the top player in a superflex. Behind Mahomes is Josh Allen, another strong fantasy football performer. Perhaps a little undervalued, Jalen Hurts finishes third. He led quarterbacks in points per game last year, though he did miss a couple of games with injury.
Fourth on the list is Joe Burrow, the only quarterback in the top five who doesn't really run all that much. In fact, he's an old-school quarterback, and the fact that he falls in the top five with little rushing upside shows how good he is. Finally, making his debut in the top five at fifth is Justin Fields.
The Bears are building around the young, talented quarterback who has a huge rushing upside. First, of course, he will look to improve his passing game, but the Bears are helping him do that with D.J. Moore and an improved offensive line.
C.J. Stroud is the top rookie on the fantasy football dynasty trade value chart, just above Bryce Young and Anthony Richardson.
Running Backs
Running Back Recap
A new name atop the running back list on the fantasy football dynasty trade value chart. Everybody expected it. If he's not the 1.01 in your standard dynasty, non-Superflex league, you need to reevaluate your league members. Bijan Robinson, the 21-year-old that many believe is the best prospect since Barkley is at the top of the list.
Several studs, including Christian McCaffrey, Breece Hall, and Saquon Barkley, follow him. However, CMC and Barkley have had some injury history, and Breece Hall is coming off a knee injury.
Jonathan Taylor slots in behind them. He was top of the running back on this list at this time last year. He'll look to get his career back on track with a new quarterback at the helm. Everybody thinks Detroit reached on Jahymr Gibbs, but he's the second running back on the list in the seventh position. Running backs are volatile, and it seems teams are catching on, many employing multiple running backs. It's tough on our fantasy teams, but there's still value to be found.
Wide Receivers
Wide Receivers Recap
I'm sure everybody is shocked to see Justin Jefferson as the top wide receiver on the fantasy football dynasty trade value chart. That is sarcasm, and nobody should be surprised. Ja'Marr Chase is tied with him. It will be interesting to see how Jefferson responds to having another young stud in the receiver room in Jordan Addison. CeeDee Lamb slots in third. He's the Cowboy's top receiving option, but the other receivers on the team will need to step up so the defense doesn't just focus on him.
In fourth is A.J. Brown, who helped the Eagle's offense ascend into something fierce and should continue to give good fantasy football performances. In fifth, Amon-Ra St. Brown showed he could be a WR1 last year with Goff.
I expect him to continue to build on this as the offense grows. The first rookie on the list is Jaxson Smith-Njigba, followed by Jordan Addison. Of course, things will shift as we get into the year. However, I think the top two will remain at the top of the fantasy football dynasty trade value chart.
Tight Ends
Tight Ends Recap
Yes, he's 33 years old. However, how do you not have Travis Kelce on the top of this list? Chiefs' receivers have been changing year after year during Patrick Mahomes' time there. However, one thing has stayed consistent, and that's his top target, Travis Kelce. He is the TE1 of the fantasy football dynasty trade value chart until further notice. Kyle Pitts and Mark Andrews are close behind him, but both need to have a better year than last year.
T.J. Hockenson has been a top-ten tight end during his time in the NFL. However, he was traded to the Vikings last year. He could move up even higher on this list with a full training camp with the Vikings and Cousins in this pass-happy offense. Finally, Dallas Goedert sets in at the fifth spot. He will continue to be a strong, tight end with Jalen Hurts throwing to him.
The first rookie on the board is Dalton Kincaid. It will be interesting to see how he and Knox share time this year, but he'll likely become a top target for Josh Allen in the near future.