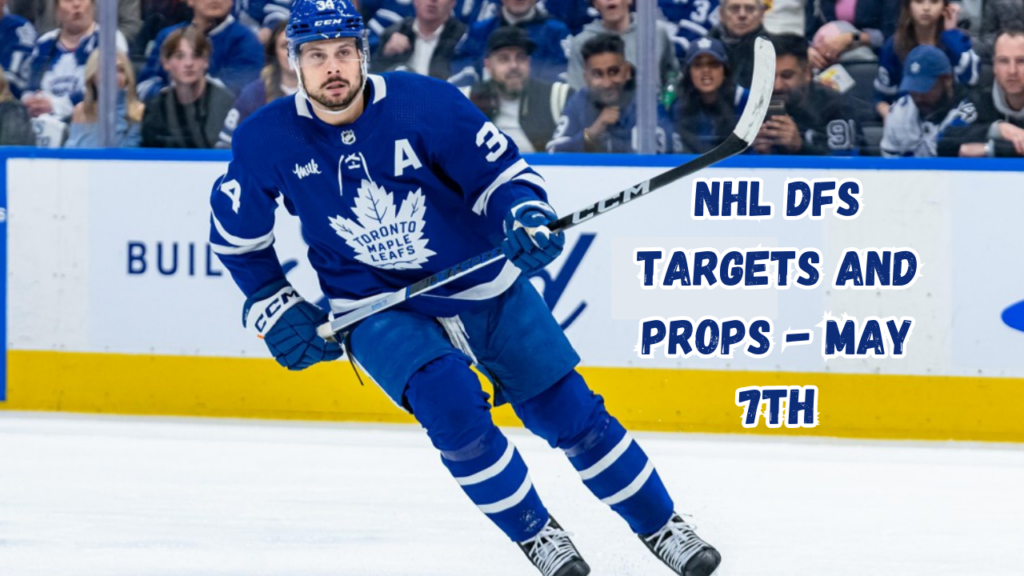 SGPN is back with our NHL DFS Targets and Props for May 7th, 2023. Fans are treated to a three-game playoff slate this Sunday in the NHL. The extra game will give us more exposure to potential scoring opportunities as well as finding the extra value plays and friendly player props.
The NHL playoffs have not disappointed. There should be plenty of fireworks this Sunday, be sure to follow the @Gamblingpodcast and @HockeySGPN on Twitter for the most up-to-date game picks and NHL updates. The scoring and player salaries come from DraftKings NHL $25k Kick Save contest, with 1st place leaving with $5k. Let's dive in!

NHL DFS Targets and Props – May 7th
Roope Hintz – C – Dallas Stars
$7,100 / 12.9 FFPG
You're getting Roope Hintz at a great discount on DraftKings this Sunday. He's the third most expensive center on the slate, but there's a margin of $2600 between him and the most expensive center, Auston Matthews. While Matthews allows the safest floor, Roope will give you more flexibility in creating a winning lineup. It's an easy choice to avoid Matthews here. Despite his elite play, the Leafs are failing to separate themselves from the field this postseason.
Roope still has two goals and six assists through his last five games, whereas Matthews has four goals and two assists in his last five. Although the Stars have scored 4+ goals in four straight games, it's tough for me to bet against Roope and the Stars with their scoring run.
Many folks may be running to Joe Pavelski as he's started to heat up upon his return to the lineup. Despite my love for the production, I'll be fading Pavelski Sunday and pivoting back to Hintz and his linemates, Jason Robertson and Tyler Sequin. I like that line to get on the board early on the road.
Stacks
Jason Robertson – LW – Dallas Stars
$7600 / 15.8 FFPG
Tyler Seguin – RW – Dallas Stars
$5600 / 9.3 FFPG
Roope Hintz round 1 mixtape pic.twitter.com/x1tnAmHLRN

— Dimitri Filipovic (@DimFilipovic) April 30, 2023
Jesperi Kotkaniemi – C – Carolina Hurricanes
$3,400 / 6.4 FFPG
Let's say you do want to target a more expensive stack with the Toronto L1 in Auston Matthews, Mitch Marner,  and Michael Bunting;  this sneaky L2 from the Carolina Hurricanes could be your golden ticket to $5k. Jesperi Kotkaniemi, Jesper Fast, and Jordan Martinook are absolutely buzzing through two games of round two against the New Jersey Devils and are incredibly cheap in DFS. The Hurricanes L2 has accounted for five of the team's 11 goals through the first two matches with New Jersey.
Last Two Games
Kotkaniemi: 3 Goals / 0 Assists / +3 / 41.8 FFPG
Fast: 1 Goal / 2 Assists / +4 / 21.5 FFPG
Martinook: 1 Goal / 3 Assists / 37.7 FFPG
It should be noted that New Jersey did bounce back after going down two games in their previous series with the New York Rangers. If the Devils are going to make a push, it will be in game three at home. This stack is certainly a bet in favor of Carolina continuing their success. It's also a very cheap stack that allows you the flexibility to chase higher upside and costs in other positions.
Stacks
Jordan Martinook –  LW –  Carolina Hurricanes
$3,000 / 6.6 FFPG
Jesper Fast – RW – Carolina Hurricanes
$2,800 / 5.0 FFPG
Jesperi Kotkaniemi breaks the deadlock to take the lead‼️ pic.twitter.com/FiarbolCiL

— SportsCenter (@SportsCenter) May 6, 2023
Matthew Tkachuk – RW – Florida Panthers
$7,900 / 16.9 FFPG
One player I don't feel that I need to stack up is Matthew Tkachuk of the Florida Panthers. Tkachuk is a super consistent option in DFS and props alike. He's recorded an assist in six straight games and has at least one point tallied in 13 of his last 15 games played. Unfortunately, his linemates, Sam Bennett and Nick Cousins, haven't impressed to any consistent levels and feel like a reach despite their incredibly low salaries.
The Panthers come home to Florida for game three, and I believe they'll put themselves in a great position to close out the series in four or head back to Toronto with the series in hand. Look for Tkachuk to have a big game at home.
Stacks
Nick Cousins – LW –  Florida Panthers
$2,800 / 4.8 FFPG
Sam Bennett – C – Florida Panthers
$5,500 / 10.4 FFPG
Matthew Tkachuk is currently the best American Born player in the NHL.

?: https://t.co/4VtjvfzYvK pic.twitter.com/dOfrc7P3kX

— Spittin' Chiclets (@spittinchiclets) May 2, 2023
Morgan Rielly – D – Toronto Maple Leafs
$5,500 / 9.2 FFPG
If you roll with the Maple Leafs this Sunday, Morgan Rielly needs to be in your lineup. Rielly has points in seven straight games, including three goals and seven assists. He's been a terror on the back end for Toronto despite their woes in games one and two of this series with Florida.
Rielly is a +10 through that same stretch of games, so he should give you the confidence to plug him into your lineup. His salary has increased across these past few games, but he's more than worth it on this run. I expect the Leafs to bounce back in some fashion, perhaps just a higher-scoring game where they still receive the loss, but both sides are able to rally production for our DFS slates and player props.
Brett Pesce – D – Carolina Hurricanes
$3,400 / 7.2 FFPG
While Pesce does feel like a riskier lineup piece, he has been clicking with some consistency. Pesce has points in three straight games, plus four out of his last five. He's getting good puck touches and is playing well in both zones. Pesce is a +4 through his last five games, and while he doesn't provide a ton of upside getting the puck to the net, good things are happening when he touches the puck.
He may not offer booming upside, but he can get you a safe 7-10 DFS points if the Hurricanes can continue to throttle the Devils. The Hurricanes lead the NHL with goals from the defenseman position. Sunday could be another opportunity for Pesece to sneak one in. Pairing Pesce with the previously listed L2 will be a low-cost supply of production this Sunday.
Jake Oettinger – G – Dallas Stars
$8,100 / 15.1 FFPG
The goalie in your lineup this Sunday needs to be Jake Oettinger. I refuse to stop banging this drum as I believe Oettinger will be the backbone that carries this Dallas team across the finish line this postseason. He has a deep group in front of him that is combined with a ton of skill and physical play. Oettinger, rightly so, is earning his keep as he's won 11 of his last 15 starts, including 10 of his last 12.
Oettinger has allowed two goals or less in four of his last five games. While I love this Seattle roster, they don't have the scoring depth needed to beat this Dallas team again and again. The Avalanche were more hobbled in their previous series, dealing with injured players and even a suspension of a key player.
Oettinger and the Dallas Stars outmatch the Kraken on every level. Look for a big game out of Oettinger for the Stars to take the lead in this series. A shutout wouldn't surprise me in the slightest.
Jake Oettinger, you magician #TexasHockey pic.twitter.com/mV2DM7UTqD

— Joey Hayden (@_joeyhayden) May 5, 2023
NHL Player Props – May 7th
Point Total Props
Roope Hintz Ov 0.5 Points @ -155
6-2 in 8 Playoff Games
Auston Matthews Un 1.5 Points @ -150
5-3 in 8 Playoff Games
Jesperi Kotkaniemi Ov 0.5 Points @ +120
3-1 in the Last 4 Playoff Games
3 Pick Payout: +696
Shots on Goal Props
Timo Meier Ov 3.5 SOG @ +105 
5-3 in 8 Playoff Games
Matthew Tkachuk Un 3.5 SOG @ -110
6-3 in 9 Playoff Games
Joe Pavelski Ov 1.5 SOG @ -185
2-0 since returning to Lineup / 7-3 in 10 Games prior to Playoffs
3 Pick Payout: +502
PLAYOFF HISTORY‼️

Joe Pavelski is the oldest player in Stanley Cup playoff history with a 4️⃣-goal game ? pic.twitter.com/XQyr7kPJtR

— ESPN (@espn) May 3, 2023
Anytime Goal Props
Erik Haula Anytime Goal @ +275
Leads Devils in Playoff Goals (4)
Auston Matthews Anytime Goal @ -115
Leads Maple Leafs in Playoff Goals (8) / 40 Goals in 74 Reg Season Games
Tyler Sequin Anytime Goal @ +205
5 Goals in 8 Playoff Games
3 Pick Payout: +2038
AUSTON MATTHEWS ?

Leafs are on the board and looking to head to the second round ? pic.twitter.com/YnB8kLCTUg

— SportsCenter (@SportsCenter) April 30, 2023