Fantasy Football never stops, and SGPN has you covered not only during the season but February through August as well. There are some massive off-season fantasy football tournaments, and today, I will be covering my favorite 2023 Underdog Best Ball rookies to target. The NFL Draft is right around the corner, and rookies are still going at a massive bargain.
While normally, there are concerns about first-year NFL players' ability to maintain consistency, that isn't a problem in best ball. Drafting them now has paid dividends for fantasy managers as they typically improve throughout the year. With that, here are my favorite rookies to target in the 2023 Underdog Best Ball tournaments.
Go here for more NFL Draft Content!

MORE SGPN FANTASY FOOTBALL CONTENT
Follow SGPN Fantasy Football on Youtube
2023 Underdog Best Ball: Top Rookie Draft Targets
Roschon Johnson – RB – Texas
2023 Underdog Best Ball ADP: RB48
Despite playing behind Bijan Robinson most of his career, Roschon Johnson could hear his name called sometime on day two of the NFL draft next week. He boasts a complete skill set with strong tackle-breaking ability and vision. His work as a pass blocker will also keep him involved on all three downs.
Overall, Johnson is one of my favorite rookie prospects, and I am very excited about his fantasy potential in 2023. He is smart and has the attributes to get on the field early. With his strong frame, he could fill multiple roles for an NFL team and isn't as landing spot dependent as others either.
Marvin Mims – WR – Oklahoma
2023 Underdog Best Ball ADP: WR77
Marvin Mims is an afterthought in 2023 Underdog Best Ball drafts, not selected until the 200th pick. This is surprising for a player who could very well hear his name called within the first 45 selections of the NFL Draft next week. Mims was an extremely versatile player at Oklahoma, lining up inside and outside while playing the deep threat role.
This was reinforced by his 20.1 yards per reception and his 96th-percentile breakout age. In addition, he blew away expectations at the NFL Combine and has been one of the fastest risers this past month. There really aren't many holes in Mims' profile, and he's actually my fifth-ranked 2023 rookie wide receiver.
Michael Mayer – TE – Notre Dame
2023 Underdog Best Ball ADP: TE21
Michael Mayer fits the traditional tight-end mold being a strong blocker who will predominately play an in-line role. He is coming off two seasons in a row at Notre Dame, where he had over 800 yards receiving, which included over a 31% target share in 2022. While Mayer lacks top-tier athleticism, he excels in contested catch situations and has a strong frame.
These tools should see him get on the field early, and he is well worth the low TE2 price tag. Mayer will likely receive round one draft capital and immediately be a big part of an offense. Tight ends usually take a while to develop and are inconsistent for fantasy purposes as rookies. That's less of a problem for Best Ball, and we should expect Mayer to have some big games as a rookie, similar to players like Pat Freiermuth and TJ Hockenson.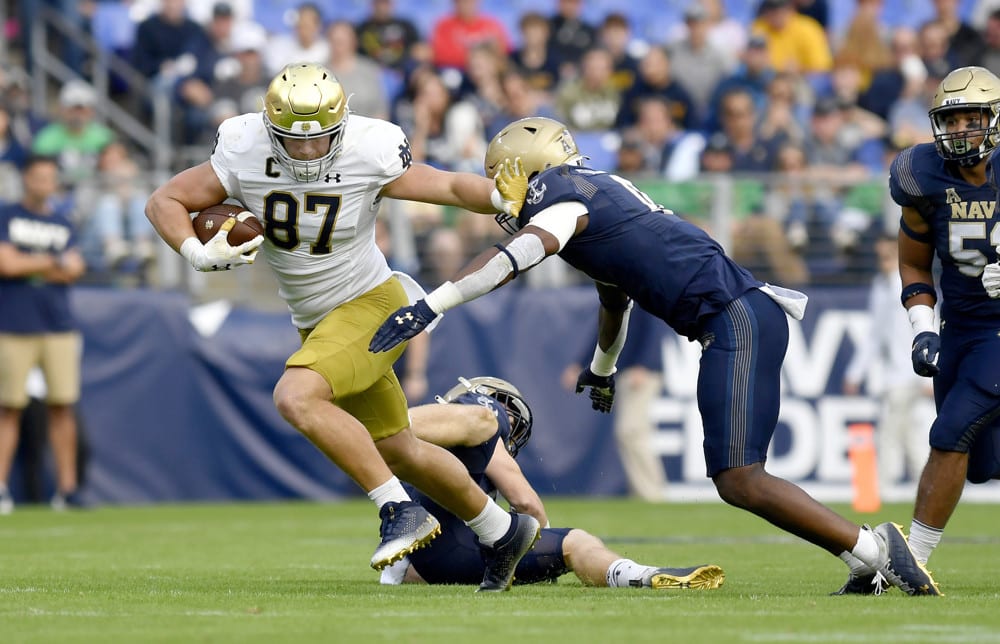 Israel Abanikanda – RB – Pittsburgh
2023 Underdog Best Ball ADP: RB44
Another running back who could receive day two draft capital, Israel Abanikanda, is an explosive playmaker with a frame to handle a three-down workload. At his Pittsburgh Pro Day, he initially ran a reported time between 4.27 and 4.32, although some publications are reporting a 4.42. Either way, he has a rare combination of size and athleticism that NFL teams covet.
Abanikanda is also coming off of a strong year at Pittsburgh, recording over 1400 yards rushing and 21 touchdowns. Although he isn't a strong pass catcher yet, he hasn't been given many opportunities and could grow into the role of one of the youngest running backs in the draft. Abanikanda is a fantastic home run swing in the double-digit rounds, and he will rise significantly higher after the NFL Draft.
Zay Flowers – WR – Boston College
2023 Underdog Best Ball ADP: WR50
Zay Flowers has been rising up draft boards and was one of three wide receivers invited to this month's NFL Draft. He is an explosive playmaker with the ball in his hands and was extremely productive at Boston College. Despite poor quarterback play, Flowers was able to make a name operating as a deep threat in the offense.
As far as I'm concerned, at 5'9″ and 182 pounds, he's proven he can do the difficult things making contested catches deep downfield. He wasn't used to how a player his size typically would be, which bodes well for him. If he can work on his short and intermediate route tree, he is going to have some big games in 2023.
Kendre Miller – RB – TCU
2023 Underdog Best Ball ADP: RB55
Kendre Miller has been falling down draft boards after a knee injury prevented him from participating in athletic testing this off-season. His draft capital appears to be in a volatile state; however, he was one of the best pure rushers in college football in 2022. He accumulated 1,515 scrimmage yards and 17 touchdowns as a junior following Zach Evans's ultimate transfer from the program.
Although he isn't a great pass catcher, similar to Abanikanda, he is very young and hasn't displayed poor pass-catching or route-running ability either. However, Miller is a poor pass blocker which could prevent him from having a three-down role. Ultimately, much of his value will depend on whether he is drafted on day two of the NFL Draft. As an explosive and athletic runner with a powerful frame, though, he will rocket up draft boards if selected within the first 96 picks.
RELATED CONTENT