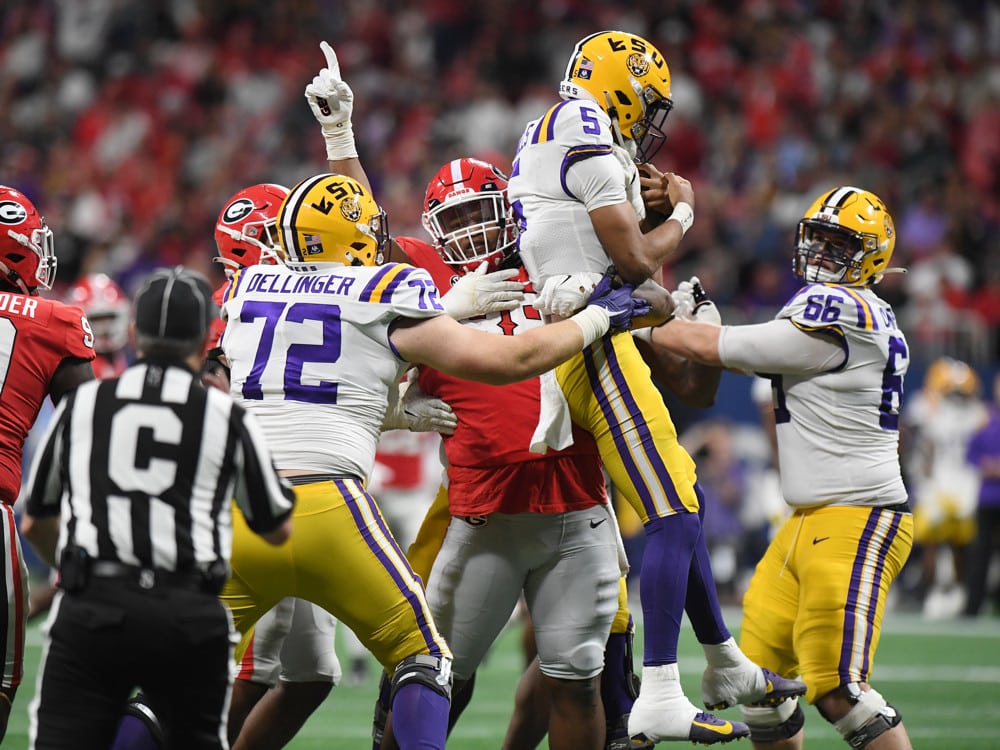 In our final coverage of the 2023 NFL IDP draft prospects, before the fact. We're listing our rookie's draft stock before they've landed anywhere. So, like in our first string coverage. It's taking a hard look at the positional values in fantasy. Anything can change the moment they get selected by a team. Altering their projection by either vaulting them into IDP rookie hype fame. This summer. Or, on the other hand, afterward.
We won't hear much about them at all in fantasy circles anymore. Whatever the player's talent, when opportunity matters most with IDP with rookies. Also, including "Stock Adjusting" has nothing to do with the NFL talent here. When it really boils down to where they land and fantasy meets reality. Not whether these rookies are worthy. Or it won't land way better than projecting so weeks ahead of the NFL draft.
So, at the end of it all, our top NFL IDP draft prospects are in the last article. Along with all the ones in this one, I have another whole stage to go through. Then we'll see everyone again next month listed more in rankings than profiles.
Although that's only if they make it past the first stage. Drafted by a team as a sure starter or an NFL team luxury pick for depth. Which is a reminder. That's exactly what NFL defensive prospects should be for fantasy football managers. Hence, we'll see everyone in May with more IDP rookie coverage.

MORE SGPN FANTASY FOOTBALL CONTENT
Follow SGPN Fantasy Football on Youtube
NFL IDP Draft Stock Adjustments
Jalen Carter – Interior Defensive Lineman – Georgia
Interestingly enough, we're highlighting a player that's way better NFL talent. Then an NFL draft IDP prospect. Georgia's interior defensive lineman Jalen Carter could be an interior edge rusher. Or a defensive tackle, but either it is the team drafts him for. It isn't going to change the odds much. Noting now.
Even big pre-draft names like Jonathan Allen, Quinnen Williams, and Jeffery Simmons didn't produce their first seasons in the league. Nor did any of the defensive tackles from last year's class. Remember them? Everyone loved a few; remember their names?
Hopefully, this explains why you see this write adding him to the second string options. Unless, of course, only if Carter profiled more like Deforest Buckner or Aaron Donald prior to the draft. It's really hard to suggest any rookie defensive tackle, to begin with.
So knowing that if they are who the teams hope they are, not only will it take time normally to develop anyhow. Ask last year's top DT IDP options, and they'll tell you. They'll also eat up draft capital quickly. When better shots could "even" be taken on offensive players Ad yes, I'm saying it, guys like running back and wide receiver, sleeper, or dynasty candidates. Anything*
Solid Dynasty Options
Eagles, Bears, Cardinals, Steelers, Lions, and Colts
IDP Tier Break
Here's where we feel we draw the line of any of these prospects being immediate needs as luxury picks this year. Some will rise out of these ashes post-draft or won't. Based on potential starting gigs needing to be filled here and there by teams that drafted them. Or a stop-gap selection until they examine how their NFL draft went. Adjusting and taking another look at any available free agents. Or possibly, a newly released free agent, or trade later.
Otherwise, the following second-string NFL draft IDP class is under development. Or comes up short of playing a position that'll matter when it comes to IDP positional values. Dynasty, we have to think deep dynasty here. Spend those rookie picks on offensive fliers because in standard leagues. These players might become serviceable, but the odds are very high.
In the end, these types of players are going to be in your league waiver wires when you need them. And just in time to replace any offensive player that you had instead. Unless he hit, and trust us when we say. There are so many more IDP breakouts every season for at least one season. Can we say that about what we get on average from wide receivers or running backs?
BJ Ojulari – Defensive End – LSU
A pro-ready pass-rusher with solid stats out of LSU that's on the undersized side of being an edge rusher. BJ Ojulari mainly wins with mainly above-par technique and not power, which will limit his options in the NFL draft, IDP-wise. So definitely only a dynasty option here. Based not only on reports but also on his profiled metrics. NFL players can add mass and manipulate certain traits to be successful.
However, there isn't currently any miracle out there that can change height or wing span. Something, unfortunately, as an edge rusher, is very, very key to IDP and real-life nine times out of 10. Especially when you're trying to overcome a lot of 6-6, 300lb plus NFL starting offensive linemen. Huge professionals and very determined to stop you that's very tough to overcome.
Derick Hall – Linebacker – Auburn
Special upsides, size, strength, and power. Imposing figure setting the edge, with plenty of college experience and football IQ to show for it. Hall's downfall? Despite all those tangibles, Hall was never dominant in college at pass rushing.
Allowing offensive lineman time to "pause" their rush more often than they didn't. He has not displayed elite technique as an edge rusher but is more on par with the average.
Derick Hall is built and feels more like an old 1980s inside linebacker. That's tough to translate to the modern NFL. When nowadays. The preferred IDP edge rushers are lean and long, and the quickest off with the "twitch" gets the starting gigs. See Ravens Tyus Bowser's career results for a great comparison to Hall's profile.
JL Skinner – Safety – Boise St.
An established history of ball production at Boise State. JL Skinner has great length, scans the field, and can close the gaps fairly often. Wraps tackle well but will be beaten often in head-to-head matchups. He's above average at best in man coverage, coming up short right now as an NFL elite safety.
Quite a while ago, this all could have cut it. In today's NFL? No offense is meant to Skinner here, but. Defensive backs like him come to a dime a dozen anymore. At least in standard fantasy football league formats, they are. Filling our waiver wires full of them and watering down their NFL DB draft stock.
Draft Stock Long Shots
At this point, we're losing interest when it comes to drafting this player prior to the draft and likely after. Landing spots will be key, and some will succeed in IDP. Our only problem with them is they don't profile as elite prospects. At least not right now, so investing in fantasy is way different than it is in real life.
We suggest any investing isn't invested unless your offensive choices are so slim there are no other options. Or if you are simply running out of names in those deeper dynasty formats. So based on our in-game NFL draft IDP positional values, it's our opinion. Trade or select "Dirty O" players with any upside if you are at this point, and if at all possible. No exceptions in standard leagues will be accepted or be nearly worth it for long.
Jartavius Martin – Safety – Illinois
Needs to develop and be less hands-on in coverage. Knows and understands the routes but often projects losing a step on the receivers when he's wrong. Not the most physically free safety prospect in this year's class. Also needs to tie together his aggressiveness with his football IQ. That's If he plans to keep any starting gig he might get. When in reality, Jartavius Martin likely might. When obviously, at this point, he's one of the better DB prospects in this 2023 class.
Antonio Johnson – Safety – Texas A&M
Why aren't we higher on him? He's a pure box safety that reportedly had tackle issues popped up last season. And those two things together are what the NFL demands of that position—leaving Antonie Johnson as a sleeper for now if he's lucky.
Landing on one of the few teams left that even really utilizes them every down. It's also our thoughts; someone fumbled the football. At solid a chance, developing an early and trending LB/SS NFL draft IDP hybrid at the college level somehow. So there is a real upside long-term here to keep an eye on in the future.
NFL IDP Draft Positional Rankings
Balanced Scoring Formats (Example)
Defensive End/Edge Rusher
Defensive Tackles (Elite Profiles*)
Inside Linebacker
Safety
Cornerback
Only CB Required
As far as fantasy football, we keep saying it over and over if you haven't heard. Defensive backs aren't only dime a dozen in-season for nothing off the waiver wire. But cornerbacks, on average, are two for everyone's safety sitting there. So double-check your league, and that's because I'm leaning on the conservative side in a lot of formats.
So depending on just how standard your league settings are. A lot of novice managers should skip these later second-stringers for sure. Instead, refer to our NFL draft IDP positional rankings for 95% of all IDP scoring formats above. That's the money shot left to worry about if you're newer to the IDP defensive format.
Cam Smith – Cornerback – South Carolina
Kelee Ringo – Cornerback – Georgia
Deonte Banks – Cornerback – Maryland
Devon Witherspoon* – Cornerback – Illinois
Only DT Required
Not cracking on either NFL IDP draft prospect if you're not elite coming out of college, sorry. It'll be so tough to be solid in the NFL or even serviceable in IDP. Simple, no backfield stats like sacks, no draft value whatsoever to be had here as a DL play in standard formats. So, for now, only think about those odd standard leagues using the defensive tackle as just that. A designated DT position.
Calijah Kancey – Interior Defensive Lineman – Pittsburgh
Bryan Bresee* – Interior Defensive Lineman – Clemson
Think potential sleeper here if you have a deep bench option at DL. At 6-6 and lean as an "interior guy." Someone in the NFL could see him as a defensive-end prospect off the edge. This could work in his favor and a great deal of value if it does. So don't be surprised that after the draft. Bryan Bresee climbs this post-draft board and lands as a first-string option instead.
All just based on a tag, as a position, not the fact he split wide Clemson and looks capable with an outlier DT 9 sacks in 2022. Don't forget, either, when you look at PFF grades versus snaps. Bresee didn't have a full load of snaps all season, and my friends, that is definitely an advantage at the college level.
RELATED CONTENT